BCS Standings 2012-13: Who Will Rise or Fall Before Season's End?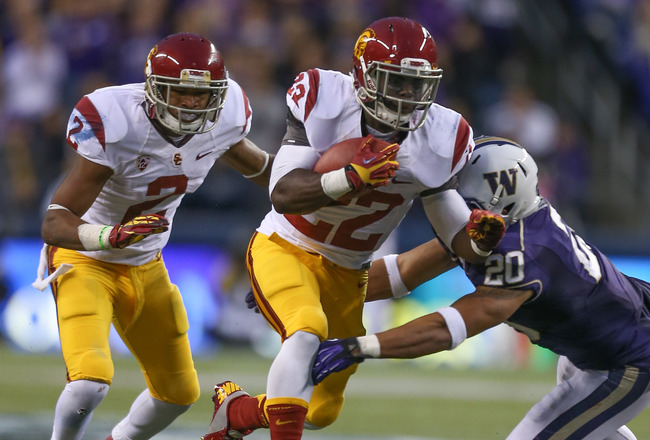 Otto Greule Jr/Getty Images
The 2012 college football season has been the strangest I can remember. The amount of upsets and undefeated teams is astonishing.
There are teams that will soon fade away after the heart of the schedule arrives, while others will burst onto the scene, permanently adding to the pageantry. This is the beauty of the BCS, and everyone loves the Cinderella.
The BCS will soon be gone, but as it stands today it has led to a fun midpoint in the 2012 season. A lot is in the hands of the team at the top, but there will be plenty of chances for teams in the middle of the pack to climb.
These 10 teams will get caught in the BCS whirlwind for better or worse, some rising and some falling before the season closes.
No. 2 Florida Gators: Fall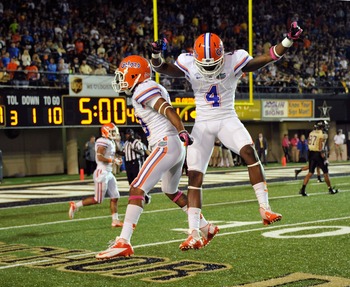 Frederick Breedon/Getty Images
The Florida Gators have been electric this season on defense, but the offense has had issues with consistency.
Quarterback Jeff Driskel only completed 11 passes for 77 yards this past Saturday, while running back Mike Gillislee had 17 attempts for 67 yards.
The Gators can't rely on Driskel to run the football to win games. He has now had two games under 100 yards passing, and four games under 165 yards.
South Carolina, Georgia and Florida State are still on schedule, and if the Gators run the SEC gauntlet, they will face a tough contest in Atlanta against the SEC West winner.
I don't see Florida keeping it all together in 2012—Driskel is not there yet. He has been surprisingly good, but he will not win the title as a sophomore. The Gators will fall to either South Carolina or Georgia in the next two weeks.
No. 3 Oregon Ducks: Climb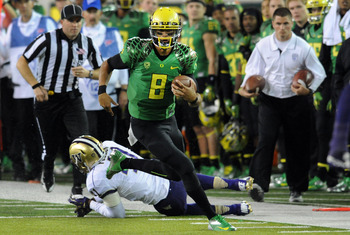 Steve Dykes/Getty Images
The Florida Gators are the darling of the computers, and the Ducks aren't. But who cares? The Ducks will continue to win and will make it to No. 2 if they win out.
The Ducks are one of the best teams in the country, driving the football downfield on every opponent with ease so far this season. They have also been much improved on defense, helping the team's consistency as a whole.
De'Anthony Thomas and Kenjon Barner are two of the most explosive playmakers in the country, and they have been a huge piece of this season's offensive success.
Oregon still faces USC, Stanford and Oregon State, but they will win out. It is a bit of a surprise that the Ducks are not No. 2 in the initial BCS rankings, but they will be shortly.
No. 5 Notre Dame Fighting Irish: Fall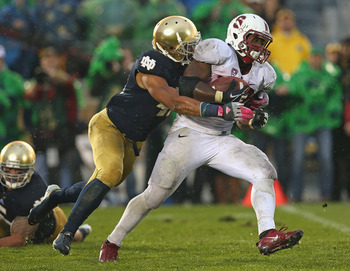 Jonathan Daniel/Getty Images
Look, at this point it looks like it's Notre Dame's year. I think it may be, but before I am completely sold, the Irish have to travel to Oklahoma and beat the Sooners in Norman.
After watching that Stanford game at home, the Irish may not be able to play well against the Landry Jones-led Sooners offense. Notre Dame has been great defensively, but they haven't faced OU-level talent just yet.
If the Irish get the win and leave with another top-10 victory against Oklahoma, count me among the surprised. It is a tough place to play, and this Sooners defense is playing its best football in a while.
It will be fun to watch this Notre Dame team navigate the rest of its schedule, but with a quarterback tandem still driving the offense, bad things are bound to happen. They will drop with a single loss.
No. 8 Oregon State Beavers: Fall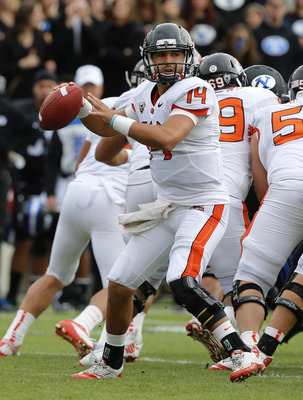 George Frey/Getty Images
Beavers, it has been a brave dance with the top, but the time is coming. Oregon State lost their starting quarterback Sean Mannion to a knee injury, and immediately lost stock.
The Beavers did win this past Saturday against BYU in convincing fashion, but can the Beavers contend for a title this fall?
I don't think they can. The Beavers still face Stanford, Washington and Oregon, and a dump in the rankings seems inevitable at this point.
No. 9 Oklahoma Sooners: Climb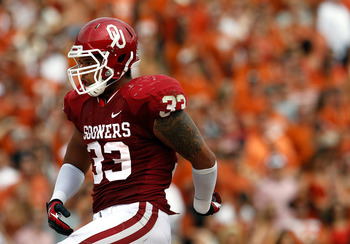 Tom Pennington/Getty Images
Oklahoma put it all together against Texas this past Saturday, putting up 63 points against a very talented Longhorns defense.
The Sooners are hitting on all cylinders offensively and defensively, and face a schedule that could propel them up the BCS ladder in the near future.
Even with one loss, OU is a popular team and has a decent strength of schedule. They face Notre Dame, West Virginia and travel to Iowa State before season's end, and could feasibly win out if they beat the Fighting Irish.
No. 10 USC Trojans: Fall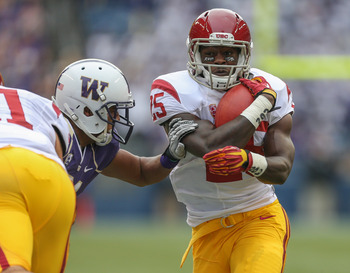 Otto Greule Jr/Getty Images
USC still has a number of games on its schedule that could end up being major embarrassments for Lane Kiffin and company.
The Trojans have not been very consistent on the field this year. They have playmakers on the perimeter and a great quarterback in Matt Barkley, but against equal-level competition, the depth issues at USC begin to shine through.
The Trojans have a tough schedule ahead with Oregon, Arizona State, UCLA and Notre Dame remaining. The Trojans will likely fall in two of those games.
What was once expected to be a Trojans national title run has quickly dissolved into a flop of a season. Lane Kiffin will not be able to make this team BCS-worthy in 2012.
No. 11 Georgia Bulldogs: Fall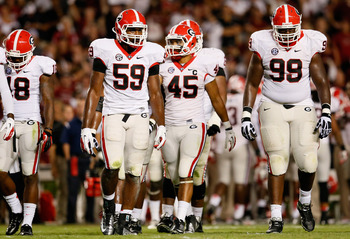 Kevin C. Cox/Getty Images
The Georgia Bulldogs have been very inconsistent this year, losing a big game to South Carolina and struggling against a mediocre Tennessee team.
They still have to face No. 2 Florida and Ole Miss before the season closes. Georgia will lose to the Gators, but they might also be on the wrong end of an upset against the Rebels.
Hugh Freeze is doing a great job at Ole Miss and the spread will be tough for the Georgia defense to keep closed.
This Bulldogs team has a lot of talent, but it's heading down yet another road of disappointment.
No. 12 Mississippi State Bulldogs: Climb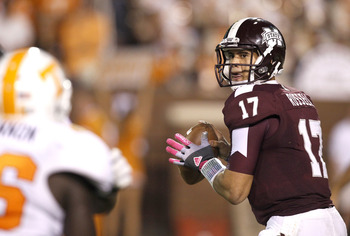 Butch Dill/Getty Images
Mississippi State is having a record-breaking season in Starkville, well exceeded expectations with a 6-0 record. State still faces Alabama, LSU and Texas A&M, but winning just the game against the Aggies would push Mississippi State into the Top 10 at season's end.
The way that this Bulldogs team is playing, do not be surprised if this team challenges in tough road tilts at LSU and Alabama as well. They have the talent to pull off an upset, and may do so against at least one of those three teams.
Tyler Russell is running this offense efficiently, giving the Bulldogs one of the most potent attacks in the SEC.
The Bulldogs will continue to climb, even with a few losses based on their play and strength of schedule.
No. 17 Texas Tech Red Raiders: Climb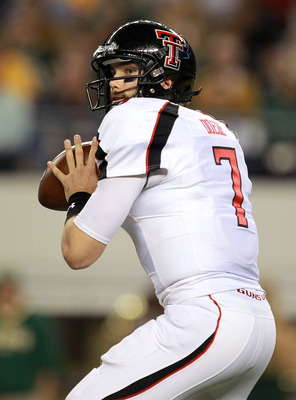 Ronald Martinez/Getty Images
Tommy Tuberville has done it again. This time Tuberville landed in Lubbock, TX, and turned a lost program into a Top Five buster. Twice in two seasons, a Tuberville-led squad has knocked off a Top Five team.
The Red Raiders travel to TCU and Kansas State in the next few weeks, but even taking a loss to a Top Five Wildcats team will not be a big blow to this team.
Only Texas and Baylor look to challenge this team down the road, but as of late those two have been playing moderately poor football.
With a very manageable schedule on tap, this Red Raiders team is here to stay.
No. 21 Cincinnati Bearcats: Fall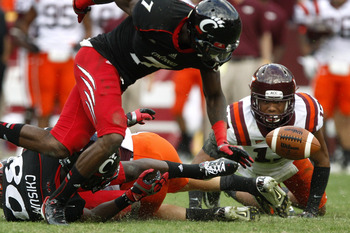 Jonathan Ernst/Getty Images
The Bearcats are playing inspired football right now, but they still have a tough road to travel to stay in the BCS picture. They will face off against Louisville in two weeks, then Rutgers in mid-November.
They have relied on Munchie Legaux to provide a ton of offense, and he has done the job done so far in 2012.
That said, this squad is about a year away from being a strong competitor for the Big East title. They lose to both Rutgers and Louisville and close the season as a very talented bowl team.
Keep Reading