Oregon vs. Arizona State: Breaking Down the Starting QBs Pac-12 Battle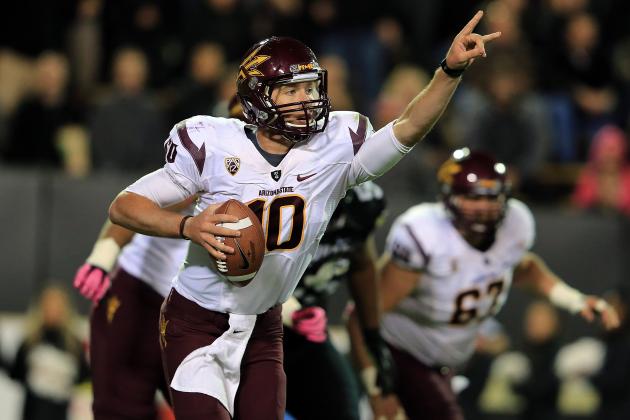 Doug Pensinger/Getty Images
Taylor Kelly has the Sun Devils at 5-1 heading into a huge game against No. 2 Oregon
Thursday night, third-ranked Oregon (6-0, 3-0 Pac-12 North) travels to Arizona State (5-1, 3-0 Pac-12 South) in a battle for conference supremacy led by two underclassmen quarterbacks in Arizona State's Taylor Kelly and Oregon's Marcus Mariota.
The top teams in their respective divisions are the feature game on Thursday—for good reason. Featuring two of the best young QBs in college football, these teams put up points in a hurry.
Mariota is a freshman, while Kelly is a sophomore. In a conference that has produced numerous NFL QBs, Mariota and Kelly have quietly produced at a high rate. If it weren't for Southern California's Matt Barkley, these two would be the talk of the conference at the position.
Here's a look at the two best young QBs in the conference and who will come out on top Thursday night.
Begin Slideshow

»
The Sun Devils and Ducks have two of the more exciting offenses in college football. Both use quick tempo and skilled playmakers to put points on the board in a hurry.
Oregon's offense gets a lot of credit for their quick drives and loaded offense, but ASU is no slouch—that all starts with the signal callers, Kelly and Mariota.
Mariota has accounted for 16 of Oregon's 43 touchdowns this season—15 through the air and one on the ground against Washington State.
Kelly has thrown for 14 touchdowns this season. ASU has 40 total TDs this year. Mariota and Kelly account for 16 and 14 points per game, respectively.
The two QBs account for nearly 40 percent of their team's scoring. These two command offenses that are in the top 17 in the country. Oregon's offense is second at 52.33 points per game, while ASU is tied for 17th with 40.5 PPG.
Thursday, these two hot offenses head to the desert looking to keep the hot streak going.
Productivity at the QB position is crucial in the offensive-minded Pac-12. The Ducks figured that out a long time ago under head coach Chip Kelly. Arizona State is learning a whole new level of productivity under first-year head coach Todd Graham.
Mariota doesn't get the opportunity to put up video game numbers in the balanced Oregon attack. He has thrown the ball just 168 times this season. ASU's Kelly has thrown the ball even less—just 164 times this season.
Still, both QBs rank among the best passers in the game. Kelly has put up 1,600 yards through the air to Mariota's 1,301.
Kelly's best performance through the air came against Utah with a 19-of-26 performance for 326 yards and three TDs. Mariota rivaled that with a 21-of-28, 308 yard-game against Tennessee Tech. Mariota threw for four scores and an interception.
Expect these two talented QBs to aim for the 300-yard mark.
These offenses get up and down the field in a hurry. They take pride on putting up points with efficient drives and a high number of snaps.
According to TeamRankings.com, Oregon runs 86.2 plays per game (fifth in the FBS). Arizona State plays at a "slower" pace, averaging 77.8.
In order to run a high number of plays, quarterbacks have to take care of the football. Mariota has thrown five interceptions this season. Kelly has thrown two—both game against Missouri in a rain-soaked game Sept. 15.
Interceptions are often associated with young QBs. These two underclassmen have set a high bar for the rest of their season. But if they maintain this clip, Matt Barkley may not be a consensus first-team all-conference selection.
The ultimate statistical category for QBs is passer rating. With all of the talented play-callers in the FBS like West Virginia's Geno Smith, Florida State's E.J. Manuel, Pittsburgh's Tino Sunseri and Arkansas' Connor Shaw, it's easy to get lost in the shuffle.
Surprisingly, there is no losing Kelly or Mariota in the shuffle. Kelly is third in the country in passing efficiency with a 175.98 rating. Mariota is 21st at 156.42.
Both quarterbacks are higher than USC's Barkley.
These offenses run through their efficient QBs. Mariota is completing a solid 68 percent of his passes this year. Kelly is at a similar number (68.3).
If both QBs maintain their accurate trends, expect defensive coordinators to find their way to the exits early.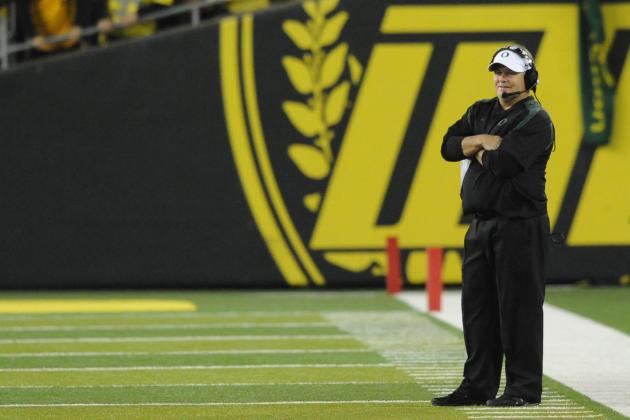 Steve Dykes/Getty Images
Chip Kelly and the Oregon Ducks have dominated the Pac-12 recently. It won't be easy against ASU on Thursday.
An often-overlooked statistic in QB performance is the number of sacks taken. Sure, the offensive line plays a large part in the number, but with two mobile QBs it is a very important number.
Taking a sack can be a drive killer. With two young but talented QBs, avoiding sacks is crucial. These two have done a solid job at avoiding sacks and playing by the "live to see another play" mentality.
Mariota has been sacked eight times in Oregon's first six games. Kelly has been sacked 11 times in that span.
With these two potent offenses clashing in Arizona, the quarterback who takes the fewest sacks will have an upper hand. Sacks hinder field position and with big play threats abundant, every yard will be important on Thursday.
ASU's defense is second in the country with 4.33 sacks per game. Oregon ranks 24th at 2.83. Keeping the QBs upright will be a challenge.
Still, with the mobility of the signal callers, these two QBs could have ample opportunity to tuck the ball and run. Any positive play instead of a loss will help these offenses control the tempo and the clock.
Prediction: Oregon 38, Arizona State 31
It's tough to go to Tempe in mid-October. With the majority of the country cooling down, the high temperature Thursday is in the mid-90s. That will drop by game time, but weather will be a factor.
Oregon and Arizona State have enough offense to put up some gaudy point totals. Expect defensive stops to be at a premium in this one.
Ultimately, Oregon gets the edge, but not a comfortable win. The Sun Devils haven't been close in their last four meetings. The closest margin was in 2010―an 11-point defeat.
ASU had a week to prepare after their game last Thursday against Colorado. Oregon was idle last week. If you enjoy points and big plays, this is the game for you.