Miami Dolphins Off to the Best and Worst Starts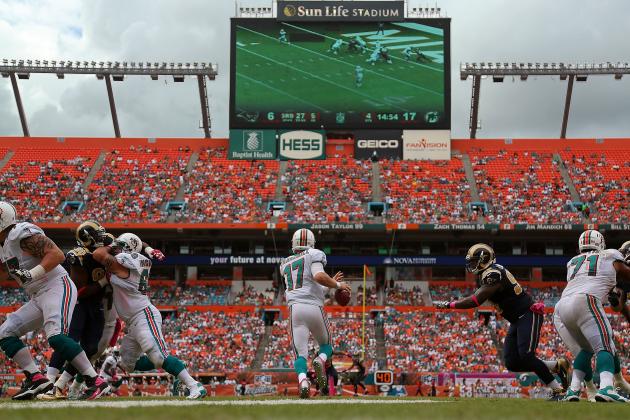 Mike Ehrmann/Getty Images

Not many people correctly predicted how the Miami Dolphins' season would start.
Their rookie quarterback was believed to be too "raw" to be a viable starter in his first season in the NFL. The lack of talent at wide receiver was also predicted to be a problem, especially with a rookie quarterback. The secondary was also a big question mark as to whether the Dolphins would have a successful season.
Many predicted this would be a rebuilding year for the Dolphins, but Miami has been proving people wrong through six games this season. They have been in all but one game and were it not for a couple missed field goals, could be leaders in what is now a four-way tie for the AFC East.
Within Miami's early success, there have been players that have had great starts to the season. For some, it was predicted that they would be key contributors for this team.
Others, however, have had a rough patch to begin the season and will look to bounce back after the Dolphins' bye week.
Here are the Dolphins off to the best and worst starts to the season.
Begin Slideshow

»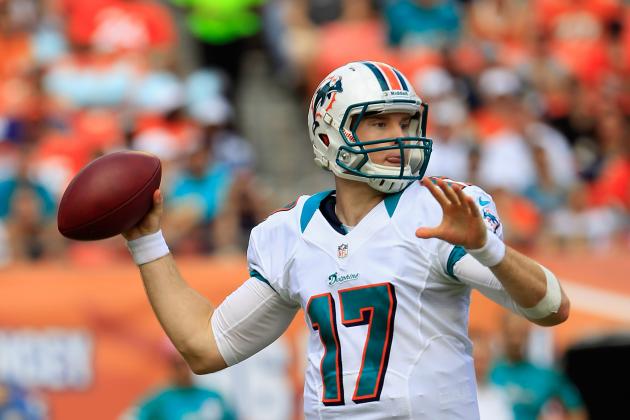 Chris Trotman/Getty Images

Ryan Tannehill was not supposed to start this season. He was too inexperienced to lead an NFL team and needed at least a year to get accustomed to the life of an NFL quarterback.
Well, Tannehill has been proving people wrong since he was named the starter before the regular season began. He hasn't been lighting up the scoreboard or putting up league-leading numbers, but he is managing the game and, more importantly, has the Dolphins at .500 heading into the bye week.
Tannehill has looked poised in the pocket. Even after throwing costly interceptions, he hasn't appeared rattled going into the next series. He hangs in the pocket even when the pressure is in his face and delivers an accurate ball.
For the year, Tannehill has thrown four touchdowns and six interceptions while running for another score. He has amassed 1,454 yards and has looked far from being a rookie.
Tannehill has given Dolphins fans a new hope at the quarterback position. A hope that they haven't had since Dan Marino hung them up over 10 years ago.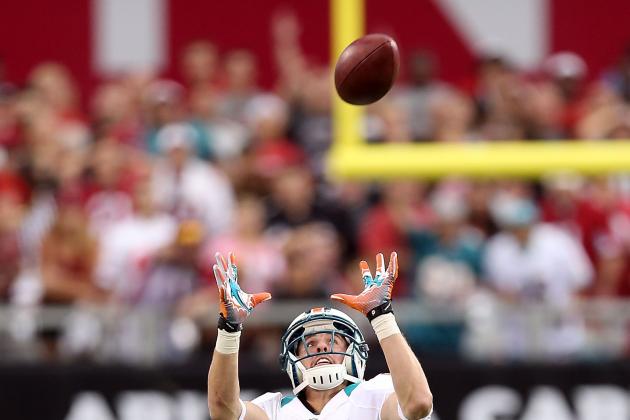 Christian Petersen/Getty Images

As I stated in the introduction slide, the lack of talent at wide receiver was going to be a problem for the Dolphins.
Nobody predicted the impact Brian Hartline would have on this offense. He has been a great target for Ryan Tannehill. He has been reliable and has taken advantage of his opportunities now that the Dolphins don't have a legitimate No. 1 receiver.
Hartline has accumulated 514 receiving yards on 29 catches and has scored an 80-yard touchdown. Hartline was unstoppable against the Arizona Cardinals in Week 3 when he caught a career-high 12 passes for a franchise-record 253 yards.
With a young quarterback at the helm, there is nothing better than a consistent, reliable receiver and that's exactly what Brian Hartline has become.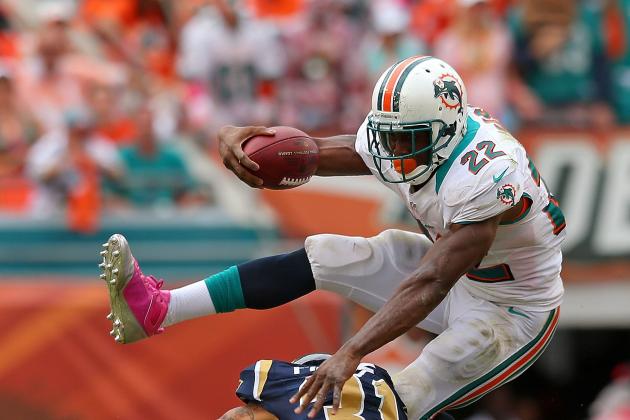 Mike Ehrmann/Getty Images

After suffering a knee injury against the New York Jets in Week 3, Reggie Bush doesn't look like the same running back we saw in Miami's first couple games. However, Bush is still a threat to take it to the house every time he touches the football and is Miami's most dynamic offensive weapon.
In Miami's first three games, Bush rushed for an average of 5.8 yards per game and two touchdowns. In Miami's last three games (after the knee injury), he has averaged just 2.6 yards per carry and one touchdown.
Bush's productivity has certainly dropped, but that doesn't take away from the great start to the season he had. The season is still early and, with a bye week coming up, Bush will be looking to bounce back to his early season form.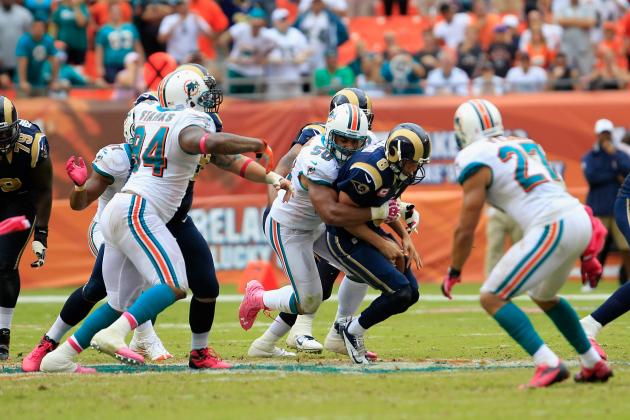 Chris Trotman/Getty Images

It's only fair to grade out the four players that make up the defensive line as a whole. They have played at an extremely high level and are a big reason why the Dolphins are at 3-3 heading into the bye week.
Cameron Wake gets most of the recognition as he is the rush specialist. After not being able to record a sack in his first three games, Wake came alive against the Arizona Cardinals in Week 4, racking up a career-high 4.5 sacks. He's also had a sack in each of his last two games, bringing his season total to 6.5 sacks.
Randy Starks has also played at a high level. Starks has racked up 3.5 sacks and his disruptive play in the middle has made it hard for opposing teams to rack up any rushing yards. He is a big reason why Miami has the best rushing defense in the league.
Paul Soliai has also been a disruptive force in the middle of the line. He doesn't have the numbers that Wake and Starks have in the sacks department, but his big body closes any running lanes for opposing running backs. Moving from a 3-4 nose tackle to a 4-3 defensive tackle has helped raise Soliai's level of play to another level.
Lost in the productivity and success of the three big names in Miami's defensive line is former first-round pick Jared Odrick. Odrick has two sacks on the season, but is a main factor against the run. He has an endless motor that allows him to chase running backs in the backfield and harass opposing quarterbacks.
Marc Serota/Getty Images

The Dolphins will always be wondering what could have been if Dan Carpenter had made those field goals against the New York Jets and Arizona Cardinals.
For a kicker that makes $2.5 million a year, Carpenter has been highly unreliable. Carpenter has made seven of 11 field goals. The fact that he has missed four field goals is not the big problem; it's when he has missed those field goals.
A kicker really earns his money when the game is on the line. Carpenter has obviously not earned his this year.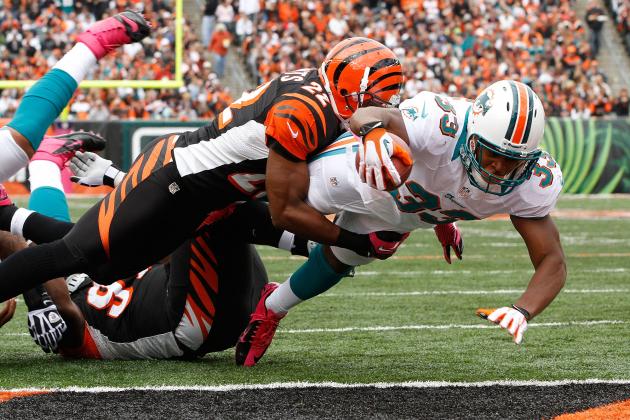 Tyler Barrick/Getty Images

This was supposed to be a rebound year for Daniel Thomas after a fairly poor rookie season. He was supposed to complement Reggie Bush with his tough running inside the tackles. Thomas has yet to reach these expectations.
He has been unable to play in two of the Dolphins' five games due to concussions and has been unimpressive in those games he has played.
Thomas has 36 carries for only 113 yards. He has scored two touchdowns, but has also coughed up the ball twice in Dolphins territory.
Thomas has to raise his level of play if he wants the coaching staff to trust him in the near future or even keep him around come next year.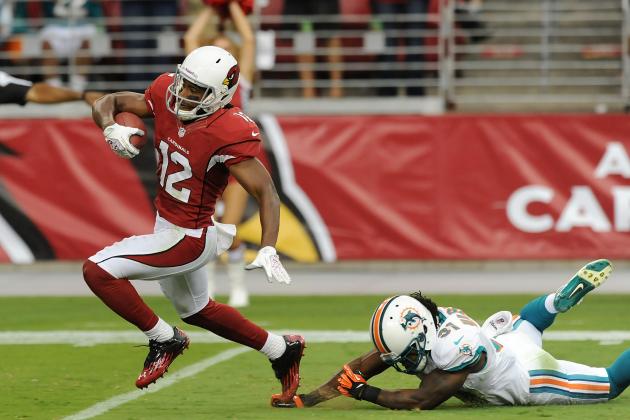 Norm Hall/Getty Images

The level at which Richard Marshall was playing during training camp allowed the Dolphins to trade Vontae Davis to the Indianapolis Colts. However, Marshall has been playing at a low level since the season began.
He is part of a secondary that allows 284.8 passing yards per game. He was supposed to take over Davis' place and make a formidable duo with Sean Smith. Smith, however, has played well this season while Marshall has struggled.
Against the Jets, Marshall got taken to school by Santonio Holmes. Marshall also allowed a big play to Holmes that eventually allowed the Jets to kick the game-winning field goal in overtime.
Marshall has been hampered by a back injury and has sat out the last two games. In his absence, the Dolphins have hardly missed him. Nolan Carrol and Jimmy Wilson have stepped in and might make Marshall have to fight for his job when he comes back.