BCS Standings 2012-13: Final Record Projections for Top 25 Teams in First Poll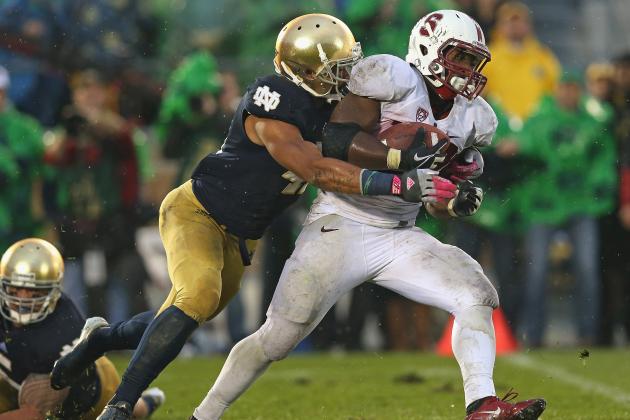 Jonathan Daniel/Getty Images

You know things are really starting to heat up in college football when the first BCS polls are released. This is the time of the year where we start to see who the contenders and the pretenders are.
The AP poll and the coaches poll are nice, but the BCS is the final word in college football and will ultimately select the national champion come season's end.
With the release of the first BCS standings, each program will know where it stands and what it will need to do over the next few months to attain whatever goals it's looking to achieve.
Considering how impatient and desperate we all are for nonstop football, we'd be much better off just trying to predict what will happen in the rest of this crazy season. I mean who has time to wait anyway?
Begin Slideshow

»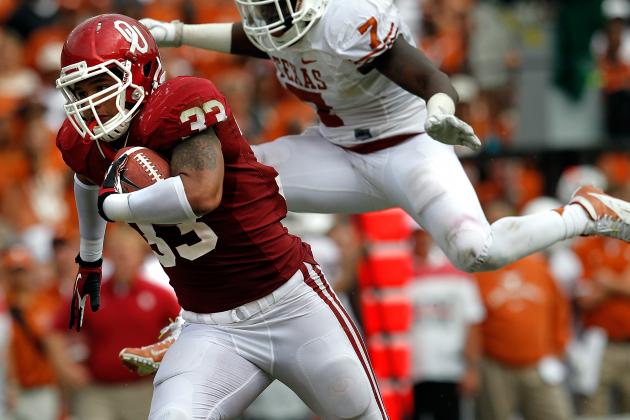 Tom Pennington/Getty Images

Final Record Projection: 9-3
Things were looking a lot better two weeks ago for Texas, but after two straight losses, the Longhorns have almost fallen out of the Top 25. They still have a solid team and probably got two of the best teams on their schedule out of the way so that's good. Right?
Honestly, with the exception of a loss to KSU late in the season, this team should make it through its schedule with no more losses, which would result in a solid season for most programs.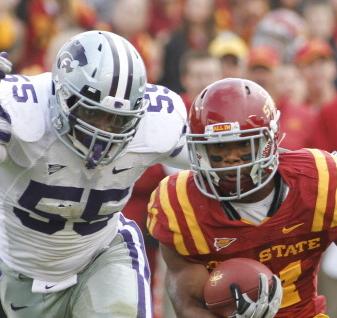 Matthew Holst/Getty Images

Final Record Projection: 7-5
Iowa State has been a fun team to watch this season, and yesterday's battle against KSU was promising despite the loss. The Cylcones dropped a tough game to Texas Tech earlier in the season but are still a threat to anyone on their schedule.
Despite their tough play, I see the Cyclones dropping three games this season, to West Virginia, Oklahoma and Texas simply because the lack of talent will be too much to overcome. I do, however, expect at least two of those games to be fairly close.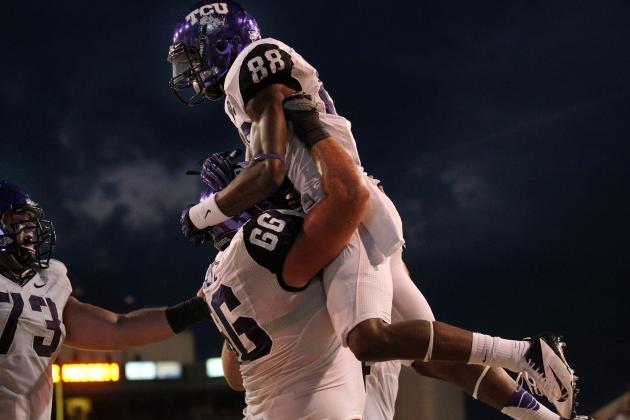 Layne Murdoch/Getty Images

Final Record Projection: 7-5
TCU is its usual solid self again this season, but it hasn't really been tested yet. The Horned Frogs' win over Baylor yesterday was semi-impressive, but the meat of their schedule is all at the end of the year and that could be a very big problem.
Considering this, I see TCU dropping its last four games against Oklahoma, Texas, West Virginia and Kansas State. Each of these teams are a bit more established and battle-tested.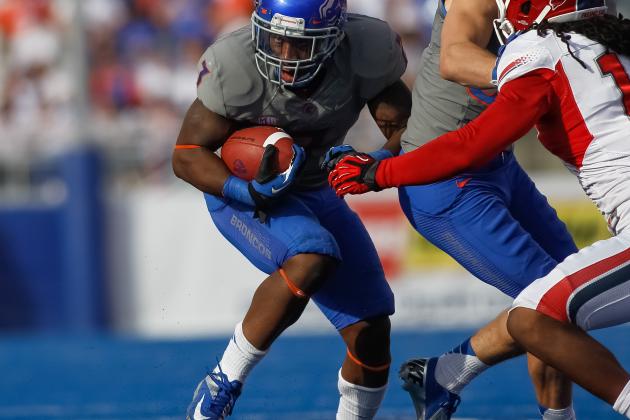 Otto Kitsinger III/Getty Images

Final Record Projection: 11-1
After a tough loss to Michigan State to open the season, Boise State has handled its business this season and reinserted itself back into the Top 25. The Broncos have done a solid job of replacing Kellen Moore and Doug Martin but are no where near the level they were a year ago.
Like every year, the Broncos' schedule is mostly smooth sailing after the first game this year, and they shouldn't drop another game this year.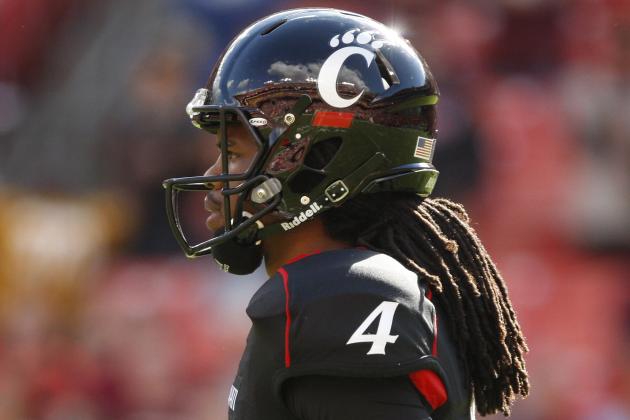 Jonathan Ernst/Getty Images

Final Record Projection: 11-1
All year the Bearcats have looked solid, and for the first time since the departure of Brian Kelly, they are 5-0 for the first time. On top off all that, they've actually beaten two solid teams in Pittsburgh and Virginia Tech.
To be completely honest, with the exception of a loss to Louisville in Kentucky, the Bearcats should run through their schedule fairly easily, which is more of a testament to how soft their schedule is as opposed to how good they are.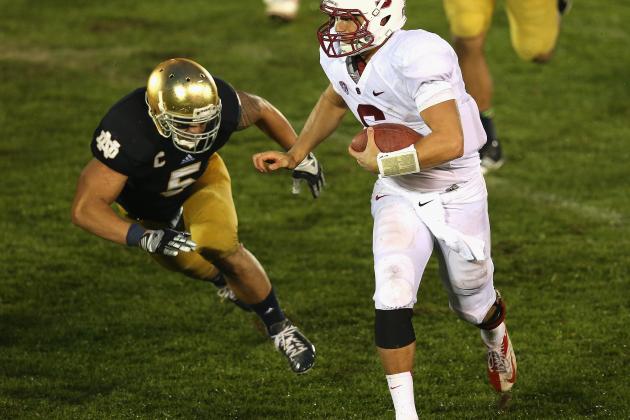 Jonathan Daniel/Getty Images

Final Record Projection: 8-4
Stanford is one of those teams that puts up a solid fight each weekend but makes you nervous when you pick it to win. A loss to Washington and Notre Dame almost knocked the Cardinal out of the Top 25, but they play tough each week, so it's hard to penalize them too much for a loss.
Besides two more losses from both Oregon teams, Stanford should handle the rest of its schedule and finish up the season 8-4, which is actually not too bad for a team that lost Andrew Luck.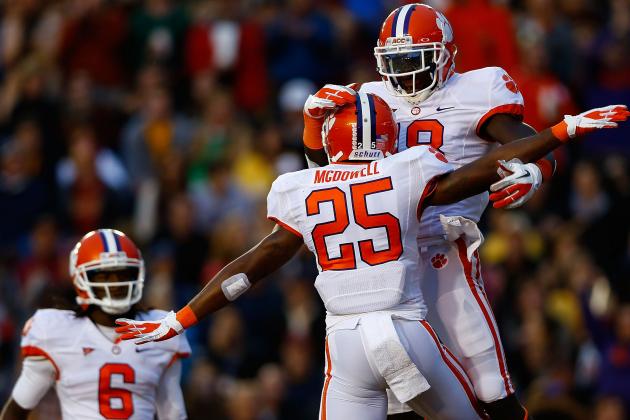 Jared Wickerham/Getty Images

Final Record Projection: 10-2
The Tigers are one of the most entertaining teams on this list to watch, but a loss to Florida State dropped them down to 19 in the first BCS rankings. Sammy Watkins has had some injury problems throughout the year, and their defense could use an upgrade.
That being said, due to their schedule and high-powered offense, I expect them to finish the year unscathed with the exception of a loss to South Carolina to close out the season.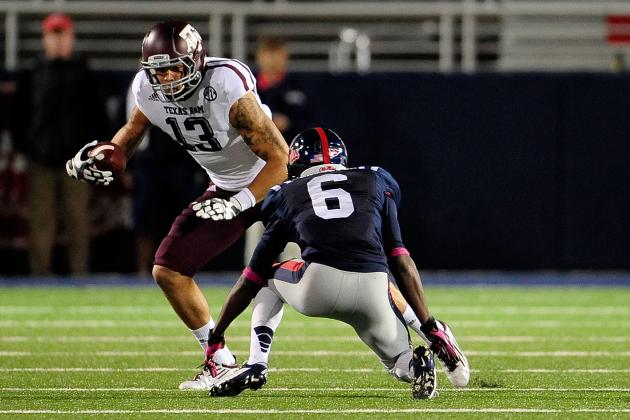 Stacy Revere/Getty Images

Final Record Projection: 8-4
Texas A&M is one of those teams that really doesn't get enough credit. The Aggies are a feisty squad that's played their tougher opponents respectively close so far. Their new head coach has done a great job thus far, but their schedule is rough to say the least.
I see them falling to LSU, Alabama and Mississippi State before it's all said and done, and that's less of an indictment on them and more of a compliment to those three teams. However, I do see them making some noise in the SEC in a few years.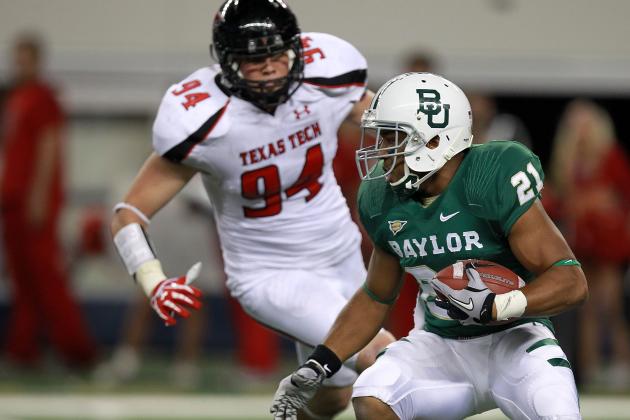 Ronald Martinez/Getty Images

Final Record Projection: 8-4
Before its monster win over West Virginia yesterday, Texas Tech was essentially irrelevant and didn't really worry anyone. Now the Red Raiders are getting serious respect and for good reason. WVU is a solid team, and the fact that they owned them like that is extremely impressive.
All things considered, however, I expect them to drop at least three games to teams like Texas, Kansas State and even Baylor. At the end of the day, they just haven't proven enough to me to consider them serious Big 12 championship contenders.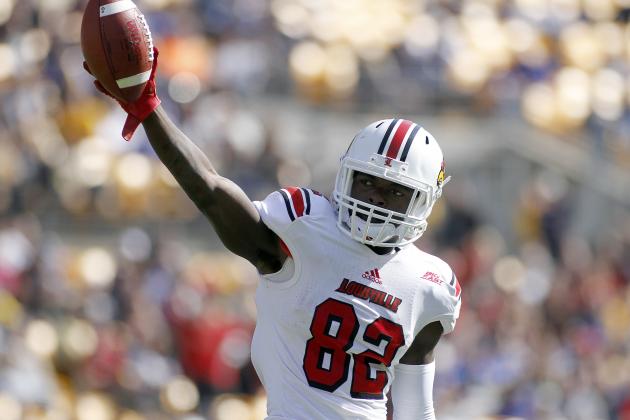 Justin K. Aller/Getty Images

Final Record Projection: 11-1
Ever since Charlie Strong started at Louisville I knew he would turn that program around, and surprise surprise, the Cardinals have found themselves in the Top 25 after a 6-0 start. Headed by a talented QB, the Cardinals are a dangerous team that no one really wants to play.
Louisville could very likely head into the final game of the regular season undefeated, where I expect it to fall to Rutgers. The game's in New Jersey and the Scarlet Knights are a tough at home.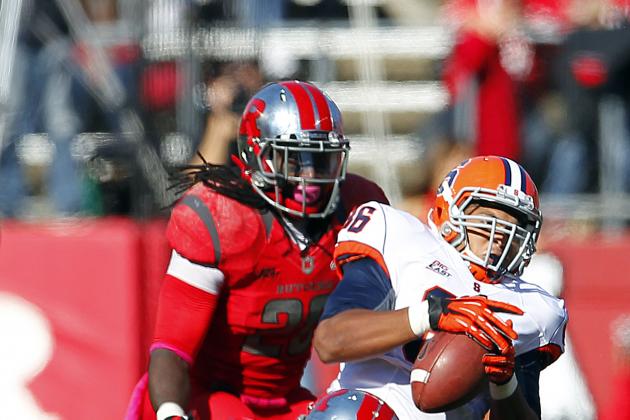 Rich Schultz/Getty Images

Final Record Projection:11-1
First things first, the alternate unis in this picture are some of the best in college football. (Just had to let that be known,) Anyway, Rutgers has been one of the best stories of this football season, and its new head coach has the team playing solid football.
Due to a rather soft schedule, I only see Rutgers dropping one game this season and that's at Cincinnati. The Bearcats have a solid team and will make things very difficult for the Scarlet Knights in Cincinnati.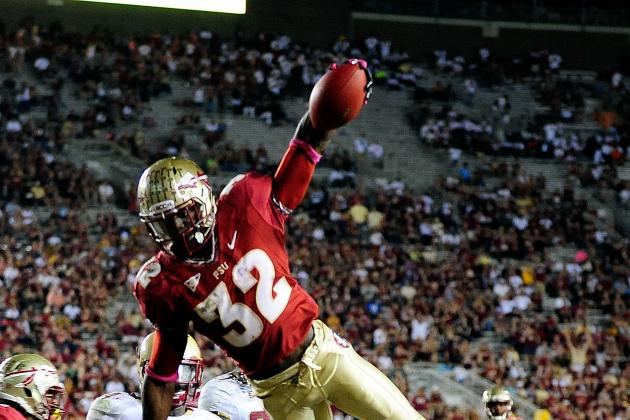 Stacy Revere/Getty Images

Final Record Projection:11-1
I don't think anyone saw that loss FSU picked up against NC State, but unfortunately, they did. Every year it seems like Florida State is going to be a serious contender for a national championship, but then the Noles do things like they did last week. EJ Manuel has had a solid season thus far, and their defensive line is extremely deep with talent; it just needs to remain focused from week to week.
That being said, I don't expect them to lose anymore games this season because, quite frankly, they're way more talented than anyone else on the rest of their schedule.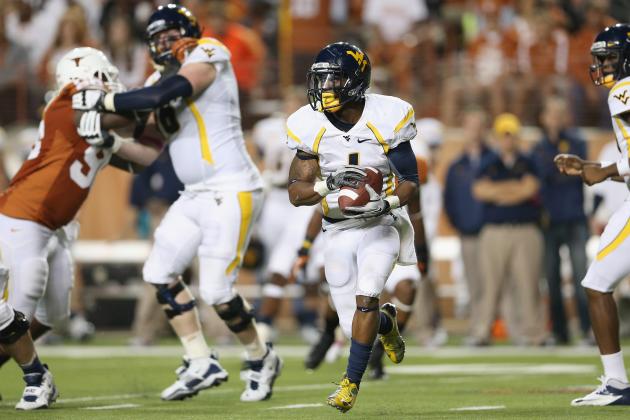 Ronald Martinez/Getty Images

Final Record Projection: 11-1
West Virginia probably has the best offense in the nation, and when it gets going, it's quite a sight. Unfortunately for the Mountaineers, their offense didn't get going Saturday and Texas Tech's sure did. Geno Smith may have fallen out of the Heisman race for now, but all is not lost at WVU.
After a terrible loss to Texas Tech yesterday, the Mountaineers should finish out the rest of the season unscathed and 11-1. Ultimately, I consider yesterday's dismal performance as more of a blip than a trend.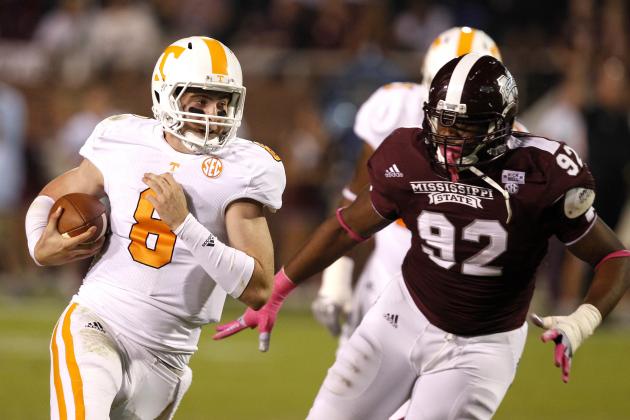 Butch Dill/Getty Images

Final Record Projection: 9-3
Mississippi State is another pleasant surprise this season that has been a great story to watch. The Bulldogs haven't really played anyone too tough but did notch an impressive win over a decent Tennessee team this past weekend.
Unfortunately, this great story will be cut short with three losses at the end of the year. I see the Bulldogs falling to LSU and Alabama obviously, but also Texas A&M, who is much more battle-tested than Mississippi State.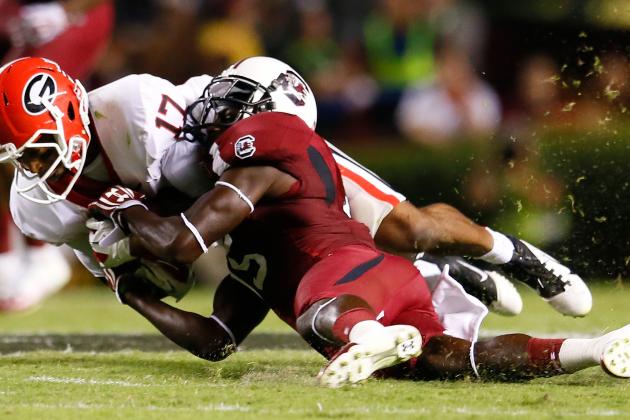 Kevin C. Cox/Getty Images

Final Record Projection:11-1
Prior to an embarrassing loss to South Carolina, UGA was looking like one of the best teams in the nation. The Bulldogs have a great rushing attack, a solid QB and an aggressive defense that wasn't full strength until the fourth week in the season.
Luckily for the Bulldogs, they don't have to play LSU or Alabama this year, and I expect them to run the table to finish out the season.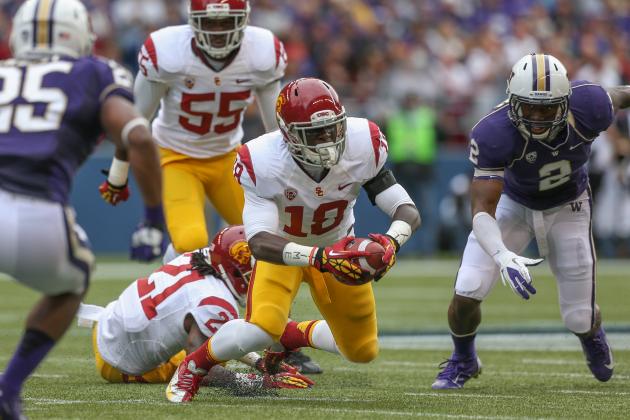 Otto Greule Jr/Getty Images

Final Record Projection: 11-1
USC has been surprisingly underwhelming this season considering what was expected in the preseason. I expected the Trojans to dominate this season, but they've had a few rough games including a loss to Stanford. Matt Barkley hasn't set the world on fire yet, but I expect this team to pick it up as the season goes on.
That being said, I don't see USC losing again this year because by the time tough games against Oregon and ND come around, I expect the Trojans to be in top form.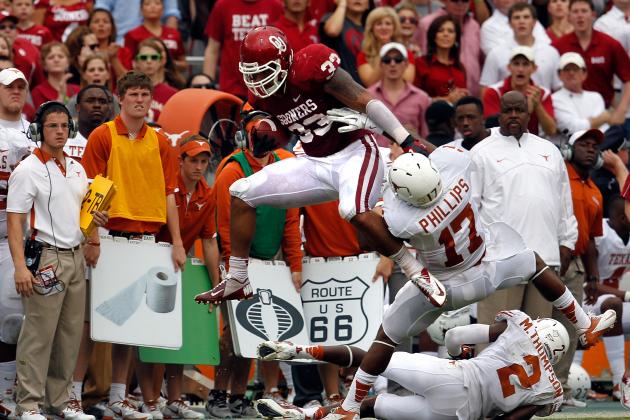 Tom Pennington/Getty Images

Final record Projection: 10-2
Following a dominating victory over their arch-rivals, the Sooners are riding high and have reentered Big 12 championship discussions for good. Landry Jones has done a solid job in his final season at Oklahoma, and he has decent weapons around him.
Besides a loss to West Virginia later in the year, I don't see this team taking any other losses this season. West Virginia's high-powered offense will just be too much for that defense and should dominate.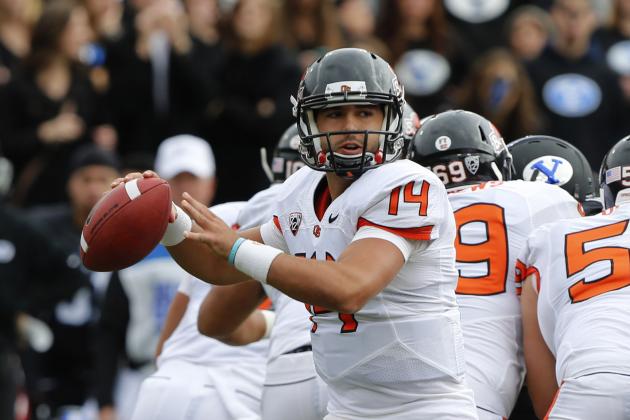 George Frey/Getty Images

Final Record Projection: 9-3
This Top 10 is full of surprises, and Oregon State is probably the biggest one of them all. Coming off a solid thumping of BYU, the Beavers are on a roll and 6-0 for the first time in a while. They've been involved in a few nail-biters this year but always end up handling their business and therefore have found themselves in the Top 10.
Every great story must come to end at some point, and I see the Beavers dropping three of their last six games in 2012. I don't think they'll be able to keep up with Washington or Oregon's offense, and Stanford is just too physical for the Beavers.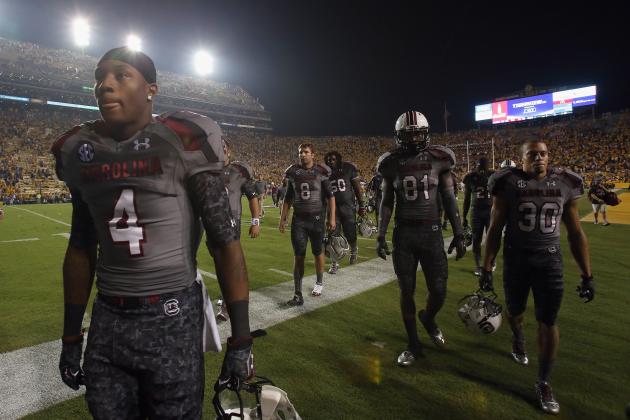 Ronald Martinez/Getty Images

Final Record Projection: 10-2
Just a week ago, the Gamecocks were on top of the world with a huge win over a solid UGA team. Fast forward a week later, and South Carolina has fallen from grace following a tough loss to a solid LSU team. Lattimore has been a workhorse for the Gamecocks, and they do a great job of getting after the quarterback.
I expect the Gamecocks to fall to the Gators next week but cruise through the rest of the season afterwards. Florida has the right kind of team to defeat South Carolina, and its defense should keep Lattimore in check.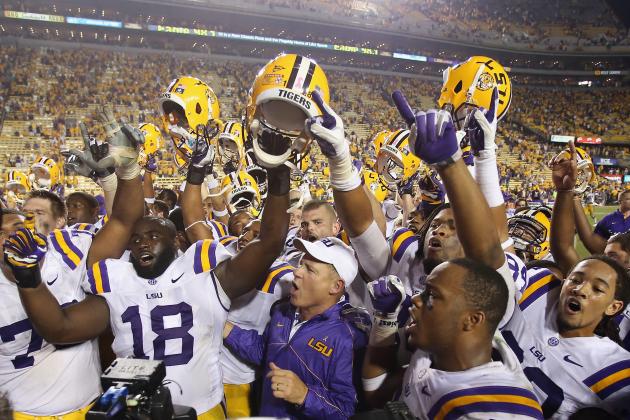 Ronald Martinez/Getty Images

Final Record Projection: 10-2
A week ago against Florida, LSU looked hopeless and a loss the next week to South Carolina almost seemed inevitable. Sure enough however, LSU shocked us all with an impressive and gritty win over South Carolina, reentering the SEC championship discussion.
Unfortunately for LSU fans, I still see them falling to Alabama in a few weeks, but other than that, the Tigers should handle their business and finish with a respectable record and a decent bowl game.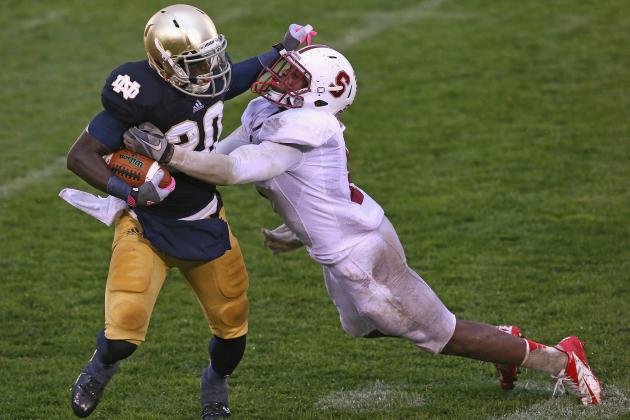 Jonathan Daniel/Getty Images

Final Record Projection: 10-2
The Fighting Irish are another squad I never expected to see in the Top 25 anytime this season, but they certainly have earned it. They unexpectedly dominated Michigan State, handled their business against Michigan and just took out a solid Stanford team in overtime. They have one of the top defenses in the nation and have been a pleasant surprise.
I see ND finishing the season at a solid 10-2 with losses to Oklahoma and USC. I just feel that USC has their number and will be really hot towards the end of the season, and I'm not convinced that they can keep up with Oklahoma's offense.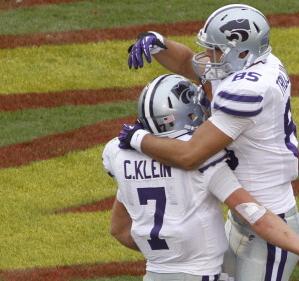 Matthew Holst/Getty Images

Final Record Projection: 11-1
Dark-horse Heisman candidate Collin Klein has led this team to yet another solid season, this time to a 6-0 start. It's a bit difficult to figure this team out right now because with the exception of a win over Oklahoma, it really lacks significant victories as of now.
By season's end, I see KSU falling to one team and one team only. That team is West Virginia, and besides that, I see the Wildcats running the table in 2012.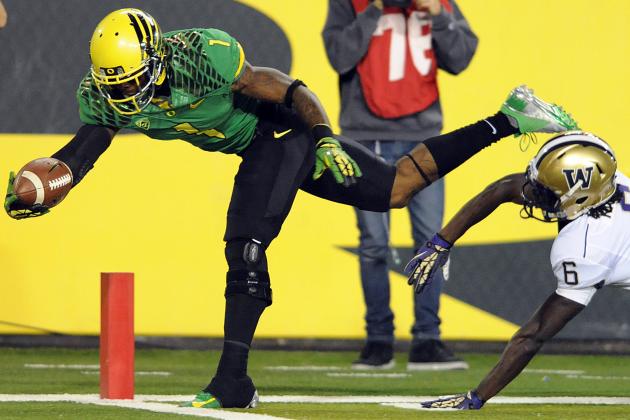 Steve Dykes/Getty Images

Final Record Projection: 11-1
My mind changes on Oregon as much as the Ducks change uniforms. Some days, I'm just convinced they're unstoppable, and then other days, they seem very beatable to me. Nonetheless, the Ducks have started the season on the right foot with a 6-0 record and haven't really played a close game yet.
For some reason, I am just convinced that this team will fall to USC when they play later in the season. I feel like by then the Trojans will have their stuff together and that will be bad news for the Ducks. Other than that, I don't see them falling to anyone else.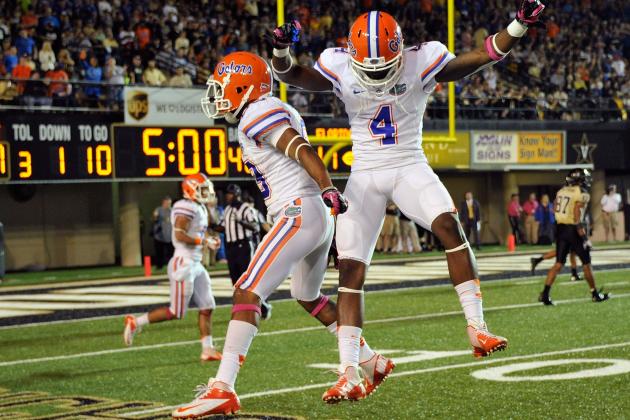 Frederick Breedon/Getty Images

Final Record Prediction: 11-1
The fact that Florida is ranked at No. 2 is still flabbergasting to me. Not because the Gators don't deserve it, but because I never would have thought this team would be 6-0 at this point, let alone ranked that high. The Gators have looked great on defense and Driskel has settled in nicely at QB.
Unfortunately for Florida, the schedule doesn't get any easier, and I see them losing to UGA in the next few weeks. Georgia is a better team than we saw last weekend, and will come out firing against Muschamp's squad. Other than that, I see them taking care of business each week.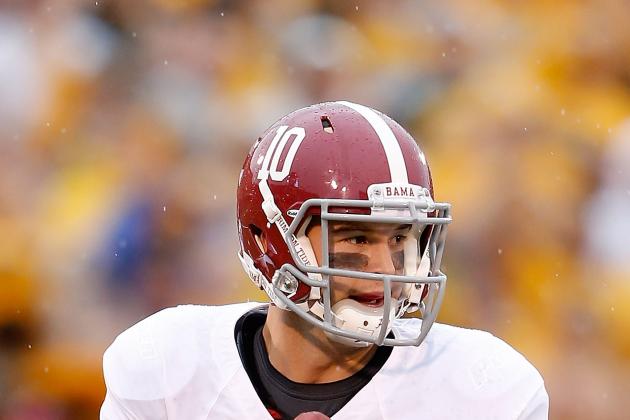 Jamie Squire/Getty Images

Final Record Prediction: 12-0
Behind a strong defense and an able QB in AJ McCarron, the Crimson Tide have bolted to an impressive 6-0 record. Their season began with a solid thumping of a decent Michigan team, and since then they really haven't been challenged. Now granted, they have handled the weaker teams on their schedule easily, but I would like to see them against a more formidable test than Ole Miss or Missouri.
I'm normally pretty hesitant to predict a team to finish the season undefeated but to be honest, there's really no one on their schedule that scares. There's a chance that they might fall to LSU in a few weeks but I really don't see that happening and I fully expect them to be in this year's national championship game.