Cowboys vs. Ravens: Cowboys' Biggest Winners and Losers from NFL Week 6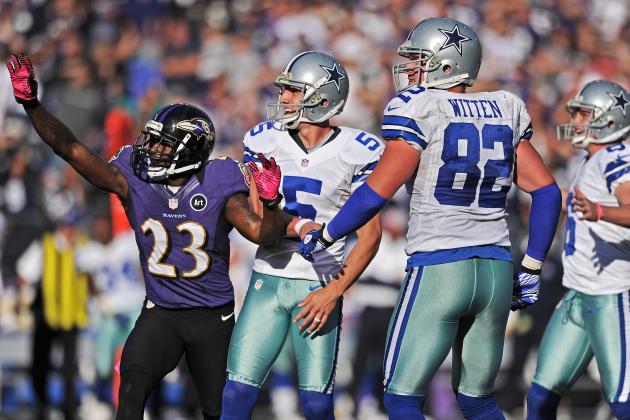 Patrick Smith/Getty Images

That collective yell that you heard around the globe as the final seconds ticked off the clock for the Cowboys/Ravens game? Yeah, that was the fans of Cowboys nation venting out their frustrations.
Dallas traveled to Baltimore to face the Ravens after losing a tough game to the Bears two weeks ago. Coming out of their bye week, the Cowboys were a little healthier and looking to get their season back on track.
Too bad the Ravens didn't feel that way.
Dallas lost to the Ravens 29-31 after kicker Dan Bailey missed a 51-yard field goal with six seconds left in the game. Before that, receiver Dez Bryant dropped a two-point conversion catch that would have tied the game.
Well before that, Dallas was flagged 13 times for 82 yards and played a very undisciplined game, something that is a cornerstone of their play as of late.
But never mind the penalties as we will explore those later.
The Cowboys had every opportunity to win this game but just couldn't seem to get themselves together.
At any rate, after their two-point loss to bring their record to 2-3, here are some of the game's winners and losers.
Begin Slideshow

»
Tim Heitman-US PRESSWIRE

Murray was slowed by a foot injury in the second half but still rushed for 93 yards on the day. In fact, the Cowboys totaled 227 yards on the ground for the day.
Dallas came in wanting to take advantage of the Ravens' weak rush defense and did just that. They attacked the edges, the middle and anywhere else the Ravens allowed them to run.
It didn't matter in the end as the Cowboys let a victory slip through their fingers after tearing the Ravens up on the ground.
Murray looked great, averaging six yards per carry, but it was all for naught.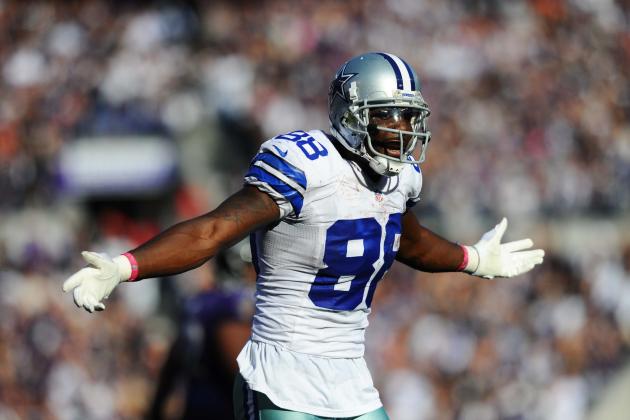 James Lang-US PRESSWIRE

I'm not sure if it's fair to place Bryant in this category as he really had a nice game. He caught a team-high 13 passes for 95 yards and left the game with two touchdowns.
He abused the Ravens' secondary and looked overpowering at times. Dallas faced a 3rd-and-27 at point during the fourth quarter, and Bryant caught what looked to be an eight yard pass from Romo, and turned it into a 17-yard gain.
Bryant did nothing but help his team on Sunday.
However, he dropped a pass for a two-point conversion that would have tied the ballgame up late in the fourth quarter.
The Cowboys lost due to a collective effort of bad mistakes and mental errors at times, but Bryant's drop seemed to be the nail in the Cowboys' coffin.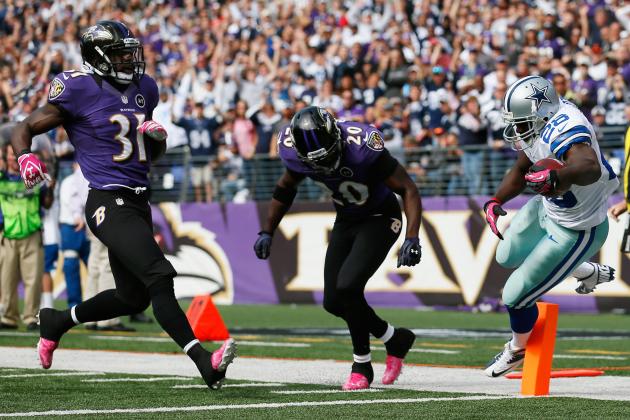 Rob Carr/Getty Images

I have said that Jones is just running on borrowed time in Dallas. He has been a no-show for the Cowboys this season, and I am sure that fans remember his fumble to start the game against the Seahawks in Week 2.
Whether he ends up in Dallas next year is truly up to him as his play will determine that. But for one Sunday in October, he played his tail off and ran for 92 yards and one touchdown.
He looked like the Felix of old as he showed burst and power against Baltimore. He filled in for a hurting DeMarco Murray and played very well.
If it's just for one Sunday in October, Jones showed why the Cowboys drafted him in the first place.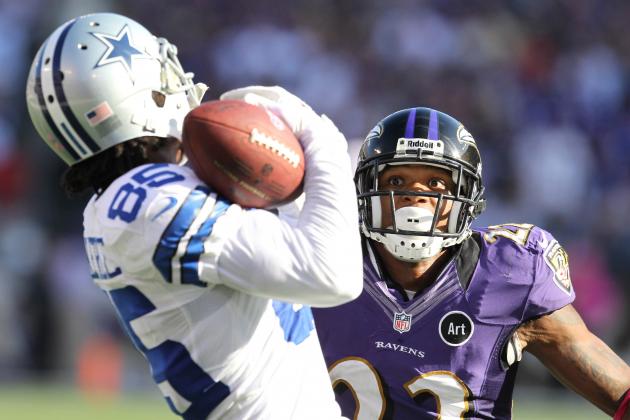 Mitch Stringer-US PRESSWIRE

Ogletree's face deserves to be on the back of a milk carton. He was targeted four times, dropped one pass and caught zero balls on the day.
Ever since his "coming out party" in Week 1 against the Giants, Ogletree has been missing in action.
His production has gone down every week, and he hit rock bottom this Sunday against the Ravens.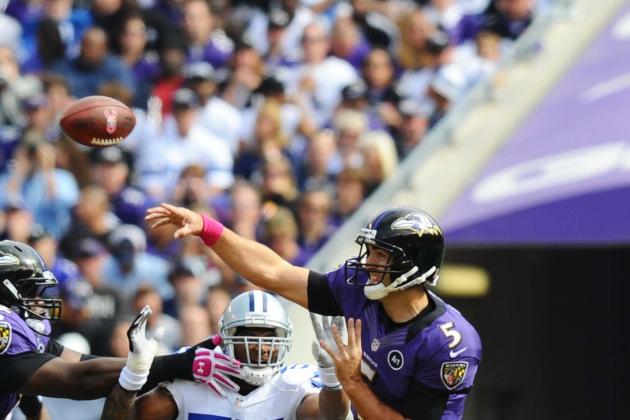 James Lang-US PRESSWIRE

Linebacker Anthony Spencer missed this game with a strained pectoral muscle. So Dallas filled his shoes with Mr. Butler and Alex Albright.
For this game, Butler led the team with five solo tackles and one pass defense. He did not pressure or sack the quarterback, but he showed up and played well on Sunday.
Not a high tackle day for the Cowboys as the machine that is Sean Lee only recorded three solo tackles.
Butler has lofty expectations on him, and maybe this season is when we start to see him make his mark.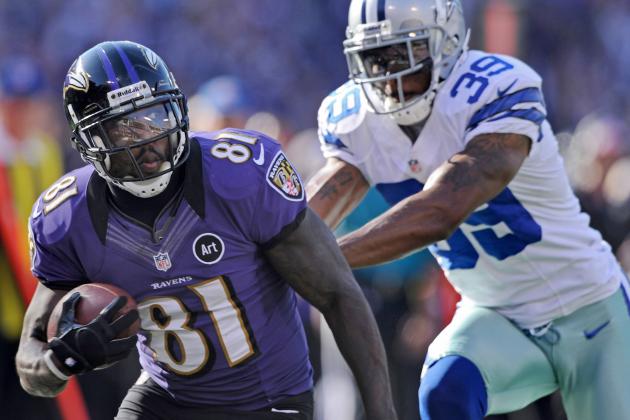 Patrick Smith/Getty Images

Carr has brought life back to the Cowboys' defensive backfield. He shut down Victor Cruz in Week 1 and held the very big Vincent Jackson, a Bucs receiver, to just one catch in Week 3.
But for the past two weeks, he has looked very human. Against the Bears, Carr was overpowered by the bigger Brandon Marshall. Marshall had 107 receiving yards and a touchdown for the Bears in Week 4.
On Sunday against the Ravens, Carr was tasked with covering Anquan Boldin. Carr kept Boldin out of the end zone, but he couldn't stop him from having an impact on the game.
Boldin had 98 yards on five catches, and he had a 31-yard scamper to set the Ravens up for a score.
Carr will have a chance to get back on track next week when the Cowboys travel to North Carolina to face the Panthers, but he was outshined today against the Ravens.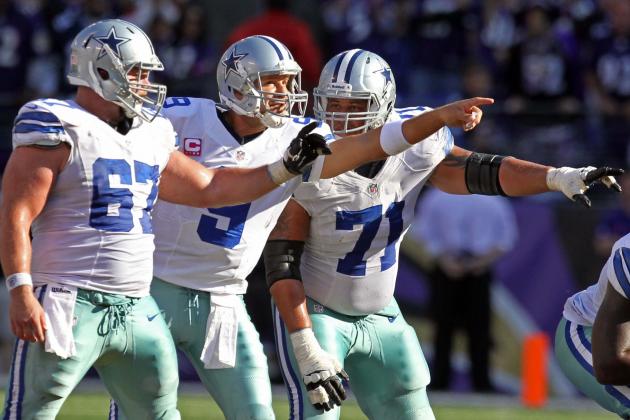 Mitch Stringer-US PRESSWIRE

I pick on the offensive line a lot because they just aren't that good right now. They have a lot of moving parts upfront and have yet to figure out the right mixture of players.
They didn't find it on Sunday either, but I will give them props for opening up holes for Jones and Murray. The offensive line did a great job of leading the way for the Cowboys' rushing attack, and 227 yards rushing is nothing to snuff at.
Romo was sacked just once and threw for 261 yards. Again, not a clean day overall for the line, but this loss cannot be blamed on the men upfront.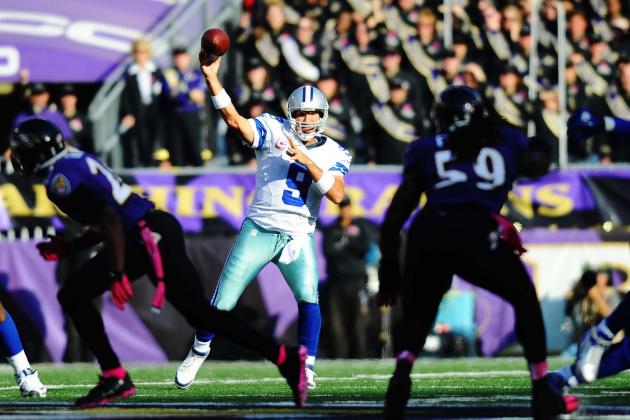 James Lang-US PRESSWIRE

For the first time this season, I believe that Tony Romo may be at fault for the Cowboys' loss.
Romo threw an interception when the game was still knotted at 10 points in the second quarter. Because of his turnover, the Ravens were able to turn into a touchdown.
After the play, it looked as if Ogletree may have run the wrong route as Romo threw the ball to where he thought Ogletree would be.
The Ravens went up 17-10 and never looked back. Dallas never recovered either.
No matter as an interception is an interception, and Romo threw a costly one on Sunday. He only had one, compared to his five against Chicago, and it led to a Ravens' victory.