Dallas Mavericks: Their 5 Most Pivotal Players for 2012-2013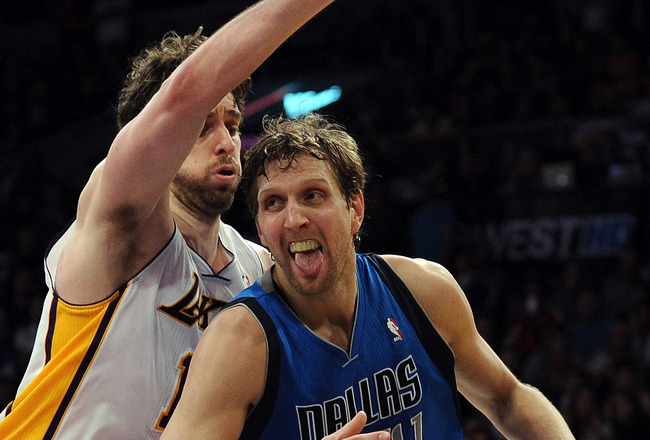 Harry How/Getty Images
The Dallas Mavericks will likely be a middle-of-the-road playoff team in the Western Conference this season.
While Dallas did reload in the offseason, adding several talented players, they also have lost almost all of their significant role players from the 2011 NBA championship team.
Dallas clearly has enough talent to be in the mix in the West and make the playoffs, but just where they rank among the best teams in the West is open for debate.
If Dallas is going to challenge the best teams in the Western Conference such as Oklahoma City, Los Angeles (both of them) and San Antonio, it will need the following players to play at their absolute best.
5. Delonte West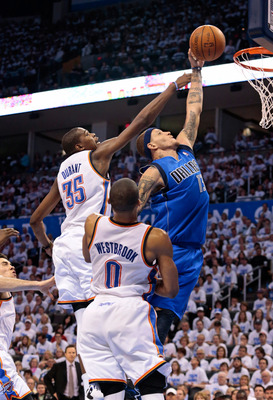 Brett Deering/Getty Images
Although Dallas replaced Jason Kidd and Jason Terry with capable young starters Darren Collison and O.J. Mayo, an underrated move Dallas made in their backcourt this offseason was re-signing swing guard Delonte West.
West had a solid all-around season for the Mavericks in 2012, scoring nearly 10 points a game and averaging more than three assists. He even started 33 games.
West is invaluable to the Mavs for multiple reasons.
First, as he proved last year, he has a killer instinct when the game is on the line. West's veteran skills and smart decision-making allowed Rick Carlisle to feel comfortable with the ball in West's hands late in the fourth quarter either as a point or shooting guard.
Also, if Collison or Mayo struggle or suffer an injury, West is a player who Dallas can quickly turn to to fill the gap.
If West can match his leadership and production from his first season as a Maverick, it will greatly aid Dallas' backcourt.
4. Elton Brand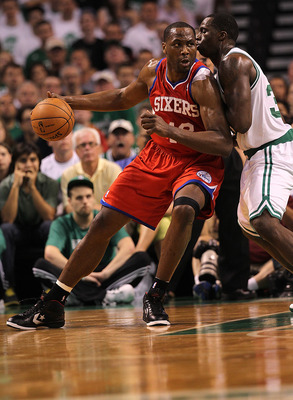 Jim Rogash/Getty Images
To shore up their depth up front, the Mavericks were able to win the bidding war for amnestied former 76er Elton Brand.
Brand has lost a step or two since his prime days in LA with the Clippers, but he proved to be an important asset to the 76ers during their run to Game 7 against the Celtics in last year's playoffs.
Brand put up 11.0 points and 7.2 rebounds a game for Philadelphia last year, and this season he will be Dallas's go-to big man off the bench behind Dirk Nowitzki and Chris Kaman.
If Brand can stay healthy, which admittedly is a big if, he will give Dallas three extremely capable low-post scorers, something the team has not had in a long time.
Brand is also an above-average defensive player and rebounder, both areas of need for the Mavs going into this season.
What makes Brand even more pivotal to the Mavs' success is that if he goes down with an injury, their frontcourt depth suddenly turns into a weakness. They would then be relying entirely on Brandan Wright and rookie Bernard James on the second unit up front.
3. Shawn Marion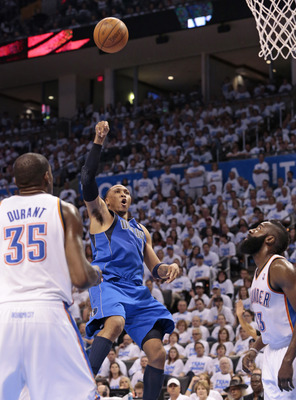 Brett Deering/Getty Images
As I have stated before, I believe Shawn Marion will be the Mavs' biggest X-factor in 2013.
Marion is not only still a reliable scorer who can run the floor, score in the post and be consistent from the line, but he is also Dallas's best defensive player.
Marion is often times asked to guard the opponent's best perimeter scorer, and the Mavs will need him to continue to be a lockdown defender if they are going to have a top-10 defense for a third straight season under Rick Carlisle.
As a small forward, Marion also plays a position for Dallas that has no experienced backups, meaning he will be asked to play more minutes than most of his teammates.
If Marion were to struggle on either side of the ball, it will be detrimental to Dallas's postseason hopes.
2. O.J. Mayo
Andy Lyons/Getty Images
After failing to sign Deron Williams and not bringing back Jason Terry, Dallas was in desperate need of someone who could fill the role of lead perimeter scorer. Eventually, the Mavericks were able to land former Memphis Grizzly O.J. Mayo to be their starting shooting guard.
Mayo has proven that he can be a high volume scorer in the NBA, but he has been inconsistent in his first four seasons as a pro.
Simply put, if Mayo jacks up too many shots, has a bad attitude and fails to live up to his potential. it will heavily damage the Mavericks' chances of being competitive.
However, if he focuses and plays within the team concept, he can easily be a 20-point a night scorer and one of the best young players in the West.
If Mayo is able to accomplish that, the Mavericks all of the sudden become a much more dangerous team.
1. Dirk Nowitzki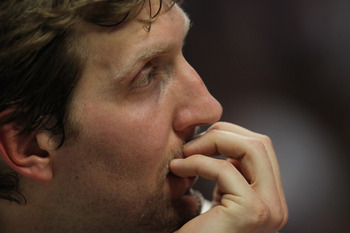 Jonathan Daniel/Getty Images
Although it may seem like a cop-out, when tasked with coming up with the top-five most pivotal players for the Mavericks in 2012-2013, only one name came to mind to be No. 1.
Dirk Nowitzki, aka the greatest Maverick of all time, will make all of the difference for Dallas, just like he has every time he has put on a Dallas uniform.
Nowitzki had a bit of an off year last season, which was a large part of the reason the team seemed to be so sluggish all season long.
However, if he comes out refreshed and hungry for another deep playoff run, it will be extremely difficult to stop him.
Although it may seem elementary, the Mavericks will only go as far as Nowitzki carries them.
Sure, he will need those around him to play their best if Dallas is going to make up for its old age and lack of talent compared to the other top teams in the league. But as we saw in the 2011 playoffs, Nowitzki can single-handedly make a team a championship contender.
If Nowitzki can stay healthy and play at a high level all season, it could spell good things for the Mavericks in 2012-13.
Keep Reading

Dallas Mavericks: Like this team?