WWE vs. TNA: Who's Been Better This Week? (Oct. 7-13, 2012)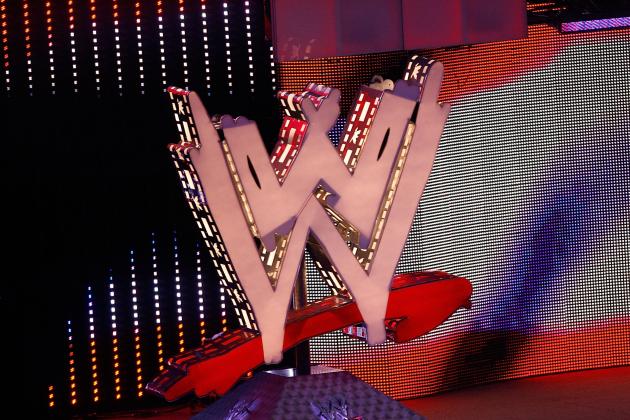 Jim Rogash/Getty Images

Hello and welcome to this latest article in my series where I analyse the main output of the WWE and TNA over the past week and pick the best.
While the WWE is still a fortnight away from Hell in a Cell, this week's Impact was the final TNA show before Bound for Glory—its biggest pay-per-view of the year. With that in mind, let's see how they both fared.
Begin Slideshow

»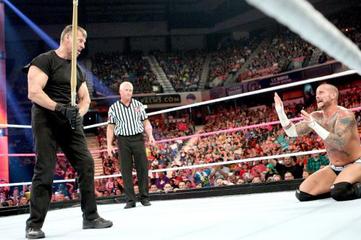 Image: wwe.com
Raw opened with a John Cena promo. Every Raw used to kick off like that, but it's not happened for a while. He acted as though missing one Raw is equivalent to missing about a decade, and made the oddest joke about how big Antonio Cesaro's nipples are (can't say I'd noticed).
Ryback crossed John Cena on the way in. Ryback defeated both Epico and Primo, which is a shame for them. As he got them up for the Shell Shocked, JR effectively satirised himself by saying that Ryback was "stronger than a government mule."
Brodus Clay vs. R-Truth is a match I'd never have thought we'd see, because they're both faces and the WWE never does that. So we didn't get the match.
Vince McMahon's state of the WWE speech was quickly interrupted by CM Punk, before he could get to "Sheamus is ruining everything." Vince and Punk in the same ring felt like a callback to their exchanges of summer last year, which I still rate as some of the best stuff the WWE's ever done, so the two of them doing a promo gave me chills. The crowd was well behind proceedings, so I doubt I was the only one.
People are always talking about the idea of Punk facing Stone Cold Steve Austin at WrestleMania. I've personally no desire to see it, but after the talk here and later backstage discussions between Punk and Heyman, there's a pretty clear way of building to it if Punk feuds with McMahon long term.
Next up was the Tag Team Tournament match of The Prime Time Players vs. Rey Mysterio and Sin Cara. This felt like a pretty big match, and that shows exactly how successful the WWE has been in rebuilding the titles' prestige. Both teams are pretty credible and pushed as well, which helped matters—I couldn't predict the winners.
Sheamus vs. Wade Barrett was a big surprise. This is what many predict to be the next big World Heavyweight Championship feud (myself included), so to see the two lock horns here could only mean one thing. Unexpectedly though, it was Tensai who interfered rather than The Big Show. Wade Barrett was very credible throughout, and it wouldn't surprise me to see him as world champion by the end of the year.
Antonio "Crippler with the Nipplers" Cesaro (well, why not) defeated Tyson Kidd. The United States Championship is the title with the least happening. Maybe someone like Kofi Kingston could mount a reasonable challenge, but any challenger at the moment will just seem rushed and thrown together. Great improvement has been made for the tag belts (and to a lesser extent, the Divas title's got more going on), so why not the US title?
Team Hell No defeated Alberto Del Rio and Dolph Ziggler in a fantastic match. It's not just that they're four great wrestlers—we have great wrestlers in poor matches every week—but it's that they were given the time (well over 10 minutes) to put on a really good show, and with a clean finish.
Larry King did a pretend kind of show thing with The Miz and Kofi Kingston. Kofi opened with the worst statement ever, and despite my mentioning the US title earlier, it looks like he'll be challenging for the Intercontinental belt. I have noticed he's had quite a lot of singles action recently, even though he keeps losing. I doubt he'll go over The Miz, but it keeps things happening.
The Rhodes Scholars went over Santino Marella and Zack Ryder in quick time, thank goodness. More interesting was Heath Slater's new stable coming out to beat up Santino, which I completely approve of. I'll be even more approving if and when they do something proper, but beating up Santino will always receive a thumbs up from me.
Kaitlin had her shot at Eve Torres' Divas title, with a visibly bandaged foot (because you know how they bandage over your boot when your foot's hurt) giving her an excuse to lose. I like that they're at least trying with the Divas at the moment.
The much-anticipated Mr McMahon vs. CM Punk match saw Punk being dominated for most of it, despite his jumping Vince on the ramp before the start. Things only changed with a low blow. It makes Punk look weak to have being dominated by an old man like that, and not like he could defeat John Cena at Hell in a Cell. Turning his classic triumphant escape through the crowd into cowardice didn't sit right with me either, but it made Raw feel like a bigger event than it usually does.
I'm not happy about CM Punk looking weak and cowardly, but aside from that I enjoyed Raw a lot. Again, 80 percent of it is Punk and Team Hell No, but so long as I still enjoy it, it's doing its job.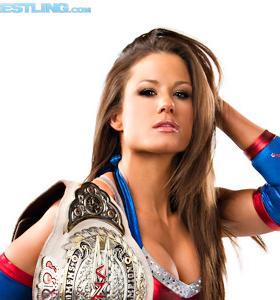 Image: impactwrestling.com
Impact opened not with an in-ring promo (for the first time in ages), but with Austin Aries vs. James Storm. A huge match, but though TNA is better than the WWE when it comes to delivering results on TV, you wouldn't expect a clean finish here just days before their biggest PPV of the year.
Hernandez defeated AJ Styles in what was both a great matchup and a pretty big upset. Chavo Guerrero joining TNA has certainly helped Hernandez.
Sting and Bully Ray vs. Christopher Daniels and Kazarian is another match you wouldn't have thought either team could afford to lose on the last show before Bound for Glory—though if you had the pick, you'd expect the cowardly heels to be doing the job. Aside from that though, it was the first time we've seen Sting wrestle in quite some time. The match had an unexpected crowd pleaser of an ending in the use of a table, which was a pretty clever way of getting some face heat on Bully Ray.
In the recent situation with the Knockouts title, the champion herself, Miss Tessmacher, actually seems to have been playing a fairly minor role, so giving her a good TV victory over Gail Kim was a great move.
Bobby Roode vs. Jeff Hardy was becoming quite special until its conclusion. One for a future PPV, certainly. The closing promo was exactly what was needed to give Aries vs. Hardy the spark that's been missing. That they left it as late as that is disappointing, but also understandable—making Aries into more of a heel is a bit of a shame for a man whose ascension has been very special, but ultimately the crowd's going to cheer for Hardy whatever, so it gives the match the colour it needs.
Impact did exactly what was needed: It built interest for pretty much every match at Bound for Glory and delivered a pretty pacy show doing it. If the wrestling was let down by inconclusive results (and what else can you expect from the final show before the promotion's WrestleMania equivalent), it still gave us some good action and good promos.
Bound for Glory itself has a great card with terrific potential, and I'm certainly hyped for it.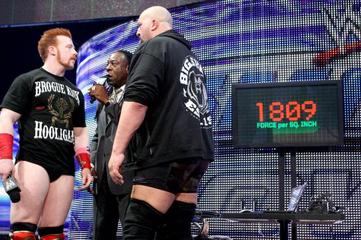 Image: wwe.com
Which is better, the WMD or the Brogue Kick? Neither, because wrestling isn't real. But the Brogue Kick certainly looks better than what is just a punch. The idea that there's a contention as to which move is more powerful as the catalyst for a big dispute between The Big Show and Sheamus is as lazy as ever. Can't Sheamus just spill coffee on Show by accident instead?
The opening segment was dire. It was possibly even worse than the debate segment from the previous week's Raw, which had unintended entertainment value of sorts.
Tensai being inserted in this situation fails because he is in no way a threat, and that's due to the very simple fact that he's a jobber. He's not won a match for as long as I can remember, nor even lasted very long in one—in fact, Sheamus spent a lot longer putting him away than Ryback did.
Now whatever happens, no one's going to believe Tensai will go over Sheamus in an opening SmackDown match. But had Tensai had a few wins recently, he'd at least seem dangerous.
Things did not improve as an exceptionally stupid segment saw Santino Marella trying to creep out Ricardo Rodriguez with has cobra glove. I'm not someone who yearns for a return to the blood and chairs of the Attitude Era, but this is insulting even to the children it's presumably aimed at.
Heath Slater and Jinder Mahal (with a distraction from Drew McIntyre) finally actually did something and defeated Santino and Zack Ryder. I say "did something." It's not too promising when just finishing and winning a match against the company clowns is a major step forward.
Dolph Ziggler vs. Kane was sadly wasted. It never got going, and so understandably considering the required ending. Both are great wrestlers who could have a great match given enough time and scope. The Team Hell No skit after was uninspired compared to the standard of their usual capers, but it's testament to their ongoing entertainment value that it was still the best part of the show up to that point.
It's a fairly basic rule that if you want to build a credible contender for something, you give them a few wins to build them up. As such, putting a midcard title contender—especially one with no wins to his name for a long time—against the world title contender is not going to help the former combatant's case. There's no draw in seeing a guy who almost always loses fight for the Intercontinental Championship, because there's no reason to suppose he has a chance. And such is the current plight of poor Kofi Kingston.
Damien Sandow was pinned by Sin Cara in a very disappointing result for Sandow, who's had a lot of momentum behind him that culminated in an excellent match with Sheamus last week. Again there was silly lighting for the singles Sin Cara match, which I had hoped they'd stop doing.
Alberto Del Rio vs. Daniel Bryan was a reasonable match that really deserved more time. Del Rio's promo taunting a supposedly absent Randy Orton was, unsurprisingly, met with Randy Orton—who also unsurprisingly had the upper hand throughout the following brawl.
After a couple of weeks of acceptability, SmackDown was right back down in the realm of very below average that's been its home for many months. While all the effort seems to be going into Raw (and in fairness, it's paid off there), SmackDown's once again an afterthought.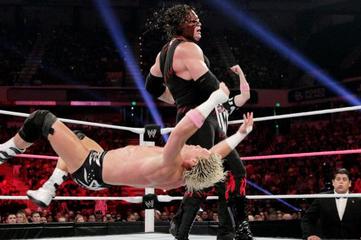 Image: wwe.com
Show of the Week: WWE Raw
Raw had a few faults, but the return of Vince McMahon and the resumption of hostilities between him and CM Punk made the show feel bigger even than the last Impact before Bound for Glory. Had Impact had one or two longer matches though, I may have chosen in its favour instead. The big disappointment was SmackDown, which was catapulted back to square one after a couple of reasonable episodes.
Match of the Week: Team Hell No vs. Dolph Ziggler and Alberto Del Rio
We had quite a few reasonable matches from both promotions, but none came close to this match from Raw. I think it really is just a matter of how much time a match is given, and a clean finish certainly helps as well.
Thank you for reading and all comments are appreciated.