College Football: Studs and Duds from Week 7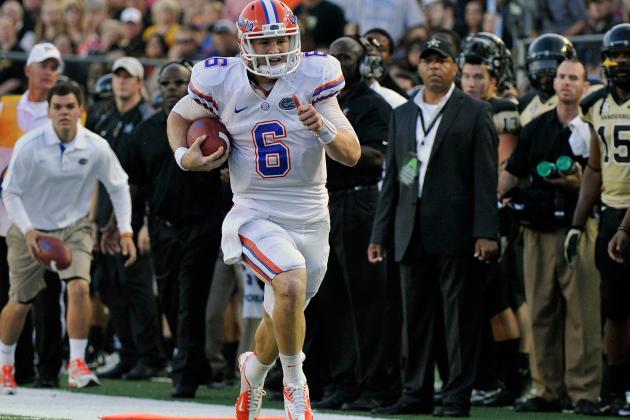 Frederick Breedon/Getty Images

Just when you thought it was safe to go to the bathroom…boom! TCU and Florida State rebounded, West Virginia stalled, South Carolina fell hard, Notre Dame got the call, Ohio State and Texas A&M survived and Alabama dominated again.
Yes, the seventh stanza of the masterpiece aptly titled "the 2012 College Football Season" did not disappoint, offering something for everyone.
From streakers in Lubbock to blowouts in Dallas, Week 7 was an autumn cornucopia of gridiron goodness, a plentiful bounty that included a generous helping of both heroes and scoundrels.
The following slideshow pays tribute to this week's valiant studs and woeful duds, and in doing so, celebrates the individuals that spark the blazing inferno of the greatest team sport in our nation.
Man your battle stations my friends; it's time for Studs and Duds…mid-season style with a side of gravy.
Begin Slideshow

»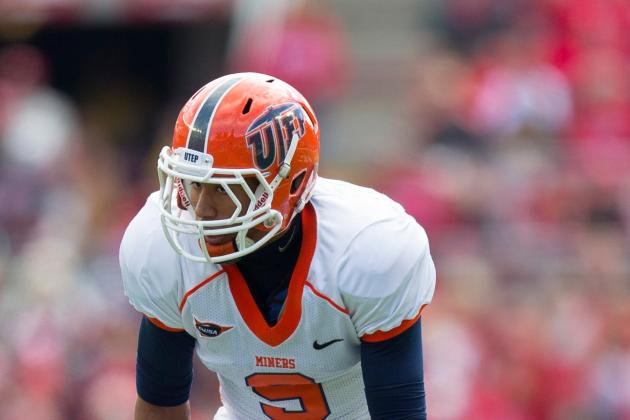 Jeff Hanisch-US PRESSWIRE

Though it's difficult to imagine a true stud show emerging from the losing side of a 33-11 decision, UTEP sophomore WR Jordan Leslie beat all the odds in Thursday night's loss to Tulsa.
Yes, the Miners got shellacked, but the young Leslie still managed an eye-popping 218 yards of receiving and one score on just 10 catches.
The numbers earned Leslie the third best receiving performance of Week 7.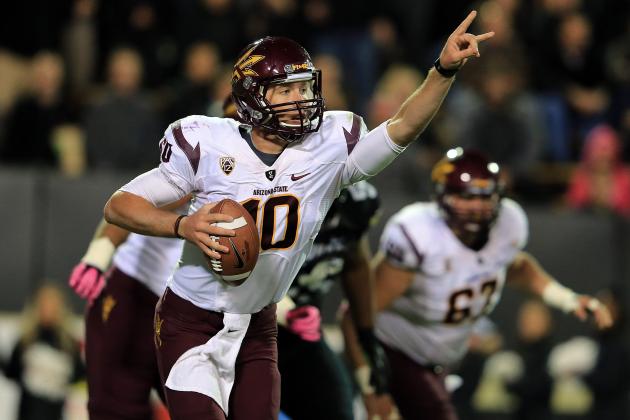 Doug Pensinger/Getty Images

Zipping somewhat safely beneath the national radar, Arizona State is 5-1 and a narrow loss to Missouri away from complete perfection.
Leading the way for the fearful Forks is sophomore QB Taylor Kelly, who exploded in Thursday night's 51-17 beatdown of Colorado, going 20-of-28 for 308 yards, five TDs and zero picks.
Overall, Kelly has thrown 14 TDs and only two picks this season, with both faux pas coming in the singular loss to Mizzou.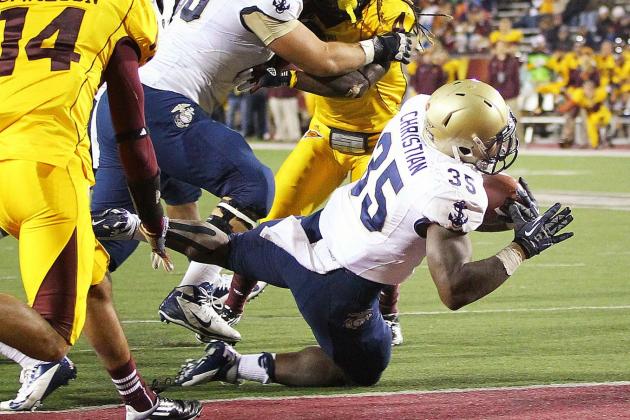 Mike Carter-US PRESSWIRE

The Midshipmen's offense managed 31 points in their Friday night win over Central Michigan, a number that included going a mind-blowing 5-for-5 on fourth-down conversion attempts.
All five successful tries came on 4th-and-1 situations.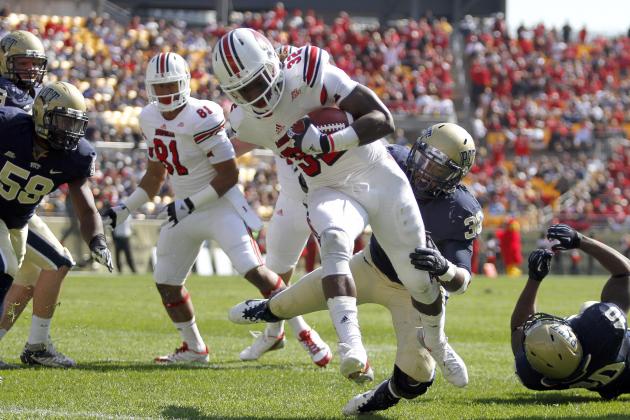 Justin K. Aller/Getty Images

Though junior RB Senorise Perry's 101-yard performance in Louisville's 45-35 win over Pitt might not turn too many heads, his four rushing TDs are sure to merit some extra attention.
Perry's four-score performance amps his TD total for 2012 to nine.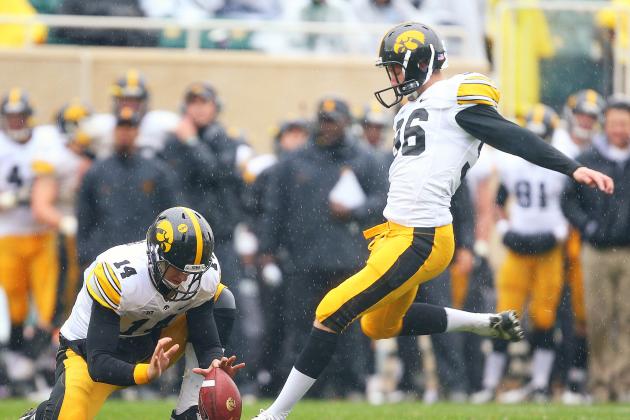 Mike Carter-US PRESSWIRE

Junior kicker Mike Meyer is more than just the guy who booted the winning field goal in Iowa's thrilling 19-16 double-overtime win over Michigan State on Saturday.
Meyer was 4-for-4 on field goal tries versus the Spartans, a statistical delight that includes successful kicks from 23 yards, 28 yards, 27 yards (in the first overtime) and the game winner from 42 yards out.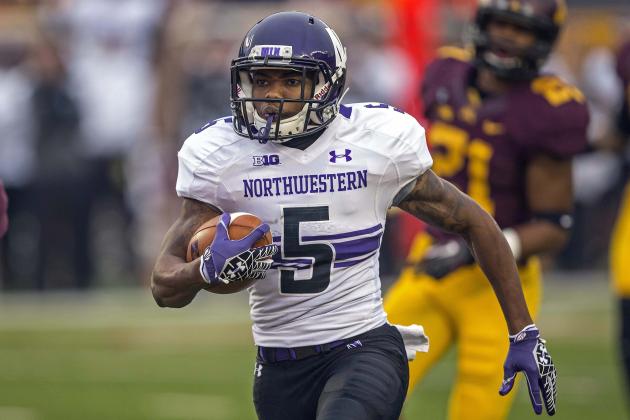 Jesse Johnson-US PRESSWIRE

Junior RB Venric Mark rushed for a season-high 182 yards in Saturday's 21-13 win over Minnesota.
Mark earned his high total on 20 carries and also contributed two TDs to the Wildcats' 6-1 start to the season.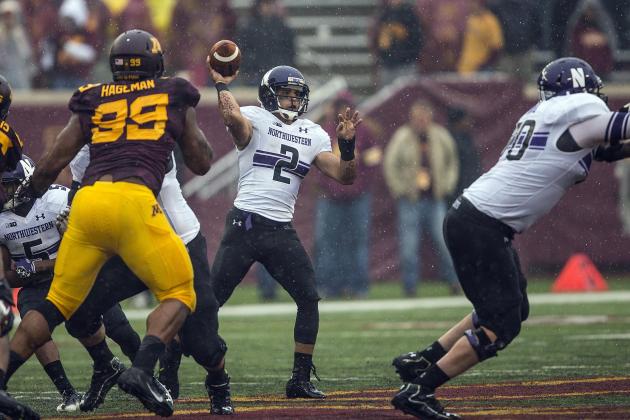 Jesse Johnson-US PRESSWIRE

Despite the fact that Northwestern beat Minnesota 21-13 to go 6-1 and secure a bowl bid, the Wildcats were a dismal 1-for-9 on third-down conversions.
The output translate to an 11 percent conversion rate, which was the worst across the board in Week 7.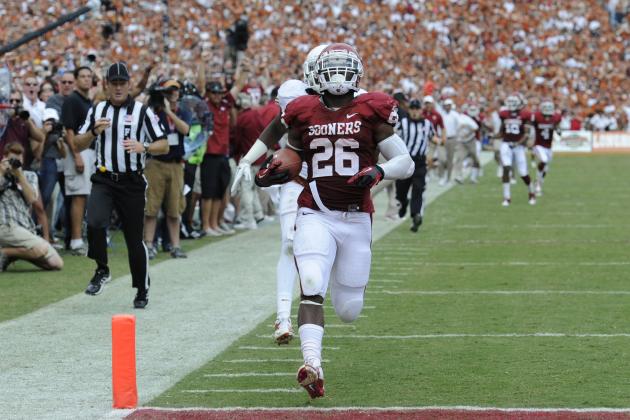 Matthew Emmons-US PRESSWIRE

Though you could award most every Sooner player with stud honors after their 63-21 beatdown of Texas in Week 7, junior RB Damien Williams deserves special mention.
Williams rushed for a season-high 167 yards on 22 carries in Saturday's win and tacked on a TD for good measure.
More than half of Williams' yards and his one score came via a 95-yard dash in the first quarter.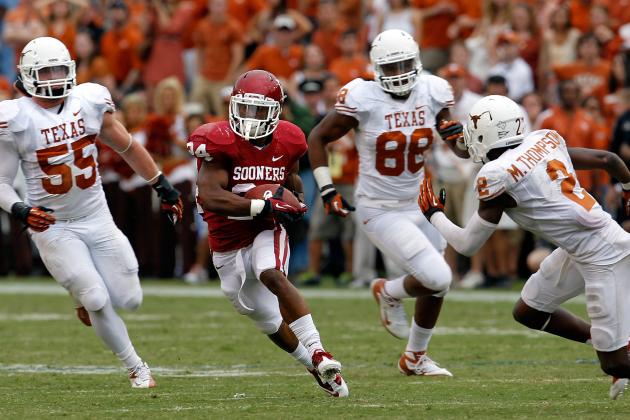 Tom Pennington/Getty Images

After coughing up 460 yards and 48 points in their Week 6 loss to West Virginia, it was hard to imagine things getting worse for the Longhorn D.
But that's exactly what happened when Oklahoma hung up 63 points, 677 yards and 30 first downs on the Horns' beleaguered defense in Week 7.
Yikes.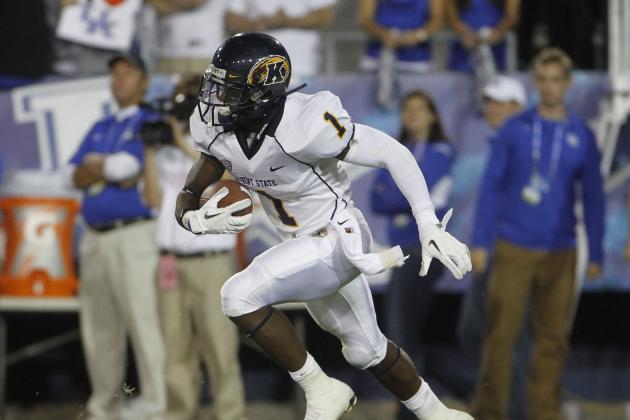 Mark Zerof-US PRESSWIRE

Junior RB Dri Archer reeled off an eye-popping 222 yards of rushing and one score on only 12 carries in Saturday's 31-17 win over Army.
Archer's performance helped secure the victory and propel the Golden Flashes to a 5-1 record thus far in 2012.
Sandra Dukes-US PRESSWIRE

In perhaps the studliest performance in all of Week 7, senior RB Montee Ball rushed for 247 yards and three scores in Wisconsin's 38-14 win over Purdue.
Ball's 247 yards anchored a Badger rushing performance that racked up an absolutely stunning 467 yards on the ground.
Wow.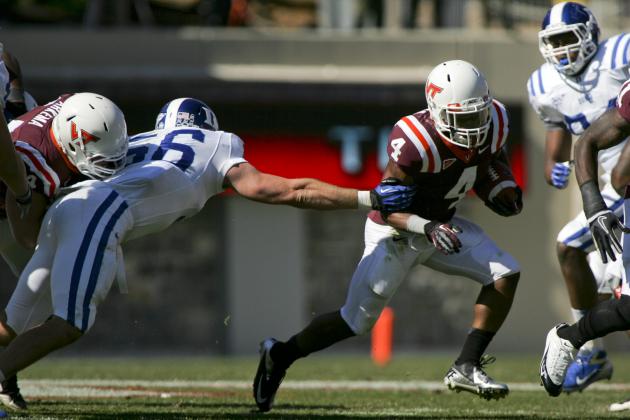 Peter Casey-US PRESSWIRE

After looking for a rusher in all the wrong places, the Hokies dialed freshman J.C. Coleman's number and he answered in a big way.
Coleman blitzed for 183 yards and two scores on 13 carries in Virginia Tech's 41-20 slow-start triumph over Duke.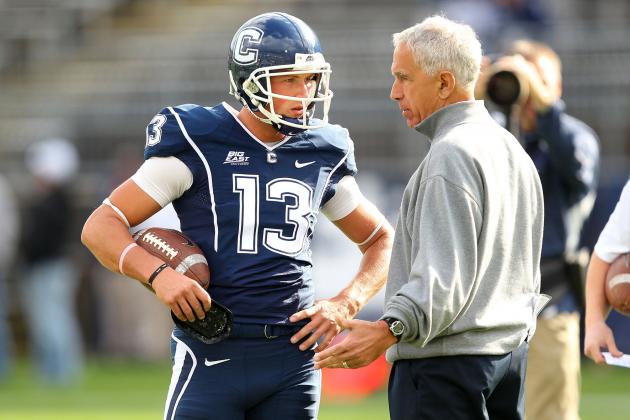 Danny Wild-US PRESSWIRE

Not only did junior kicker Chad Christen miss a 28-yard field goal attempt in overtime that could have sent the game to a second OT, he never made a field goal all day.
Christen's four missed attempts included a 32-yarder on the Huskies' opening drive, a 42-yarder early in the fourth quarter, a 45-yarder with five minutes left to go in the game (this one was blocked) and, of course, the painful 28-yarder in OT.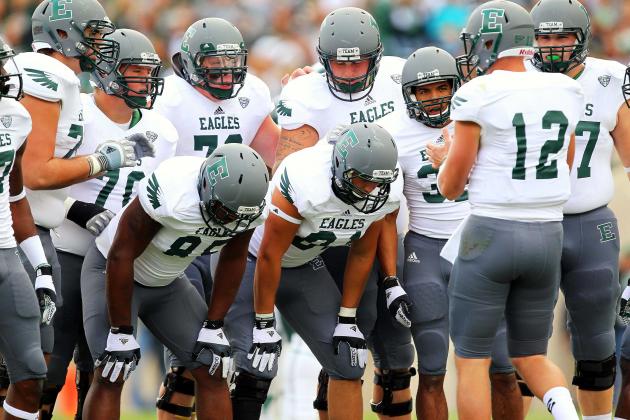 Mike Carter-US PRESSWIRE

In perhaps the most painful stud-worthy storyline of Week 7, sophomore RB Bronson Hill registered a mind-altering 283 rushing yards and four TDs in EMU's narrow loss to Toledo.
Hill got it all done on a workhorse-like 28 carries, but unfortunately, his contributions ultimately netted the Eagles a 52-47 loss in a game where defense went out the window.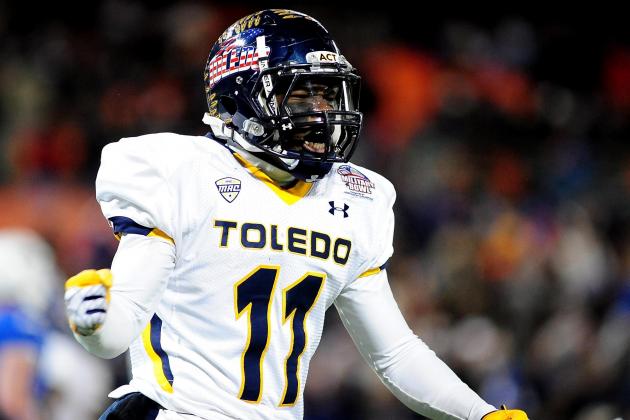 Andrew Weber-US PRESSWIRE

On the winning side of the 52-47 Toledo vs. EMU score from Week 7, we find junior WR Bernard Reedy, who nabbed 11 balls for 237 yards and two TDs in the Rockets win.
Reedy's stats were season-high marks for the Saint Petersburg, Fla., product and also made him the most productive receiver of the weekend.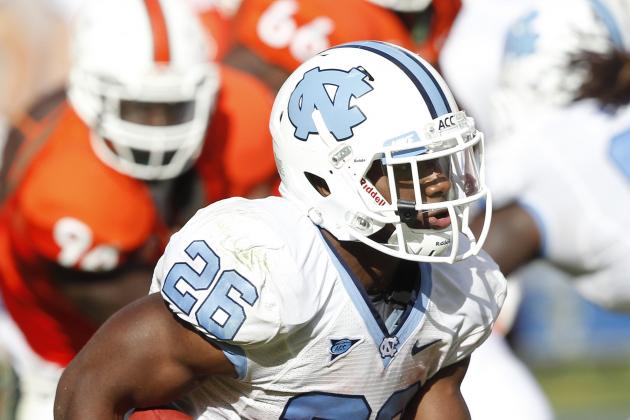 Joel Auerbach/Getty Images

After hitting the stud list in Week 6 with 262 yards of rushing, sophomore RB Giovani Bernard came back for more in the Tar Heels' Week 7 win over Miami (Fla.).
Bernard managed a mere 177 yards of rushing this past Saturday, but his two TDs were North Carolina's only on the day and made the difference in a victorious outcome.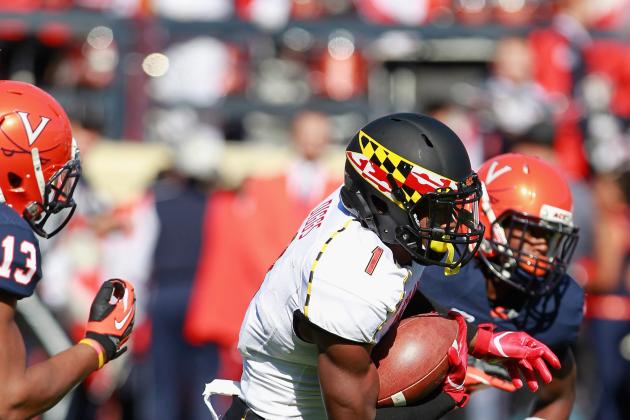 Geoff Burke/Getty Images

If you're wondering how Maryland managed to beat Virginia 27-20 on Saturday despite only earning 235 yards of total offense, 10 first downs and a dismal negative two yards of rushing, look no further than freshman WR Stefon Diggs.
Diggs started things off in a big way by returning the opening kickoff 100 yards for a Terrapin TD and then tacked on 60- and 24-yard passing plays to anchor a Maryland offense that eked out just enough yardage for the win.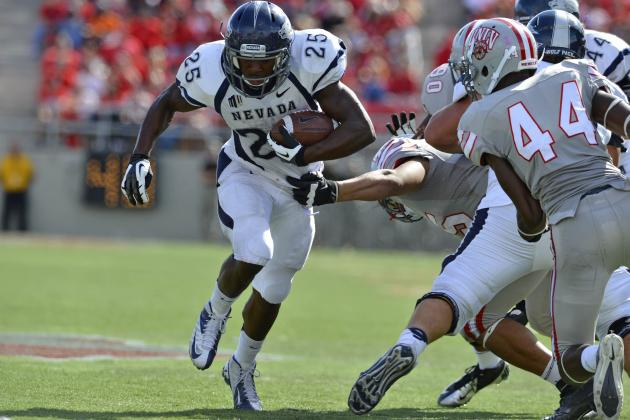 Ron Chenoy-US PRESSWIRE

Nevada and junior RB Stefphon Jefferson have both quietly put together a successful season thus far in 2012.
Nevada is 6-1 after a 42-37 win over UNLV and Jefferson's 185-yard performance in that game marks his sixth 100-plus yard game and his fourth 170-plus yard contest of 2012.
Jefferson's 185 yards vs. UNLV came on 34 carries and included three TDs.
Jamie Squire/Getty Images

The Crimson Tide lived up to their No. 1 defensive billing in Week 7 by completely squashing Missouri's offensive dreams.
Alabama gave up only 129 yards of total offense in their 42-10 Week 7 win over the Tigers, a stat that included only nine first downs and a minuscule three yards of rushing.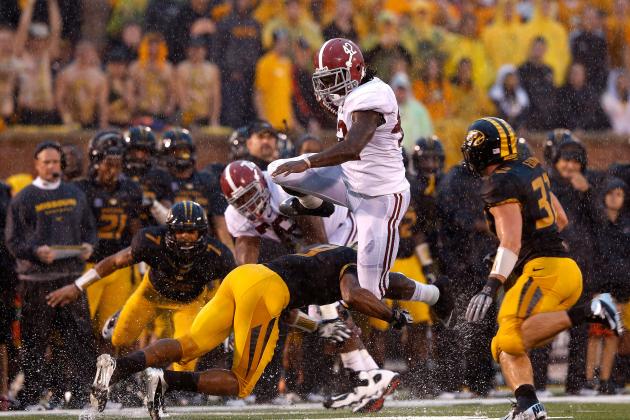 Jamie Squire/Getty Images

Junior RB Eddie Lacy stormed for a season-high 177 yards of rushing and three TDs on 18 carries in the Tide's easy peasy 42-10 win over Missouri this past Saturday.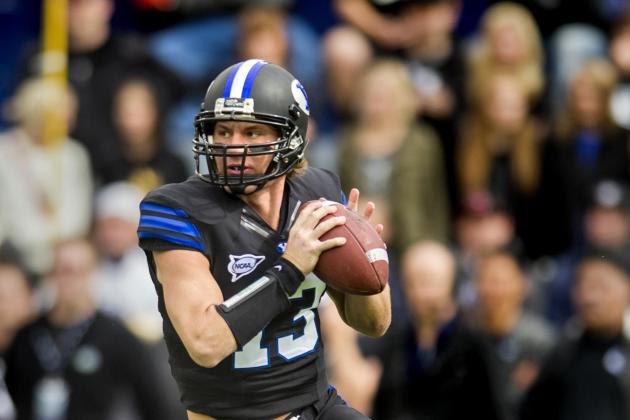 Douglas C. Pizac-US PRESSWIRE

Though senior QB Riley Nelson was 28-for-51 for 305 yards and one score in BYU's 42-24 loss to Oregon State on Saturday, he also threw three costly picks.
Nelson's second INT was a pick six in the fourth quarter that ultimately thwarted any hope of Cougar comeback.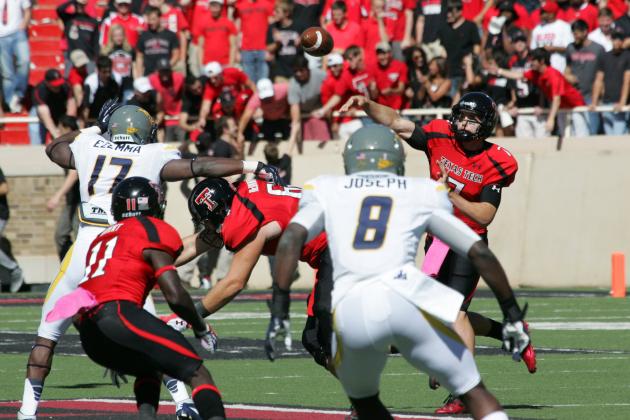 Michael C. Johnson-US PRESSWIRE

Senior QB Seth Doege not only outshined West Virginia's Geno Smith in Week 7, he also out-performed the entire field of gunslingers in Saturday's upset win over the Mountaineers.
Doege went 32-for-42 for a mind-boggling 504 yards, six TDs and one pick in the Red Raiders' stunning 49-14 win over No. 4 West Virginia.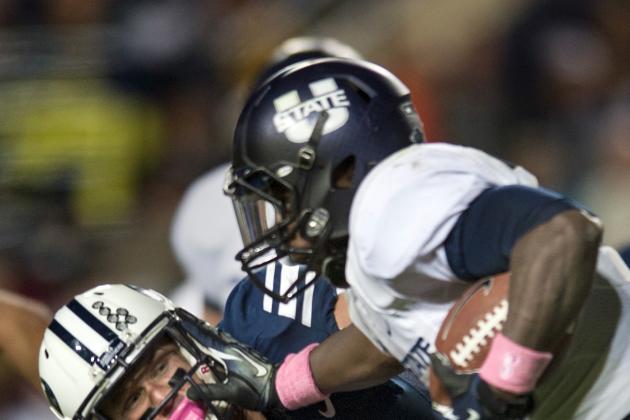 Douglas C. Pizac-US PRESSWIRE

Senior RB Kerywynn Williams stormed for 176 yards and three TDs in Utah State's 49-27 Week 7 win over San Jose State, earning him his best performance thus far in 2012.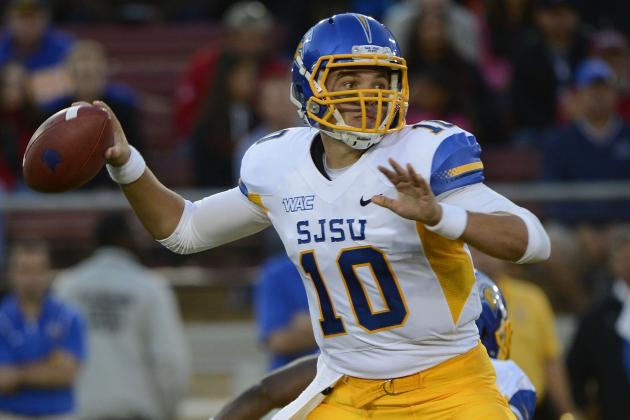 Thearon W. Henderson/Getty Images

It's no easy task to be called a stud when your team drops a game 49-27, but junior QB David Fales did just that in the Spartans' Week 7 loss to Utah State.
Fales went 38-for-50 for 467 yards, three scores and zero INTs, making him the second-most productive QB this week.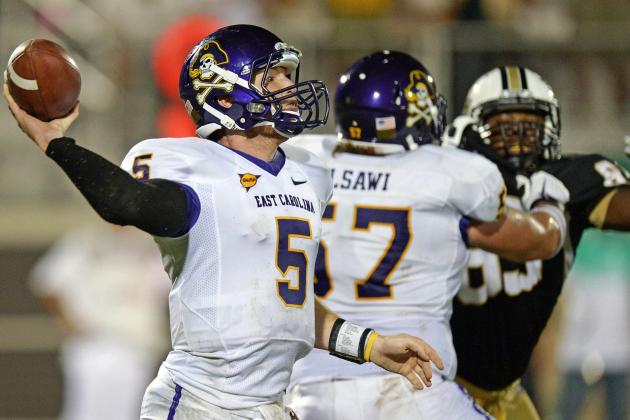 Jake Roth-US PRESSWIRE

Sophomore QB Shane Carden lit it up in East Carolina's 41-7 beatdown of Memphis this past Saturday, posting season-high stats while leading his team to a 4-3 mark.
Carden was 25-for-33 (75.8 percent) for 308 yards, five TDs and zero picks, earning him one of the best passing performances of Week 7.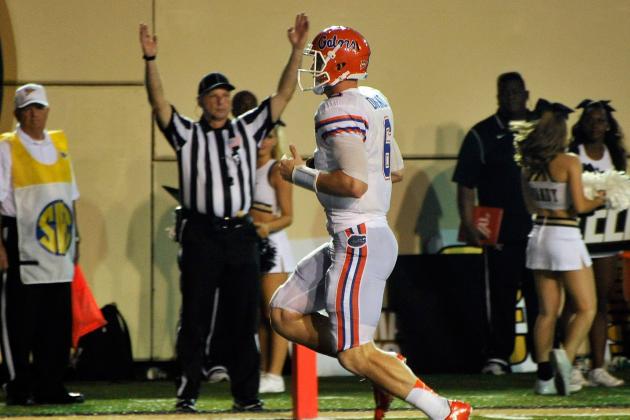 Frederick Breedon/Getty Images

Though sophomore QB Jeff Driskel went just 11-for-20 (55 percent) for 77 yards, zero TDs and zero INTs as a passer in Saturday evening's win over Vandy, he flat out tore it up on the ground.
Driskel more than compensated for his passer rating by leading the Gators in rushing with 177 yards and three scores on 11 thrilling carries.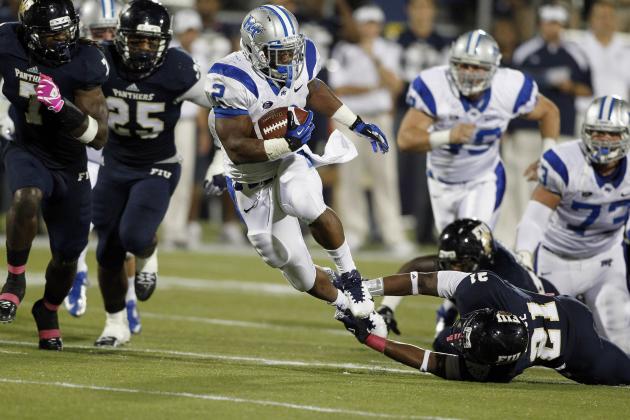 Robert Mayer-US PRESSWIRE

Senior RB Benny Cunningham made an appearance on the stud honor roll in Week 5 and is back with a vengeance in Week 7.
Cunningham sailed for 232 yards and two TDs on a whopping 36 carries in the Blue Raiders' 34-30 win over FIU on Saturday.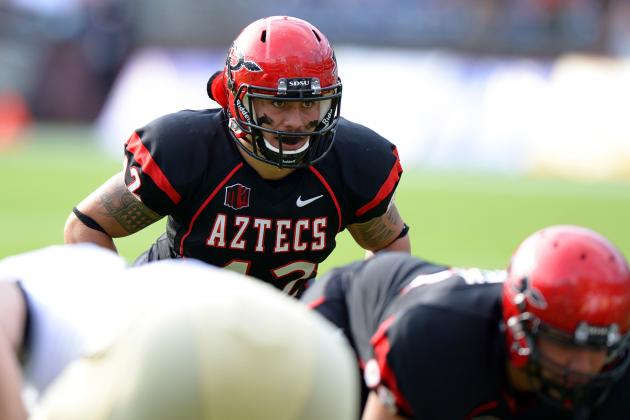 Jake Roth-US PRESSWIRE

Sophomore LB Jake Fely registered an impressive 13 total tackles (nine solo) and two sacks in Week 7's 38-14 win over Colorado State, propelling the Aztecs to a 4-3 overall mark on the season.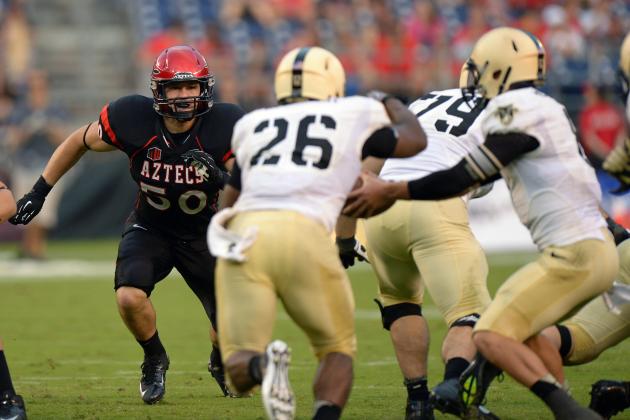 Jake Roth-US PRESSWIRE

Another defensive stud in the Aztecs win over Colorado State, sophomore LB Derek Largent registered eight tackles and nabbed two INTs on Saturday.
Both of Largent's picks directly led to SDSU scores.
Wesley Hitt/Getty Images

Arkansas and senior QB Tyler Wilson have waited all season for a dominating performance, and they finally got one at home in Week 7 vs. Kentucky.
Wilson dazzled on Saturday to the tune of a 23-for-31 performance (74.2 percent) that included 372 yards and a whopping five TDs.
Wilson's performance propelled the Hogs to a 49-7 win and a 2-4 record on the season.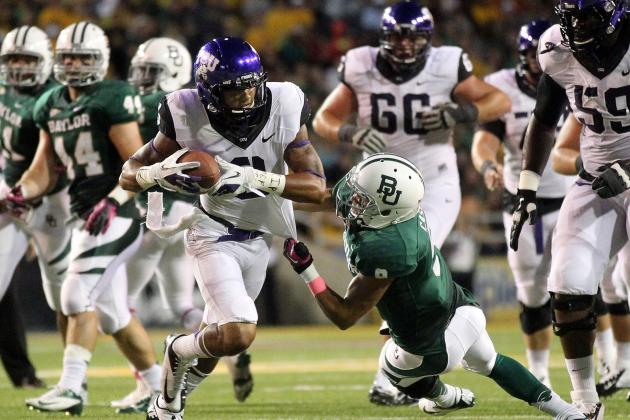 Layne Murdoch/Getty Images

After completing only 57.5 percent of his passes and throwing three picks in his debut as a starter in Week 6's loss to Iowa State, freshman QB Trevone Boykin was stud-a-licious in Week 7.
Boykin was 22-for-30 (73.3 percent) for 262 yards, four TDs and zero picks in TCU's 49-21 rebound win over Baylor.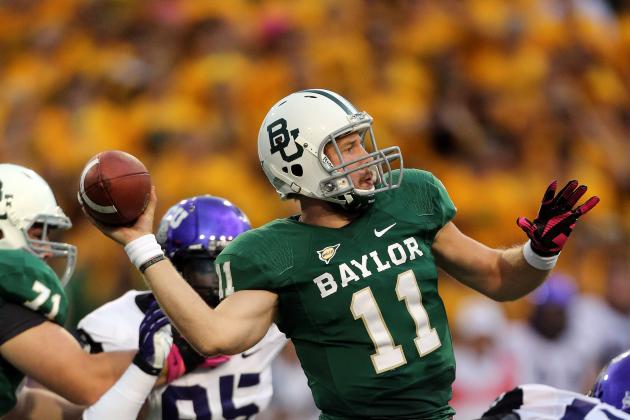 Layne Murdoch/Getty Images

Senior QB Nick Florence imploded in Baylor's 49-21 loss to TCU, going only 12-for-19 for 286 yards, two scores and an ugly four picks.
Florence's first INT came in the first quarter and led to TCU's first score of the game and his second came on the next drive on a 4th-and-eight.
The third gaffe came during Baylor's first drive of the fourth quarter and led to a Frogs score that put the game out of reach. Florence's final pick came on the very next Bear possession and led to yet another TCU TD.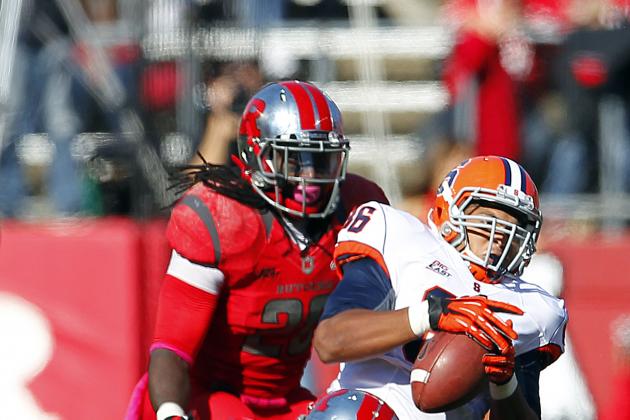 Rich Schultz/Getty Images

In case you missed the memo, Rutgers is 6-0 and touts the No. 3 scoring defense in the FBS; a unit that has allowed a measly 11.5 points per game.
Leading the way for the Scarlet Knights is senior LB Khaseem Greene, who detonated in Saturday's win over Syracuse with 14 total tackles (nine solo), 1.5 sacks and one pick.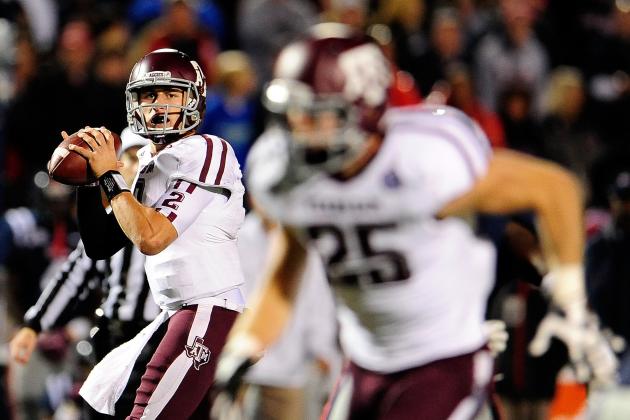 Stacy Revere/Getty Images

You really have to wonder what the Aggies would have done on Saturday night without QB sensation Johnny Manziel.
Manziel's 395 yards of passing and three scores combined with his 181 yards of rushing and three rushing TDs accounted for all but one of A&M's seven TDs and 576 of the 678 yards of total offense.
The Aggies survived a ferocious 27-point fourth quarter attack by Louisiana Tech, but you can only begin to imagine what the game, and the season, would look like minus the true freshman from Kerrville, Texas.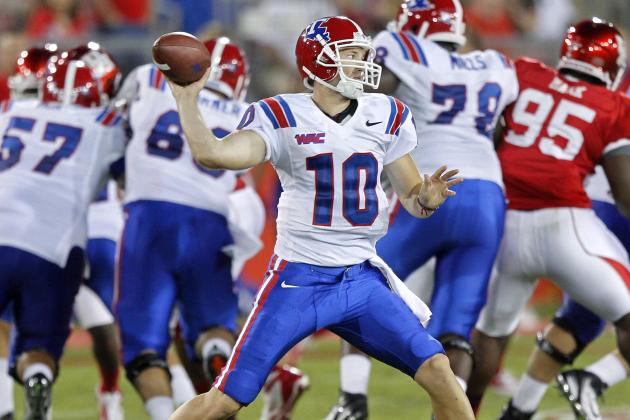 Bob Levey/Getty Images

Senior QB Colby Cameron put on a dazzling passing display in Saturday night's loss to Texas A&M and racked up numbers worthy of stud lists everywhere.
Cameron went 44-for-58 (75.9 percent) for 450 yards, five TDs and zero picks vs. the Aggs and fell just one pass short of leading the Bulldogs to the land of 6-0.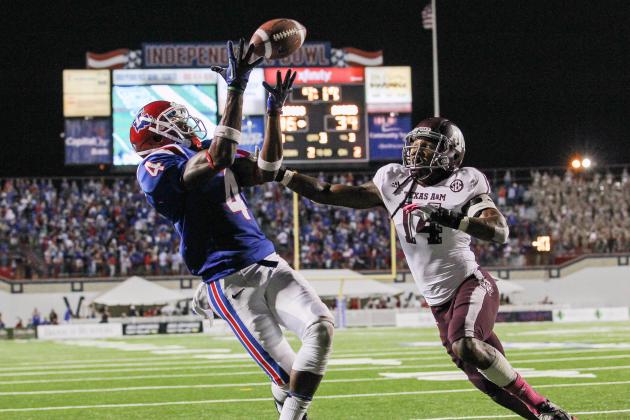 Kevin Jairaj-US PRESSWIRE

Another stud from La Tech's 59-57 loss to Texas A&M, senior WR Quinton Patton blazed a trail Saturday night with 233 yards of receiving and four scores on 21 carries.
Patton's stunning achievement earns him the right to be recognized as Week 7's top receiver.