College Basketball Recruiting: 10 Recruiting Headlines That Could Shape Programs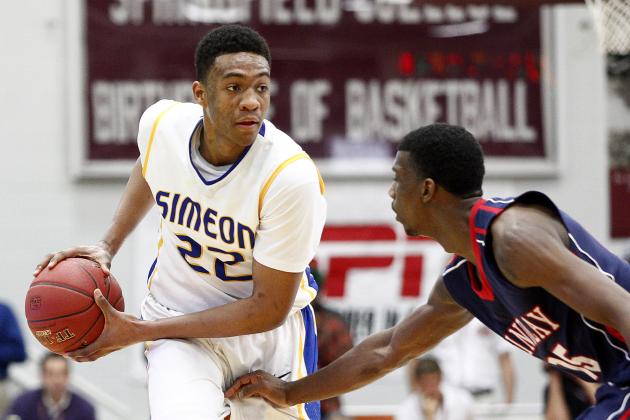 Mark L. Baer-US PRESSWIRE

As the recruitment of the class of 2013 enters the home stretch, many top recruits still remain on the board.
Where players such as Jabari Parker and Julius Randle decide to sign will shape the college basketball landscape for years to come.
Here are 10 hypothetical recruiting headlines that would shake the college basketball world.
Begin Slideshow

»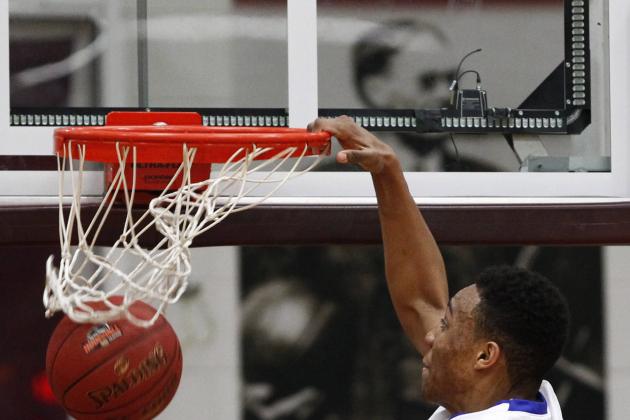 Mark L. Baer-US PRESSWIRE
Jabari Parker is the nation's top recruit
Jabari Parker is one of the most talented high school basketball players to enter the college ranks in the last few years. For this reason, he sits atop ESPN's Top 100 list of recruits.
He recently cut his list of possible landing spots to five schools. He is still considering Florida, Duke, Michigan State, Stanford and BYU.
Parker's high school coach recently announced that Parker will be visiting Florida November 2-4.
If Parker were to commit to play for Florida, the Gators would instantly become the favorite to win the national championship.
Billy Donovan and the Gators already boast an incredible roster. In 2013, Florida will likely return most of its phenomenal 2012 recruiting class. This would include point guard Braxton Ogbueze and guards Dillon Graham, Michael Frazier II and Devon Walker.
Florida has already received commitments from two of ESPN's Top-10 recruits in the class of 2013. Point guard Kasey Hill and power forward Chris Walker will likely play a significant role when they arrive in Gainesville.
Adding a talented player like Jabari Parker to a mix of players this talented will create a team that will certainly win the SEC.
The Gators will already be stacked at the guard position. By bringing in a power forward in Frazier II and an explosive wing like Parker, the Gators will have a team that is loaded at every position.
Parker is expected by many to announce his commitment in November.
If he has a good visit in Gainesville, don't be surprised if he decides to commit to a Florida program that is clearly heading in the right direction.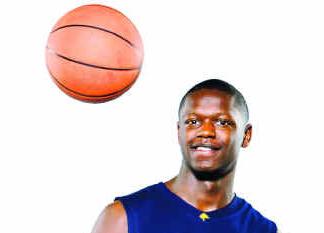 Photo courtesy of KentuckySportsRadio.com
With the recent commitments by twin guards Andrew and Aaron Harrison and shooting guard James Young, Kentucky has once again put together one of college basketball's top recruiting classes.
If Kentucky's 2013 recruiting class is missing anything, it is a dominant big man.
One big man on Kentucky's radar is power forward Julius Randle. He is ESPN's top-rated power forward and is No. 3 overall.
The big man out of Texas has been said by ESPN to be "a tough one to compare so we'll roll out Marvin Williams meets Caron Butler with a Kevin Garnett-ish motor."
Nerlens Noel, the star of Kentucky's incoming recruiting class, will likely declare for the NBA draft after this season. This will leave a hole in Kentucky's interior. Bringing Randle into the Kentucky system would fill this hole.
Randle is the type of player who fits the mold of Anthony Davis and Nerlens Noel. He can be the scorer on offense and the enforcer on defense.
If Randle ends up becoming a Wildcat, look for him to succeed as much as his predecessors have in recent years.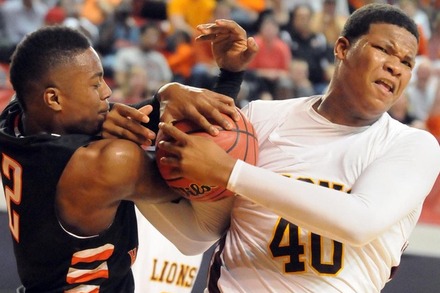 Photo Courtesy of Matt Born/Wilmington Star News
The North Carolina Tar Heels are known for excellent big-man play. In past seasons, UNC has relied on the likes of Tyler Zeller and John Henson to provide quality minutes on the interior. Those two, however, play more like power forwards and are not true centers.
Meeks is a talented center who has a strong presence in the post and on the glass. The Charlotte native uses his arsenal of post moves and proficient jump shooting to score in bunches.
The best value that he would provide to UNC in 2013 is his ability to lock down in the paint. Meeks uses his big body to clear out the lane, and opposing teams will have a hard time finishing around the rim when Meeks is playing.
The talented center visited UNC recently and was on campus for Midnight Madness.
If Meeks commits to North Carolina, he would join a class that already boasts power forward Isaiah Hicks.
These two players have an opportunity to form a powerful frontcourt in Chapel Hill.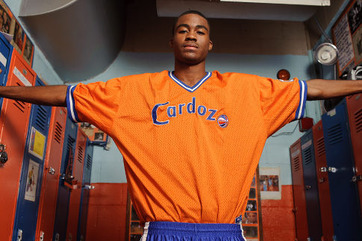 Photo Courtesy of New York Daily News
Recently, 2013 recruit Jermaine Lawrence and 2014 recruits Chris McCullough and Isaiah Whitehead have created speculation that they might all end up at Syracuse.
ESPN ranks Lawrence ninth among power forwards and 17th overall. Chris McCullough is the third-rated power forward in the 2014 class and is rated 18th overall. Isaiah Whitehead is the eighth-ranked shooting guard in the 2014 class and is rated 42nd overall.
McCullough recently discussed the possibility of all three top prospects meeting up at Syracuse with Adam Zagoria of zagsblog.com. "We talked about it twice already, me, Jermaine and Isaiah. We said it would be a good fit for all three of us."
If these three end up at Syracuse, they could be an incredibly dangerous trio and make the Orange the early favorite to win the ACC.
Coach Jim Boeheim would love to see the three New Yorkers join a team that will already boast talented point guard Tyler Ennis, another 2013 recruit.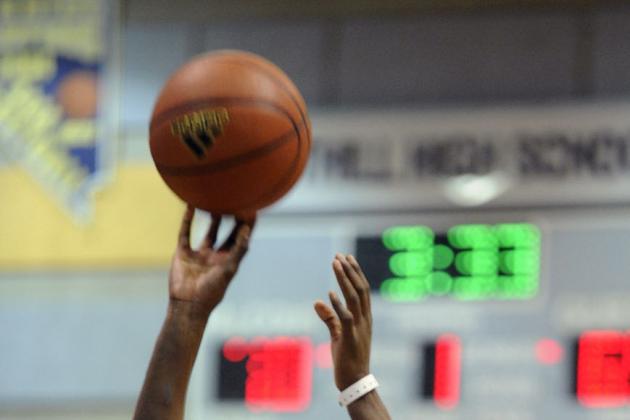 Photo Courtesy of Dream Vision AAU
San Diego State has done a phenomenal job securing top-rated recruits on the West Coast. Top recruits had previously been swept up by various members of the Pac-12.
But continuing a recent trend, SDSU has already received a commitment from 2013 prospect Dakarai Allen, the 22nd-ranked shooting guard and a member of ESPN's Top 100.
If SDSU can secure the services of Isaac Hamilton, it will again prove that it can compete for the best the West has to offer. More than that, SDSU will bring a top player into their already competitive program.
Hamilton is the No. 5-rated shooting guard in the class of 2013.
The Los Angeles native can shoot and pass with great proficiency, and would provide valuable minutes from Day 1.
If Hamilton ends up in San Diego, the Aztecs will reinforce their place as one of the top teams in the West.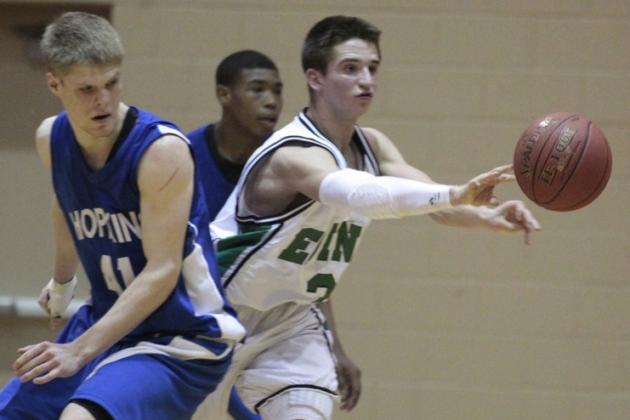 Photo Courtesy of norcalbasketball.blogspot.com
Gonzaga and Butler are arguably the two most consistent mid-major programs in the country. Their success can be attributed to their ability to target program-shaping players like Adam Morrison and Gordon Hayward.
Minnesota point guard Graham Woodward is one of those players.
Woodward already has offers from both schools.
He may not be highly ranked by ESPN or Rivals, but he has recently received positive reviews from his performance in camps and for his AAU team.
Recruiting expert Dave Telep recently said that if he had a scholarship to give "Graham Woodward would be one of the first guys I'd offer it to. His job description is to make guys better, and he's excellent at it."
The Slipper Still Fits recently spoke with Woodward's AAU coach Tom Krosschel, who said of Woodward:
As the point guard of our Minnesota Pump N Run 17-under team, he consistently got his teammates involved early in games. He is a tough, gritty player and he pushed those attributes over to his teammates. In tight, critical games, Graham was always at his best. He is an extremely intelligent basketball player and a great leader, which I think are essential qualities of a good point guard.
These are attributes that Gonzaga and Butler actively search for in their recruits. They are the kind of qualities that have made these two teams successful for the past decade.
If Woodward commits to either of these teams, he will be instrumental in the continuation of their success in March.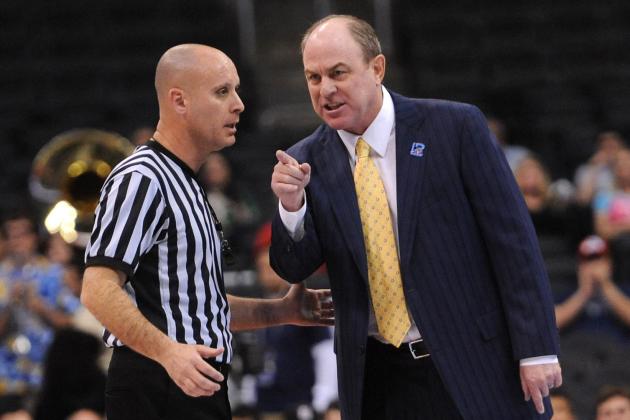 Jayne Kamin-Oncea-US PRESSWIRE

UCLA has always been renowned for its ability to attract prospects nationwide to come play in Los Angeles.
For this upcoming season, UCLA has four ESPN Top 100 recruits, including top-five recruits Shabazz Muhammad and Kyle Anderson.
Its 2013 recruiting class already boasts 10th-ranked point guard Zach Lavine and 13th-ranked shooting guard Allerik Freeman.
UCLA is looking to add talented prospects Wayne Selden and Roddy Peters to this already talented recruiting class.
Selden is the second-rated small forward recruit and the 14th-ranked prospect overall.
Peters is a highly rated combo guard. He is the 43rd-ranked prospect in the class of 2013.
Capturing these two would be exceptional for two reasons. It would add solid value to UCLA's team and prove that the Bruins can still sign top recruits from around the nation.
Selden is from Boston, and Peters is from Maryland. If they both committed to UCLA, it would give the Bruins four recruits from four different states. None of these recruits would be from California.
This would help keep UCLA competitive for talent nationwide for years to come.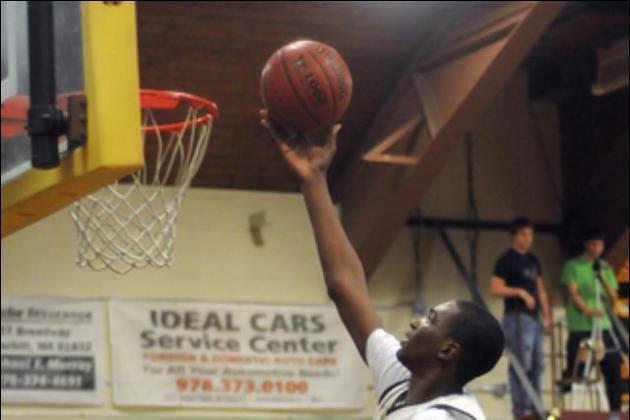 Photo Courtesy of scotthazeltonbasketball.com
Ohio State would solidify the future of its program if it could bring Noah Vonleh to Columbus.
Vonleh is the type of player who can do it all. He is a scorer, passer, shooter and rebounder.
He is the third-highest rated power forward in the 2013 class and is ranked seventh overall by ESPN.
Vonleh is the kind of tough player that OSU has become accustomed to having. Jared Sullinger and Amir Williams are both great examples of this type of Buckeye enforcer.
If Vonleh does end up at OSU, he will join top recruits Kameron Williams and Marc Loving.
These three players each play different positions. For that reason, they could all crack the starting five and create an impressive core.
Players like Vonleh, however, often need time to grow and develop.
Vonleh's signing would show that Ohio State has the ability to bring in top talents and develop them until they are ready for the NBA.
OSU did this with Sullinger and could do it with Vonleh as well.
Recently, Vonleh listed OSU as one of the schools recruiting him the hardest.
OSU clearly sees his immense potential and will be hoping he chooses to be a Buckeye.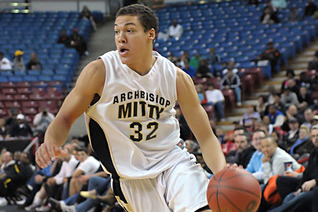 Photo Courtesy of Maxpreps.com
Under Sean Miller, Arizona has become a recruiting powerhouse. The Wildcats have signed 12 ESPN Top 100 recruits since 2010.
Miller has an eye for top-tier talent, and he has the ability to get them to commit to Arizona.
Aaron Gordon is one of those top-tier talents.
Gordon is the second-rated power forward and sixth-rated player overall in the class of 2013.
He has the ability to change any game with his scoring ability and competitive nature.
The San Jose native is unique in that his game has elements that resemble a small forward and a power forward. What results is a player with the size and skills to be more of a point forward.
Miller has the opportunity to put Arizona among the recruiting elites if he can get Gordon to don a Wildcats jersey.
Arizona has had a top-10 recruiting class for the past two seasons. By bringing in Gordon, the Wildcats could crack the top 10 again this year.
The ability of a program to remain competitive is an attribute that helps draw recruits to a team. If Arizona wants to remain competitive in the Pac-12, it will have to continue to bring in top talent like Gordon each year.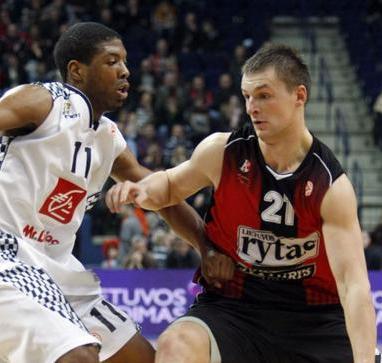 Photo Courtesy of newshopper.sulekha.com
Austin Nichols was born to play for Duke. ESPN ranks him as the sixth-best power forwards and the 11th- best prospect overall.
He is characterized by ESPN as a "fundamentally sound big man who keeps the ball high on the block and off the boards."
This is the kind of player that has allowed Duke to become one of the most successful programs of all time.
Every great Duke team has had an Austin Nichols on its roster. From Christian Laettner to Kyle Singler, Duke have often hung its hat on a fundamentally sound big man who can shoot.
Nichols would join an already impressive recruiting class that includes shooting guard Matt Jones and small forward Semi Ojeleye.
If Nichols becomes a Blue Devil, he could contribute solid minutes and play an important role for Coach K.