St. Louis Cardinals vs. San Francisco Giants: 5 Biggest Matchups in NLCS Game 2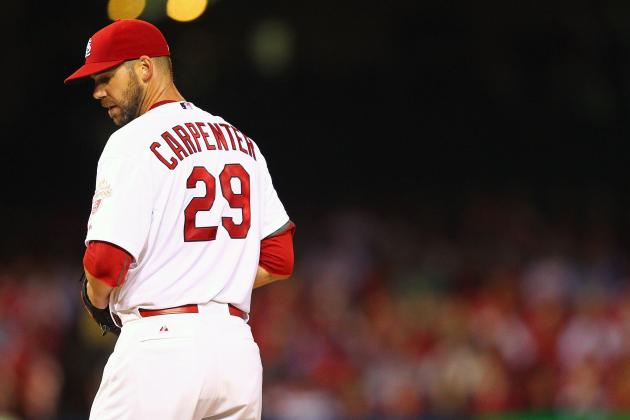 Dilip Vishwanat/Getty Images

After the St. Louis Cardinals took Game 1 over the San Francisco Giants with a 6-4 victory, all eyes will be on Game 2 to see whether the series will be tied up going to St. Louis or if Giants will really be in a hole, down 2-0.
Game 2 will feature two of the best pitchers in the National League, Chris Carpenter for St. Louis and Ryan Vogelsong for San Francisco.
Carpenter barely pitched in the regular season, so he hasn't had the opportunity to see the 2012 Giants just yet. He has had a good amount of success against San Francisco in the past, going 4-1 with a 3.57 ERA in 53 innings over eight starts.
Vogelsong picked up his 10th win of the season against the Cardinals back in mid-August, throwing seven shutout innings in a 15-0 blowout. He is 2-4 in 16 career appearances against St. Louis, six being starts, with a 6.51 ERA in 47 innings.
Neither teams' pitchers did particularly well in Game 1, so commanding the zone will be a big factor in Game 2. Here are some of the biggest matchups to look for between the Cardinals and Giants.
Begin Slideshow

»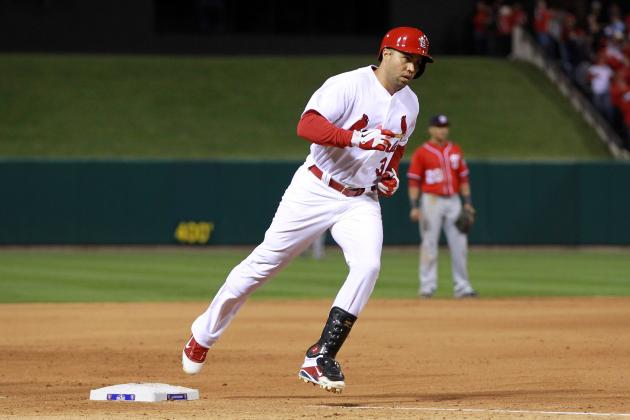 Dilip Vishwanat/Getty Images

Carlos Beltran is about as hot as anyone still in contention for a World Series title, and he's had particularly good success against Ryan Vogelsong over the course of his career.
Beltran went hitless against Vogelsong earlier this season, but is 4-for-11 with three extra-base hits including a home run in previous years—obviously not since mid-2011 because the two were teammates.
The key for Vogelsong to keep Beltran quiet is to throw him plenty of off-speed pitches. Beltran has been right on fastballs during the postseason and can put one into the gap with ease. Keeping him off balance with a curveball, which Beltran is least effective against, is a smart plan.
Beltran has to go up looking for fastball, since that's what Vogelsong throws around 70 percent of the time. Vogelsong doesn't use his off-speed pitches too often, so jumping on the first fastball that he sees is a good idea. Beltran has been all over every pitch as of late, but looking for the fastball will get him on base, and often.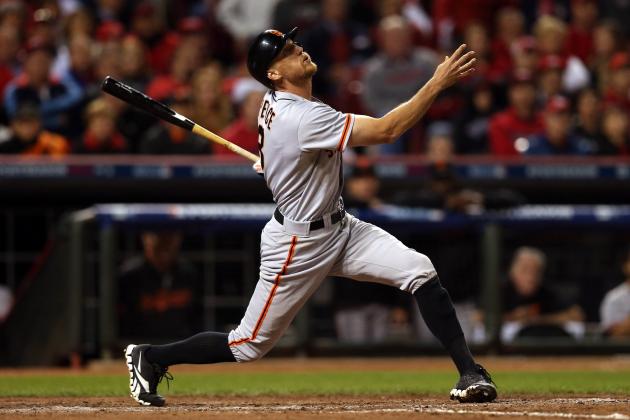 Jonathan Daniel/Getty Images

Hunter Pence hasn't had a great postseason, by any means, and he shouldn't expect it to get much better in Game 2 against Chris Carpenter.
Pence has faced Carpenter 22 times over the course of his five-year career, and has virtually no success whatsoever. Pence only has four hits off of Carpenter, two being for extra bases, but has stuck out seven times. In layman's terms, there's nearly twice as good of a chance that Pence strikes out than gets a hit when facing Carpenter.
Carpenter throws his fastball the most, followed by his curveball and slider. If he wants to retire Pence, he needs to rely on that fastball, which Pence has struggled with this postseason. Pence is much more likely to get a hit off of a slider than fastball.
On the other hand, if Carpenter decides to use his entire arsenal against Pence, there's a good chance that Pence gets a hit. He throws sliders more against right-handed hitters too, which sits in favor of Pence during the matchup.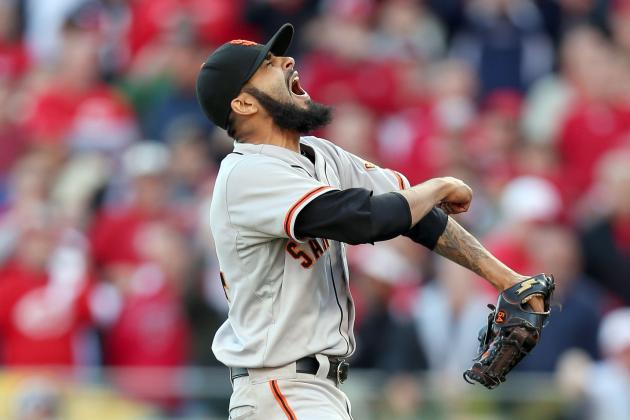 Andy Lyons/Getty Images

After Madison Bumgarner left Sunday's Game 1, the San Francisco bullpen was unhittable—literally.
Bumgarner left in the middle of the fourth inning, and the combination of George Kontos, Tim Lincecum, Jeremy Affelt, Sergio Casilla and Jose Mijares didn't allow one hit the rest of the way. They also struck out four Cardinals over the course of 5.1 innings of relief while only walking one.
Last time I checked, that's pretty good.
All but Guillermo Mota kept the Cardinals silent over the course of the regular season. In fact, every other reliever on the postseason roster had a sub-3.00 ERA and closer Sergio Romo had a 1.79 ERA. Romo will really be a key player in this series if the Giants are going to contend.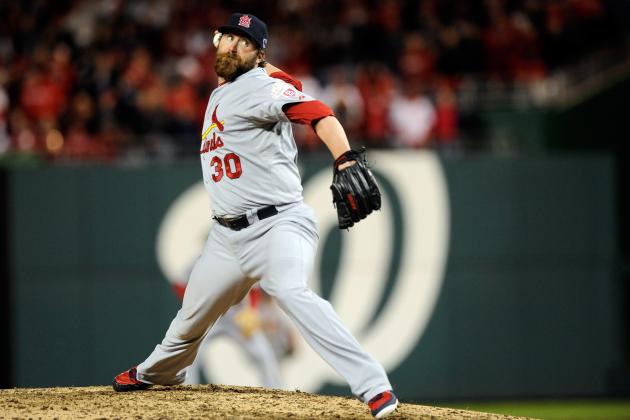 Patrick McDermott/Getty Images

After Lance Lynn had a forgetful start against the Giants in Game 1, the St. Louis bullpen was fantastic—which is a great sign going forward.
Joe Kelly followed Lynn with a full inning of one-hit baseball. After that, the Giants didn't get another hit until there were two outs in the ninth inning off of Jason Motte. In between those innings, Marc Rzepczynski, Trevor Rosenthal, Edward Mujica and Mitchell Boggs all entered the game—Mujica's being the most memorable since he struck out the side.
Over the course of the year, not many Giants had any sort of success against the St. Louis bullpen. Only two relievers—Rzepczynski and Fernando Salas—have ERAs of 4.00 or higher.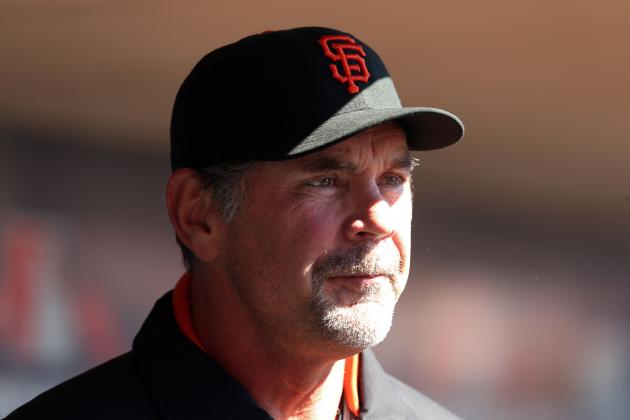 Andy Lyons/Getty Images

Before the NLCS began, the Cardinals and Giants split the season series three games apiece. Each team won a game in San Francisco, and then both won two each in St. Louis. Besides a 15-0 win by the Giants, each game was relatively close—each being decided by an average of three runs.
Managing during the postseason is much different than the regular season, though, and making decisions will be scrutinized even further.
Making a double switch, replacing a pitcher too early or too late, or even setting up the lineup incorrectly can be detrimental a team's chance to win a game.
Bruce Bochy has plenty of playoff managerial experience while Mike Matheny will be in his second game, as a coach. Will experience play largely into the result of Game 2 or not?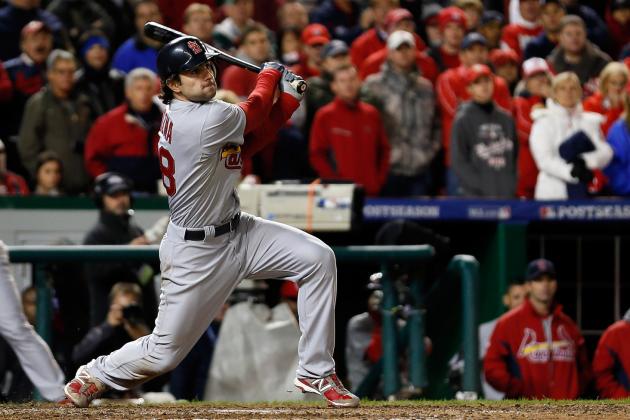 Rob Carr/Getty Images

Buster Posey, San Francisco Giants
Buster Posey is the heart and soul of the San Francisco Giants, and they really missed him last season as he was out for most of the year. Posey didn't get a hit in Game 1, and hasn't had much of an impact in the postseason so far. He's only 4-for-22 through the first six games, though he does have two home runs. He really needs to have a break out game if the Giants are going to tie the series at 1-1.
Pete Kozma, St. Louis Cardinals
Pete Kozma is one of the Cardinals' players who basically, no one had known of before the postseason started. Now, he's a name that many people have heard—and not just because he didn't make one of the most important catches of all-time in the NL Wild Card Game. He does have a good bat, though, and has displayed it in the NLDS and through one game of the NLCS. He's only batting .208, but has come up with some timely hits.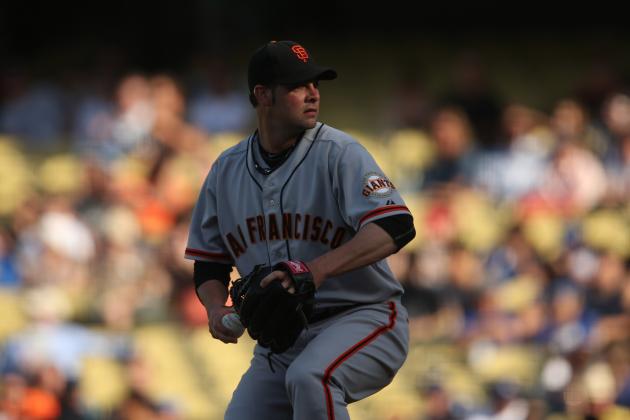 Stephen Dunn/Getty Images

Chris Carpenter is a completely different pitcher in the playoffs, and I think that will be the difference in Game 2 of the NLCS against the Giants. I do, however, think that Ryan Vogelsong can keep San Francisco in the game through the first six innings of the game. Going into the seventh, I think Carpenter still has an inning or two left in him while Vogelsong will be lifted for having thrown over 100 pitches.
Carlos Beltran will continue his hot streak during the postseason and hit an RBI double off of Vogelsong to give the Cardinals a 1-0 lead in the fourth. Pete Kozma will tack on another run in the fifth with a single down the right field line, scoring David Freese. The Giants will get a run off of Carpenter in the sixth on a solo shot by Pablo Sandoval.
With the score at 2-1 going into the eighth, the Cardinals will add some insurance with a two-run home run by Allen Craig off of Jose Mijares. Then, Jason Motte will come in for the save to give St. Louis a two-game lead going back home for the next three games of the NLCS.

Prediction
Cardinals win, 4-1