Portland Trail Blazers: Grading the Team's Current 2-Deep Depth Chart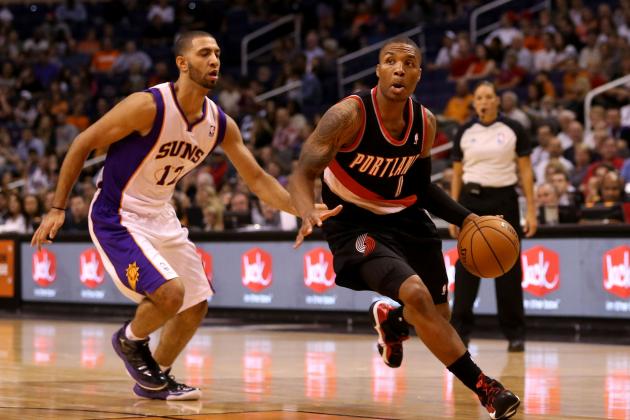 Christian Petersen/Getty Images

The Portland Trail Blazers, perhaps the most snake-bitten franchise in the NBA, have seen their fortunes drastically altered in the last four years.
In 2008, this was a team on the rise, with a core consisting of LaMarcus Aldridge, Brandon Roy and Greg Oden. They were viewed by most pundits as a franchise that had long playoff runs in their future, and Oden famously quipped that he wanted three handfuls of championship rings.
But obviously that never came to fruition and now only Aldridge remains of that young core, but the Blazers have remained undeterred and now they have re-loaded with another group of young players.
Portland still is not a team on the verge of contention, but recent moves have made them a team to watch heading into the regular season.
Here is a look at the current two-deep depth chart for the Blazers.
Begin Slideshow

»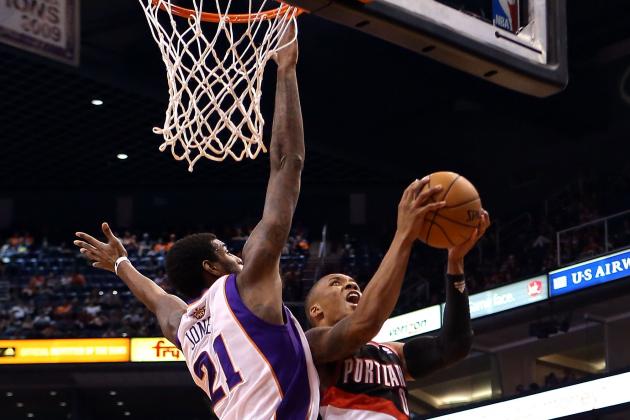 Christian Petersen/Getty Images

When Portland drafted Lillard out of Weber State, the majority of the Blazers faithful responded with a collective "who?"
Not much was known of Lillard outside of the belief from pundits that he was the best point guard in the draft.
Sure, the Blazers needed a point guard desperately, especially after the trainwreck which was Raymond Felton last year, but could this guy really play?
Many fans wanted UNC's Harrison Barnes based on his stellar scoring ability and ideal small forward frame. Others wanted big man Andre Drummond to pair with LaMarcus Aldridge for a young and powerful front court punch.
Some even wanted the Blazers to take a flier on Austin Rivers to shore up their flagging shooting guard position.
But after two preseason games, it looks as though Lillard was an excellent choice. The 6'3" point guard looks like and explosive playmaker capable of being the best point guard to lace up sneakers in Portland since Terry Porter in his prime.
Lillard is averaging 14.5 points and six assists per game so far and looks like the real deal.
The one knock on him is his perimeter shooting, but the Blazers will live with that initially.
Grade: B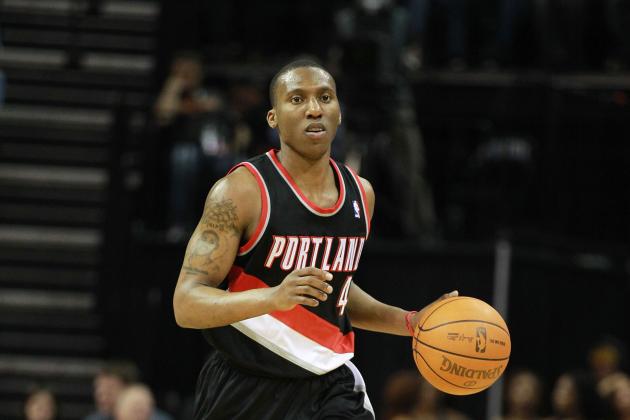 Andy Lyons/Getty Images

This is going to be a tricky situation for Portland.
They don't have a lot of depth in their backcourt, especially at the point guard position. Lillard is the uncontested starter at the 1 guard, but behind him there are questions.
Should the coaching staff go with the veteran Ronnie Price who provides good leadership and steady defense, or should they take a chance on the smarter and much more talented Nolan Smith?
With this season being one to build on, the smart money would be on Smith gaining the bulk of the minutes.
Smith is not a stud athletically, but can play either guard spot and could develop into a very good backup. He has good range and is quicker than he appears. The Blazers ideally would use Smith as their first guard off the bench given his versatility.
The one concern is poor shooting a year ago. He shot less than 40 percent from the field, but that number is certain to go up. He just needs to play sound defense and limit his mistakes.
Thus far in the preseason, he appears to be well on his way. He has six assists to three turnovers and has showed solid defense.
Grade: C-
Overall Postion Grade: C+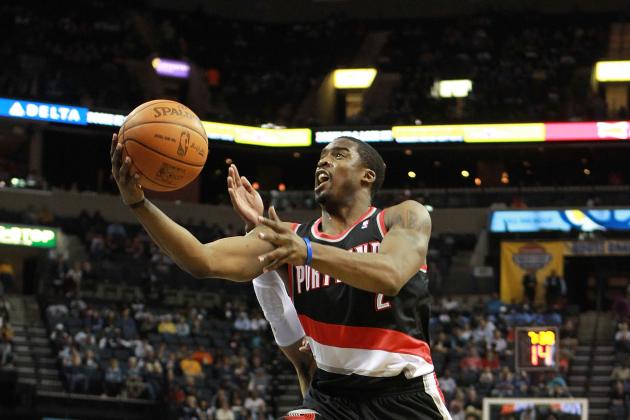 Andy Lyons/Getty Images

Wesley Matthews really has been quite the revelation for Portland.
Signed away from Portland a few years ago for a very modest contract, he immediately paid dividends as a solid scorer that rarely made mistakes and played solid perimeter defense.
He is a far cry from his spectacular predecessor Brandon Roy, but he gets the job done.
A year ago he saw most of his numbers go down, but so too did most of his teammates. But in order for Matthews to be effective, he needs to make defenders respect his three-point shot and him to break them down on occasion.
With a pure point guard now next to him, he should see his numbers go up.
The key will be his defense and three-point shooting. Lillard will not be spectacular on that end of the court, meaning that Matthews will need to step up his game defensively. He also needs to nail the deep shots to free up more space for Aldridge down low.
Grade: B-
Elsa/Getty Images

Okay, so this is definitely not set in stone.
Sasha Pavlovic is far from an improvement over last year. He is a journeyman whose best days are in the rear view mirror. He is solid but unspectacular and likely will only get limited minutes going forward.
The Blazers need to upgrade this spot, and likely will. Elliott Williams figured to get a lot of these minutes, but he is done for the year.
If the Blazers don't upgrade this position, they likely will go with a three-guard rotation consisting of Lillard, Matthews and a combination of Smith and Price.
This doesn't give Portland a lot of size in their back court, but at least they will have some solid players that rarely make mistakes.
Grade: D
Overall Position Grade: C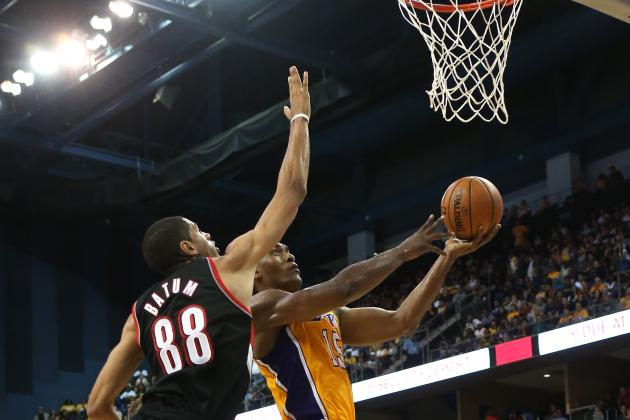 Stephen Dunn/Getty Images

No player on this roster has more flat-out potential than Nic Batum. He is long, athletic and is skilled on the perimeter. And despite being on the roster since 2008, he is still only in his early 20s.
Batum really holds the key for the success of this team going forward. No other position features a guy that has more of a ceiling than Nicolas. He scored nearly 14 points per game last year, but it feels as though he could score a lot more.
Additionally, with his length he needs to be a difference maker not only on defense but in the transitional game. He appears to be a natural fit with rookie point guard Lillard, and the potential for fast-break points should be unlimited.
So far this preseason, Batum has played about as well as expected, shooting the ball effectively from the perimeter and playing strong defense.
But just like Tayshaun Prince with Detroit, the Blazers want Batum to take more of an active role on the offensive end. Averaging 12-14 points per game is good, but with Batum's talented game it should be closer to 18 points per game.
Will he get there this season? Perhaps. But the likeliness is that he takes another small step forward and continues to confound Blazers fans.
Grade: B+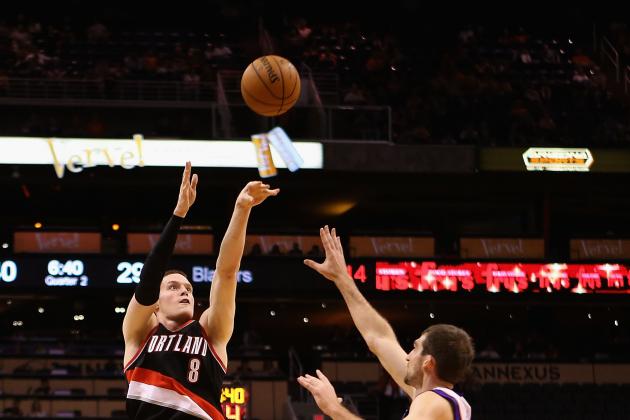 Christian Petersen/Getty Images

When Portland drafted Luke Babbitt in the first round two years ago out of Nevada, it appeared to be a natural fit. The Blazers needed a perimeter shooter in their frontcourt, and Babbitt was a deadly sniper from long range in college.
But Babbitt struggled mightily in his rookie season, rarely playing on most nights and looking sluggish when he did.
Last year, Babbitt started to find his legs, but still saw inconsistent playing time. He ended up only averaging five points per game, but shot 43 percent from three-point range.
So far this preseason, Babbitt has looked as though he wants the backup job. He isn't spectacular, but the Blazers don't need him to be. Batum will play close to 40 minutes per game and provide Portland with a versatile small forward. Babbitt will be a situational sub that comes off the bench to knock down threes.
With only Adam Morrison as his primary competition, this seems to be a shoo-in.
Grade: C-
Overall Position Grade: B-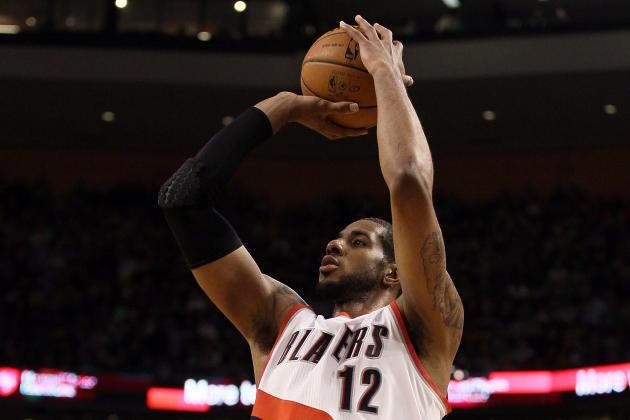 Elsa/Getty Images

LaMarcus Aldridge might be the best-kept secret in basketball. Like Brandon Roy before him, he is seemingly penalized for playing on a small market team in the Pacific time zone.
But make no mistake about it, Aldridge is one of the top five power forwards in the game.
He can score in a number of ways, including from the top of the key and in the post, and he has improved his rebounding instincts as well as his low post defense.
He will never be confused with Karl Malone physically, but he has enough Rasheed Wallace in his game to provide the Blazers with one of the best offensive advantages in the game. He has a high release to his shot, superb quickness and enough low-post moves offensively to frustrate even the best of defenders.
Aldridge appeared poised to take the next step in his development last year, but turmoil around the team stifled his development.
With more consistency around him, look for Aldridge to have a career season.
Grade: A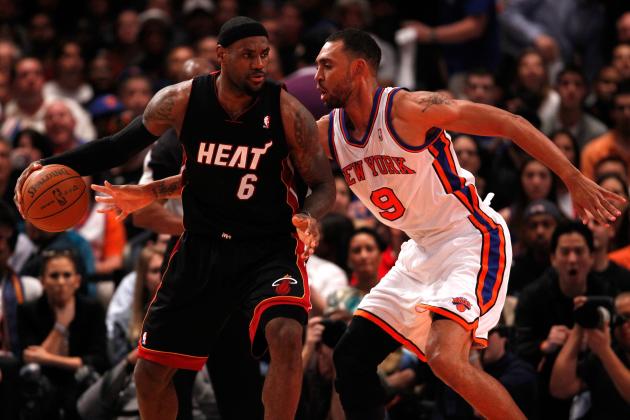 Jeff Zelevansky/Getty Images

Jared Jeffries is your classic stretch 4 offensive player. He has great length and size and a nearly unblockable shot. He can nail three-pointers as well as 20-foot jumpers, and is a good player to have in the pick-and-roll game.
Defensively, however, is where Jeffries proves his worth. He is a physical defender that has great instincts and uses his length to pester opponents. He also is quicker than most big guys and uses that quickness to beat offensive players to their spots.
This really is a good player to have around, especially from a leadership standpoint.
Grade: C
Overall Position Grade: B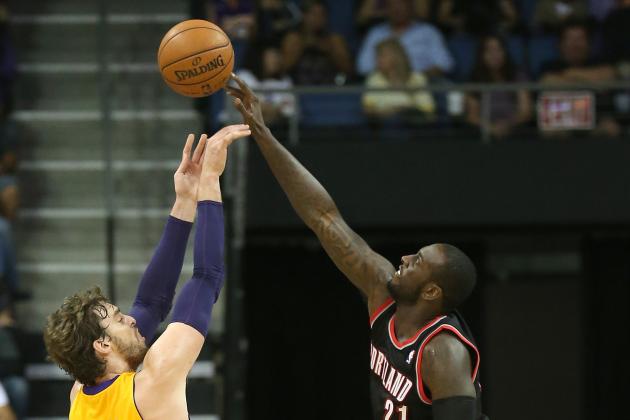 Stephen Dunn/Getty Images

J.J. Hickson has had an interesting career.
He started out as one of the most touted young talents in the league, and was viewed as such a valuable player that the Cavs refused to trade him despite some really intriguing options.
He never realized his potential in Cleveland, and after half of a season in Sacramento he was shipped to Portland.
In his last 19 games, the lights finally went on with Hickson. He started 10 games and averaged a career high in scoring (15.1 ppg) and his second-best mark in rebounds (just over eight).
Hickson is a physical player that can crash the boards and score in a number of different ways, but is not a threat to block shots. He also doesn't turn the ball over very often which allows his teammates to fully trust him offensively.
Most importantly, it seems like Hickson pairs well with Aldridge, and provides the physicality that LaMarcus doesn't always have the energy for.
The Blazers were wise to bring Hickson back, and he should have a career year this season.
Grade: B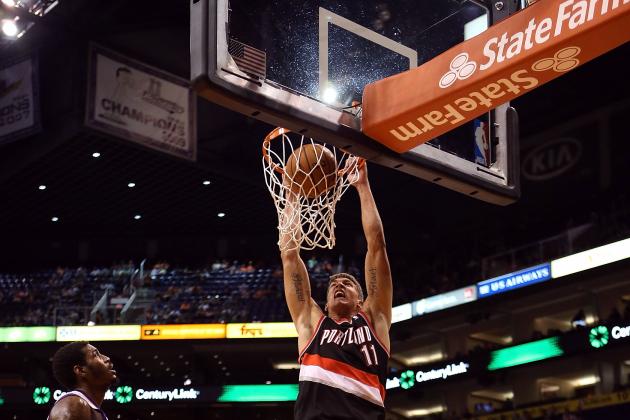 Christian Petersen/Getty Images

When Portland drafted Meyers Leonard, most fans were intrigued by the size of the kid from Illinois. Even though Big Ten basketball isn't hugely popular on the West Coast, a seven footer is a seven footer regardless of what college conference he played in.
Leonard is a physical beast that uses his tremendous athleticism and size to his advantage. He runs the court well, which leads to the belief that he could be a great compliment to Lillard and Batum.
He also blocks shots well and has the physical tools to be a dominant rebounder. I have heard some folks compare Leonard to Joel Przybilla, and fans should be careful not to undersell this kid. Leonard, if all goes well, could be closer to someone like Dale Davis in his prime.
The key to the development of Leonard will be how quickly he gains strength. Right now he has the frame to be really big, but doesn't necessarily have elite strength. With some more time in the weight room, he could become a very big contributor in the years to come.
Offensively he may be raw, but so far this preseason he appears to be better than advertised and on a team like this, any offense he contributes will be a bonus.
Leonard is here to play defense and rebound, plain and simple. This makes him the perfect backup for Hickson.
Grade: C+

Overall Position Grade: B-