UFC Weekly: Thoughts, Reactions and Gripes
thescore.com
This is the first official installment of UFC Weekly.
Each Monday I'll break down various newsworthy fights, interviews and any relevant piece of UFC juice I can get my hands on.
To be fair from the start it's important to remember that this is completely opinionated. If your views differ from mine, please feel free to comment and we'll do our best to come to an agreed solution.
So without further ado, welcome to UFC Weekly. Let the games begin.
Begin Slideshow

»
Anderson Silva has a yellow belt in Capoeira, a Brazilian martial art that combines dance and music.
It's often used to implement complex moves based on power, speed and leverage.
Silva has used his Capoeira skills in the past to successfully complete leg sweeps, takedowns and unorthodox movements.
Is this what mainstream MMA has come to?
Do people really enjoy watching an untalented ex-WWE wrestler fight a 300-pound, 40-year-old who has lost every meaningful bout in his career?
It just doesn't add up. Go back to Vince McMahon.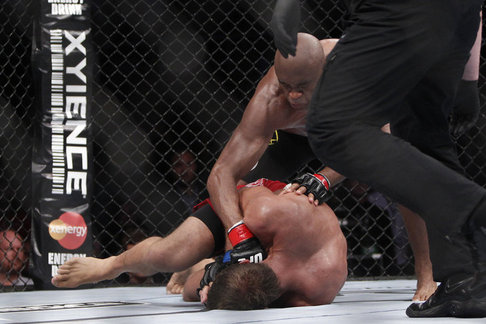 mmamania.com
Right off the bat, let's talk about the Anderson Silva vs. Stephan Bonnar fight.
I really didn't expect Bonnar to win, but as a fighter who had never been finished inside the Octagon before, I figured he'd last at least one round.
I was wrong.
Silva practically played with Bonnar along the cage, even though he said after the fight that it was more game planning than showing off. He made a guy nicknamed "The American Psycho" look like "The American Amateur."
At no point was Silva in danger, and at no point did he look uncomfortable. It's eerie to think that he did all of this at a heavier weight class, but that's what you get when you mix the greatest fighter of all time with Bonnar.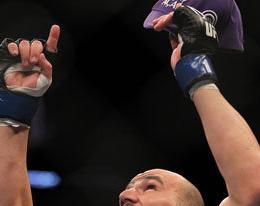 sports.yahoo.com
Don't get me wrong, Glover Teixeira looked offensively sound at UFC 153 against a one-dimensional Fabio Maldonado.
He was able to land power shots, body shots and create trouble for Maldonado for literally every second of the fight.
However, and there usually is a however, Teixeira's chin looked really suspect at the end of the first round when Maldonado landed one short punch.
For me, it showed an innate weakness to withstand power punches. Maldonado isn't the most powerful puncher in the division, despite being one of the best boxers, so it's a little alarming to see Teixeira start to fade from one shot.
Maybe he's not the guy we thought he was. Maybe he doesn't have what it takes to take on Jon Jones, Lyoto Machida, Shogun Rua, Dan Henderson or even Rampage Jackson.
I guess we'll soon find out.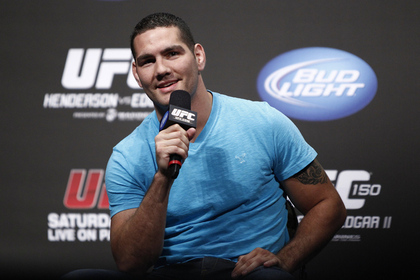 mmafighting.com
Chris Weidman is getting a little too cocky.
The guy truly believes he's ready to dethrone Anderson Silva as the UFC middleweight champion.
He recently went as far as saying Silva is ducking him and that he's known he could beat the G.O.A.T. from day one.
Okay, now listen.
Weidman needs to realize what type of fighter Silva is. You don't just rack off 10-straight title defenses overnight then go back to your day job.
It takes time, dedication and years of dominance. In what world does this kid think wins over Demian Maia and Mark Munoz warrant an instantaneous title fight?
I'm pretty sure Michael Bisping has been beating those type of guys literally for years.
Here's a little advice, Chris. Tread lightly. When you piss off a spider, chances are you'll get caught in its web.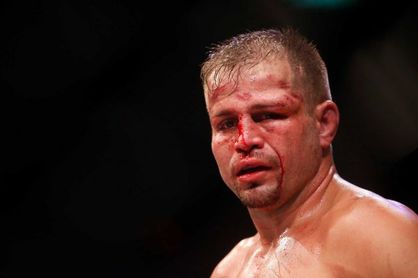 stamfordadvocate.com
Is it just me or were the referees at UFC 153 absolutely oblivious to the action going on inside the Octagon?
On two separate occasions, Jon Fitch vs. Erick Silva and Glover Teixeira vs. Fabio Maldonado, the refs refused to call the fight.
Now I'm a fan of letting a fighter try to regroup himself mid-defense and prevent inevitable defeat, but that's more like a five-second window.
These dummies opened up a can of worms that could have seriously injured Silva or Maldonado,
If there was ever solidified proof to finally enable the UFC to hire, manage and educate their own officials, it was UFC 153.
Enough is enough.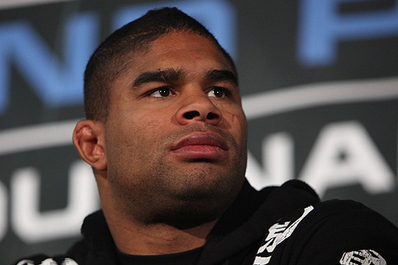 mmafightcorner.com
Last time I checked, Brock Lesnar's stomach was as messed up as a 12-car pileup.
Alistair Overeem literally could have tickled him into submission.
To sit here and pretend that Overeem isn't a top heavyweight in the world would be stupid, but to give this dude instant access to the UFC heavyweight title on the back of one average TKO win seems even more moronic.
In all honesty, I think Junior dos Santos or Cain Velasquez would absolutely murder Overeem, but that's not my gripe..
It's the politics of it. Dana White recently said Overeem will fight the winner of JDS vs. Cain sometime in early 2013 and I just don't agree.
Guys like Roy Nelson, Shane Carwin, Fabricio Werdum and even Stefan Struve have put more work in as UFC fighters. They may not be as talented as "The Demolition Man," but they deserve some sort of shot at glory.
In my opinion, Overeem should be the guinea pig that's sent back to Strikeforce to fight Daniel Cormier and send the promotion off in fashion.
This way we can see how good Overeem is against a guy who isn't bedridden and we can see if Cormier actually has the power to KO any heavyweight in the world.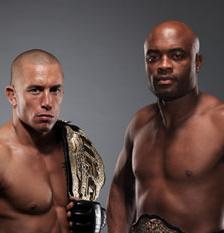 georgesaintpierre.com
All this recent talk about super fights, such as Anderson Silva vs. Georges St-Pierre and Jon Jones vs. Anderson Silva, has really got me thinking.
Are these unprecedented matchups all they're cracked up to be?
In hindsight, yes.
When you have the best fighters in the world throw caution to the wind, disregard their own weight classes and bank millions of dollars for everyone involved, it seems like a winning recipe.
However, some things are often overlooked due in part to the overwhelming public outcry by fans who never take a second to think more deeply.
What you have with these super fights is two of the best three or four fighters in the world fighting each other for nothing more than money and bragging rights. No titles, no divisional implications, nothing.
Now I would love to see who really is the best fighter on the planet, but you have to look at the complete picture. One guy is going to solidify his era within the sport while the other guy's legacy is going to take a hit.
What if GSP breaks Silva in the first round? Will Silva still be considered the best fighter in the world?
Will people chalk it up as an out-of-division battle that has little significance to his middleweight reign?
These are truly things to think about it. Not to mention the top contenders in each division that have to sit idly by, train for non-championship rounds and hope their weight class titleholder doesn't get too battered to where he can't compete for months on end.
I'm in no way trying to form some sort of anti-super fight cult on Bleacher Report, but just be aware that sometimes things aren't what they seem. Sometimes the end doesn't quite justify the means.
Thanks for reading and look for another addition of UFC Weekly next Monday.
For more UFC news and coverage, Follow @DHiergesell