Fantasy Football Live Blog for NFL Week 6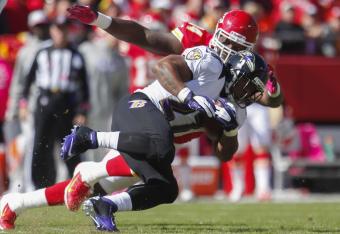 Kyle Rivas/Getty Images
It's Week 6 of the 2012 NFL season, which means we're nearing the halfway point of this year's fantasy football campaign.
So, while some teams continue their playoff push and others try to keep their seasons afloat, we'll keep you apprised of all major developments from Week 6 with this week's edition of the fantasy football live blog.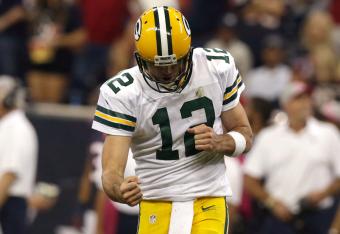 HUGE night for the Green Bay Packers offense in their win over the Texans, with quarterback Aaron Rodgers exploding for six touchdown passes, three of which went to wideout Jordy Nelson.
49 fantasy points for Rodgers...yikes.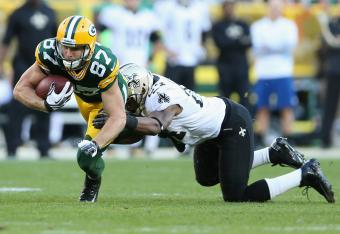 Halftime leaders from the Sunday night game, where Green Bay leads the Houston Texans 21-10.
Passing: Aaron Rodgers, Green Bay: 15 of 21, 187 yards, 3 touchdowns
Rushing: Arian Foster, Houston: 13 carries, 22 yards, touchdown
Receiving: Jordy Nelson, Green Bay: 5 receptions, 82 yards, 2 touchdowns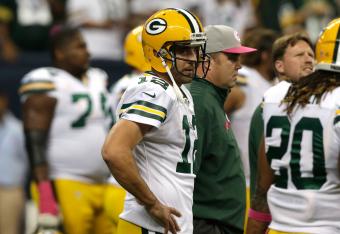 Fast start for the Green Bay Packers, as quarterback Aaron Rodgers finds Jordy Nelson from 41 yards out to stake the Packers to an early 7-0 lead.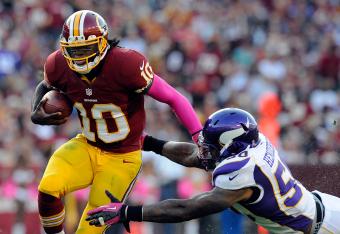 The fantasy MVP of the late games has to be Robert Griffin of the Washington Redskins, who once again went bananas in a win over the Minnesota Vikings, including a staggering 138 yards and two touchdowns...
On the ground.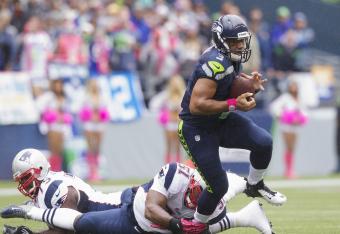 A shocker in the Pacific Northwest, as rookie quarterback Russell Wilson connects with wide receiver Sidney Rice on a 46-yard touchdown strike that propelled the Seattle Seahawks to a huge win over the New England Patriots, 24-23.
Tom Brady's 395 passing yards go for naught, partially due to two interceptions, while Wilson has something of a coming out party in throwing for just under 300 yards with two touchdowns in the win.
Another huge game for wide receiver Wes Welker in the loss, with the veteran hauling in 10 catches for 138 yards and a score.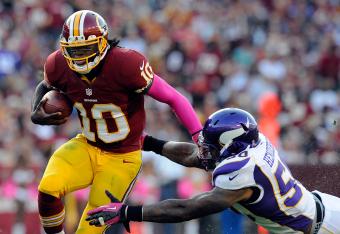 Fantasy owners who benched Robert Griffin Sunday for fear that his concussion would cause a slow day stat-wise are probably kicking themselves right now.
Sure, the rookie's 182 yards and a a score with an interception through the air isn't eye-popping, but Griffin has also led Washington in rushing today with 60+ yards and a touchdown on the ground.
23 points and change...not a bad day's work.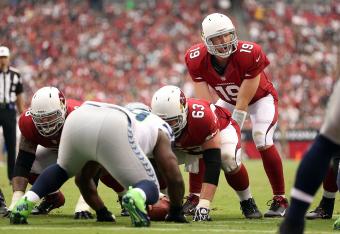 John Skelton has entered the game at quarterback for the Arizona Cardinals after Kevin Kolb suffered what appeared to be a concussion while scrambling.
With that offensive line and Skelton's lack of mobility this could get really ugly really quickly.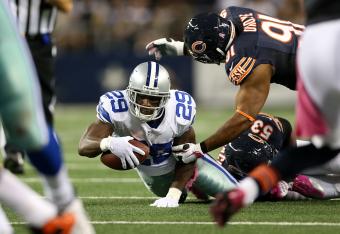 Dallas Cowboys running back DeMarco Murray finally had a decent showing in Week 6, but Murray's fantasy owners were left grumbling anyway.
Not only did Murray have a touchdown vultured by Felix Jones but the second-year pro also suffered a sprained foot that clouds his availability for Week 7, although x-rays of Murray's flipper came back negative.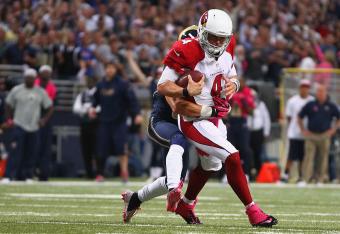 Kevin Kolb's third interception of the game stalls an Arizona drive, but running back William Powell continues to be a bright spot for the Cardinals with 70 yards on 13 carries.
Maybe Powell leading the NFL in rushing in the preseason actually meant something after all.
The New York Giants lead the San Francisco 49ers 10-3 at the half, with Eli Manning (176 passing yards) hooking up with Victor Cruz (4 catches, 41 yards) for the game's only touchdown.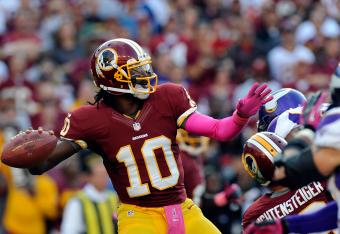 The Washington Redskins lead the Minnesota Vikings 17-9 at halftime, with rookies Robert Griffin (116 passing yards, TD, INT) and Alfred Morris (10 carries, 28 yards) accounting for Washington's two touchdowns.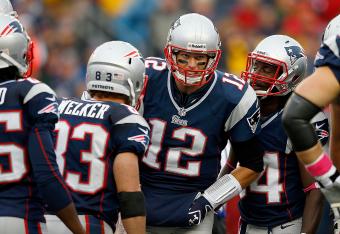 Big first half for New England Patriots quarterback Tom Brady, who has topped 200 yards and thrown a pair of touchdown passes against Seattle.
One of those scores, as I mentioned earlier, went to wideout Wes Welker, who has seven catches for 102 yards at the break.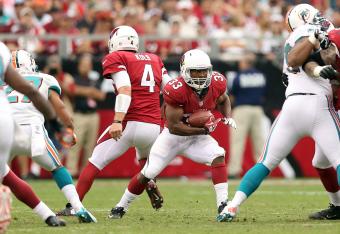 Not much to take from the first half of the game between the Arizona Cardinals and Buffalo Bills from a fantasy perspective, although running back William Powell (7 carries, 35 yards) has played fairly well for the Redbirds and could be a top waiver target for the upcoming week.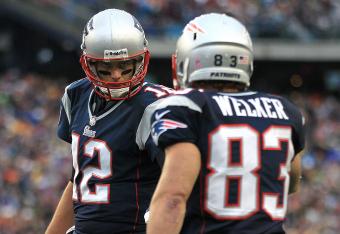 New England Patriots quarterback Tom Brady and wide receiver Wes Welker have taken their hot play of late on the road to Seattle, where the Patriots lead the Seahawks 14-10 spurred on by Brady's two first half touchdown passes, one of which covered 46 yards to Welker.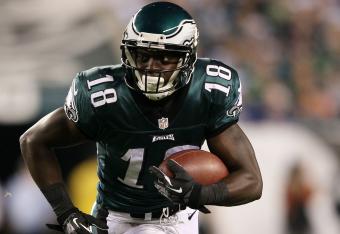 A thriller is being played in Philadelphia, where Detroit Lions quarterback Matthew Stafford has righted the ship and deadlocked their game with the Philadelphia Eagles at 23.
Big game for Eagles wideout Jeremy Maclin, who has racked up six catches for 130 yards, including a 70-yard touchdown reception.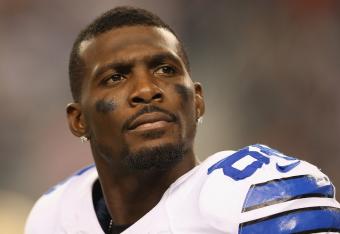 Fantasy owners waiting for Dallas Cowboys wide receiver Dez Bryant to blow up got their wish in Week 6, as Bryant reeled in 12 passes for 94 yards and a pair of touchdowns in the team's loss to the Baltimore Ravens.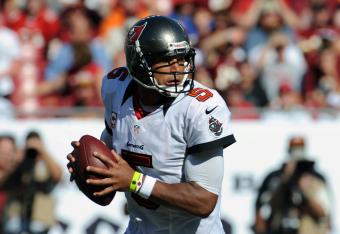 It was all Buccaneers in Tampa Bay's 38-10 demolition of the Kansas City Chiefs, with quarterback Josh Freeman having a phenomenal day, throwing for 328 yards and three touchdowns.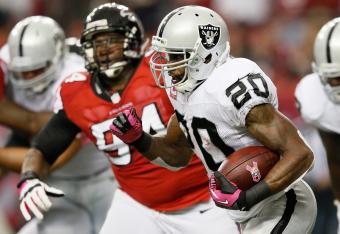 The Oakland Raiders snatched defeat from the jaws of victory in falling to the Atlanta Falcons 23-20, but for fantasy owners quarterback Carson Palmer (353 passing yards, TD), running back Darren McFadden (98 total yards, TD) and wide receiver Denarius Moore (5 catches, 104 yards, TD) were all bright spots for the Silver and Black.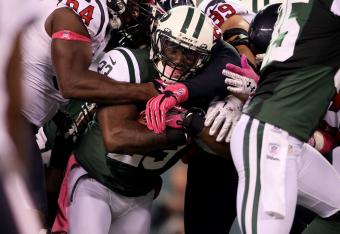 New York Jets running back Shonn Greene is having a monster day against the Indianapolis Colts, rushing for over 150 yards and scoring three touchdowns in a blowout win.
I'm pretty sure that's a sign of the Mayan Apocalypse.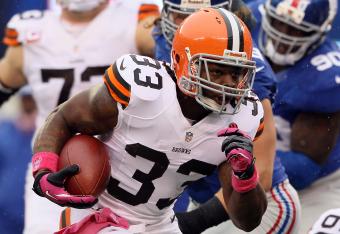 Bad news for fantasy owners of Cleveland Browns running back Trent Richardson, who suffered a rib injury in a quiet day versus the Cincinnati Bengals.
Even when the Browns are winning they lose.
Wide receiver A.J. Green continues his big day against the Cleveland Browns, hauling in his second touchdown catch of the day to go along with seven catches for 135 yards.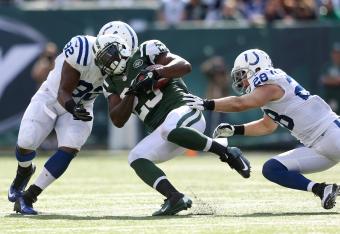 The New York Jets are rolling the Indianapolis Colts thanks in large part to huge game from running back Shonn Greene, who has now topped 100 rushing yards and scored a pair of touchdowns.
Yes folks, that Shonn Greene.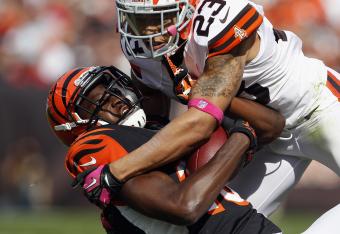 In a slate of early games that's been whisper-quiet from a fantasy perspective at least one player has been his dependable self.
Cincinnati Bengals wide receiver A.J. Green found the end zone yet again against the Cleveland Browns, chipping in four catches for 53 yards so far on Sunday.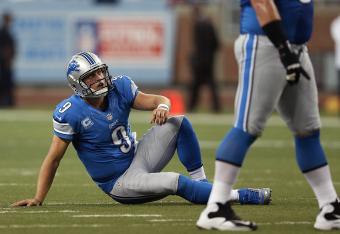 Fantasy owners who started Matthew Stafford of the Detroit Lions have to be just loving the quarterback's stat line so far against the Philadelphia Eagles.
6 of 18, 91 yards, interception.
Yuk and double yuk.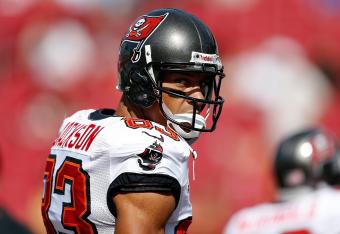 The Tampa Bay Buccaneers have opened up a 14-3 third quarter lead on the Kansas City Chiefs, with wide receiver Vincent Jackson reeling in Josh Freeman's second touchdown pass of the afternoon from 19 yards out.
This article is
What is the duplicate article?
Why is this article offensive?
Where is this article plagiarized from?
Why is this article poorly edited?