Baylor vs. Texas: Complete Game Preview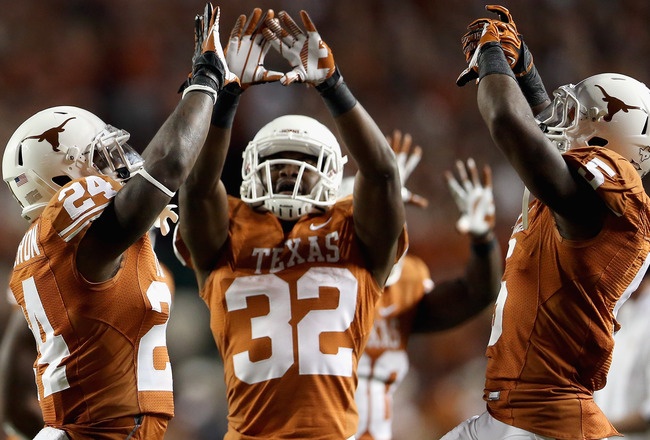 Ronald Martinez/Getty Images
Who: Baylor vs. Texas
When: Saturday, Oct. 20, 2012 at 7 p.m. CST
Where: Austin, Texas
Stadium: Darrell K. Royal Texas Memorial Stadium
TV: ABC
Texas is on the rebound from a 63-21 pummeling at the hands of Oklahoma, and the Longhorns return home to face a Baylor team that experienced a similar thrashing from TCU.
The post-Robert Griffin era has been a little bit of a struggle for the Bears, as head coach Art Briles and co. search for their first Big 12 victory of the season.
Depth Chart for Baylor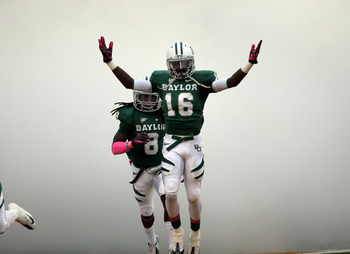 Layne Murdoch/Getty Images
Offense
QB: Nick Florence, Bryce Petty
RB: Glasco Martin, Jarred Salubi
WR: Lanear Sampson, Jay Lee
WR: Terrance Williams, Antwan Goodley
WR: Tevin Reese, Clay Fuller
LT: Spencer Drango, Kelvin Palmer
LG: Cyril Richardson, Tim Smith
C: Ivory Wade, Stefan Huber
RG: Cameron Kaufhold, Jake Jackson
RT: Troy Baker, Pat Colbert
Defense
DE: Terrance Lloyd, Tevin Elliott
DE: Gary Mason, Chris McAllister
DT: Nick Johnson, Trevor Clemons-Valdez
NT: Kaeron Johnson, Suleiman Masumbuko
SLB: Rodney Chadwick, Brody Trahan
MLB: Ahmad Dixon, Devante Davis
WLB: Bryce Hager, LeQuince McCall
CB: Joe Williams, Tuswani Copeland
FS: Sam Holl, Josh Wilson
SS: Mike Hicks, Anthony Moore
CB: K.J. Morton, Chance Casey
Special Teams
PK: Aaron Jones, Ben Parks
P: Spencer Roth, Ben Parks
Depth Chart for Texas
Tom Pennington/Getty Images
Offense
QB: David Ash, Case McCoy
RB: Joe Bergeron OR Johnathan Gray, Malcolm Brown
WR: Jaxon Shipley, Bryant Jackson
WR: Mike Davis, Kendall Sanders
WR: Marquise Goodwin, D.J. Monroe
LT: Donald Hawkins, Kennedy Estelle
LG: Trey Hopkins, Sedrick Flowers
C: Dom Espinosa, Garrett Porter
RG: Mason Walters, Thomas Ashcraft
RT: Josh Cochran, Luke Poehlmann
Defense
DE (Buck): Reggie Wilson, Cedric Reed
DE (Strong): Alex Okafor, Shiro Davis
DT: Chris Whaley, Ashton Dorsey
DT: Desmond Jackson, Brandon Moore
SLB: Demarco Cobbs, Tevin Jackson
MLB: Steve Edmond, Dalton Santos
WLB: Jordan Hicks, Kendall Thompson
CB: Quandre Diggs, Duke Thomas
FS: Kenny Vaccaro, Josh Turner
SS: Mykkele Thompson OR Adrian Phillips
CB: Carrington Byndom, Leroy Scott
Special Teams
PK: Anthony Fera, Nick Jordan
P: Alex King, William Russ
What Happened to Baylor Last Week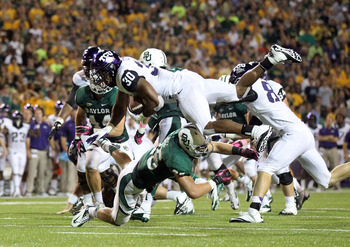 Layne Murdoch/Getty Images
Baylor dug itself into a big hole with six turnovers in a 49-21 home loss to TCU, which was without its starting quarterback Casey Pachall.
Ballooned by a 21-point fourth quarter from the Horned Frogs, Gary Patterson's team simply ran away from the Bears late.
On a positive note, quarterback Nick Florence used just 12 completions to throw for 289 yards and two touchdowns—though the four interceptions are a huge blemish on his final line.
The Baylor defense was on the field for nearly 42 minutes as well, so fatigue had to be a factor late.
What Happened to the Longhorns Last Week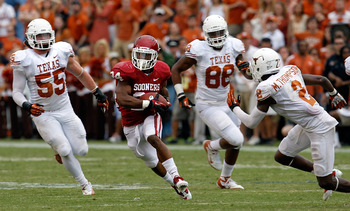 Tom Pennington/Getty Images
The Longhorns suffered a similar demolition from Oklahoma at the Cotton Bowl, dropping the Red River Rivalry 63-21 as the final score hardly gives justice to the Sooners' domination.
Texas' inability to establish any offensive rhythm or kill any defensively-made room for the blowout early, and Oklahoma never looked back.
Outworked and out-manned physically, Texas just looked to be the hugely inferior team, and questions concerning effort and preparation have stormed the fan base once again.
What It Means to Both Teams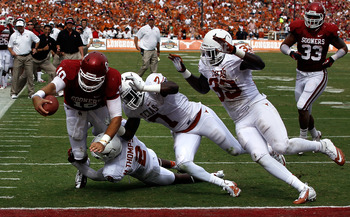 Tom Pennington/Getty Images
For Baylor, it is a chance to steal a win from a very wounded Texas team. Sure, the expectation is for the Longhorns to rebound strongly, but the Bears offer potential with an offense that did rack up 63 on West Virginia.
Additionally, Baylor is still searching for its elusive first Big 12 win of the season.
For Texas, it's all about recharging itself with a fresh perspective after two bad losses considering the total circumstance (e.g. Texas Tech whipping West Virginia). Avoiding a third conference loss in a row could put the program on a steeper ledge than it's already on, and facing a defenseless Baylor team should be a welcomed opponent.
Baylor Will Win If...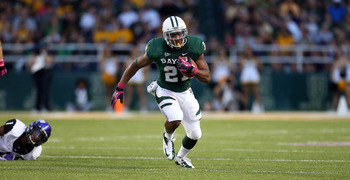 Layne Murdoch/Getty Images
Baylor will win if it can stop the run.
Texas demonstrated little ability to establish rhythm offensively with nothing going on the ground against Oklahoma. If the Bears can take a page from the Sooners' book, they will have created an edge.
Offensively, it looks like scoring points won't be a problem against a Texas defense that has shown vulnerability all over the field. And now the Longhorns are without Jackson Jeffcoat and possibly Jordan Hicks—points could be for the taking.
Ultimately, it will be defense—from one of the worst units in the country—that stack the chips in its favor.
Texas Will Win If...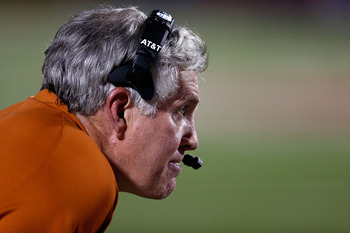 Scott Halleran/Getty Images
Texas will win if it runs the ball.
The Longhorns looked lifeless for much of their contest on Saturday, but their bread and butter is still the running game, despite those shortcomings over the weekend.
Controlling the clock means the Baylor offense is off the field, and the scoreboard is quiet.
The Horns could be in a battle against themselves, however. If the defense cannot stop Baylor's offense, any series of poor executions could mean the difference between a win and a loss, a la the loss to West Virginia.
Key Player for Baylor: Nick Florence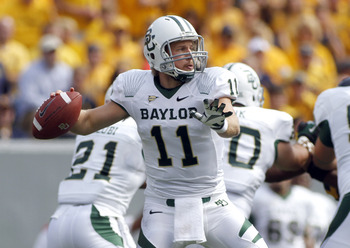 Justin K. Aller/Getty Images
Baylor's success rides pretty heavily on the shoulders of the offense, which rides on the shoulders of its senior quarterback.
Even with his nine interceptions on the year—the fifth-most in Division I—Nick Florence still boasts the third-best quarterback rating. Additionally, his 10.6 yards per attempt is tops in the country.
Without a noticeable defense, the Bears will have to generate even more offense to overcome those shortcomings, and Florence is the engineer behind that approach.
Key Player for Texas: Running Game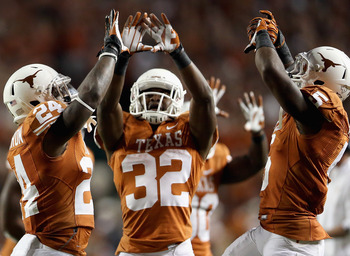 Ronald Martinez/Getty Images
Texas will want to impose its offensive scheme onto the game, and running the ball is the primary focus to doing that.
With a virtual no-show against the Sooners, the Longhorns have adequate pressure to rebound, but the added expectation of a consistent running game that features a horde of underclassmen is a burden as well.
Getting that production back on the ground will set the stage for the Longhorns to control the outcome.
Prediction: 38-30 Texas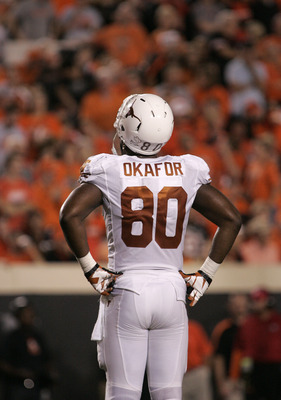 Brett Deering/Getty Images
Call it a crapshoot, but despite the struggles, Texas is in no hurry to lose a third consecutive conference game, especially to a Baylor team with a serious lack of defense.
And though defensive shortcomings have gone both ways, the Longhorns have shown the ability to come up with turnovers and stops at critical junctures.
One thing is for certain, though. Expect a high-scoring affair as Baylor will want to scorch the tempo and push the Longhorns as much as possible.
Keep Reading

Baylor Football: Like this team?