Virginia Tech vs. Clemson: Complete Game Preview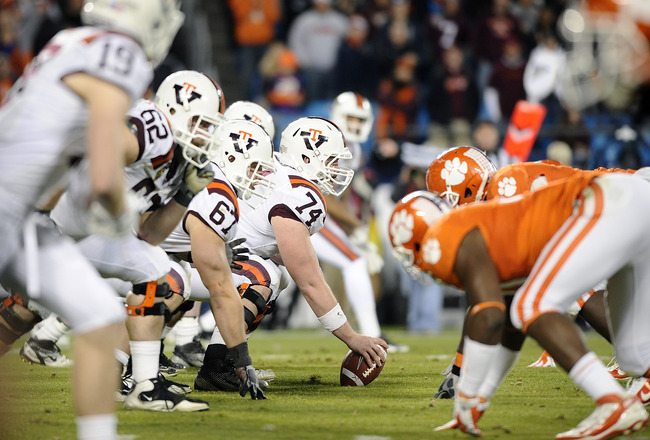 Jared C. Tilton/Getty Images
Week 8 features a key ACC matchup across division lines as the Virginia Tech Hokies travel to face the Clemson Tigers in Death Valley Stadium.
Set for a noon ET kickoff, the Hokies are looking to bounce back after losing two of their last three games, while the Tigers are looking to get back to the ACC Championship by winning out the remainder of their games and rooting for any ACC team that plays Florida State.
Here, we will preview this matchup leading up to Saturday's game.
Clemson Offense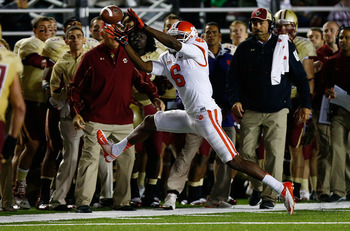 Jared Wickerham/Getty Images
Clemson has undoubtedly one of the top offenses in the ACC and all of college football thanks to second year offensive coordinator Chad Morris, who has this offense ranked 11th overall in passing yards, 32nd in rushing yards, and 11th in points per game.
With an at-first questionable offensive line, this group has found consistency and chemistry with senior center Dalton Freeman and left tackle Brandon Thomas, along with converted junior right guard Tyler Shatley, sophomore left guard David Beasley and sophomore right tackle Gifford Timothy.
But the ultimate asset of this offense are its skill players. Quarterback Tajh Boyd is shining in his second year as the starter in this offense, while boasting excellent receivers in Sammy Watkins and Deandre Hopkins, who has shined in Watkins' absence due to missing three game with suspension and abdominal sickness.
The Tigers also have other reliable targets in tight end Brandon Ford, along with fellow receivers Jaron Brown, Adam Humphries, Charone Peake and Martavis Bryant. Senior running back Andre Ellington has been the main catalyst of the Tiger running game and leads the ACC in rushing.
Virginia Tech Offense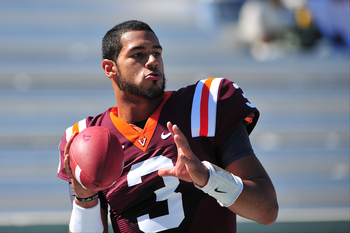 Lance King/Getty Images
This Virginia Tech offense has not been as explosive as Clemson's offense, ranking 52nd in passing yards, 80th in rushing yards and 55th in points per game. The Hokies have lost three of their last five games, with two of those losses coming against Big East opponents in Pittsburgh, a future member of the ACC, and Cincinnati.
Virginia Tech quarterback Logan Thomas has been modest at quarterback, throwing for 1,708 yards and twelve touchdowns. He has also thrown eight interceptions and hasn't emerged as a big time threat at quarterback.
The running game has not been strong, with leading rusher J.C. Coleman having rushed for only 319 yards and two touchdowns, while second leading rusher Michael Holmes has 239 yards and four touchdowns.
The passing game features Marcus Davis, who leads the team with 585 receiving yards and four touchdowns, and Corey Fuller, who has 407 receiving yards and three touchdowns.
Overall, Clemson clearly has the advantage on offense.
Clemson Defense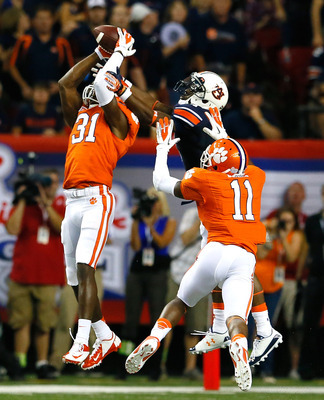 Kevin C. Cox/Getty Images
The Clemson defense has had less-than-desirable play in 2012, with the players adjusting to life under first-year coordinator Brent Venables. Their struggles have been less about the scheme and more about execution. The players still need to buy into the scheme.
The weakest part of this unit by far has been the secondary, especially at safety, where Jonathan Meeks has been attacked and missing tackles on a regular basis, while also not being very aware in coverage.
The corners have not had the best play either, with the coaching staff having replaced Darius Robinson with Garry Peters, who has played well enough to hold onto his starting spot entering the game against the Hokies.
The front seven has been getting a little better week by week, with a young developing defensive line and a talented yet young linebacker corps. Along the line, the defensive line has been coming along week by week but has by far failed to produce sacks, and getting pressure on Logan Thomas will be essential to a Clemson victory.
Virginia Tech Defense
Lance King/Getty Images
The Hokies have a decent defense, ranking 38th overall, and have a tough enough defense that the Tigers will have to tread carefully.
But the Hokies have not registered a large number of sacks and generated enough pressure from their defensive line, and the Tigers may benefit strongly by running the ball effectively against this defense, as its secondary remains steady, though Clemson will be watching for favorable matchups throughout the game.
When it comes to both defenses, though, Virginia Tech holds the advantage here.
Clemson Special Teams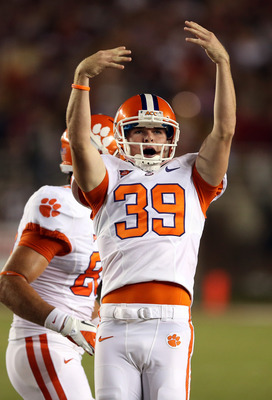 Streeter Lecka/Getty Images
Clemson has itself a solid kicker in junior Chandler Cantanzaro, a former walk-on who earned himself a scholarship with the team. He earned All-ACC second team honors last season and has placed himself among the ACC's top kickers in 2012.
Senior Spencer Benton handles kickoffs and punts and is a long range specialist at kicker, nailing a 64-yard field goal against Ball State and setting an ACC record.
Punt returns have been hard to come by for this team, which are handled by a combination of Sammy Watkins, Deandre Hopkins and Adam Humphries. Kickoffs are handled by Sammy Watkins and Andre Ellington, who are Clemson's best natural kick returners.
Virginia Tech Special Teams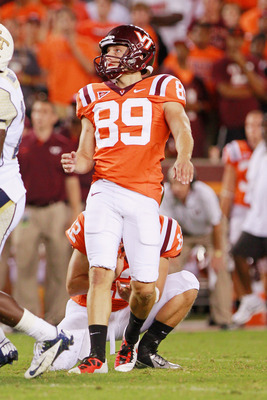 Geoff Burke/Getty Images
Virginia Tech has been know for its "Beamer Ball," a reference to head coach Frank Beamer, who places strong emphasis on special teams.
Kicker Cody Journell has been one of the few kickers ever on scholarship under Beamer. He has been one of the most solid kickers in the ACC, making seven of his last eight field goals. The Hokies also boast a solid return man in Demitri Knowles, who is the ACC's top kickoff return man, while Kysheon Jarrett leads the conference in punt returns.
Both teams have had good play from their kickers, but when it comes to special teams and return ability, a slight edge will be given to the Hokies.
However, because of Clemson's talent on offense, and their solid half-time adjustments on both sides of the ball the last few weeks, it's extremely hard to see the Hokies walking away with a victory in Death Valley.
Keep Reading

Clemson Football: Like this team?