Oakland Raiders vs Atlanta Falcons: Live Score, Highlights and Analysis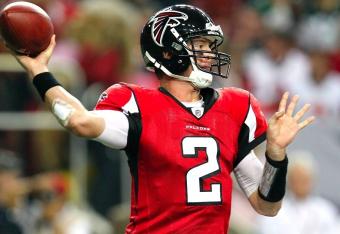 The Oakland Raiders fought valiantly, picking off Matt Ryan three times and holding the Atlanta Falcons' offense in check for most of the game, but in the end it was a 55-yard kick from Matt Bryant with one second left that propelled the Falcons to victory.
Final: Falcons 23, Raiders 20.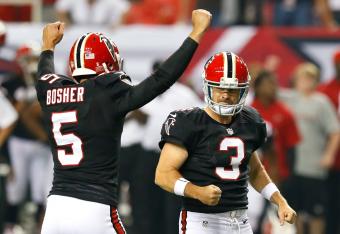 0:01 4th Quarter—Field Goal!
The Falcons win after a 55-yard boot from kicker Matt Bryant, who had previously missed a 43-yard attempt.
Final: Falcons 23, Raiders 20.
0:40 4th Quarter—Touchdown!
Darren McFadden rumbles into the endzone to tie the game! Atlanta has 40 seconds and two timeouts to attempt to win the game.
Raiders 20, Falcons 20.
1:08 4th Quarter
The Raiders have a chance as Palmer finds Derek Hagan for a 38-yard gain to put Oakland on the six-yard line with just over 40 seconds left.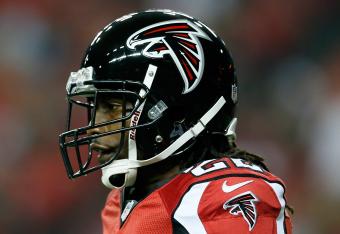 2:40 4th Quarter—Interception returned for touchdown!
The Falcons needed something, anything and they got it. Asante Samuel picks off Carson Palmer and returns it 79 yards for a touchdown.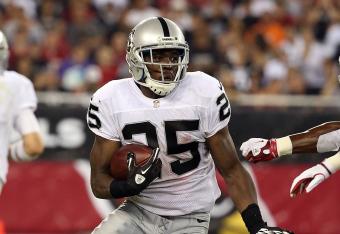 5:30 4th Quarter
Mike Goodson takes a hand off 42 yards against a struggling Atlanta defense and suddenly the Raiders are driving and can win the game behind the power of their running game.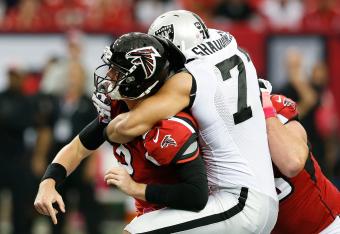 6:20 4th Quarter
Just like that, the Falcons have given the ball back to the Raiders after quickly going three-and-out. Oakland has not looked spectacular on offense as of late either, but with just over six minuets left the Raiders could potentially use the running game as a way to eat the clock and claim the victory.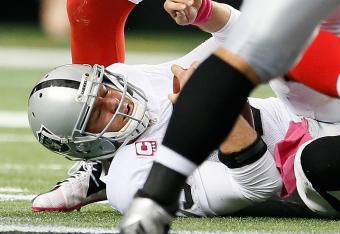 8:40 4th Quarter
The Raiders had a few nice completions before their most recent drive stalled after Carson Palmer was sacked.
Atlanta now takes over looking to get literally anything going after an abysmal showing so far. Matt Ryan has eight minuets to work with.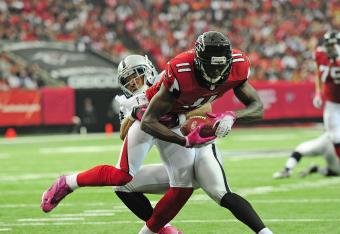 13:45 4th Quarter
After an extensive review process on a Julio Jones reception, it was deemed the ball was knocked loose in the process of the catch.
As a result, the Falcons are forced to punt, with Oakland once again stopping a sluggish offense led by Matt Ryan.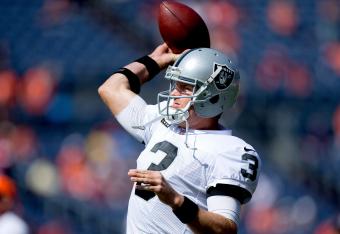 14:36 4th Quarter
The Raiders continue to have issues with penalties along the offensive line and are ultimately forced to punt.
Falcons take over after the break with a chance to take their first lead of the game. Given their performance from the 2-yard line last time, it would be unwise to have high expectations.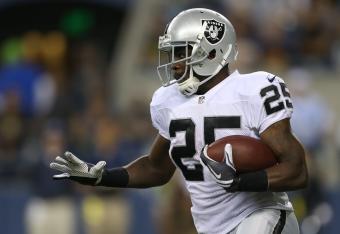 End of 3rd Quarter
The Raiders are moving the ball down the field effectively thanks to Darren McFadden and Mike Goodson, but are shooting themselves in the foot with penalties.
Raiders will resume their drive as the fourth quarter opens.
Raiders 13, Falcons 13.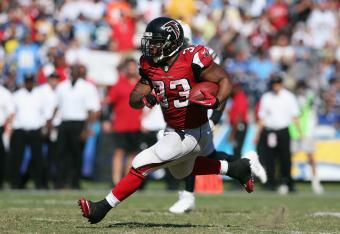 2:42 3rd Quarter—Field Goal!
Apparently we spoke too soon. The Falcons were stuffed, and even had the help of a neutral zone infraction to put them within inches of scoring but were embarrassed as the Raiders defensive front held strong and turned the Atlanta running backs away.
Atlanta is forced to settle for a humbling field goal and we've got a tie game.
Raiders 13, Falcons 13.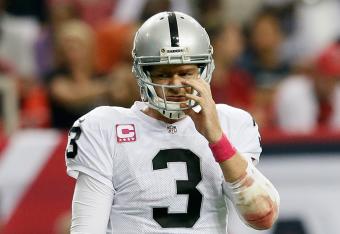 4:33 3rd Quarter—Fumble
John Abraham strips Carson Palmer of the football and Ray Edwards returns it to the 2-yard line.
It's a huge swing in momentum for the Falcons who have had issues getting things going on the offensive side of the ball Starting this drive in the redzone should turn things around pretty quickly.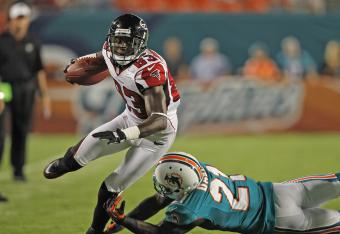 5:10 3rd Quarter—Field Goal!
Matt Bryant connects on a 41-yard field goal to inch the Falcons closer. The Atlanta drive stalled after gaining some momentum from a freak play in which a pass bounced off a defenders helmet and into the hands of a Falcons' receiver who was already on the ground.
Raiders 13, Falcons 10.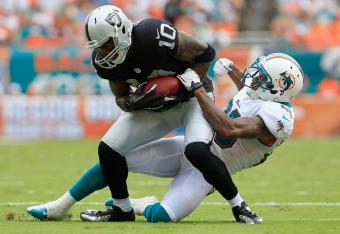 8:49 3rd Quarter
Carson Palmer managed to find Derek Hagan for 20 yards to move down the field, but the drive then stalled as Palmer struggled to find his accuracy.
Atlanta takes over with good field position after a punt and penalty on the Raiders added to the end of the kick.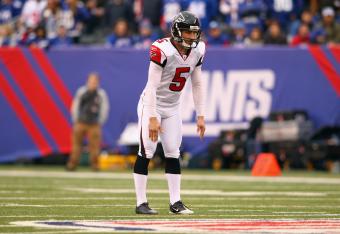 12:04 3rd Quarter
The Falcons and Raiders have now traded three-and-outs after Matt Ryan failed to establish any rhythm after taking over possession.
It's Oakland's turn once again after the break.
13:37 3rd Quarter
The Raiders fail to capitalize on momentum and are quickly forced to punt.
Atlanta has been great in the second half so far this season, so expect a much better attack from the Falcons from here on out.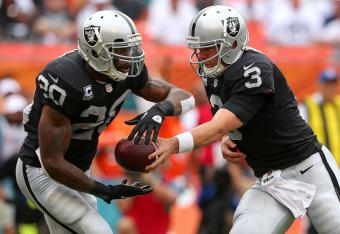 Halftime score—Raiders 13, Falcons 7.
Matt Ryan and the Falcons have played sloppy at best so far, with Ryan throwing three interceptions and the defense giving up big plays thanks to horrendous tackling.
Conversely the Raiders have capitalized on the Atlanta mistakes thus far with a balanced offensive approach that is eating up the clock.
Oakland gets the ball first in the third quarter riding a wave of momentum.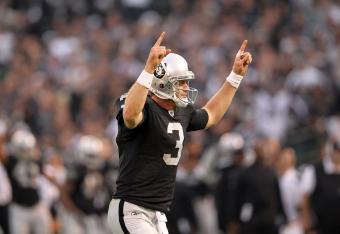 2nd Quarter—Touchdown!
The Raiders finally manage to turn a Matt Ryan interception into a touchdown as Carson Palmer finds Denarius Moore yet again, this time for a 25-yard touchdown.
Raiders, 13, Falcons 7.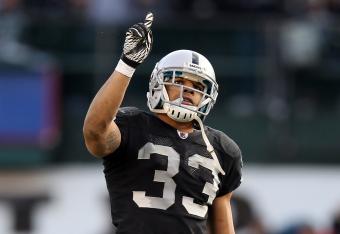 2:45 2nd Quarter—Interception!
Ryan throws his third interception of the game after getting leveled by Oakland's Philip Wheeler. Tyvon Branch catches the floater and the Raiders take over with huge amount of momentum.
4:11 2nd Quarter—Field Goal!
Janikowski is called upon again for the Raiders and connects on a 22-yard field goal. Oakland had to settle after an incomplete pass from Palmer and a stuffed run by McFadden.
It's not an ideal outcome as a touchdown would have given Oakland the lead, but it's a nice response to the Atlanta touchdown.
Falcons taking over with a little over four minuets left in the half.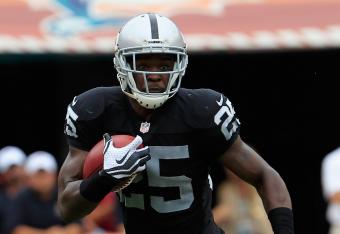 6:54 2nd Quarter
Palmer is leading the Raiders on a big drive, his latest completion going for 37 yards to Mike Goodson.
So far so good for the response drive for Oakland. The Atlanta defense has had serious issues tackling and the Raiders are methodically taking advantage.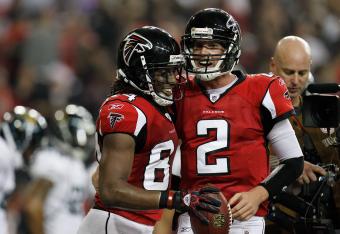 9:51 2nd Quarter—Touchdown!
Ryan continues his streak by finding Roddy White in the endzone for a four-yard touchdown pass.
It looks as if the Atlanta offense has finally deciphered what the Raiders are doing defensively. The response by Oakland on the next drive will say a lot about how this game will pan out.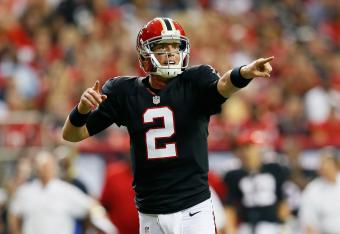 11:14 2nd Quarter
Matt Ryan is in a rhythm now as the Falcons are knocking on the door in the redzone.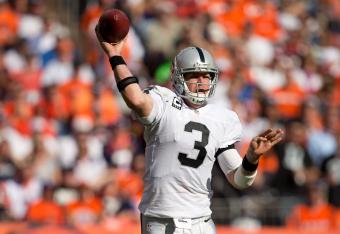 End of 1st Quarter
The Raiders have shocked the Falcons to this point, forcing Matt Ryan to throw two interceptions. It's a closer game than it should be, and now that Oakland knows they can hang with one of the best teams in the league it could be a long day for Atlanta.
Raiders 3, Falcons 0.
0:29 1st Quarter—Field Goal
Sebastian Janikowski connects on a 52-yard field goal with ease after the Raiders drive comes up short.
It's a great sign for the underdog Raiders, who have done a great job of shutting out an elite offense through one quarter. Upset alert is officially engaged.
This article is
What is the duplicate article?
Why is this article offensive?
Where is this article plagiarized from?
Why is this article poorly edited?