New England Patriots vs. Seattle Seahawks: Live Score, Highlights and Analysis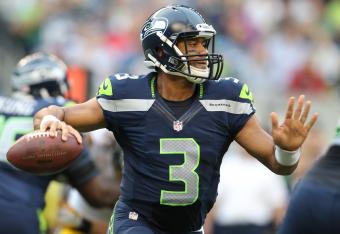 Kevin Casey/Getty Images
Final Score: 24-23, Seahawks
For average NFL football fans, this was a must-watch game for the offense vs. defense matchup alone. For Seattle fans, this was this season's biggest test for Pete Carroll's young and physical defensive unit.
Hype vs. reality, there's just no way of getting around it.
It wasn't always pretty but Seattle wins a huge come from behind game on the backs of three stand out players e.g., Richard Sherman, Earl Thomas and of course Russell Wilson.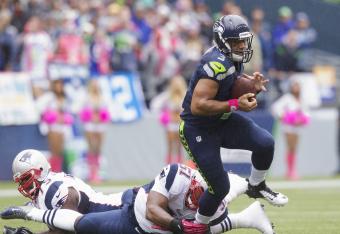 save this tweet RT @softykjr: 4:18 PM. October 14th. Seahawks QB controversy is dead. Congrats to Russell Wilson. Well done son.

— Scott Enyeart (@ScottEnyeart) October 14, 2012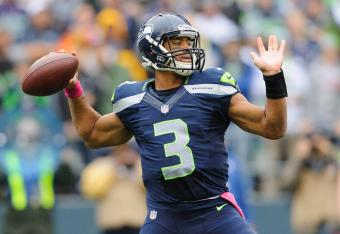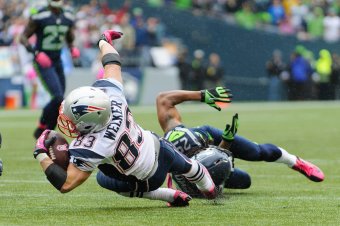 Steven Bisig-US PRESSWIRE
Post game thoughts:
Seattle was not prepared on the defensive side of the ball for the Patriots to move away from their balanced attack. Time an again the Patriots picked apart the Seahawks underneath coverage and forced the Seahawks to defend long drives.
Credit the play of Earl Thomas and most importantly Richard Sherman to overcome despite the poor game plan.
On the offensive side of the ball, Russell Wilson arrived in the biggest game of his career. Facing off against the Bill Belichick led Patriots was hard enough. Playing like he did was amazing.
His play was even more impressive when you consider the lack of a Marshawn Lynch presence. It's just one big game, but the momentum has been building. Matt Flynn fans should be quiet for at least 3-4 weeks.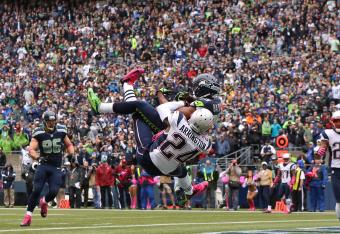 Game over.. Seahawks win! Man, that was a thriller!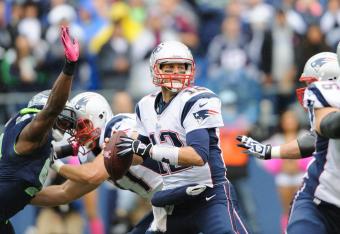 Seahawks defense is awake and trying to end this game right here. 4th and 17 Patriots.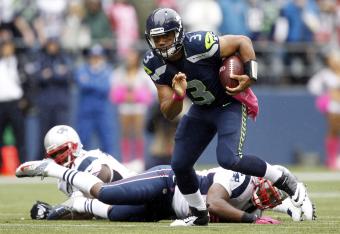 Say what you want about Russell Wilson, he has progressed every game. Nothing but baby steps, but consistent progress.
16/27 293 and 3 TDs is progress folks.
WOW!!!!!!!!!!!! TOUCHDOWN SEAHAWKS!!! WILSON TO RICE!
24-23 Seahawks!
Patriots just gifted the Seahawks another stoppage of play with their time out in front of the two minute warning.
Leon Washington gives the Seahawks great field position on his 27 yard return.
3 and out for the Patriots. Very surprised they called a pass play in that situation. Draw does more damage to Seattle's chances.
Oh boy..3 and out is not going to get it done. May not see the ball again.
Great punt coverage by the Patriots there. Nothing Leon Washington could do on that return.
Ball is deep in Seahawks territory. The game is on the line Mr. Wilson.
That's another intentional grounding on serious Seahawks pressure. Every offensive lineman was beat on that play. 3rd and 20 Patriots. This a huge down for Seattle.
Patriots doing a great job of using the Seahawks defensive aggression against them. Draw worked to perfection.
Seahawks baited Tom Brady into quick throw. Defensive front playing for the tipped pass. Almost picked by Richard Sherman.
Nice to see Braylon Edwards get his first touchdown catch of the 2012 season for the Seahawks.
Touchdown upheld! 23-17 Patriots. Seahawks need a big defensive stop now to have chance.
Not end of the world if TD is overturned. PI call puts ball on one yard line. Still chance to put 7 on the board.
Hold on..Play is under review.
Touchdown Seahawks! Russell Wilson puts them on the board.
Seahawks going for it on fourth down with fade route to Braylon Edwards..Touchdown signaled, but flags on the field.
Seattle must score 7 here. They just have to score a TD.
That throw to Golden Tate by Russell Wilson was amazing. Great work by Tate to use his body to shield the defender.
Add on the Patriots personal foul and it is Seahawks ball on the 17 yard line just like that. Need to score here.
Total Offensive plays:
Patriots: 71
Seahawks: 41
Not going to get it done Seattle. Not at all.
Tom Brady just embarrassed rookie defensive lineman Gregg Scruggs with some clever pocket footwork. Extended play enough for Wes Welker first down.
Patriots will be going in for the kill shot here. This drive could be the biggest in the game for the battered Seahawks defense.
This article is
What is the duplicate article?
Why is this article offensive?
Where is this article plagiarized from?
Why is this article poorly edited?

Seattle Seahawks: Like this team?