Ranking the Biggest Showmen in Boxing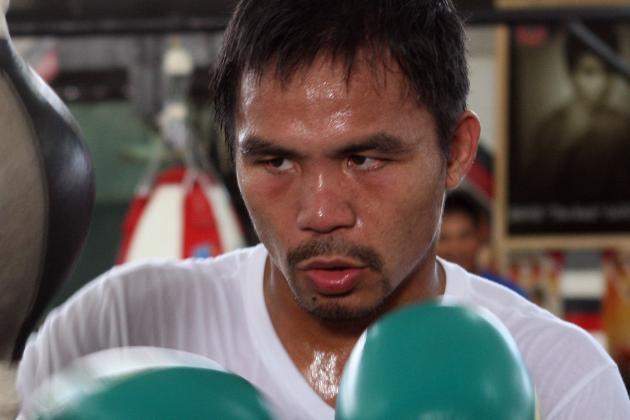 Jeoffrey Maitem/Getty Images
Manny Pacquiao is one of boxing's most charismatic figures.
The sport of boxing is not just about the talent and ability that the athletes show in the ring.
Ultimately, a fighter is not going to make it in the sport if he does not possess the skills needed to land more effective punches than his opponent, but if a boxer is going to make a major impression on the outside world, he needs to have a personality that attracts attention.
In the past, boxing has had stellar showmen like Sugar Ray Robinson, Sugar Ray Leonard, Mike Tyson and the great Muhammad Ali.
A showman can be quite vocal like Ali or have a great smile like Leonard. Even a menacing fighter like Tyson at his best was charismatic because everyone wanted to know what he would do next.
The current generation of fighters may lack the showmanship of fighters from past generations, but here's a look at six fighters who have the ability to command attention because of their charisma.
Begin Slideshow

»
Brandon "Bam-Bam" Rios (31-0-1) is a fighter who is clearly on the ascent.
He fights with a crowd-pleasing style and he registered a seventh-round technical knockout over Robbie Alvarado on Oct. 13.
The win came in a full-scale brawl with Alvarado. Both fighters gave an excellent account of themselves in a close battle until Rios closed the show.
Rios is not a boxing celebrity at this point in his career, but those who watch his fights can't help but be entertained. The Lubbock, Texas, native is likely to develop far more followers because he gives boxing fans a lot more than their money's worth in each of his bouts.
Rios may be in line for a fight with Manny Pacquiao as a result of the win over Alvarado, according to the Los Angeles Times.
Juan Manuel Marquez (54-6-1) is one of the most bankable fighters in the business and he can usually be counted on to put on a great show in the ring (source: ESPN.com).
Marquez has fought Manny Pacquiao three times, and a fourth fight is on the schedule for Dec. 8.
Fans like to see Marquez because he always throws a lot of punches and is not looking to merely survive.
Marquez's action-packed style makes him one of the sport's top showmen.
Sergio Gabriel Martinez (50-2-2) has won his last six fights since dropping a majority decision to Paul Williams in 2009.
He came back to avenge that loss by knocking out Williams in 2010.
One of the reasons that Martinez has become such a popular fighter is his tendency to leave everything in the ring on an every-round basis.
In his victory over Julio Cesar Chavez Jr. in September 2012, Martinez sensed that Chavez was not in the best of shape and he took it to his beleaguered opponent for 11 rounds. When Chavez turned it on in the 12th round, he registered a knockdown but it was too little, too late against a great boxing showman.
Saul "Canelo" Alvarez (41-0-1) is one of the most charismatic and explosive young fighters in the business.
Alvarez, 22, has power in both of his hands and will come after his opponent with a fury as soon as he senses the slightest weakness.
Four of his last five victories have been by technical knockouts. Alvarez fights with a swarming style and that gives him the kind of appeal that should make him a star in the sport for many years.
Despite his youth, he is already a great showman in the ring because of his aggressive fighting style.
Manny Pacquiao (54-4-2) is one of the most popular fighters of the his generation.
Pacquiao, 33, is one of the busiest fighters when he gets in the ring. He is not afraid to take a punch in order to get off a flurry of his own.
Any time Pacquiao gets in the ring, it is big news in the sporting world. He is capable of launching an impressive two-fisted attack and also moves around the ring with speed and quickness.
Outside the ring, Pacquiao is a politician, a philanthropist and an entertainer. He is incredibly popular in his native Philippines and he has a big following in the U.S. as well.
A fight between Pacquiao and the No. 1 fighter in these rankings would catapult boxing dramatically, at least temporarily.
Floyd Mayweather (43-0-0) is undoubtedly the most skilled fighter of his generation.
He is one of the most talented fighter of all time, and there is nothing he doesn't do well in the ring. It is very difficult to hit Mayweather squarely because of his speed and defensive skills. He also has a devastating jab and he hits hard with both hands.
Outside the ring, Mayweather is a must-follow story. He is known for his outsized sports bets (source: MLive.com) that lead many to think he may have a gambling problem—or will once his boxing money stops rolling in.