Week 6 Picks: Predicting Every NFL Game Against the Spread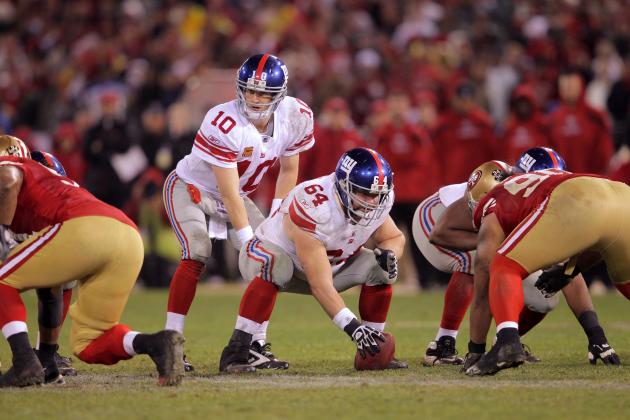 Doug Pensinger/Getty Images

With Week 6 upon us, there are a few things to keep an eye on this week and beyond.
The bulk of the remaining schedule for the Indianapolis Colts' schedule looks pretty friendly. After this week's game against the hapless Jets, Indianapolis gets Cleveland, Tennessee, Miami, and Jacksonville. From there, they'll play the Patriots in New England and get two games against Houston in the final three weeks. In between those games, there's Buffalo, Tennessee on the road, Detroit and Kansas City.
If the Colts continue to play inspired football like they did last week against Green Bay, I like their chances of finishing the season in the 8-8 or 9-7 range. To me, that would make Andrew Luck a lock for the Rookie of the Year. As impressive as Robert Griffin III has been, Luck has been sensational, and taking this team from a putrid 2-14 last year to a possible winning record this year is paramount to RG3's numbers.
The Minnesota Vikings are also worth watching going forward, particularly RB Adrian Peterson. Falcons QB Matt Ryan is looking like the runaway winner for the MVP right now, but if I had a vote, it would go to A.P. He's currently eighth in the NFL in rushing yards less than a year removed from completely blowing out his knee last season.
We knew the Falcons were going to be good, but who had the Vikings being the NFC's No. 2 seed five weeks into the season? Do you think Christian Ponder and Percy Harvin have the seasons they are having if Toby Gerhart is taking a bulk of the carries? I don't. A.P. vs Matty Ice will become one of those classic MVP debates of "value" against numbers. It's early, but I think Peterson deserves some MVP consideration.
Week 6 offers up some exciting games this week. We get the much-anticipated NFC Championship rematch between the 49ers and Giants. Houston and Green Bay do battle Sunday night in a game that looked a bit more even in the preseason. There's also an intriguing showdown between Baltimore and Dallas on tap.
The rest of the week seems pretty cut-and-dry, which means there's a good chance I can keep the momentum going with my picks. Last week, I went 8-6 to draw even for the season at 37-37-2. The Titans upset over the Steelers already has me down one for the week, so let's take a look at the rest of this week's slate.
As always, the lines are brought to you by USA Today's Danny Sheridan.
Begin Slideshow

»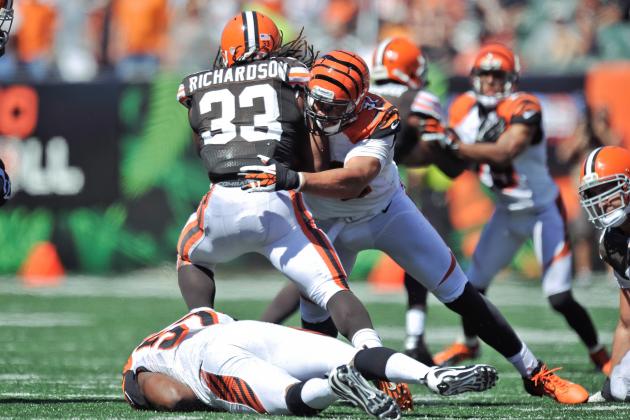 Jamie Sabau/Getty Images

The Pick: Cincinnati
There isn't much to like about this Browns team beyond rookie RB Trent Richardson. Fellow rookie QB Brandon Weeden has looked subpar so far this season. The defense has had its moments, but really took it on the chin last week against the Giants. Wins are going to be sparse for Cleveland this season.
Meanwhile, I'm having a tough time figuring out the Bengals. I thought "The Law Firm", BenJarvus Green-Ellis, would have been an upgrade for them in the running game. That hasn't been the case with him rushing at 3.3 yards per carry. QB Andy Dalton has looked good, as has WR A.J. Green, but they are going to need the running game to step it up.
Lucky for Cincy, they get a Browns defense that let Ahmad Bradshaw run for 200 yards on them last week. Cleveland also allowed a 41-yard rushing TD to Giants rookie David Wilson. If ever there was a week for the Bengals' running game to get back on track, it's this week against Cleveland.
I want to see the Bengals put the Browns away here. There's no reason Cleveland should be able to hang around against Cincinnati like other teams have done this season against the Bengals. Cleveland's inability to stop the run should make life easier for the passing game, and the Bengals should win this one by a couple scores.
Score: Bengals 31, Browns 14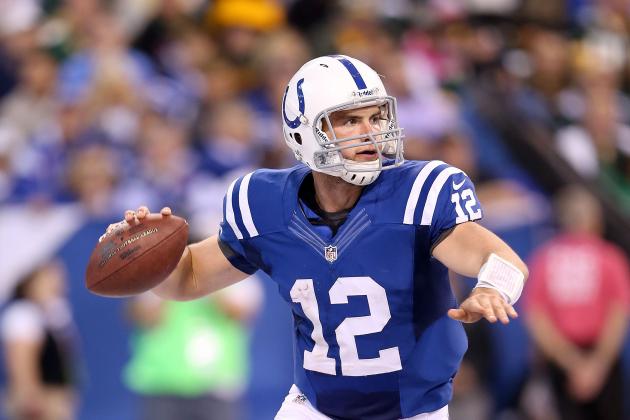 Andy Lyons/Getty Images

The Pick: Indianapolis
As I mentioned, the Colts' remaining schedule is mostly cake and it starts this week against a bad Jets team. The Jets are a shell of the contender they once were. The once-vaunted defense looks pedestrian and the offense more closely resembles a high school JV team. It's going to be ugly the rest of the year for Gang Green.
The Colts, meanwhile, showed their mettle with a comeback victory over the Packers last week. Down 21-7 at one point, Colts rookie QB Andrew Luck showed why he was so highly touted going into the draft. He showed great poise and marched down the field against Green Bay like his team was competing for a BCS Championship.
With the Jets so banged up on both sides of the ball, I don't think Team Chuckstrong will need to recapture their comeback magic. The Jets aren't going to be able to keep up with Indianapolis' offense, and they don't have enough of a pass rush to take advantage of Indy's woeful offensive line.
A couple names to keep in mind in this one: RBs Vick Ballard and Bilal Powell. Ballard is a rookie who should see a bulk of the action on the ground for the Colts. Powell currently sits behind Shonn Greene on the Jets' RB depth chart, but this could be the game he takes over as the Jets' lead back. New York needs someone to kick-start this offense and Powell might be the guy to do it.
Regardless, Indianapolis will win this one handily. Luck has played well in his debut season and the easy schedule is just what the doctor ordered for him to take the Rookie of the Year away from current favorite, Redskins QB Robert Griffin III. Luck, Ballard and WR Reggie Wayne should have big games this week.
Score: Colts 24, Jets 13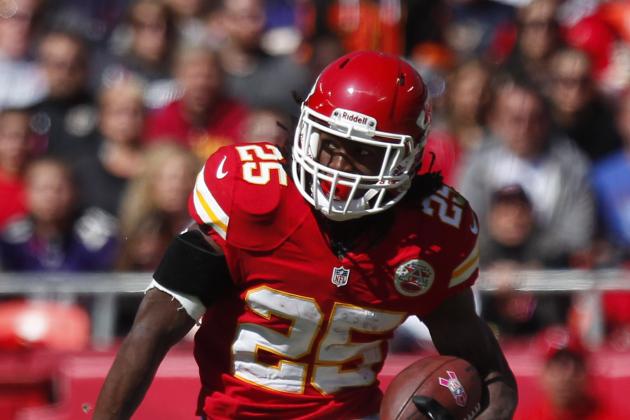 Kyle Rivas/Getty Images

The Pick: Kansas City
For Chiefs QB Brady Quinn, the time is now.
Incumbent starter Matt Cassel is out with a concussion. Tampa Bay will be without its best corner in Aqib Talib, who is suspended for four games for violating the league's substance abuse policy. Most importantly, Quinn has the NFL's leading rusher in RB Jamaal Charles to lighten the load.
Granted, Charles will be facing one of the NFL's best run defenses. However, Charles had no problem finding room to run last week against a good Baltimore run defense as he rushed for 140 yards. I'm glad Quinn is finally getting a shot to show what he can do. Unlike some fans in Arrowhead last week, I'm not happy Cassel had to get his brain bashed in for it to happen.
You should never cheer one of your own players getting hurt, regardless of how poorly they've been playing. Those are human lives on that field. It's inhumane to root for injuries, especially against your own team. That's just pathetic.
As for this week, I see this one being in stark contrast to Kansas City's defensive struggle last week. Tampa Bay is coming off a bye week, so they should be sharper on offense. Rookie RB Doug Martin needs to step up here. With Quinn under center for Kansas City, I think the Chiefs move the ball better than they have all season.
The Chiefs have burned me numerous times all season and picking them over a team coming off a bye is risky, but I have faith in Quinn making the most of his opportunity. I like K.C. in a game that will be more exciting than you think.
Score: Chiefs 28, Bucs 24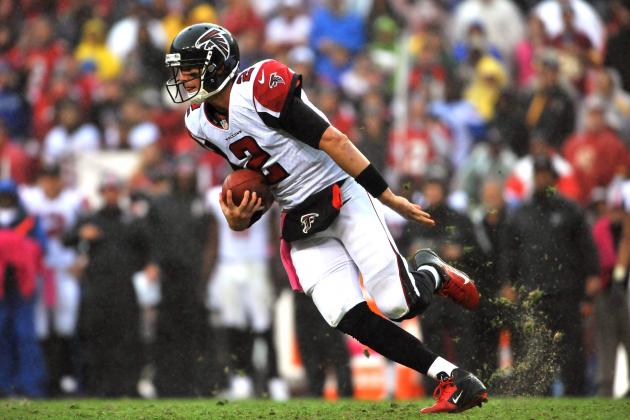 Larry French/Getty Images

The Pick: Atlanta
Pittsburgh's loss to Tennessee this past Thursday kind of takes a little of the value out of Oakland beating the Steelers a couple weeks ago. The Steelers could just be a bad team that fell apart against an equally bad team in the Raiders.
Of course, Oakland could prove me wrong with an upset over the undefeated Falcons this week. They've had two weeks to prepare for this game, and we've seen good teams slip up when they underestimate their opponent.
I don't think that happens here though. The Falcons' offense is riding high these last few weeks and the Raiders are going to struggle to keep up with them. Raiders QB Carson Palmer has the tendency to force throws and he'll be up against a Falcons defense that has developed a knack for causing turnovers.
If Oakland is smart, they'll lean on RB Darren McFadden early and often to keep QB Matt Ryan off the field. Inevitably though, I see the Raiders falling behind early and Palmer trying to get them back with his arm. I'm setting the minimum for Palmer interceptions at two.
Falcons roll into the bye week 6-0 after this one.
Score: Falcons 34, Raiders 13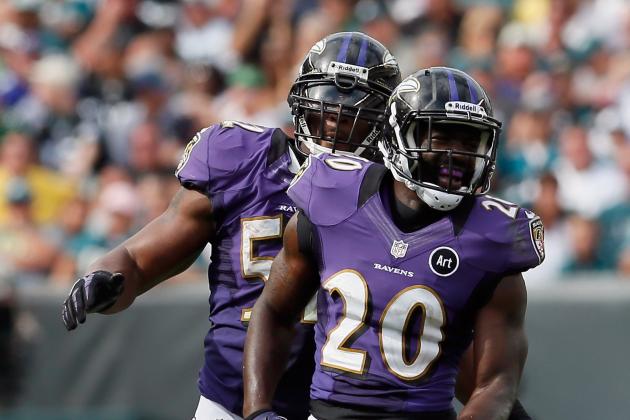 Rob Carr/Getty Images

The Pick: Baltimore
The Ravens come into this one having allowed a 300-yard passer the past three weeks and draw a turnover-prone QB in the Cowboys' Tony Romo. Romo and company go into Baltimore to face a Ravens team that has struggled to muster a pass rush with LB Terrell Suggs out.
With no pass rush to put pressure on Romo and Baltimore probably taking away the run, expect Dallas to try to rely on moving the ball through the air. That spells danger for Romo with ball-hawking safety Ed Reed looming in the defensive backfield.
Romo dropped quite the stink bomb against Chicago two weeks ago, throwing five picks and inevitably being benched for Kyle Orton. I don't think we'll see Orton again this week, barring an injury to Romo. However, I think Romo's interception woes continue. This Cowboys offense looks out of sync and Dallas head coach Jason Garrett doesn't seem to know how to get his team out of their offensive rut.
As for Baltimore, they'll try to open it up a bit this week after only being able to muster up nine points last week against Kansas City. We'll see a healthy portion of Baltimore's no-huddle and an even bigger serving of RB Ray Rice. The intriguing matchup here will be Ravens burner Torrey Smith against Cowboys rookie corner Morris Claiborne.
Romo's tendency to throw bad picks makes it hard to like Dallas in this one or going forward. He doesn't look like the guy who can lead Dallas back to postseason glory. Baltimore is going to benefit from his poor throws this week. Romo eclipses the 300-yard mark, but throws a couple costly picks here. Ravens take advantage and win by double digits.
Score: Ravens 27, Cowboys 13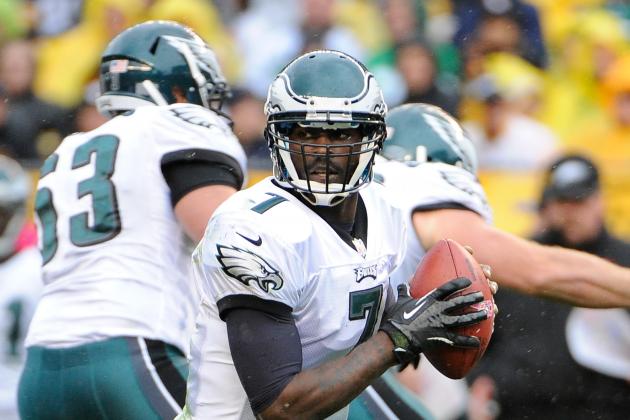 Joe Sargent/Getty Images

The Pick: Philadelphia
A good battle between two QBs who haven't been playing up to expectations. There are a lot of reasons to like Detroit here. They are coming off a bye and are playing a Eagles team that likes to play down to their competition. Also, if ever there was a week for Lions DT Ndamukong Suh to make his presence felt, wouldn't it be teeing off on Michael Vick this week?
My reason for going with Philly is two-fold. First, the Eagles have a very good pass defense and throwing the ball is the only thing Detroit does well (or at least is supposed to be doing well) on offense. Meanwhile, Detroit's pass defense is terrible and that point is only going to be driven home harder with an explosive offense (or at least an offense that's supposed to be explosive) in Philly.
While Eagles coach Andy Reid hasn't said Vick is in danger of losing his job, Vick has to know he's on a short leash and needs to come up big against a bad Lions defense. That means no more carelessness with the football.
The Lions have had two weeks to figure out whatever has been holding back this offense, but I don't see QB Matthew Stafford and WR Calvin Johnson bouncing back this week. Defenses less stingy than the Eagles have been able to handle Detroit and with no running game to speak of, the Lions are too one-dimensional.
I don't see either QB having a huge game, but the Eagles' balance and the fact that they are playing at home gives them the nod. Eagles by at least a touchdown.
Score: Eagles 27, Lions 20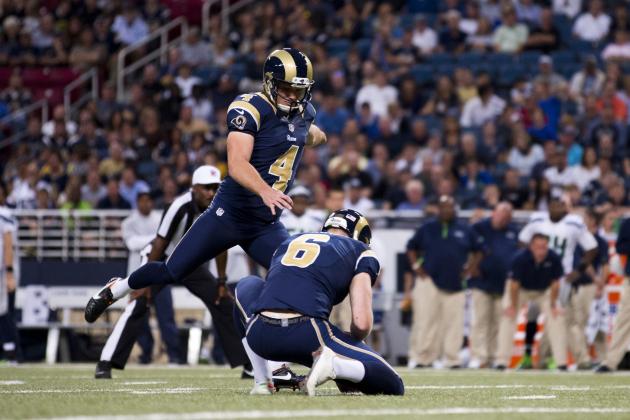 David Welker/Getty Images

The Pick: Miami
This has defensive struggle written all over it. St. Louis is coming off an epic performance 10 days ago that is still giving Kevin Kolb nightmares. The Rams unleashed nine sacks against the Cardinals in an upset over previously undefeated Arizona. St. Louis might have also stumbled upon the league's best kicking weapon in "Young G.Z.", rookie kicker Greg Zuerlein.
As for the Dolphins, they've impressed so far thanks to the rushing stylings of RB Reggie Bush as well as the league's top-ranked run defense. Dolphins rookie QB Ryan Tannehill has bounced back after a rough first few weeks and Miami looks like a team that will give opponents fits all season long.
This game looks like it will play more to Miami's strengths than St. Louis'. The Rams give up an average of 117 yards per game on the ground and running the ball is the catalyst to Miami's offense. The Dolphins struggle against the pass, but the Rams haven't shown a consistent ability to move the ball through the air.
St. Louis also won't be able to pressure the QB with the same ease that they did against Arizona. Dolphins OT Jake Long is one of the best in the game and the Dolphins' offensive line as a whole is a pretty solid unit.
If the Rams can force Tannehill into making rookie mistakes and move the ball enough to unleash Greg The Leg, they have a chance to cover at the very least. Still, I think momentum is on Miami's side and they'll control the clock by exploiting a soft Rams run defense.
Score: Dolphins 20, Rams 13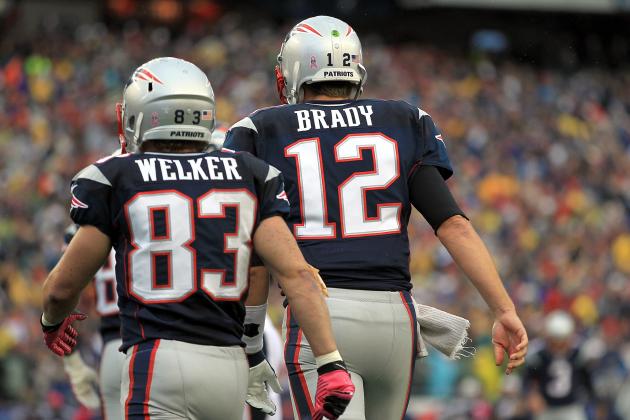 Jim Rogash/Getty Images

The Pick: New England
There's some caution here if you're a Patriots fan. CenturyLink Field is a tough place for visitors to play, as evidenced by Seattle's 2-0 home record. The Seahawks also have the the NFL's fourth-best pass defense and are third-best against the run. This is the same defense that put the clamps on Aaron Rodgers and Green Bay's vaunted offense.
However, it's tough to like Seattle for the upset. Rookie QB Russell Wilson has done enough to win games, but the offense still sputters through the air with him under center. The Patriots are near the bottom in pass defense, but the Seahawks have reduced Wilson to being more of a care-taker with the football than letting him air it out.
That's why even though Seattle is going to make life miserable for the Patriots on offense, I still like the Patriots here. New England is pretty stout against the run also (eighth in the NFL in rush defense), and Seattle doesn't move the ball well in the passing game to take advantage of their defense hindering Brady.
Brady won't have one of his typical days, but he'll eventually find cracks in Seattle's defense. Also, Patriots coach Bill Belichick will confound Wilson with a number of different looks on defense and force him to make some rookie mistakes. This game will be a chess match and I like New England's chances of pulling off the checkmate.
Score: Patriots 23, Seahawks 10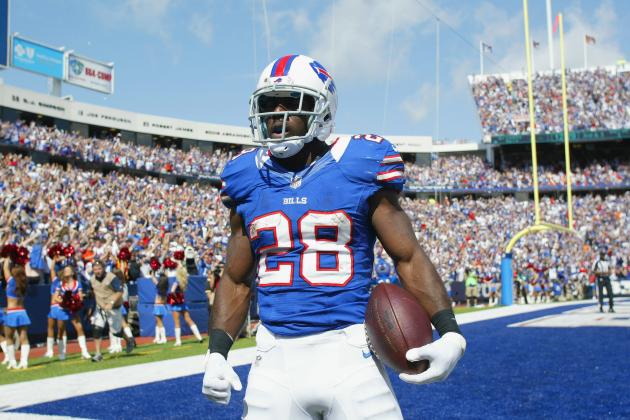 Rick Stewart/Getty Images

The Pick: Buffalo
This will be my "upset special" for the week. The Cardinals had a nice run as the league's surprise undefeated team, but last week's loss to St. Louis showed some glaring weaknesses. The biggest one is the offensive line. No team can compete in the NFL when they are giving up nine sacks.
The other big issue for Arizona is the running game. Sure, teams don't pound the ball on the ground like they use to in today's NFL, but you still have to make teams respect the idea that you MIGHT run the ball. Arizona has the second-worst rushing offense in the league, which wouldn't be as bad if their passing offense wasn't ranked 25th.
No matter how good your defense is, you have to be able to help them out by moving the ball on offense. The Cardinals don't seem like they can do that consistently, even with one of the game's best receivers in Larry Fitzgerald.
Those factors are why I like Buffalo this week. The Cardinals' horrid offensive line is going to have trouble keeping athletic DE Mario Williams from unloading on Kevin Kolb. Arizona will also be starting return man LaRod Stephens-Howling at running back, thanks to injuries to Beanie Wells and Ryan Williams. Yikes.
The Bills aren't exactly a masterpiece on offense either and I fully anticipate Cardinals CB Patrick Peterson taking one of Ryan Fitzpatrick's interceptions to the house. However, the Bills can run the ball and Arizona gives up 114 yards per game on the ground.
This is going to be an ugly game between two offensively-challenged teams. With Peterson lurking, Fitzpatrick would be smart to steer clear of his side of the field and just rely on C.J. Spiller and Fred Jackson in the running game. Until the Cardinals protect the QB better, it's hard to like them going forward.
Score: Bills 19, Cardinals 13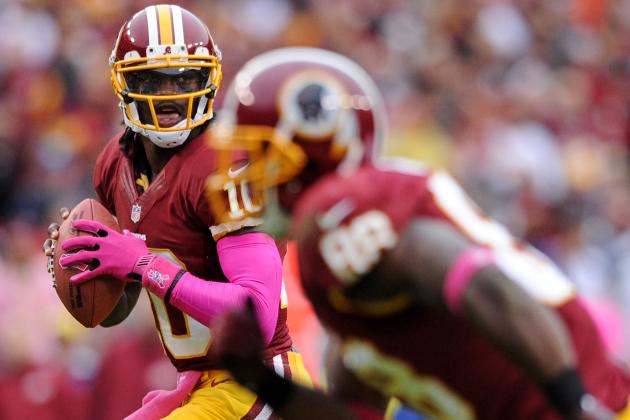 The Pick: Minnesota
Vikings RB Adrian Peterson can strengthen my argument for MVP consideration with a big game against a Redskins defense giving up just 88 yards per game on the ground. Peterson's numbers so far this season haven't been gaudy, but they've been steady for a guy who blew out his knee late last season.
The Vikings are the league's biggest surprise, going 4-1 this season in what was supposed to be rebuilding year. The defense looks tough and QB Christian Ponder has made huge strides in his second season. He also has benefited from the presence of WR Percy Harvin, another potential MVP candidate.
To quote Dennis Green, the Redskins are what they thought they were. They are a team that looks to have some promise with rookie QB Robert Griffin III at the helm, but are still a couple years away from contending. Washington also found RG3 some help in the running game via rookie RB Alfred Morris.
The defense, however, is what continues to hold Washington back. The Redskins have one of the league's worst pass defense and that's going to hurt them with the way Ponder has been throwing the ball. The Redskins give up 329 yards per game through the air and they can't afford to sag off against the run to stop the pass with A.P. in the Vikings' backfield.
RG3's return a week removed from a concussion doesn't help matters, especially against an aggressive Vikings pass rush. I think it takes Griffin some time to shake off the cobwebs. In the meantime, Ponder will skewer the Redskins' defense while Peterson puts on a strong performance. Vikings take advantage of a battered Redskins team here by at least 10.
Score: Vikings 31, Redskins 20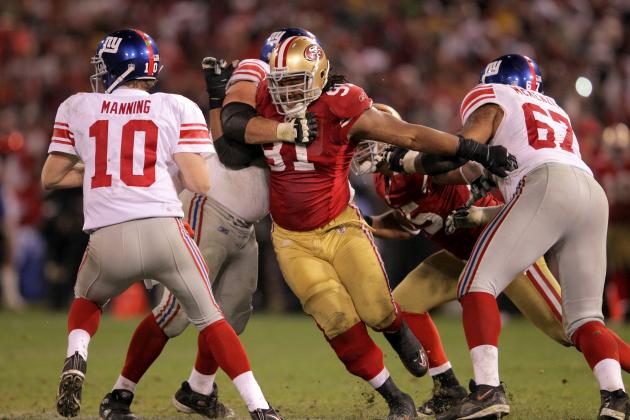 Doug Pensinger/Getty Images

The Pick: San Francisco
I'm waiting for the other shoe to drop with this New York Giants team. They throttled Cleveland last week, but only after they spotted the Browns a 14-0 lead. They are 3-2, but haven't looked particularly impressive this season with the exception of beating up on Carolina.
This week, Big Blue goes on the road against the best team in the NFC in San Francisco. The Niners are looking for revenge after watching their Super Bowl hopes last season fumble out of Kyle Williams' clutches in overtime of the NFC Championship.
San Francisco's calling card hasn't changed much since that fateful night in January. They still rough opponents up with tough defense while making enough plays on offense to notch the win. QB Alex Smith has had his moments of brilliance this season with the new weapons at his disposal. However, Smith is nursing a bum finger, so it will be interesting to see how it affects him against New York.
As for the Giants, the offense has managed to move the ball well despite a myriad of injuries. The receiving corps have taken quite the beating, but that hasn't stopped QB Eli Manning from putting up big numbers. New York's running game has also shown signs of life, with rookie RB David Wilson bouncing back from the doghouse with a TD run last week.
Things will be a little different this week. San Francisco brings the best defense in the NFL to the table and they will immediately take the run game out of the equation for New York. That means Manning will have to make plays against a Niners pass rush that really beat him up in the NFC Championship.
I'm not sure why this isn't the Sunday night game. This has all the makings of another intense game that will come down to the wire. In the end, I think San Francisco will have the steadier hand and I like their chances of moving the ball better than I like New York's. The spread is a little tough, but San Francisco has been devastating on defense lately.
Score: Niners 27, Giants 17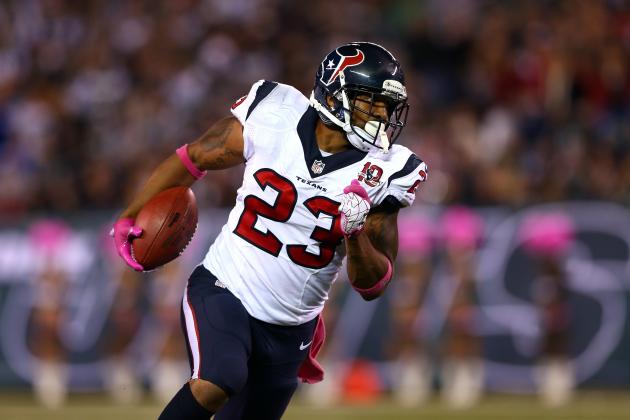 Elsa/Getty Images

The Pick: Houston
Last week, I said this year's Packers team reminded me of the 2010 bunch: a frustratingly inconsistent team that plays down to its competition and loses games it should win by trying not to get blown out.
The loss to Indianapolis last week helps drive home that point. At times you see flashes of what made the Packers a 15-1 team last year and a Super Bowl favorite this year. The offense is explosive and the defense has its moments.
More often than not this season, we see what's hindering Green Bay. The offensive line has been terrible, combined with Aaron Rodgers reverting back to holding the ball too long. The running game has been nonexistent. The defense gives up too many big plays and especially caves down the stretch in close games.
The result is a 2-3 Packers team that needs to turn things around quick to get back into the playoff picture. That probably won't happen this week against Houston. The Texans look like they are firing on all cylinders. The offense has balance while the defense has been stellar.
The Packers have the talent to not only make this a game, but pull off the win. However, things need to change for that to happen. Someone in the backfield, either James Starks or Alex Green, has to step up and take pressure off Rodgers. Rodgers needs to get the ball out early and often, relying on quick passes in space where his receivers can run.
Most importantly, the defense needs to get pressure on the quarterback. LB Clay Matthews has been on a tear, but he's only one man. The defense has to play better if Green Bay is going to make a run similar to the one from two years ago.
The more likely scenario is Green Bay struggles to find its groove and Texans DE J.J. Watt continues his campaign for Defensive Player of the Year. The Texans keep Green Bay guessing on offense with a good mix of RB Arian Foster and the passing game and Houston gets another primetime win on national television.
Score: Texans 27, Packers 21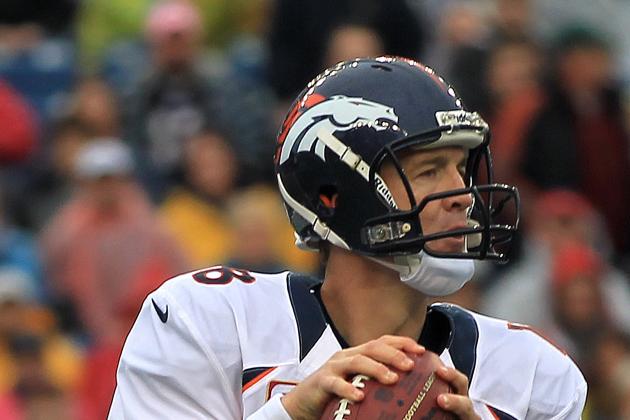 Jim Rogash/Getty Images

The Pick: Denver
Despite his terrible performance the last time we saw him on Monday Night Football, I'm still hard-pressed to bet against Peyton Manning in a night game. The bright lights have always been Manning's best friend, and I don't expect that to change against San Diego.
The Chargers are a team without an identity. They have one of the league's best QBs, but their passing offense is ranked in the bottom quarter of the league. They have a promising young RB in Ryan Mathews, but they have brought him along slowly thanks to a broken collarbone and a case of fumblitis. Defensively, the team makes plays, but not when it matters.
We haven't had one of those classic Peyton Manning nationally televised performances. That might be because he's lost a step or three, but he's due for a breakout game. San Diego's pass defense leaves a lot to be desired and they don't have the pass rush to pressure Manning behind Denver's fortress of an offensive line.
I think San Diego makes a few plays on offense, but inevitably gets overwhelmed by a classic Peyton Manning throwback performance. Afterwards, "experts" will drool over Manning's performance and we'll be subjected to hours of talk about Manning's greatness.
The truth is, it will be another example of the Chargers floundering on national television against a guy who has built his career impressing the cameras.
Score: Broncos 31, Chargers 21