Army Football: Kent State Uses Speed and Size to Defeat Army 31-17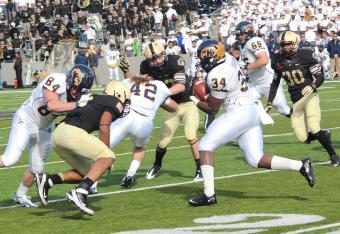 Kent State Fullback Trayion Durham Runs Against Army (K.Kraetzer)

Last week's win over Boston College gave Army fans hope that the season could turn around and a couple of victories could be put together against Mid-America Conference opponents.
Saturday's 31-17 loss to Kent State (5-1) again showed that teams with greater size and speed can wear Army (1-5) down and make big plays. The Black Knights played well in this one, not like the fumble-plagued loss two weeks ago to Stony Brook, an aspiring team which is building its program toward playing at higher levels one day. Army rushed for 325 yards, out gaining the Kent offense, which was propelled by the 222 yards gained by 5'8" junior back Dri Archer, including an 87-yard run for a touchdown late in the game.
Army amazingly even out gained the Golden Flashes in the air 132 to 84 with the freshman from Illinois A.J. Schurr coming in for the last drive and marching down the field, completing a pass to Patrick Laird. Sophomore wideout Chevaughn Lawrence caught six passes for 88 yards.
The expected challenge for the young Army defense was the Kent State passing game. In the second quarter, Army was surprised by a trick play in which slot back Dri Archer is handed the ball and heads right, stops, and then throws left to his wide-open quarterback Spencer Keith for an easy 24 yard TD. Later in the second quarter Spencer Keith found senior wideout Eric Adeyemi for a 30-yard touchdown play.
The difference was that Army could not complete its drives, much less stay on the field very long, often putting the defense quickly back on the field. The Black Knights punted after four plays to start the game, then missed a short field goal after a 13-play, 48-yard drive down the field. Three short possessions ending in punts gave Kent State openings to score twice in the second quarter.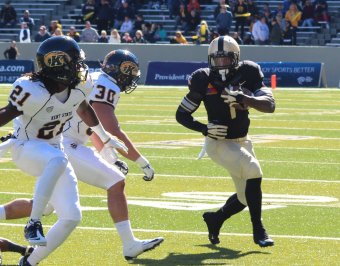 In the third quarter, after each team hit field goals, Kent State broke open the game with a 48-yard run by Archer during which he found a huge hole at the line of scrimmage and then evaded tackles until he was finally dragged down by Marques Avery at the Army 7. Traylon Durham scored three plays later to give Kent State a commanding 24-3 lead with less than a minute left in the third quarter. Fans starting heading to the exits.
Malcolm Brown became the go-to back for Army, running for 46 yards in five carries that culminated in a five-yard run to make the score 24-10. It was early enough in the fourth quarter that Army thought it might be able to get close. The defense forced a punt. Army started moving down the field. Trent Steelman was hit out of bounds into the Army bench after a 13-yard run to the Kent 34. Kent State was called for a personal foul on the Army quarterback who was down on his back for several minutes recovering from the hard hit out of bounds.
Schurr came in at quarterback for one play but Steelman was back in and received an ovation from the crowd. Army had 1st-and-10 at the Kent 19, but the drive stalled and a 4th-and-2 play resulted in a fumble by Ray Maples. Then embarrassment for the defense was added.
On the first play after taking possession, Kent State's Archer broke through the lines and ran 87 yards for a touchdown. Shurr was given the Army offense on the next drive and smartly led the Black Knights down the field including two completions to Chevaughn Lawrence, the first a 22-yard pass to the keny 18, and his first collegiate touchdown pass, a six-yard strike to Patrick Laird.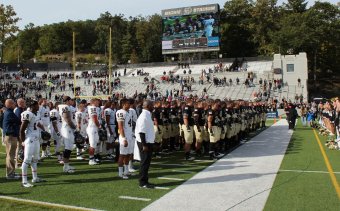 Afterwards in the postgame press conference, Army head coach Rich Ellerson responded to my question about why his offense struggled to build momentum and finish drives:
They clobbered us up front. At some point, you're going to have to block some people, and we had a heck of a time controlling their back-side linebacker and safety. Their play-side linebacker made way too many tackles. Give them credit; they were better running that defense than we were running that offense today.
The Army defense had seven tackles for loss including a sack by tackle Richard Glover but had trouble keeping up with the speed of Kent State and Dri Archer in particular. Sophomore linebacker Geoffrey Bacon, who had 14 tackles, answered my question about the challenge created by the speed of the Kent State backs:
A lot of times, we just didn't make the play. We knew they were fast, and we expected it. It was nothing new. We just didn't make the play like we needed to when we got there.
Trent Steelman took his usual pounding while running the ball 19 times for 66 yards and took a tough shot into the bench area in the fourth quarter. His helmet had a big mark on the front right side visible from the sidelines; I asked him afterwards how he was physically:
I'm okay; it's nothing that hasn't happened before. It's just one of those things; everyone is playing hard and playing to the end.
A nice gesture at the end of the game occurred when the Kent State players stood behind the Black Knights while the "Alma Mater" was performed, a revered tradition at West Point. Kent State head coach Darrell Hazell was an Army assistant coach in the 1990s so he knew how important it is for his players to participate in this respectful moment, which is very much appreciated at the Academy.
Ken Kraetzer covers Army football for Sons of the American Legion Radio and WVOX 1460 AM in New Rochelle, NY. Twitter: SAL50NYRadio
This article is
What is the duplicate article?
Why is this article offensive?
Where is this article plagiarized from?
Why is this article poorly edited?