Florida Football: Breaking Down the Gators' Spot in the BCS Rankings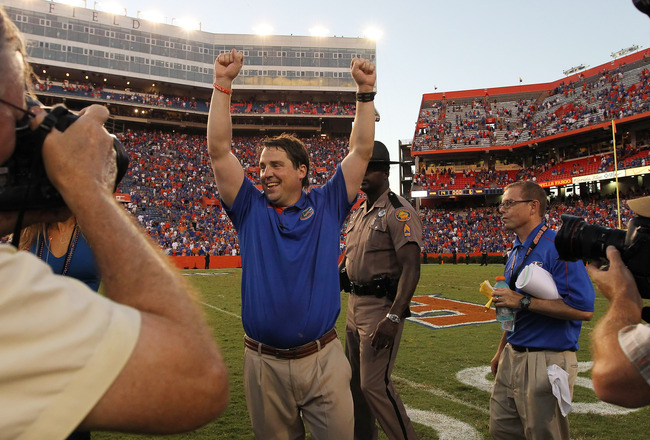 Kim Klement-US PRESSWIRE
The first BCS ranking of the 2012 season is finally out and the Florida Gators have emerged as one of the best teams in the country.
Florida entered the season with a ton of question marks. Is Gillislee ready to carry the load? Can Florida replace Ronald Powell? Is the offensive line better than they were a season ago? Who is going to start at quarterback?
For a team that didn't officially name a starting quarterback until just days before their second game, the Gators are doing alright in 2012 and have answered all of those questions.
Florida has shown this season that, with their running game and defense, they can compete with any team in the country. But are they contenders or pretenders? Let's find out where the Gators came in ranked in the initial BCS poll and what that means for the Gators the rest of the season.
How They Got to This Point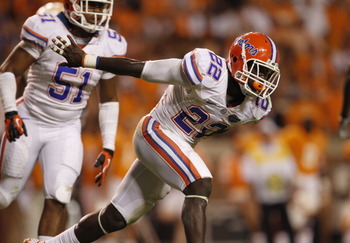 John Sommers II/Getty Images
Will Muschamp preached this offseason about how the Gators needed to start the season fast, but nobody could have predicted they would start this fast.
If Florida was at the NFL Scouting Combine they would have run a 4.2 flat in the 40-yard dash.
A win against Bowling Green was followed by two tough road victories at Texas A&M and Tennessee. Florida had to come from behind in both of those road games, something they wouldn't have been able to do just a year ago. Kentucky came and the defense shut out the Wildcats in front of their home crowd.
Even if you had the Gators starting 4-0 to start the season, how many of you had them starting 5-0?
After being embarrassed by LSU in 2011, the Gators came out with revenge on their mind. The defense allowed two first-half field goals, one due to penalties and the other an offensive miscue, and then shut the Tigers down. Florida's offensive line wore down the Tiger front seven and the Gators ran the ball at will.
Coming away with a win against LSU showed everyone that the Gators were back and they were ready to take on all challengers.
A trap game in Nashville against the Vanderbilt Commodores followed. Florida started slow, but Jeff Driskel's running ability made the difference. Driskel rushed for 177 yards and three touchdowns. The 177 rushing yards broke a school record for quarterback rushing yards in a single game. The previous record holder was some guy named Tebow.
Florida is now 6-0 (5-0 in the SEC) and bowl eligible. Florida didn't qualify for a bowl game until November 19, last season.
Best Win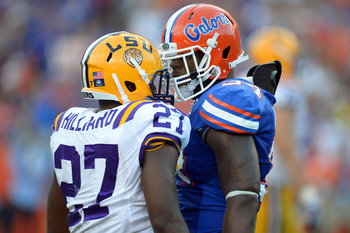 Jake Roth-US PRESSWIRE
2012 has seen Will Muschamp get the three best wins of his head coaching career, and each one topped the one before.
Florida going on the road and beating Texas A&M was Muschamp's biggest win at that point. The very next week the Gators beat their first ranked opponent under Muschamp when they took down then-ranked Tennessee. But neither of those are as big of a win as beating LSU.
Florida limped into their matchup against the Tigers last year and LSU let the Gators have it. The Tigers trounced Florida to the tune of a 41-11 victory.
Florida came into the 2012 showdown with revenge on its mind. This game had a ton of storylines. Florida was ranked in the AP Top 10 for the first time since 2010, Florida had revenge on their mind for the beating they took last season and both teams were looking to see how they stacked up against the best opponent they had played up to that point of the season.
LSU scored on their opening possession and their last possession of the first half. Other than that the first half was a punting clinic with Kyle Christy and Brad Wing trading 50-yard punts back and forth.
Florida came out in the second half a different team. The offensive line starting pushing LSU's defensive line around. At one point Florida ran the ball on 25 consecutive plays. Mike Gillislee carried the ball 34 times for 146 yards and two scores.
Florida imposed it's will in the second half and showed that they could play with any team in the country.
BCS Ranking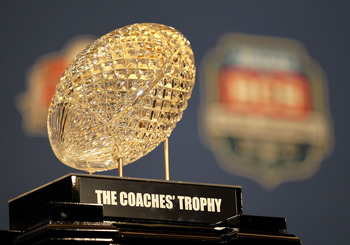 Andy Lyons/Getty Images
The Florida Gators open up at No. 2 in the initial 2012 BCS poll. Florida comes in with .9092 points. That puts them behind Alabama (.9761) and just in front of Oregon (.8993). Kansas State (.8963) and Notre Dame (.8774) round out the top five.
Florida received a lot of love from the computers. In total, seven computer rankings are averaged together to make up one-third of the rankings. Florida was ranked first by two computers, second by four computers and fifth by one computer. The computer polls have Florida ranked as the No. 1 team in the country.
Florida came in ranked third in the Harris poll and fourth in the USA Today poll.
Florida has come a long way from the preseason polls that had them ranked anywhere from 22 to 25. Florida has answered a lot of questions this season and its defense has shown that they are one of the best not only in the SEC but in the country.
Too High or Too Low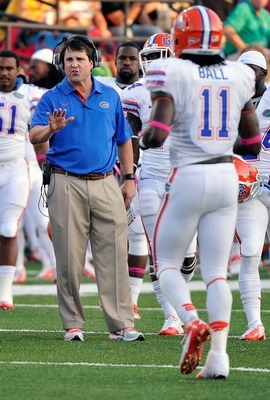 Frederick Breedon/Getty Images
Are the Gators ranked too high or too low in the first BCS poll? That's a tough question.
I think Florida is ranked right where they should be and I'll tell you why.
First, at the end of the season it won't matter if Florida was ranked fifth or second in this initial ranking. Florida has three tough games against South Carolina, Georgia and FSU still on their schedule. If Florida is able to run the table they will be ranked No. 2 behind an undefeated Alabama.
That would be the case no matter where Florida had been ranked tonight. Their strength of schedule is going to stack up with any team in the country, so if they take care of business on Saturdays they will end up ranked in the top two going into the conference championship.
Strength of schedule is what has the Gators ranked so high in the first BCS ranking. The Gators have gone on the road to beat Texas A&M, Tennessee and Vanderbilt. Throw in a shutout of Kentucky and a home win against LSU and Florida has played arguably the toughest schedule in the country so far. Johnny Manziel is taking the SEC by storm, but Florida's defense made him look pedestrian in the second half of their matchup.
Florida has done enough at this point in the season to deserve their No. 2 ranking, but that doesn't mean they are the second best team in the country just yet. The next two weeks will tell us a lot more about Florida, and if they beat both South Carolina and Georgia they will gave cemented their place behind Alabama.
Remaining Schedule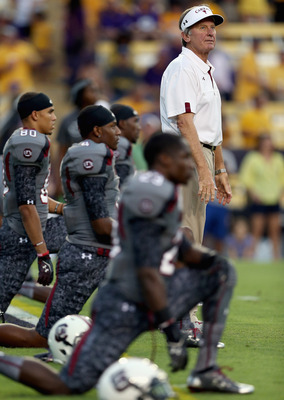 Ronald Martinez/Getty Images
Oct. 20: South Carolina
Oct. 27: Georgia (in Jacksonville) 3:30 p.m. EST, CBS
Nov. 3: Missouri
Nov. 10: Louisiana Lafayette
Nov. 17: Jacksonville State
Nov. 24: At Florida State
Florida is in an interesting position. With five conference wins already, they can win the SEC East before the calendar hits November and they will not leave the state of Florida the rest of the year.
A win over South Carolina in "The Swamp" this week would create a de facto SEC East championship game in Jacksonville the following week. Barring any upsets, the winner of the Florida-Georgia game would likely represent the East in the SEC Championship.
After USC and UGA, Florida will host a Missouri team who is barely treading water in their new conference. Two non-conference cupcake games lead up to Florida's annual meeting with Florida State.
Potential Pitfall
Scott Cunningham/Getty Images
Florida has three tough games remaining on their schedule. All three of those teams have lost in the past two weeks but could present Florida with a tough game.
We can eliminate Florida State from the running because it's a non-conference game.
That leaves us with South Carolina and Georgia. Both games will test the Gators offensively and defensively.
We'll eliminate South Carolina due to having had to travel to LSU, then Gainesville with a visit from Nick Saban and Alabama lurking in their future. The Gamecocks are coming off of a tough loss to LSU but the 'Ole Ball Coach will have USC ready to play his alma mater.
I think Florida will be favored against South Carolina and will win the game.
That leaves Georgia. The 'Dawgs lost earlier in the season to USC but have two freshmen running backs who are taking the conference by storm. Georgia will be the best offense that the Gators play this season, and will be a big test for the Florida defense. Georgia is big, athletic and fast on defense. They will stack the box, key in on Mike Gillislee and try to force Jeff Driskel to throw the ball to win the game.
Florida hasn't shown a vertical passing game yet this season and will need to at least show something in the passing game to keep teams honest on defense.
If Florida and Georgia are playing for the right to go to Atlanta, expect an extremely physical game and for both teams to come in ready to play.
Intangibles
The biggest difference between Florida in 2011 and 2012 is depth, maturity and buying into their head coach's system.
Sharrif Floyd admitted that the team didn't fully buy into Will Muschamp's philosophy and system until they were preparing for Ohio State and their bowl game. No team can be successful unless they are all on the same page with each other and the coaching staff. Getting on board with Muschamp's program has brought the team closer together and you can see how it is helping on the field.
Both Florida's depth and maturity can be attributed to the coaching staff. Florida has brought in two consecutive talented recruiting classes and the Gators are not afraid to play their young players. Florida's depth allowed them to not miss a beat when key players like Ronald Powell, Jelani Jenkins, Cody Riggs and Matt Patchan go down with injuries. Those injuries would have crippled the Gators last season.
The video in this slide shows the kind of relationship Muschamp has built with his players. The players truly like their head coach and when you like the person you're playing for, it makes you want to play that much harder for him.
Will Muschamp has Florida heading in the right direction, and they are ahead of schedule.
Analysis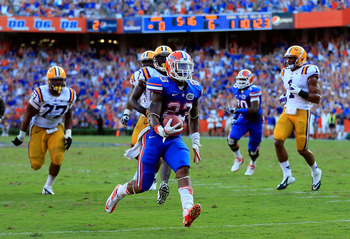 Sam Greenwood/Getty Images
Whether you think Florida is too high or too low, the fact remains that they have played one of, if not the toughest schedules of any team in the country, and it doesn't get easier any time soon.
We learned a lot about this Florida team in their victory over LSU. The Gators defense can stop any team and Florida's style of offense will keep them close against anybody in the country. Florida controls the clock with their running and short passing game.
They won't wow you with offensive stats, they won't blow teams out but the Gators are a physical team who is going to punch you in the mouth on both sides of the ball.
Will Muschamp wanted to establish Florida as a physical running team that can control clock. That is exactly what the Gators have shown they can do. When you couple that with a defense that is going to punch you in the mouth on every play you have a recipe for success.
Like we said before, the Gators being ranked No. 2 overall is just right, for now. If Florida can run the table in October they will have cemented their spot as the second-best team in the country, and if they fall in either one of those games then they should still be a Top 10 team with an outside chance of playing in a BCS bowl.
Keep Reading

Florida Gators Football: Like this team?