Chicago Bulls 2012-13: Starting 5 Projections and Depth Chart Breakdown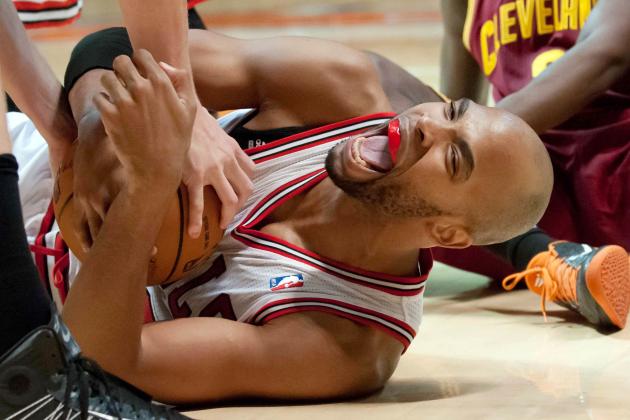 Bradley Leeb-US PRESSWIRE

2011-12 W-L
50-16
Final Finish in Standings
First in Central Division
First in Eastern Conference
New Acquisitions over Summer
Kirk Hinrich, Marco Belinelli, Nazr Mohammed, Vladamir Radmanovic, Nate Robinson, Marquis Teague, Kyrylo Fesenko
Departures
Kyle Korver, Ronnie Brewer, Omer Asik, C.J. Watson, John Lucas III
2012-13 Depth Chart and Head Coach
Point Guard: Kirk Hinrich, Nate Robinson, Marquis Teague
Shooting Guard: Richard Hamilton, Marco Belinelli
Small Forward: Luol Deng, Jimmy Butler
Power Forward: Carlos Boozer, Taj Gibson, Vladamir Radmanovic
Center: Joakim Noah, Nazr Moahammed, Kyrylo Fresenko
Coach: Tom Thibodeau
So far in the preseason, the Chicago Bulls have looked, at times, like a team that is reminiscent of last year's version, fully capable of competing for a home-court advantage until Derrick Rose returns. At other times, they've looked like a discombobulated clown-fest, incapable of making a field goal.
So which version will the Bulls be once the games count? Read on to find out.
Begin Slideshow

»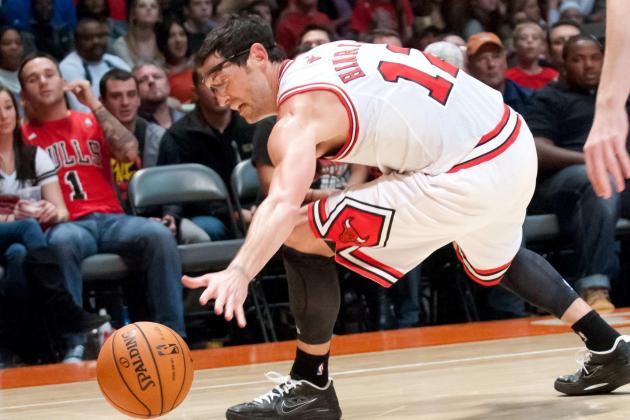 Bradley Leeb-US PRESSWIRE

The Chicago Bulls starting five is underrated when you consider that every member has been All-Defense or to an All-Star game. They'll send a formidable, though not explosive, starting five onto the court.
Point Guard: Kirk Hinrich
When Kirk Hinrich was signed by the Chicago Bulls for a second stint, it was met with a degree of skepticism by a large percentage of Chicago Bulls fans. While he was a popular player during his first stint here, his production, a mere 8.8 points and 3.5 assists, has been woeful since he left.
However, his defense in his preseason action has been outright ubiquitous. The marriage of his tenacity with Tom Thibodeau's system is either holy or unholy, depending on your perspective.
He's also averaged just short of 22 minutes and eight assists per 36 minutes in the preseason. If he can maintain anything close to that kind of production, the Bulls will be in tremendous shape until Rose returns.
Shooting Guard: Richard Hamilton
Hamilton is looking healthier than he did all of last season. His absence in the Bulls' third preseason game was not injury-related. It was just age-related. But then, there's no telling how much of those age-related DNPs there will be this season.
The Bulls will be expecting to see more from Hamilton this year than they did last year, both in terms of production and consistency on the court. They will need Hamilton's scoring if they want to compete for the Central Division title without Derrick Rose.
He still has something. He's shown it flashes. He won't need to carry the team every night, but it would be nice if he could take a turn every once in a while.
Small Froward Luol Deng
Luol Deng is the sole reigning All-Star who will be in the starting lineup to open the season. There are two major questions facing Deng. First, can he be a go-to scorer, and second, will his wrist hold up?
The answer to both questions, to a point, will be yes. Deng has been a decent scorer over the course of his career, netting an average of 16.0 points per game. He has a career high of 18.8 points which came in the 2007 season. He scored 17.4 as recently as 2011.
For Deng to average 18.0 games is both realistic and sufficient if Carlos Boozer can also score consistently. The other things he brings to the game, his defense, his overall "glueness," his ability to stretch the court, his rebounding and passing will all help the Bulls win.
Much of what Deng does is not apparent in box scores, but he'll be the crucial player for the Bulls until Rose returns.
Power Forward: Carlos Boozer
How much of the acrimony directed at Carlos Boozer is truly merited? His per 36 numbers, 19.0 points and 10.6 rebounds, are right in line with his career averages.
To a large degree, what gets overlooked with Boozer is his rebounding and what that brings to the Bulls. He, Joakim Noah and Deng combine to make the best rebounding frontcourt in the NBA according to Hoopdata.com.
The word "scapegoat" has an interesting origin. In the Old Testament, a goat was selected to bear the sins of all the people. The High Priest would figuratively place ever sin of the nation of Israel on his head and send him into the wilderness.
Boozer is a scapegoat—or scapeBull if you will. He bears the sins of the entire team. Something goes wrong, blame Boozer. Someone misses a shot? Blame Boozer. Bulls lose, blame Boozer. If it happens while Boozer is on the court, it's Boozer's fault. If it happens while he's on the bench, it's his fault for not being good enough to be on the court.
This isn't to excuse Boozer entirely or to say there's no fair criticism. It's just to say the degree of criticism is disproportionate with the degree of offense. Boozer has had his bad moments, but he's had moments where he came through as well; some even came in the postseason.
He'll have a chance to redeem himself this year. He looks to be more fit than he has been in his Chicago tenure. If he can stay on the court long enough to post 20 points and 10 rebounds a night during the absence of Rose, he might even get some cheers instead of boos.
Center: Joakim Noah
Joakim Noah has been a defensive force in the NBA. He's been one of the better rebounding players in the game as well, particularly on the offensive end of the court.
Reports are that Noah has worked with Kareem Abdul Jabbar on his offensive game, and he "feels more polished," but as the Chicago Sun-Times' Joe Cowly reports him saying,
I worked with Kareem for a couple of weeks, but just because I worked with Kareem doesn't mean I'm going to be throwing skyhooks from everywhere. I feel like I learned a lot from him, someone who has an unbelievable knowledge for the game and very interesting guy.
Any improvement on the offensive end is great improvement with Noah, who had a limited number of plays running through him, so far, during his career. Through the preseason thus far, he's averaged about 14 points per 36 minutes, a slight uptick from his 12 points last season.
In the Cleveland game, he attempted just two shots, though. In the other two, he took a total of 16 shots and scored 24 points in 48 minutes.
This is a good expectation for Noah. He'll be consistent in energy and defense, but his offense will be up and down. Some games he'll score more than he has in the past, but other games, he'll lapse into his history.
In all, no one starter will replace Rose's scoring, but the collection of starters will be able to pick up a large portion of it.
Still, Rose can't be replaced, and while the Bulls will do what they can, they will feel the impact of Rose not being there, particularly when the offense stagnates.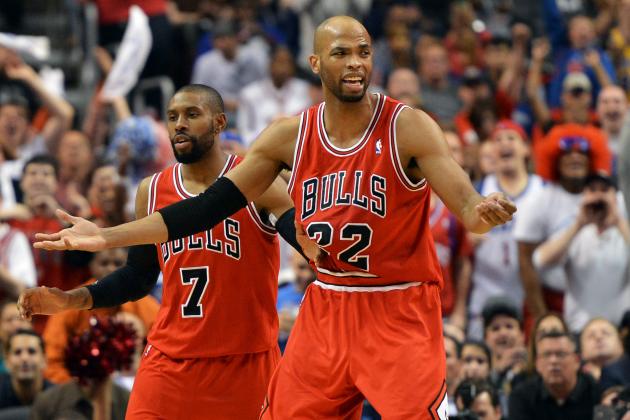 Drew Hallowell/Getty Images

Taj Gibson will be the X-factor for the Bulls. His defensive presence and energy off the bench will ignite the Bulls. Last year, according to Basketball-Reference.com, he had the best net rating of any player in the NBA with at least 1,000 minutes played.
The question facing Gibson and the Bulls is whether he'll be able to lead the new "Bench Mob 2.0" the same way he led the last one.
Additionally, there is an expectation that Gibson will emerge as more of a scorer this year than he has been in the past.
Gibson has had some highlights and some not-so highlights during the preseason, thus far. Against Minnesota, he was held to four points on five shots. Against Cleveland, he had 12 points on eight shots.
Whether his scoring has been there or not, though, his defense has been. At times, his frustration with the new bench players has been visible. At one point, he virtually shoved Marco Belinelli into position (though, we'll politely call it "strongly guided.")
Both from a scoring standpoint and from a vocal standpoint, the second unit will be his responsibility, and how much he grows as a leader may well be as important as how much he grows in his scoring.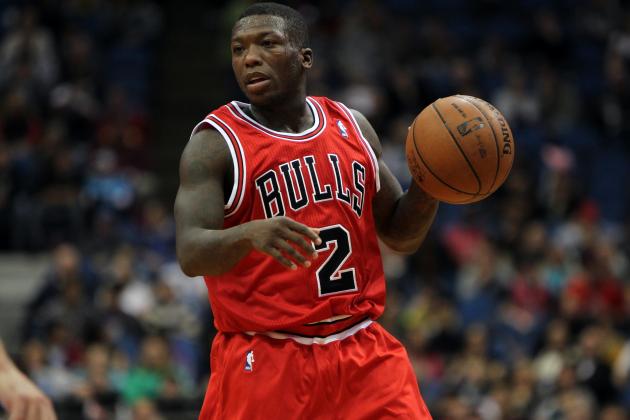 Brace Hemmelgarn-US PRESSWIRE

Point Guard, Nate Robinson and Marquis Teague
Nate Robinson has proven that he can bring energy off the bench, so far, in the preseason. However, how much production that energy results in has been hit and miss. He's scored a total of 27 points on 30 attempts, but that includes a disastrous 1-11 shooting night against Cleveland.
Perhaps more disconcerting, though, is the fact that Marquis Teague has yet to score. He's 0-5, has no assists and has four turnovers. Neither backup point guard has recorded an assist yet.
In fact, ball movement in general has been an issue with the second unit. The entire bench has combined for just 10 assists through three games. This is a clear indication that they need more continuity.
Shooting Guard, Marco Belinelli
Marco Belinelli has been downright awful, so far, for the Bulls. Through three preseason games, Belinelli has had the worst plus/minus numbers in two of the games and has the worst numbers overall. The Bulls are a plus-37 when Belinelli is on the bench and a minus-41 when he is on the court.
This is also a case of the numbers not telling everything. Whenever there is a broken play on either end of the court, Belinelli seems involved in one way or another. He's out of position, getting beat, making a bad decision, rushing a shot or doing something questionable.
He's going to have to figure out what he's doing, or he's going to be grabbing pine. Tom Thibodeau has little patience for stupid.
Small Forward, Jimmy Butler
Jimmy Butler was big during the summer league, and he's been given a chance to succeed during the preseason, so far. He's been averaging seven points and seven rebounds through the three preseason games.
Of particular note is the rebounding, which is pretty exceptional for a wing coming off the bench.
He also proved his "mini-Deng" status when he played all 48 minutes in the third preseason game.
Less noteworthy is his five makes on 22 attempts from the field. Butler is pressing too hard on offense rather than taking what is there. It's an easy mistake for a player who is trying to prove himself in his second year and who is being counted on to provide more scoring.
Look for Butler to settle down and provide consistency off the bench.
Power Forward, Vladimir Radmanovic
The sharp-shooting stretch forward has been brought in because of his three-point shooting but "Vlad the Impaler" has shown more ability to put the ball on the floor that expected. He's driven to the hoop on a few occasions and even made ESPN's Top 10 with a sensational drive-and-dunk in the game against Cleveland.
It will be interesting to see what happens if Belinelli continues to struggle, particularly on defense. It's possible that we could see a lineup with Gibson or Radmanovic playing the small forward, and Butler playing shooting guard.
Center, Nazr Mohammed, Kyrylo Fesenko
Of all the new arrivals, the most successful, and the most pleasant surprise, has been Nazr Mohammed who has averaged nine points and 10 boards in just 22 minutes a night through the preseason. If the Bulls can get a double-double form Mohammed on a nightly basis, they'll forget about Omer Asik.
Mohammed has far more post-game than Asik ever showed and has more of a shot as well. The Bulls have been able to find him on numerous occasions for little jumpers from three to five feet.
There are a lot of questions that are still up in the air about how this new version of the Bench Mob will shake out, but those questions don't involve Moahmmed.
In fact, look for Gibson and him to provide similar shutdown defense to what Gibson and Asik did last year, albeit with better scoring. If the Bulls can get the backup frontcourt figured out, they'll be fine, but for now, that is looking like it might take a bit of time.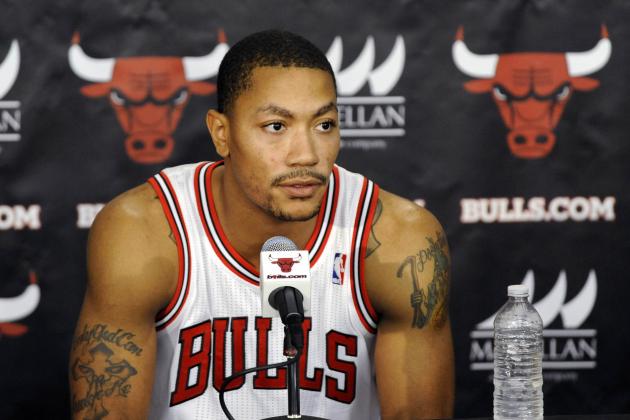 David Banks-US PRESSWIRE

The Chicago Bulls season will clearly have two chapters, before Derrick Rose returns and after he returns. Each chapter will carry with it different goals and expectations.
Over the course of the first part of the season, the initial goal for the Bulls will be to stay in contention for the Central Division title and a top-four seed.
How well this goes will depend largely on how well the second unit gels and how long it takes them to do so. The first unit should be fine.
Kirk Hinrich is the only new member, and he's played the bulk of his career with Joakim Noah and Luol Deng. The other four members of the starting lineup are all returning from last season. Already, they seem to have integrated fairly seamlessly.
The starting five have, on average, outscored their opponents by about 12 points per game when they've played together. While preseason games can mean little, at least in those two games, the dominance was starters against starters, so it doesn't mean "anything" either.
The second unit is another matter. There are times where it seems watching clowns try and get in their clown car would be less discombobulated.
Both in terms of figuring out their rotations on defense, and in terms of just running plays that involve little inconsequential things like passing on offense, the second unit has been borderline comical. They are lost and have a total lack of chemistry.
The question is whether the second unit figures things out before Tom Thibodeau actually, literally, physically explodes on the sideline. This will be key during the first part.
The goal of the second part of the season, after Rose returns (provided he does) will be to integrate Rose back into the lineup, shake off his rust and make a last season sprint to the finish to try and shore up that top-four seed.
How achievable that is will be impossible to say until we see him back on the court. If Rose's past heart and character are any indication, though, he will ignite the Bulls to a powerful finish.
Steve Mitchell-US PRESSWIRE

The full Bulls schedule is available here, at Bulls.com. Here are five games to mark on your calendar though.
Nov. 18, vs. Boston Celtics
This will be the Bulls first real test of the season. Whether they win or lose, if they can stay with the Celtics and give them a competitive game, it could give them an infusion of confidence. A win would establish that, with or without Rose, they are a team to contend with.
Dec. 4, vs. Indiana Pacers
The Pacers think that with Rose injured they have the keys to the Central Division. The Bulls aren't going to concede that so easily. This game will establish whether they can compete with the Pacers for the division title.
Jan. 4, @ Miami Heat
Why is this a big game? Because it's their first game against the Heat. Do you need any other reason than that?
Feb. 21, vs. Miami Heat
This won't be just a big game, it might be the biggest game of the season, and arguably, the most anticipated game since Michael Jordan ran the court.
Why? The first home game after the All-Star game means it's a great chance that it will be Derrick Rose's first game back. That game, coming against the Heat, would make it even bigger.
Imagine if this this the game where the PA announcer gets to say, for the first time, "From Chicago..." Gives you goosebumps doesn't it? The United Center might have to get a new roof after this one.
Apr. 11, vs. New York Knicks
This is the Bulls last big game of the season, and by now, Rose should be at full form or as close as he'll get to it before the postseason starts. This should give Bulls fans a good look at how good their postseason chances are going to be.
Eric Hartline-US PRESSWIRE

2012 Projected W-L
50-32
Postseason Position,
Central Division: Second
Eastern Conference: Fourth
NBA: Ninth
How the Season Will Finish
After a shaky start due to inconsistent play from their bench, the Bulls will start to figure out things a month into the season. If Rose returns the first home game after the All-Star break, that would be the Bulls 54th game of the season.
A 29-24 record through the first 53 games is a reasonable projection.
Inspired and rejuvenated by The Return, the Bulls will win that game and go on to close the season strong, winning 21 of their final 29 games to finish the regular season 50-32, securing the fourth seed.
They'll face off against the Brooklyn Nets in the postseason, beating them in five games.
Then, they'll face the top-seeded Miami Heat in the second round. While they'll give the Heat a battle, it will be too much for them, and they'll lose the series in six games.
Joel Cordes, Will Leivenberg and Ethan Sherwood Strauss give their best and worst case scenarios for the Chicago Bulls this year. The number of wins varies from 45-50 wins for the team.
There is one thing that people need to consider that is perhaps not getting enough consideration. The doctors for Derrick Rose have said he's ahead of schedule. What if he returns earlier than expected?
I know. I know. Don't rush him back and all that. But what if he's 100 percent in January? Is delaying his return purely for the sake of delaying it something they need to do? Even if they don't send him back "early" so much as he just returns at the early side of the initial eight to 12 month timeline, that would mark a January return.
The fact he's ahead of schedule means that's a distinct possibility, which would mean that the possibility exists they'll win more than 50 games. He's ready to start cutting any day now. Adrian Peterson is proving that recovering from ACL is a lot better than it was 10 years ago.
If Rose plays 50 games, the Bulls could win 55 realistically. Based on the better than 80 percent win percentage the Bulls had with him the last two years, that would give the Bulls a 40-10 record after his return. That would mean to win 55 they would only need to be 15-17 without him.
There also exists the possibility that he has a set back and doesn't return at all, that Noah aggravates his ankle, that Deng aggravates his wrist, and the bench never gels together. If all, or even some of that happens, they could only win 40.
The reality is losing 42 games isn't impossible, nor is winning 55, depending on what happens, but the 45-50 win range is a pretty accurate window.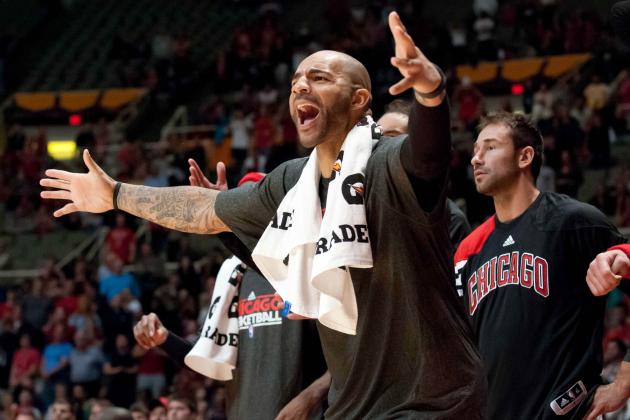 Bradley Leeb-US PRESSWIRE

Points Leader:
Derrick Rose: 20.1
Carlos Boozer: 19.4*
Luol Deng: 18.6*
Rebounds Leader:
Joakim Noah, 11.2
Carlos Boozer, 9.7
Nazr Mohammed, 8.3
Taj Gibson, 8.1
Assists Leader:
Derrick Rose, 8.1
Kirk Hinrich, 7.4*
*Projections are up until Derrick Rose returns. After he comes back, these numbers should take a dip.