Colts vs. Jets: Final Report Card, Player Grades for New York Jets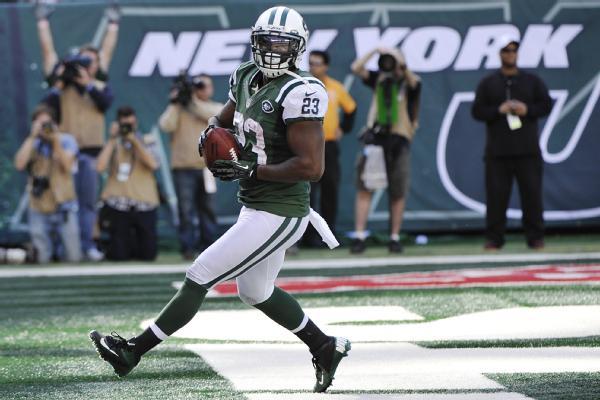 Photo Courtesy of Bill Kostroun/AP
The New York Jets bounced back from a tough loss to the Texans last week and simply bullied their way to a 35-9 win over the Indianapolis Colts.
Behind a 161-yard, three-touchdown outburst from Shonn Greene and an opportunistic defense, the Jets moved to 3-3 with the win at MetLife Stadium.
The Jets sacked Andrew Luck four times and forced him into three turnovers. Although he wasn't asked to do much, Mark Sanchez played a calm, efficient game while the much-hyped Luck wilted under what most were trumping as an underwhelming Jets defense.
The Jets have now won all three games in which they were favored and lost all three in which they were underdogs.
After six games, they still sit in prime playoff position and, depending how the late games shake out, could find themselves either atop the AFC East or in one of the Wild Card positions.
Now it's time to give out the individual game grades. There are a lot of A's to go around.
Begin Slideshow

»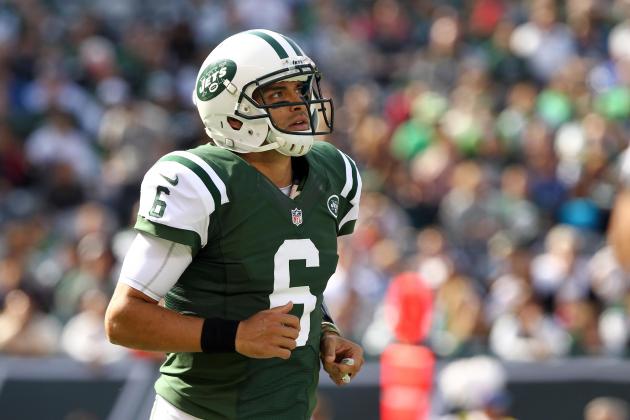 Debby Wong-US PRESSWIRE

Mark Sanchez: A
Mark Sanchez did what was needed to do to win the game here. With Shonn Greene dominating on the ground, all Sanchez needed to do was avoid turnovers and make the simple throws when needed.
Sanchez's stat line wasn't that impressive (11-for-18 for 82 yards), but he did throw two perfect strikes on both touchdowns.
On his touchdown pass to Stephen Hill, Sanchez showed tremendous patience and zipped a pass into a tiny window.
For this game, it was the much-hyped Andrew Luck who looked confused and careless and Sanchez who was cool under pressure.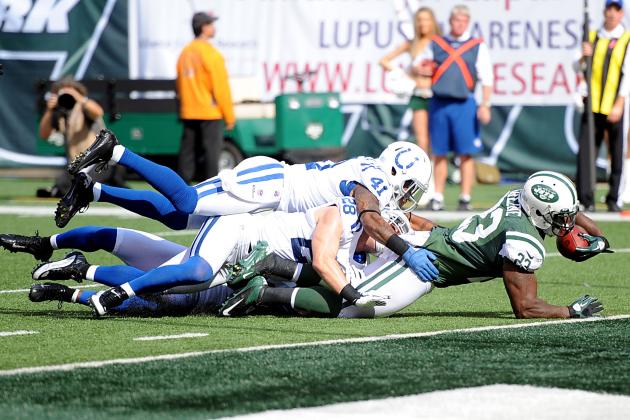 Joe Camporeale-US PRESSWIRE

Shonn Greene: A+
Perhaps the easiest grade of the season for anyone. Greene put the team on his back and couldn't be stopped. Greene bullied his way to 161 yards and three touchdowns. You can't say enough good things about his performance.
Bilal Powell: B
Powell sustained an injury, but before then, had some success as well. He finished with four carries for 14 yards.
Joe McKnight: A
McKnight too sustained an injury, but did so while cracking off a 61-yard run to help set up a touchdown. He had two additional carries for 10 more yards. If healthy, he certainly earned more opportunities in the backfield.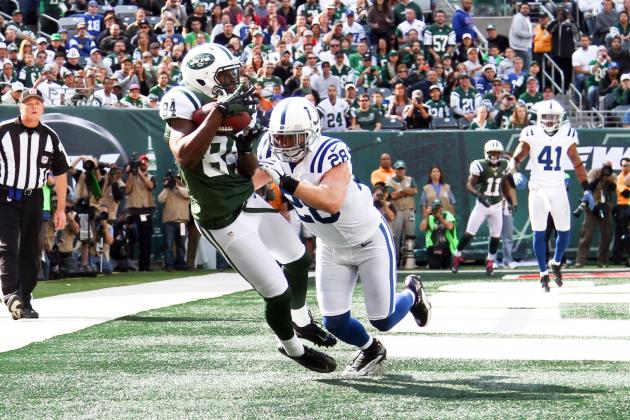 Debby Wong-US PRESSWIRE

Stephen Hill: A
In his return from an hamstring injury, Hill made his catches count. Two of his catches gave the Jets first downs, while the third was a nice grab for a touchdown. The Jets didn't take any deep shots with Hill this game. He didn't have any drops, which was the most important part.
Chaz Schilens: B+
Schilens caught two passes for 23 yards. One catch went for 12 yards, the other for 11. Both catches came on drives that the Jets ultimately scored a touchdown.
Jeremy Kerley: B+
Kerley was the Jets' leading receiver with three catches for 24 yards. The Jets' conservative game plan cut into Kerley's production, but he did what was asked of him.
Jason Hill: A
Hill caught the only pass thrown to him for a five-yard touchdown. It had to feel good after a rough outing in his debut last week. He punctuated it with a creative "hopscotch" touchdown dance. One half-grade bonus for that.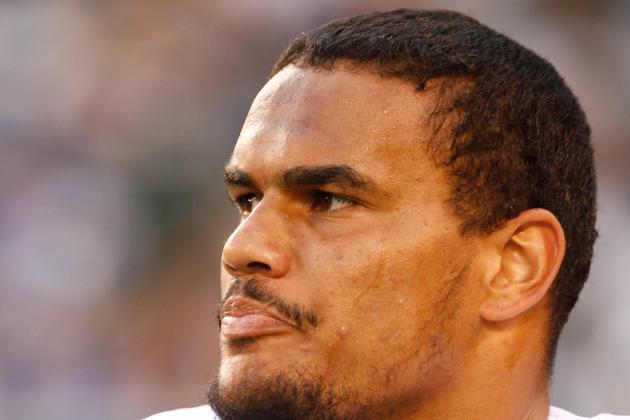 Debby Wong-US PRESSWIRE

Dustin Keller: B-
It was a surprisingly quiet day for the tight ends. Keller caught just one pass for six yards. With the Jets dominating from the start, it made no sense to push Keller with his involvement.
Jeff Cumberland: F
Cumberland dropped another difficult but catchable pass and should have been called for a hold on a play in which he nearly got Mark Sanchez hurt. It was also Cumberland who blew a blocking assignment with 9:50 to go in the game on the 3rd-and-3 play. He ran right out into his pattern without bumping Jerry Hughes, who recorded the Colts' only sack of the day.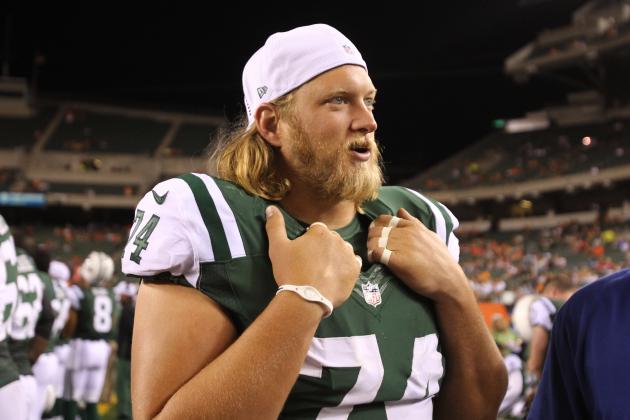 Matthew Emmons-US PRESSWIRE

The offensive line: A+
Instead of grading each of them individually, let's just give them all a big, fat A+. The offensive line bullied the Colts front seven all over the field, allowing Shonn Greene to run free all game. It's evident that Greene doesn't do the best job creating on his own, so when he runs for 161 yards, a lot of credit goes to the offensive line.
The line also gave Sanchez time to throw and opened up passing lanes when called on to do so. The only sack allowed was on a blown assignment by Jeff Cumberland, so by all accounts, the line kept Sanchez clean all day.
The line played penalty-free as well in a tremendous all-around job.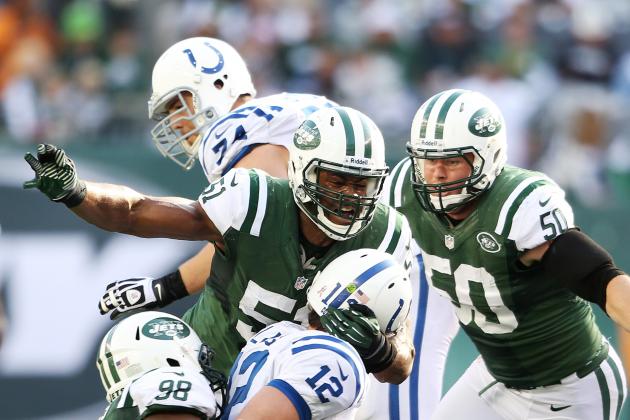 Nick Laham/Getty Images

Quinton Coples: A
Coples earns his first high marks of the season after making numerous appearances in the Colts' backfield. His facemask penalty caught the ire of Bart Scott, but on further review, it looked like Coples' hand was in the wrong place at the wrong time. Luck was ducking away from a collapsing pocket and turned his facemask right into Coples as he was reaching for the sack.
Coples finished with four total tackles and 1.5 sacks. It was his best game as a Jet.
Mike DeVito: C
DeVito was surprisingly quiet on a very good day for the Jets defensive line. He had just two assisted tackles.
Muhammad Wilkerson: A
Wilkerson bounced back after a couple of quiet games and filled in beautifully for the injured Sione Pouha and Kenrick Ellis. He finished with seven tackles and had a strip sack on Andrew Luck. With the way Coples and Wilkerson played today, they might find themselves in these roles again next week whether Pouha plays or not.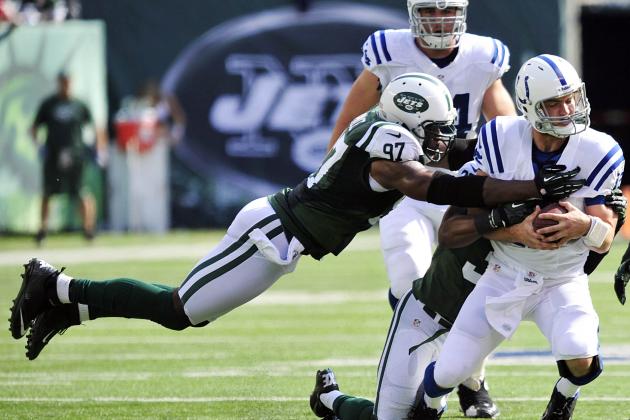 Joe Camporeale-US PRESSWIRE

Bart Scott: B-
Scott had a quiet day on the stat sheet with just three assisted tackles. His biggest play was getting in Andrew Luck's face, forcing him into the hands of Quinton Coples for a sack. Scott didn't have any negative plays to speak of, but not much positive either.
Aaron Maybin: B
Maybin was put in a number of blitzing situations today and came away with just a half of a sack. However, on Antonio Cromartie's interception he did apply pressure to Luck, forcing him to make the pass on the run. He also had a hit on Luck, forcing him to overthrow an open Reggie Wayne in the end zone. Not a big day stat-wise for Maybin, but he did force those two crucial mistakes with his pressure.
Calvin Pace: C+
Pace made an appearance in the backfield, as he was just a step behind Antonio Allen on Allen's first career sack. If Allen missed, Pace was there to clean up. Like Scott, Pace wasn't abused in the short passing game today, and that's always a good sign. He still only had one solo tackle on the day.
David Harris: B-
Harris had an uncharacteristic quiet day, registering just three total tackles. The Colts' game plan didn't allow for many opportunities for the linebackers to get involved.
Drew Hallowell/Getty Images

Antonio Cromartie: B
Cromartie never made the adjustment once he saw that this game was going to be officiated tightly. The Jets had eight penalties for 110 yards, a number of them coming at the expense of Cromartie. His first interception was an early turning point, but his second one was correctly flagged as pass interference.
Cromartie likely would have gotten away with much more if these were replacement officials, but they aren't.
Kyle Wilson: B
The Jets played a loose zone defense much of the time, so it was tough for the defensive backfield to keep up with things all day. Wilson was victimized a handful of times for big chunks of yardage, but again didn't allow any huge plays. He was credited with three tackles and a forced fumble.
LaRon Landry: B
Landry was forced into coverage a lot, and that isn't his specialty by a long shot. He got away with what should have been a pass interference call that would have resulted in huge yardage. This wasn't the type of game that Landry thrives in, but he had eight total tackles nevertheless.
Yeremiah Bell: B+
Bell led the Jets with nine tackles and continues to play at a Pro Bowl level. Whether he is recognized for it or not remains to be seen, but he is one of the elite tackling safeties in the AFC. The Jets seemed content to let Andrew Luck complete passes in front of the zone as long as they didn't give up huge plays. Bell saw to it a number of times that receptions weren't turned into big-time gainers.
Antonio Allen: B+
In his first NFL game, Allen recorded the first of the Jets' four sacks on Andrew Luck. It was great redemption for Allen, who was being targeted by Luck in the early part of the game.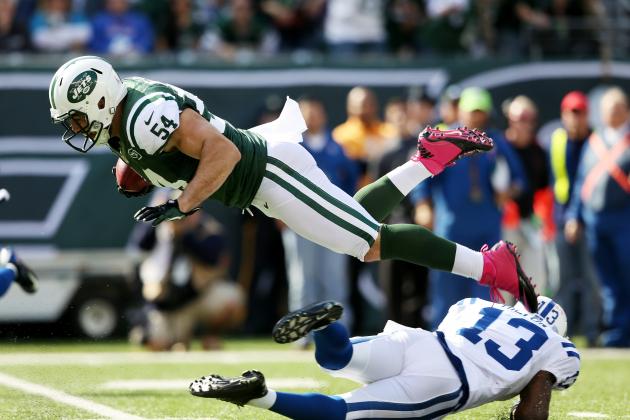 Nick Laham/Getty Images

Nick Folk: A-
Folk had another easy game, as he was called on to kick five extra points and no field goals. The best thing about Folk was that he was able to consistently kick touchbacks when given the opportunity.
Robert Malone: A
Malone had another solid effort punting for the Green and White. He averaged 52 yards on five punts for the game. The only slip up he had was that his longest punt came when he should have been trying to pin the Colts deep with a punt from midfield. Instead, the punt sailed 57 yards for a touchback.
Tim Tebow and Nick Bellore: A+
The Jets are now 3-for-3 converting fake punts despite the fact that everybody knows it's a distinct possibility they can try it at any time. This time, Tebow and Bellore executed a beautifully designed misdirection fake for a 23-yard gain.
Tebow looked like he was going to run left, but stopped and completed a jump pass to Bellore, who was wide-open running in the opposite direction. Just phenomenal.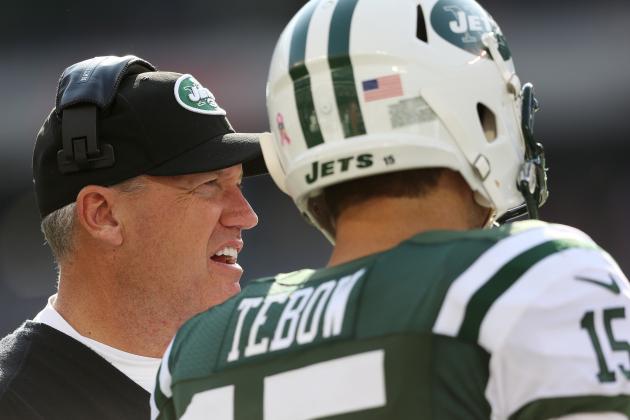 Nick Laham/Getty Images

Rex Ryan: A
The Jets had a simple, yet solid game plan against the Colts and executed it well. Ryan and Tony Sparano recognized that the Jets running game was far superior to whatever the Colts were going to try to do to stop it, so they stuck with it the whole time.
Ryan didn't face many tough decisions at all. Even his successful challenge was something that was obviously going to be overturned from the start.
The soft zone defense worked against the rookie Andrew Luck this week, but if the Jets think they can do that again next week against Tom Brady, they will be sorely mistaken.
Going safe and conservative on offense and defense usually doesn't result in easy victories, but today it did.
Mike Westhoff: A+
The Jets' fake punt came on a beautifully designed play that had Westhoff's fingerprints all over it. It was something that took advantage of the Colts' inexperience and played against the Jets' tendencies on fake punts. The rest of the special teams remained stellar all around.
Tony Sparano: A
It was a rocking-chair game for Sparano, who simply dialed Shonn Greene's number on 32 of the team's 64 offensive plays. The other play calls were for simple slants and screens. The dialed-back game plan was something Sanchez needed and something they knew would be successful against the Colts. Nice work here.