WWE Flashbacks Volume 9 Part 1: CM Punk Is Money vs. John Cena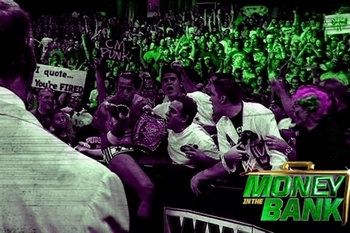 All photos are courtesy of WrestleEnigma.com
Hello and welcome to the ninth-ever installment of WWE Flashbacks. In my last volume, I went back in time to remind you of the Bret "The Hitman" Hart versus "Stone Cold" Steve Austin feud that catapulted both Austin's career and the beginning of the beloved Attitude Era.
Today, Flashbacks returns as part one of a four-part series reviewing the epic rivalry that CM Punk and John Cena have had, and to foreshadow what is to come when they inevitably step inside the ring once again.
Enjoy.
June 27, 2011: The Las Vegas Pipebomb
CM Punk plopped down on the top of the ramp after costing John Cena his tables match against R-Truth with a couple of things to get off his chest. Little did we know these couple of things would result in possibly the greatest shoot promo to ever take place.
"John Cena, as you lay there, hopefully as uncomfortably as you possibly can be, I want you to listen to me," Punk said in his Steve Austin T-shirt, reminding us of the great moments of the past as he created one for the future.
"I want you to digest this. Because before I leave in three weeks, with your WWE Championship, I have a lot of things I want to get off my chest," Punk said. He wiped his mouth with his hand, took a deep breath and began to unload.
"I don't hate you, John. I don't even dislike you. I like you a hell of a lot more than I like most people in the back. I hate this idea that you're the best, because you're not. I'm the best. I'm the best in the world. There's one thing you're better at than I am, and that's kissing Vince McMahon's ass. You're as good at kissing Vince's ass as Hulk Hogan was. I don't know if you're as good as Dwayne; he's a pretty good ass-kisser, always was and still is. Oops, I'm breaking the fourth wall."
The man soon to be known as the voice of the voiceless waved at the camera with a smirk before continuing.
"I am the best wrestler in the world. I've been the best ever since day one when I walked into this company, and I've been vilified and hated since that day because Paul Heyman saw something in me that nobody else wanted to admit. That's right; I'm a Paul Heyman guy. You know who else was a Paul Heyman guy? Brock Lesnar! And he split, just like I'm splittin', but the biggest difference between me and Brock is that I'm going to leave with the WWE Championship."
Heyman worked with Punk in Ohio Valley Wrestling and was his biggest supporter. He demanded Punk be called up and that he use his same CM Punk gimmick. Without Heyman, Punk likely would have been released.
"I've grabbed so many of Vincent K. McMahon's imaginary brass rings that it's finally dawned on me that they're just that. They're completely imaginary. The only thing that's real is me, and the fact that day in and day out, for almost six years, I've proved to everybody in the world that I am the best on this microphone, in that ring, and even on commentary. Nobody can touch me."
The Vegas crowd roared with applause. The product had grown stale throughout the summer and most fans had been waiting for a big summer angle like this to take place.
"And yet, no matter how many times I prove it, I'm not on your lovely little collectors' cups, I'm not on the cover of the program, I'm barely promoted, I don't get to be in movies, I'm not on any crappy show on the USA Network, I'm not on the poster of WrestleMania, I'm not on the signature that's produced at the start of the show. I'm not on Conan O'Brian, I'm not on Jimmy Fallon, but the fact of the matter is I should be, and trust me, this isn't sour grapes, but the fact that Dwayne is in the main event of WrestleMania next year and I'm not makes me sick!"
Punk's face was blood red at that point, and you could tell he was truly letting off steam rather than cutting a normal promo.
"Oh hey, let me get something straight, those of you who are cheering me right now; you are just as big a part of me leaving as anyone else, because you're the ones sipping out of those collector cups right now, you're the ones that buy those programs that my face isn't on the cover of, and then at five in the morning at the airport, you try to shove it in my face thinking you can get an autograph and sell it on eBay because you're too lazy to get a real job." The crowd turned on Punk, as he surely wanted after criticizing them.
"I'm leaving with the WWE championship on July 17 and hell, who knows, maybe I'll go defend it in New Japan Pro Wrestling. Maybe I'll go back to Ring of Honor." Punk again waved at the camera. "Hey, Colt Cabana, how you doing? The reason I'm leaving you people is because after I'm gone you're still going to pour money into this company—I'm just a spoke on the wheel—the wheel's gonna keep turning. And I understand that. That Vince McMahon is gonna make money despite himself; he's a millionaire who should be a billionaire, you know why he's not a billionaire? It's because he surrounds himself with glad-handing nonsensical douchebag yes-men like John Laurinaitis."
Weeks later at Money in the Bank, Laurinaitis debuted an on-screen character as the Vice President of Talent Relations. He would gain such heat that he would soon earn the role of Raw's General Manager, and has kept a job despite being fired as the VP of Talent Relations in real life, which many speculate is so he can make his on-screen return in the coming months.
"…who's gonna tell him everything he wants to hear and I'd like to think that maybe this company will be better after Vince McMahon is dead, but the fact is it's gonna get taken over by his idiotic daughter and his doofus son-in-law and the rest of his stupid family."
Punk paused so he can again change the topic.
"Let me tell you a personal story about Vince McMahon. You know we do this whole bully campaign…" Punk's microphone is cut off and he taps the microphone. After it doesn't work, he stands up and says, "I've been silenced!" as Raw fades to black and fans everywhere hold their mouth open in amazement.
Was this real? Does this affect CM Punk's chances of remaining with the WWE? What's next?
The following week, a Punk-less Raw would answer a few of our unanswered questions.
July 4, 2011: Cena Confronts McMahon
Amidst much speculation, Vince McMahon decided to address the WWE Universe on the state of CM Punk's future, the WWE Championship picture and the company as a whole.
"Thank you very much. You know this whole Punk thing has gotten a little out of hand," Vince said, talking over the cheers of the crowd. "Not that I owe anyone an explanation, but nonetheless let me tell you why I suspended CM Punk." Vince didn't take long in getting to the meat of the promo, likely knowing the fans would tune out any fluff on this particular Monday night.
"He deserved it."
The chairman continued on despite the crowd quickly turning their cheers into jeers. He backed up his statement for a couple minutes; after all, suspending someone after talking so negatively about your company would be the normal course of action, reasoning to the fans that they would do the same thing. But this was the WWE; nothing is normal.
Vince attempted to exit the ring as John Cena's entrance music hit. He stepped back inside the ring as Cena headed there as well with his WWE Championship in hand.
No salute, no high fives; the champion was all business on this night. He wanted the fans to get what they wanted. He himself wanted to get his hands on CM Punk.
"That's it?" Cena asked right away, verbalizing the same thing the fans were thinking. He said Vince was punishing Punk for speaking his mind, something he usually endorses and does himself.
He said Vince used to take fights head-on. He took down many opponents and he took down Turner, and it wasn't by being a coward.
Immediately upon hearing the word coward, Vince turned towards Cena and stopped being so dismissive as to not even face the champion of his company.
He challenged whether Vince was still a fighter; if his famous grapefruits had become peach pits.
Cena, like Punk, was now getting under Vince's skin. He believed if he could do it enough, Vince's ego would get in the way and force him to reinstate CM Punk.
Vince then told Cena he really suspended Punk because he didn't want to risk Cena's status. He didn't want the face of his company to lose the company's most sacred prize to a man who would be unemployed just an hour after the pay-per-view went off the air.
Cena's plan eventually worked though. He handed Vince the title, claiming he didn't want to represent a cowardly company that cheated CM Punk out of what he earned. In his book, the prestigious WWE Championship would have already been reduced to meaningless if such a thing happened.
Cena walked up the ramp but Vince stopped him. "Where the hell do you think you're going?" Mr. McMahon asked. "You're no different from all the rest, you ingrate! All the rest of them walked out on me, you're walking out on me!" He paused, then demanded, "Wait a minute, wait just a minute. I got something, don't go anywhere."
He scooped the title off the mat as Cena turned around and power walked his way up the ramp in classic Vince McMahon fashion. He stopped at Cena and glared directly into his eyes. "Alright, I hate this has come between us but it has; CM Punk is reinstated, you've got your match." Cena smirked to the fans before Vince grabbed his attention back.
"Get that smile off your face! I'll tell you why you shouldn't be smiling. If CM Punk walks out of Chicago with this championship, I'll walk right down the aisle, look right in your face and say 'John Cena, you're fired!'"
July 11, 2011: Punk Returns
"Do I have everybody's attention now?" a mustached CM Punk asked sitting Indian-style in the middle of the ring with a megaphone sitting next to him in case his microphone was cut off for a second time.
He recapped the past couple of weeks, saying he didn't just get in trouble for the individual things he said, but because he has the balls to say what others don't have the balls to say.
He said that in anybody else's hands, what he was holding was a microphone. In his hands, it was a pipe bomb.
He claimed Vince was bending over backwards to re-sign what he finally saw CM Punk as: the hottest commodity in professional wrestling today. If Vince would've treated him so well in the first place, he wouldn't have had the ammunition to let off a pipe bomb that finally made the WWE socially relevant.
He proposed that later that night, he and Vince have the first ever live contract negotiation. Before he could say anything else, John Cena interrupted him.
Cena asked Punk to go on, which he did. He thanked him for getting him reinstated to a job he didn't want in the first place. He sarcastically praised the champion for putting his job on the line for a match he had no chance of winning, only to dismiss the possibility of Cena actually being fired.
Cena responded and said he was glad CM Punk confirmed he had balls, because nobody had been sure for five years. He said Punk also had a mouth he loved to run and lots of self-confidence.
He continued, telling Punk he wasn't the WWE's vision of a champion because he pranced around to appearance after appearance; he did so because he loved it.
He reminded Punk of all the legends that also believed they could beat him, only to be disappointed. He didn't care if Vince fired him or not, or if Punk was holding a mic or megaphone, he was going to Money In The Bank to kick his ass.
To view the segment reviewed below, click here.
Later on in the show, the contract negotiations occurred in front of a live television audience for the first time in WWE history. The theme of the entire negotiation was CM Punk holding the upper hand rather than McMahon, who almost always does in these situations. Punk would embarrass Vince, but there was absolutely nothing Vince could do about it. As Punk put it, "Vince, I'll kick you in the nuts and you'll smile at me and like it."
He followed that by demanding respect, foreshadowing what was to come over a year later.
Vince admitted he truly didn't have a leg to stand on; if Punk was to walk out of his company with the WWE title, he couldn't live with himself for allowing it to happen. This also showed, similar to the week prior, Vince didn't have the faith in John Cena like one would think he would after Cena had been the face of the company for so many years.
Punk noted the hypocrisy of the anti-bullying campaign because Vince was the biggest bully he'd ever met. He unceremoniously fired guys like Colt Cabana and Luke Gallows, and before Punk signed on the dotted line, he was going to have to apologize to him for them.
Vince wanted to sign the contract and act as a businessman, but Punk refused. He was dead set on an apology, even flipping over the table.
Vince told the fans, in a reaction to their "We Want Ice Cream (Bars)" that he didn't care what they wanted, which Punk stated was the problem. He may not be a nice guy, but he knew what the fans wanted, and they wanted an apology.
"I'm sorry," Vince uttered a couple times, not pleasing Punk. "What?" Punk asked numerous times, leading McMahon to raise his voice, "I apologize, you son of a bitch!" Punk laughed hysterically and celebrated, adding it was better than winning three world titles.
John Cena's music hit just as Vince had pulled the pen out to sign the contract and end the mockery Punk was making out of his good name.
Cena compared the two to spoiled children crying and complaining about what they want. He demonstrated how much he hates Vince, but despite that, he still comes to work every day.
He called out Punk for being the biggest hypocrite of them all. Punk was using all these fans to get what he wants, but he was willing to walk out on them in six days if Vince didn't meet his impossible demands.
Punk stopped him after Cena claimed he lost sight, saying Cena wasn't this underdog figure he made himself out to be. He was. He was now that '"kid that couldn't hang" with the big boys, like Cena couldn't hang with Eddie Guerrero. Cena was the Boston Red Sox, he was the dynasty' now he had become what he hates—he's the New York Yankees.
Cena landed an uppercut afterwards, dropping Punk, who weaseled his way out of the ring, up the ramp and ripped up the contract.
All the talk was now over. In six days, this story was going to reach its climax.
July 17, 2011: Punk is Money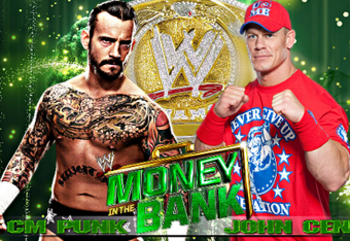 To view the match in it's entirety, click here.
John Cena walked into a sea of proverbial sharks inside Allstate Arena in Chicago with all the odds stacked against him. He walked in champion, yet could walk out without a job and knowing he cost the WWE its championship of over 50 years. Knowing he let down the man who gave him his shot at glory in the first place, Vince McMahon.
Michael Cole listed off some of the greatest WWE Champions of all-time as the bell rang.
The two locked up and Punk got an early advantage with a headlock followed by an armbar. Cena reversed, getting Punk in a favorable position on the mat for a headlock of his own.
Punk fought his way to his feet and leaned his way against the ropes, forcing Cena to relinquish his hold.
Chants of "You can't wrestle," directed towards Cena began to pour down from Punk's faithful hometown fans. Cena ducked a roundhouse kick narrowly that would've prematurely ended the match.
Punk took down Cena and nearly locked in the Anaconda Vise before Cena again reversed and utilized an armbar. When Punk got to his feet, Cena continued to twist the arm until he fell right back down to the mat.
It was a clever tactic for Cena, who was obviously trying to take the crowd out of things early on with a slow pace. It was just as odd though, considering Cena's opponents are often the ones in that position. Cena was very used to being booed, but he was always accustomed to getting just many cheers from CeNation.
Cena would down Punk once more with a shoulder knock down, then Punk recovered and we returned to a lock up between the two combatants.
Just as minutes prior, Cena wrenched in his headlock and soon grounded CM Punk. The crowd was still going, but Punk was at least not able to use his best weapons, his legs, from the canvas.
Back to his feet, Punk was taken down with a shoulder block, but responded with a leap and hip toss to take down Cena. A dropkick and headlock of his own followed to pick up some momentum to the crowd's delight.
A chain of reversals followed, beginning with a shoulder block from Punk. Punk tried the Five Knuckle Shuffle, but failed and instead ended up fighting out of an Attitude Adjustment and getting Cena in position for the GTS, but Cena also leaped out of harm's way as the stalemate continued.
Punk gained the upper hand with a series of his trademark kicks and elbows to the champion. He'd back up when the referee counted though, realizing he couldn't win the title by disqualification. This opened up an opportunity for Cena to go on the offensive with a bulldog and failed pinfall.
Booker T correctly called this match a chess match. These two men had been in the ring with each other before and were no stranger to one another's offense. One mistake could change the complexion of the entire match, changing the landscape of the WWE in the process.
Punk battled out of Cena's ground game, but was stiffly clotheslined upon getting up. He checked his nose and mouth for any blood as Cena went for another unsuccessful cover.
For several minutes, this theme continued. Punk was forced constantly to survive the submission holds of John Cena. The word pacing comes to mind, as this was a long match and both Cena and Punk wanted to have enough in the tank to last until the end.
Punk would nail a DDT off a failed Attitude Adjustment. He hoped to string together and sustain some offense for the first time on this night, something both men hadn't succeeded at doing thus far.
Punk locked in head scissors on Cena, looking to wear down this powerful force much like Cena had wanted to wear him down earlier.
Cena hoisted Punk in the air, showcasing his amazing strength only for Punk to boot him from the ring quickly and gain a much deserved breather.
Punk placed Cena on the apron and leaped onto the second turnbuckle. The crowd cheered as Punk's knee nailed Cena in the back of his previously surgically repaired neck.
He rolled Cena away from the ropes and went for the pin, but Cena lifted his shoulder at the count of two.
Punk backed Cena into the corner, kneeing him a couple of times before sending him to the opposite side of the ring. Punk attempted his patented knee to the face, but Cena moved out of the way and Punk's shoulder connected with the steel post.
Punk was in full control of the match, targeting Cena's injured neck though it wasn't for long. Cena would suplex Punk to the outside as the tides turned and Cena fans began to allow their voices to be heard.
Cena rolled Punk back in the ring and hooked his leg, but Cena's own leg, now injured, weakened him just enough to let Punk kickout.
Cena didn't want to let Punk in on the injury, so without hesitation he hit a quick suplex.
Back-and-fourth, up-and-down, this thrilling affair was beginning to pick up its pace with no clear end in sight. Just when you believed one man to be down and out, they fought back. It was a battle of attrition.
Punk made his way back with a roll-up after Cena had begun his five moves of doom. Cena seamlessly picked up where he left off with a Five Knuckle Shuffle though, with Punk's leg interrupting the maneuver and knocking him square in the head.
Cena hit a kick to Punk's gut; Punk missed a knee in the corner. The crowd was now on their feet. Cena's career was in jeopardy in the arena he had debuted in against Kurt Angle in 2002. It was in the same state in which CM Punk participated in John Cena's WrestleMania 22 entrance, promising himself on that very night that he would one day be inside the ring and be the star himself.
Off that kick, Punk sent Cena to the outside, setting him up for a suicide dive to the floor. The crowd went into a frenzy for its hero, a hero that was headed towards victory. Its hero that was not only going to walk out of the arena WWE Champion, but he was going to walk out of the WWE as WWE Champion.
Punk tossed Cena inside the ring and went for a springboard crossbody, but an aware Cena rolled out of the way. Cena made it to his feet with assistance from the ropes and raised his hand to signal for the Five Knuckle Shuffle, a move that had failed him moments beforehand. It would work this time, but the Attitude Adjustment wouldn't. CM Punk landed on his feet and countered with a series of lethal kicks to Cena that grounded him. Cena would power out of the upcoming cover at two.
Punk tried his GTS, Cena countered with an unorthodox gutwrench and pinfall that Punk would will his way out of. Cena's injured knee would cause him pause and allowed Punk the time to recover and hit two knees along with the bulldog to the face of his opponent.
Punk headed to apron wide-eyed and waited for Cena to make it to his feet. When he did, Punk plunged onto the 240-pounder for the near victory.
Punk's martial arts background came into effect as he kicked a dazed Cena numerous times before Cena ducked, dove and locked in the STF.
Punk clawed and scratched his way to the ropes to the dismay of Cole, Jerry Lawler and Booker T on commentary. Cena broke the hold right away. He'd soon be hit with a roundhouse kick to the head when trying to get back on offense.
Punk went for the cover; 1,2, Cena lifted his shoulder in the last possible second!
Punk went to the top rope and landed on the current champion with a crossbody but Cena rolled through and ended up having Punk in prime position for an Attitude Adjustment. This AA would be reversed into a GTS that was reversed once more into a STF. Somehow, Punk slipped his hand into Cena's STF hold countered into the Anaconda Vise. The Allstate Arena was simply coming unglued at the possibility of Punk defeating John Cena.
Cena reached his feet and amazingly hits the Attitude Adjustment. Pinfall: 1,2, no! Punk kicked out. How is that possible? A move that has put countless superstars away in Cena's legendary career couldn't do the trick against CM Punk. It couldn't put away Punk for what could have been the finishing bow to Punk's WWE career.
Cena was now top rope-bound for the first time. He missed his leg drop which Punk countered into a powerbomb and a cover: 1,2, kickout. Could either of these men put the other away?
Punk was on the verge of tears now as the crowd climaxed, and even they were nearing exhaustion. This mentally grueling match had worn on for the better part of an hour.
This is one of those matches we'll remember for the rest of our lives." - Booker T
Punk staggered and stalked his way into the GTS, but Cena pulled himself to the ropes and out of Punk's finishing move. He slammed Punk's neck across the steel cables known as ring ropes to down Punk and give himself time to climb to the top rope. He again attempts his big leg drop, this time successful, though still unsuccessful when going for the win.
Cena was frustrated to the point of laughter. He didn't know what else he could pull out of his sleeve to put CM Punk away. Could he put CM Punk away? Was it possible under these circumstances?
He stayed poised and was set for the AA in which he hit and Punk kick out of yet again.
He lifted Punk's dead weight to go for an AA off the top rope, thinking perhaps that would do the job on a night that absolutely nothing else would.
Punk fought his way out with elbows to Cena's temple and a huricanrana to the mat. Cena rolled to the corner so Punk couldn't attempt a pinning combination, but Punk was able to hit his knee to the face and the bulldog. He would nail Cena with a GTS in the ribcage, causing him to fall through the ropes and out of the ring.
As Punk rolled Cena in the ring, Vince McMahon and John Laurinaitis entered the arena to watch the company-altering finish for themselves.
Cena locked in the STF on a distracted Punk, affording Mr. McMahon the chance to call for the bell. When the referee didn't see this, Johnny Ace neared the ring making the same call, but walked into a ring hand by John Cena. He wasn't going to win this hard-fought match with something such as a screwjob. He said, "Not that way" to McMahon as the chairman blankly stared into the ring.
Cena slid into the ring and his way into a GTS. 1, 2, 3! "Oh my God, oh my God!" Michael Cole uttered as the look on Vince McMahon's face was one of disbelief. A large chunk of the empire he and his family had built had just went up in flames.
Vince, in a state of panic, grabbed a headset and demanded the music be stopped and Alberto Del Rio cash in his Money In The Bank briefcase he had won earlier in the night.
Alberto sprinted down the ramp with briefcase in hand, but Punk hit a roundhouse to his head and offered his soon-to-be former boss a sadistic smirk.
Punk headed to the barricade where he met Vince McMahon, blew him a kiss and ran through the crowd.
To come in part two; CM Punk makes his epic comeback to the WWE and faces the newly crowned WWE Champion John Cena at SummerSlam in the first match ever with two WWE Champions. Did Punk again prevail and reign atop the WWE landscape? Or did Cena win his championship back and restore order to the chaotic nightmare the WWE had become?
For more of my work, please visit WrestleEnigma.com. Thanks.
Keep Reading