St. Louis Rams vs. Miami Dolphins: Live Score, Highlights and Analysis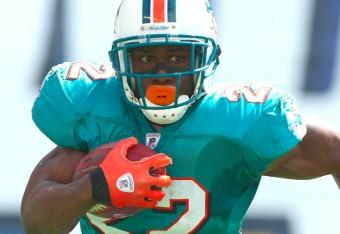 The St. Louis Rams nearly constructed a fourth quarter comeback, but Sam Bradford and his Danny Amendola-less wide receiver corps didn't have the firepower to drive 97 yards in under two minutes.
Rookie kicker Greg Zuerlein attempted a 66-yard field goal to tie the game, but he—to little surprise—missed it. After hitting his first 15 NFL field goal tries, Zuerlein missed three today, which ultimately cost the Rams a win—or at least a shot to win the game in overtime.
Statistically, the Rams were the dominant team.
In fact, they more than doubled the Dolphins' offensive output, but St. Louis beat itself by committing 12 penalties for 96 yards.
Ryan Tannehill did just enough to get his team back to .500 entering their bye week. Despite his best efforts, Sam Bradford couldn't get his team a win as it embarks on a brutal stretch of games that includes bouts with the Packers, Patriots and 49ers.
Rams 14 - Dolphins 17
Sam Bradford's one-yard touchdown run—watch him literally get bent in half after he reaches over the pile.
This was also the Rams' first rushing touchdown of the season.
Marlon Moore's 29-yard touchdown catch:
Chris Givens' 65-yard touchdown catch: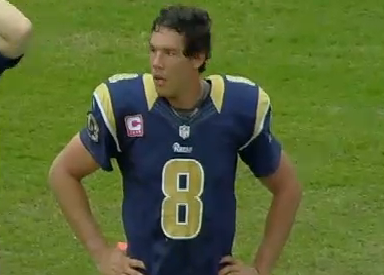 Sam Bradford struggle face: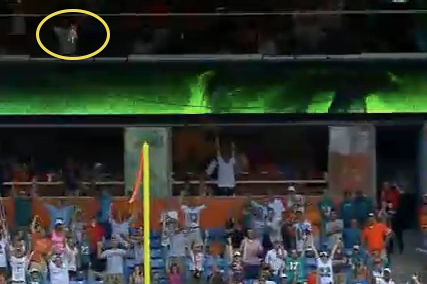 Zuerlein's game-tying field goal attempt sails wide left. He missed three field goals on the afternoon.
The kick sails wide left (surprise) and the Dolphins hang on for a 17-14 win.
The Rams fall to 3-3 and the Dolphins improve to 3-3.
This would be an NFL record, by the way.
Rams are going to trot out rookie Greg Zuerlein for a game-tying 66-yard field goal.
Olivier Vernon with a MONSTER third down sack. First two-sack game of his career

— Ben Volin (@BenVolinPBP) October 14, 2012
Greg Zuerlein hit a 60-yard field goal earlier this season, so the Rams will likely let him attempt something from a similar distance if they get in range.
But, after missing two field goals including one from 37 yards out, Zuerlein will have to respond to his worst day as a pro.
Dolphins coaches pushing all the right buttons to preserve a lead. Unlike Jets & Cards game, this one is won or lost by players.

— Armando Salguero (@ArmandoSalguero) October 14, 2012
St. Louis has only one timeout remaining.
4th Quarter - 1:41
Trailing by three points, the Rams will begin a drive at their own three yard-line due to a holding penalty on the punt return.
The Rams now have 12 penalties for 96 yards.
Sam Bradford will have to construct a 97-yard drive to win the game.
On the play prior to the Dolphins' fake punt, Reggie Bush leaped over a Rams defender and then flipped mid-air. Reggie obviously didn't get the first-down, but an impressive athletic display nonetheless.
Check it out: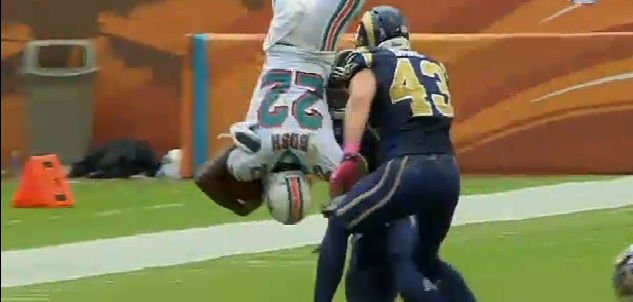 Chris Clemons could've driven a truck through this hole: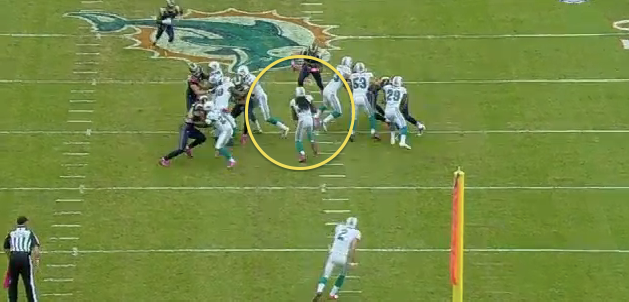 4th Quarter - 4:27
Reggie Bush gets airborne on 3rd-and-1 but comes up just shy of the first-down marker.
The Dolphins follow it up with a gutsy fake punt and pick up the first down.
Crushing blow to the Rams and massive momentum swing for the Dolphins.
The ruling on the field stands and Steven Jackson reels in a pass from Sam Bradford to convert the two-point conversion.
Yet again, the Dolphins are on the verge of collapse in the fourth quarter.
Rams 14 - Dolphins 17
It looks like the ball crossed the plane; however, there's a chance Bradford lost control of the ball: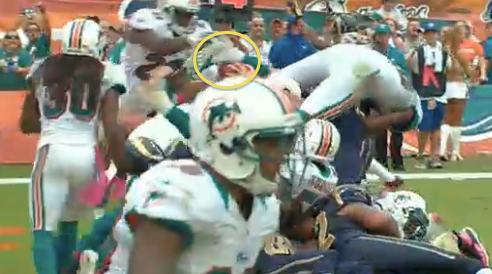 4th Quarter -
TOUCHDOWN RAMS
The Rams go for it and Sam Bradford sneaks it in for a touchdown.
The play is under review.
If it stands, then this will be St. Louis' first rushing touchdown of the season.
The ruling on the field stands.
Incredible effort by Sean Smith to keep Quick out of the endzone.
Not the best angle, but this is a very close call.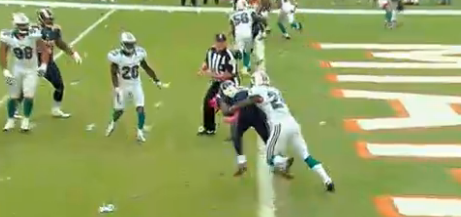 The biggest question is whether or not there's indisputable evidence to overturn this one.
4th Quarter - 8:35
Sam Bradford hits rookie Brian Quick, but the officials rule Quick didn't break the plane.
Jeff Fisher has thrown the red challenge flag.
Third-and-goal coming up for the Rams.
Biggest play of the game.
This article is
What is the duplicate article?
Why is this article offensive?
Where is this article plagiarized from?
Why is this article poorly edited?