UFC 153 Results: 3 Reasons Stephan Bonnar Should Keep Fighting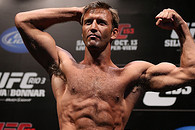 RIO DE JANEIRO, BRAZIL - OCTOBER 12: Stephan Bonnar weighs in during the UFC 153 weigh in at HSBC Arena on October 12, 2012 in Rio de Janeiro, Brazil. (Photo by Josh Hedges/Zuffa LLC/Zuffa LLC via Getty Images)
On the pay-per-view broadcast, the closing odds had Stephan Bonnar as a 14-to-1 underdog going into the fight with Anderson Silva.
For about three minutes, Bonnar had everyone on the edge of their seat.
Bonnar surprised Silva by charging at him out of the gate, and while trying to evade the "American Psycho," the middleweight champion tripped and Bonnar pounced on him.
What followed was a recovery by Silva, but an excellent clinch and wrestling game from Bonnar.
Bonnar outlasted his TUF opponent Forrest Griffin for time in the cage with Silva, as there were only 12 seconds left in the first round, as opposed to UFC 101, when Griffin lasted only 3:23 with the Spider.
Bonnar came out of semi-retirement for this bout and it would be a shame to see him go away for a long period of time.
Here's why Bonnar should stay.
Begin Slideshow

»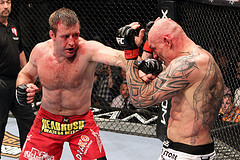 LAS VEGAS - JULY 03: (L-R) Stephan Bonnar throws a left to the face of Krzysztof Soszynski during the UFC light heavyweight bout at the MGM Grand Garden Arena on July 3, 2010 in Las Vegas, Nevada. (Photo by Josh Hedges/Zuffa LLC/Zuffa LLC via Getty Images)
As made evident in the Silva bout, Bonnar is still an elite fighter.
Sure, he has some work to do to get a title shot, but at 35, he's still capable.
Bonnar landed some hard shots on Silva and looked like lightning in the first round, showing how quickly he can move for a light-heavyweight.
His technique was world class, but he ran into the world class defense of the pound-for-pound best fighter in the world. If it were anyone else, Bonnar's performance in that first round could've earned a victory (which is the reason why there are three or five rounds in fights).
Bonnar still knows what he is doing.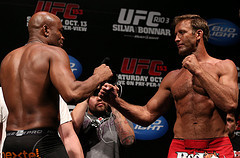 RIO DE JANEIRO, BRAZIL - OCTOBER 12: (L-R) Opponents Anderson Silva and Stephan Bonnar face off during the UFC 153 weigh in at HSBC Arena on October 12, 2012 in Rio de Janeiro, Brazil. (Photo by Josh Hedges/Zuffa LLC/Zuffa LLC via Getty Images)
After such a great performance against a dominant fighter, Bonnar must have earned some respect in some people's eyes.
Is Bonnar capable of going after a title shot? Who else will want to face Bonnar?
There are plenty of opportunities to climb up and face high-level performers, and if Bonnar can keep it up and take advantage of those opportunities, he could get his title shot and finally be known for more than his fight against Griffin at the TUF 1 finale.
Would a bottom 10 fighter want to fight him next?
In any case, a big performance opens up big things.
April 9, 2005.
It was the night Stephan Bonnar and Forrest Griffin went to war for a six-figure contract in the UFC at the TUF 1 finale.
That fight would be insulted if I tried to compliment it, because nobody can even comprehend just how awesome that fight was.
It did big things. It brought the UFC to the mainstream and the MMA world never looked back.
All the success, the billions of dollars, the promos, the sponsors, the fame and everything along with it started on one April night.
Since that night, Griffin and Bonnar have gone in different directions. They did meet in a rematch in August 2006, a fight that ended in another unanimous decision for Griffin.
Griffin went on to become the UFC light-heavyweight champion and has fought many elite athletes, while Bonnar has gone 8-6, including losing three in a row against Jon Jones, Mark Coleman and Krzysztof Suszynski in a span of just over a year.
Bonnar is on an upswing. He has won three of his last four fights and wants to be at the elite level.
Bonnar means a ton to the UFC and we all know Dana White will miss seeing him walk to the Octagon. The same Bonnar that walked to the Octagon seven-and-a-half years ago and started something big.
What do you think?
Mark Pare is a Featured Columnist. You can follow him on Twitter, and don't forget to check out his sportswriter page.