How Many Fights Does Antonio Rodrigo Nogueira Have Left?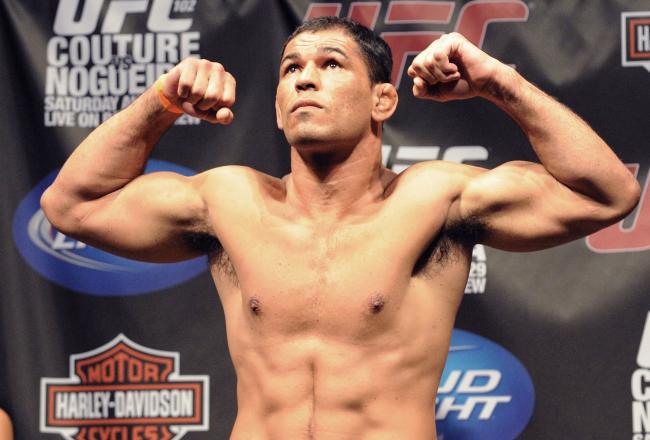 Jon Kopaloff/Getty Images
Among Antonio Rodrigo Nogueira's 44 fights in the sport, it's hard to pick what must be his most satisfying victory. But surely, his win at UFC 153 against Dave Herman counts among them.
Nogueira, in his first fight since Frank Mir snapped his arm almost a year ago, ended Herman's night in the second round by submission. He used his jiu-jitsu which some regard as the best in the heavyweight division against a man who said jiu-jitsu didn't work in MMA.
Poetic justice aside, the satisfaction also comes from proving his detractors wrong: the ones who have been calling for the retirement of the 36-year-old Brazilian. But Nogueira refuses to lie down.
He wasn't supposed to come back after his first-round KO loss to a then-rising star Cain Velasquez, but he did, beating Brendan Schaub in a similar fashion more than a year later.
Neither was he expected to come back after his brutal loss to Mir, but at UFC 153, he has done just that. He has beaten a significant opponent in Herman convincingly and shown that he's still at the top of the game.
There were no signs of a fading legend in his performance in front of a home crowd in Rio de Janeiro. He went at Herman from the bell and had him fighting against submissions for most of the first round, until he got him in the second.
There is certainly plenty of fight left in him. But the question is how long does Nogueira want to continue?
Even though he won convincingly on Saturday night, Herman is hardly a top-10 heavyweight. The loss to Mir, however unfortunate, as well as his previous loss to Velasquez, has left it a long way for him to climb back to title contention. In any case, the reigning champion is one of his protégés—Junior Dos Santos.
While Dos Santos is heavyweight champion, Nogueira is unlikely to be chasing the belt. But, there's still plenty in the top five that could make a suitable opponent for him.
Perhaps, he could step up and fight Daniel Cormier, the man for whom finding an opponent, thus far, has proved elusive.
If he wins that match, then the possibilities for him as a heavyweight are wide-open. But if he loses, it would be two straight losses to top-five opponents, making a compelling case for him to hang up his gloves.
This article is
What is the duplicate article?
Why is this article offensive?
Where is this article plagiarized from?
Why is this article poorly edited?