MLB Playoffs 2012: 5 Keys to San Francisco NLCS Victory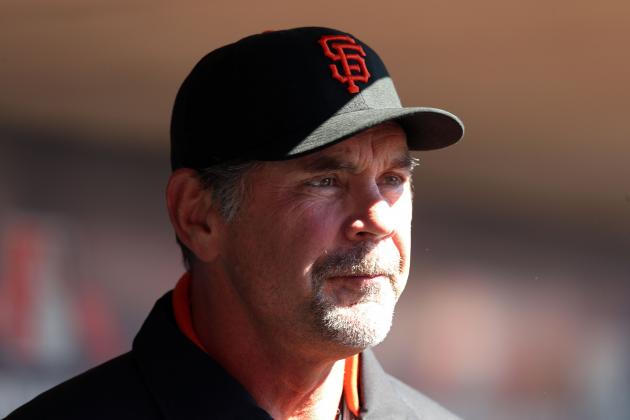 Andy Lyons/Getty Images
A second championship would put Bochy in great company
Defying the odds. Some teams have an innate ability to do that. In 2010, the Giants did everything right in the postseason en route to their first championship since moving to San Francisco in 1958. It was the franchise's first title in 54 years, and the team seemed like a throwback to the modern clubs (a la the Yankees) that had perpetually played in the World Series.
Two years later, a similar theme has emerged: The scrappy, never-say-die Giants won three games on the road to overtake Cincinnati and win their National League Division Series. Having made history, the Giants hope to recreate it by returning to the World Series in 2012.
To do so, they will have to beat the defending world champion St. Louis Cardinals and in many ways, confront a team very much like themselves: Resilient, hard-working, clutch and battle-tested. With all due respect to the Detroit Tigers and New York Yankees, the real battle of this postseason may very well be in this series right here.
That said, here are my five keys to the Giants winning their second pennant in three years.
Begin Slideshow

»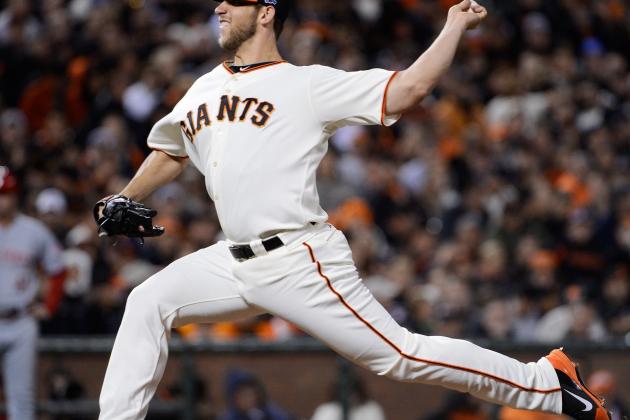 Thearon W. Henderson/Getty Images
Bumgarner and the Giants have to win at home this time
There is a reason that no team before the Giants had won three straight road games to win a playoff series. Usually teams in the playoffs are very good at home.
Simple, right? Well for San Francisco, it never quite seems that way. But against the Cardinals, the Giants can't afford to go down 0-2.
As a matter of fact, I believe they have to win both of the opening games to win this series. Unlike Washington and Cincinnati, St. Louis is loaded with players who have the same kind of championship experience San Francisco possesses. While that means the Cards are capable of winning away from Busch Stadium, they are a better team at home.
For a point of reference, one has to get in the time machine and go back to 1987. The Giants and Cardinals played a great seven-game series that was won because St. Louis had home-field advantage. It was a tough, well-pitched series from two good teams, but the final game being played in St. Louis was the difference.
San Francisco has to put itself in a position to get back to AT&T Park, because this series will only go six or more games if the Giants push it that way. If they fall behind early, and I don't think they will, you may not see the final two games in the Bay.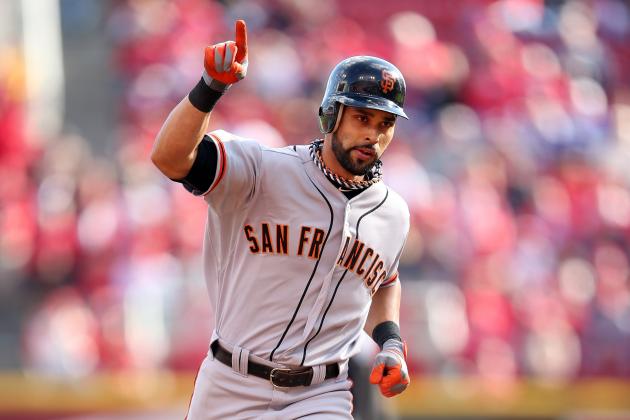 Andy Lyons/Getty Images
Pagan and Marco Scutaro have to get on base more frequently
The Giants beat Cincinnati despite a team batting average of .194 in the NLDS. Most troubling was the lack of production from the 1-2 hitters, Angel Pagan and Marco Scutaro. Both hit a paltry .150 and neither got on base in other ways, posting OBPs of .217 and .227, respectively.
In a series that could have more scoring than expected, San Francisco can't have Pablo Sandoval and Buster Posey consistently hitting with the bases empty. St. Louis will score. If Pagan and Scutaro get on base at a better clip, that bodes well for the Giants' scoring as a whole.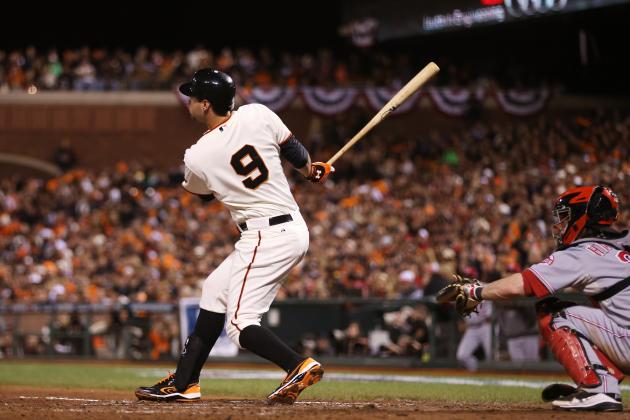 Jeff Gross/Getty Images
San Francisco needs Belt and Brandon Crawford to produce
If it is important to set up your premier hitters, it may be even more important to drive them in in the postseason. Pablo Sandoval and Buster Posey hit when it mattered in the NLDS, but their protection in the lineup, Brandon Belt and Brandon Crawford, were missing in action.
Crawford hit .182, and to his credit, had a large triple in Game 5. But Belt was absolutely awful against Cincinnati. He hit 1-for-13 (an .077 average) and struck out seven times.
Without the improbable contribution of Gregor Blanco, the Giants are probably not in this position right now.
Again, you can't expect lightning to strike twice. Belt was very good in the second half of the 2012 regular season (.293/.362/.423) and the Giants will need him to return to similar form to force the Cardinals to pitch to Posey.
As for Crawford, there are less expectations of the .248-hitting shortstop, but because he may see good pitches to hit, he has to take advantage, especially if Blanco's production in the NLCS is close to what he did against the Reds.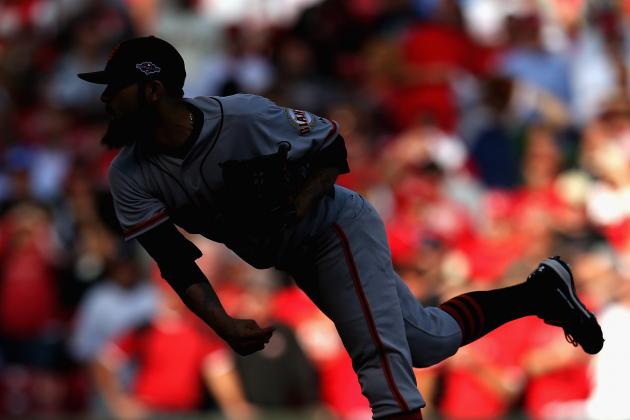 Jonathan Daniel/Getty Images
Romo has emerged from the shadows to become the Giants new closer
When the season began and the Giants were faced with life without mercurial closer Brian Wilson, manager Bruce Bochy initially gave the ninth inning duties to Santiago Casilla. Casilla was okay, but gave up enough runs to be relegated back to a setup post.
Almost by default, Bochy then turned to Sergio Romo. While he doesn't possess the personality or the pure power fastball of Wilson, Romo has been very effective with San Francisco. His 1.79 ERA was among the best for relievers in baseball, and his assortment of off-speed pitches have been more than good enough to get quality hitters out.
The effect has been the security of having a guy the Giants know can seal the deal in the ninth inning. It is shades of 2010 all over again. Even in Game 5 when Romo had to work against the Reds, there was never really the sense as an impartial viewer that he would give it up.
With the specter of a tight series hanging over them, Romo matching or outdoing Jason Motte may very well be the tipping point for these two teams.
Andy Lyons/Getty Images
The Freak looked impressive in relief
Barry Zito or Tim Lincecum?
If you had that choice, who would you hand the ball to? In the NLDS, Zito got the start and struggled. Enter the much-maligned Lincecum, who took the mound in an elimination game with the Giants up 3-2 in the fourth inning.
After 4.1 largely dominant innings, the Giants were in command, 8-3, and their former ace looked very much like the man who won two Cy Young awards.
No knock on Zito, but Lincecum should be starting pitcher in Game 4. Zito has not really been appreciably better in 2012. Instead, he has received the eighth-best run support (4.69 runs/game) in the National League.
I feel that if Lincecum gets that kind of backing, he could be a huge road spark for the Giants. The ceiling for his start is much higher than Zito's, who has a history of wildness as a Giant.
It would be a bold move, but not one that would lead to second-guessing. Many would suggest that Lincecum coming out of the bullpen might be good in any of the other three starts, but I would rather have a player of his caliber taking the ball in what should be a critical fourth game.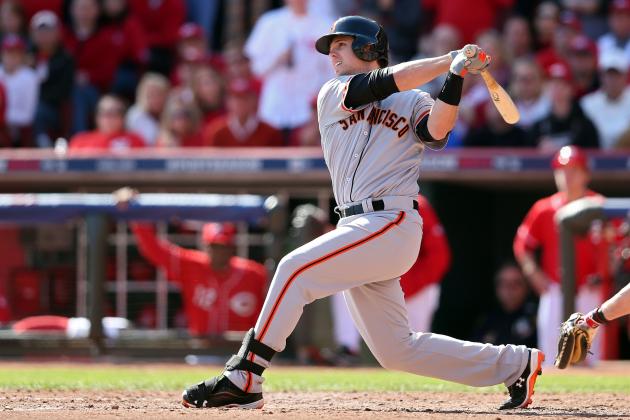 Andy Lyons/Getty Images
The Cards will have to account for Posey eventually
Ultimately, I will not be surprised if either team wins this series. I would be shocked if it does not go at least six games. These ballclubs are almost mirror images of one another in terms of how they go about playing the game.
This is the type of series that San Francisco has turned into a grinding test of wills. And four times in four series, they have been successful. The formula remains the same: Great pitching, fundamental defense and, more than timely hitting, team hitting. Someone steps up at some point to win a game.
This will be the first time, though, that the Giants look across the field and see a team as resilient as they are. That makes this a potentially amazing seven-game pennant race.
Ultimately, it could be the advantage of having the last game at home that tips the scales in San Francisco's favor.