Chiefs vs. Buccaneers: Live Game Grades and Analysis for Tampa Bay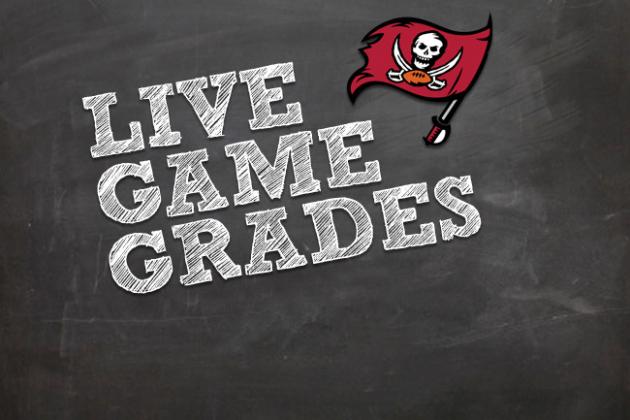 Starting at 1:00 p.m. ET, the Tampa Bay Buccaneers will face off against the Kansas City Chiefs at Raymond James Stadium.
The 1-4 Chiefs were without their starting quarterback, Matt Cassel, and will have to play Notre Dame product Brady Quinn in his stead.
Not to be outdone, the 1-3 Bucs were without their No.1 cornerback, Aqib Talib, as he begun a four game suspension for violating the NFL's drug policy.
For this game, which was broadcast on CBS, we provided you with live game grades for the Buccaneers' quarterback, offense, defense, special teams and coaches.
The Bucs won the toss, deferred and kicked off.
The game is over.
Bucs win 38-10!!!
Begin Slideshow

»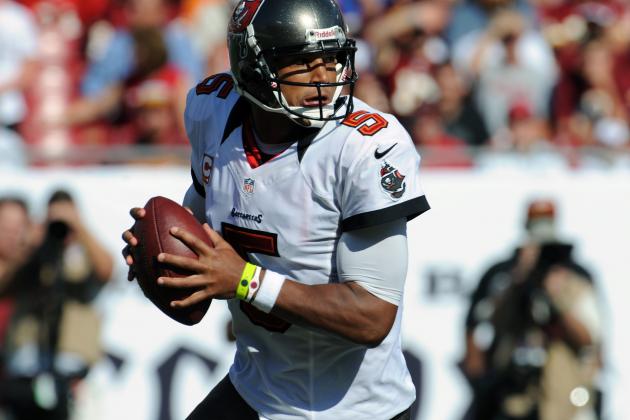 Al Messerschmidt/Getty Images

Overall Grade: B-
Q4 Grade: A
Freeman benefits greatly as Doug Martin explodes on the mid-fourth quarter touchdown drive, throwing two passes to Vincent Jackson for 32 yards.
He finishes the day with a season-high 328 passing yards, three touchdowns, and one interception.
Q3 Grade: A
Just to spite his stats, Freeman engineered a four play, 80 yard touchdown drive.
If not for the strip sack, it looked like Freeman was going to lead the Bucs 98 yards down the field on their second possession of the half.
Q2 Grade: D+
The wind has not been kind to the deep passing game, as Freeman has made only 2/4 of his deep throws. The ones he missed both sailed on him.
He has been looking more comfortable, if nothing else.
That still doesn't make up for a 38.5 percent completion percentage.
Q1 Grade: C
Josh Freeman, please do not throw anywhere near Justin Houston again. He may be a linebacker, but he covers like a defensive back.
And if you must throw his way, do not throw the ball late. That's how he intercepted you.
Freeman, recovered, though, with a 62 yard touchdown pass to Mike Williams. The cover by Stanford Routt was tight, but he somehow found a way to fit that ball in there.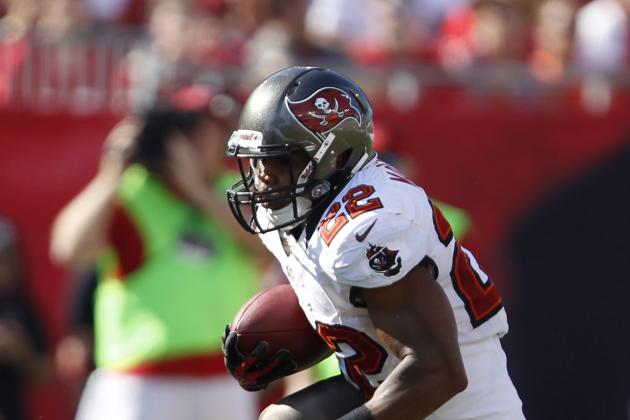 Matt Stamey-US PRESSWIRE

Overall Grade: B+
Q4 Grade: A+
This game has had so many insane plays! T.Underwood just got 62 yards on a tipped-ball catch where he somehow managed not to put a knee down

— Tampa Bay Buccaneers (@TBBuccaneers) October 14, 2012
Absolute madness.
Doug Martin breaks a whole lot of tackles for a gain of 23 yards. These HB pitches are working quite well for Tampa. On three carries, he produces 38 yards, and another 15 if you count his getting hit late out of bounds.
Even LeGarrette Blount gets in on the fun with a bruising 35 yard rush and a 12 yard touchdown, right down the middle.
Hats off to the O-line in the fourth quarter. The Bucs exit with a YPC of 6.5.
Q3 Grade: B+
Just to spite his paltry receiving yardage, Doug Martin takes a simple dump off 42 yards into the Kansas City red zone.
Without anything to spite, Vincent Jackson's first catch of the game is a 19 yard touchdown.
For the first time today, I feel compelled to speak of the offensive line. The O-line has run blocked well, but the pass locking has left something to be desired. Right tackle Demar Dotson got beat badly on the edge and let him his quarterback take a nasty hit.
Q2 Grade: C
After a sweet 36 yard reception Mike Williams records his second straight 100 yard game.
Sweet.
Beyond MW, there hasn't been a lot to speak of, which speaks volume in and of itself.
Q1 Grade: B
Apparently Doug Martin is not as good in the passing game as we thought. A nicely thrown ball by Freeman went through his hands and nearly ended up an interception.
That drop was the FOURTH of the year for rookie RB Doug Martin.
— Roy Cummings (@RCummingsTrib) October 14, 2012
Mike Williams scores on a 62 yard reception on a beautiful Josh Freeman deep ball. The run after the catch, which required some effort to came out with, was absolutely beautiful.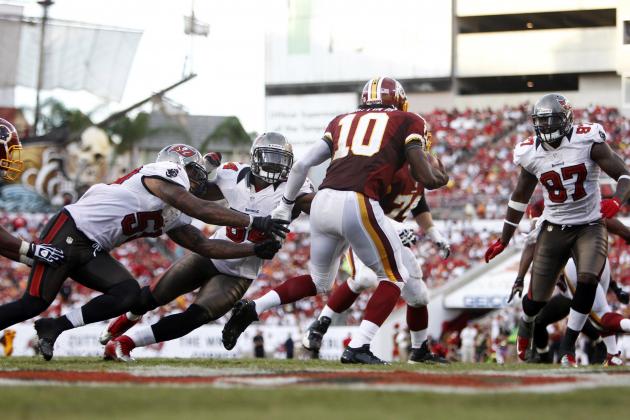 Matt Stamey-US PRESSWIRE

Overall Grade: A
Q4 Grade: A+
Four Buccaneers recorded at least seven tackle (Mark Barron, Lavonte David, Ronde Barber, Mason Foster). Although Brady Quinn isn't the NFL's most dangerous passer, it's still nice to see the team step up in the pass coverage without their star cornerback, Aqib Talib.
Without a sack, the Bucs still generated plenty on pressure on the quarterback today, hurrying Brady Quinn on seemingly every other drop back. The result is Quinn leaving RJ Stadium with 180 yards on 38 pass attempts and two interceptions.
The run defense was fantastic, only giving the Chiefs 80 yards on 30 carries, an average of 2.7 yards per run.
Q3 Grade: A
Four observations/observations:
-Bored of being labeled old and slow, Ronde Barber intercepts a pass and returns it 77 yards for a touchdown.
-Besides for a 22 yard carry by Jamaal Charles, the defense has been ruthless against the run.
-Dwayne Bowe, the Chiefs' best wide receiver, has been held to just one six yard reception.
-Does this count as Mark Barron's breakout game? So far, the rookie safety has eight tackles, two tackles for a loss, and an interception.
Q2 Grade: B-
The Bucs seemed to get tired on the Chiefs first drive of the second quarter, a drive that lasted eight minutes and eight seconds over fifteen plays.
Brady Quinn's short passes have been damaging so far. His 67 yards may not look impressive, but they have tired out the defense.
After getting a long rest, Tampa shut down the Chiefs around the 2:00 mark.
Q1 Grade: A-
The defense starting off with a bang, held the Chiefs to just one yard on three plays for the first drive of the game. The defensive line looked fantastic, with Daniel Te'O-Nesheim being a surprise contributor for a tackle for a loss.
Just like how Kansas City got their interception, Brady Quinn throws it short and the ball ends up in the hands of Mark Barron, marking the rookie safety's first career interception, hopefully the first of many to come.
The Chiefs have played very conservatively on offense, preferring screen passes and runs to spreading the field.
Thus far, the defense has generated two three-and-outs and one interception.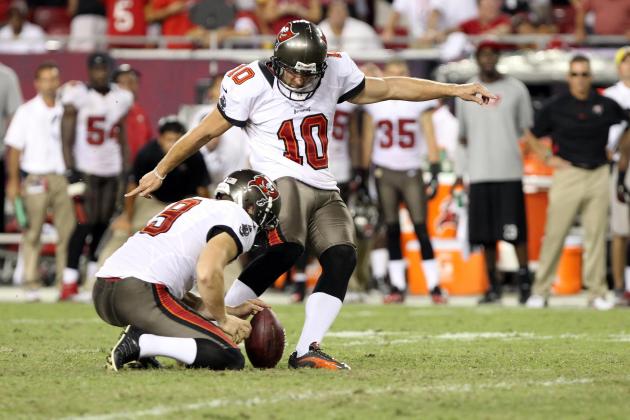 Kim Klement-US PRESSWIRE

Overall Grade: C-
Q4 Grade: F
Holy shit, TB punter just had one of the worst plays ever. Blocked punt and a pick.

— Scott Kacsmar (@CaptainComeback) October 14, 2012
My thoughts exactly.
In other news, the Bucs end up at their own 15 following a punt. Once again.
The only touchdown the Busc gave up today was on special teams.
Q3 Grade: D
Again a KC punt traps the Bucs within their own five yard line. That has to stop.
The next KC punt lands the Bucs on their own 13. What is going on?
Q2 Grade: C
An illegal wedge on a kickoff return set the Bucs up on their own 12 yard line. Ouch.
The NFL's longest active field goal streak ended at 25, as the wind knocked what looked like a gorgeous 55 yard FG by Connor Barth into the left upright.
Damn the wind.
At 1:55 left in the quarter, the Chiefs nearly down a punt at the Bucs own one yard line. Great punt by Dustin Colquitt.
Q1 Grade: B+
Ronde Barber partially blocks a Dustin Colquitt punt, and combined with a holding on the Chiefs, set the Bucs up on the Kansas City 30 yard line.
Michael Koenen's first punt pinned Kansas on their own 12-yard line.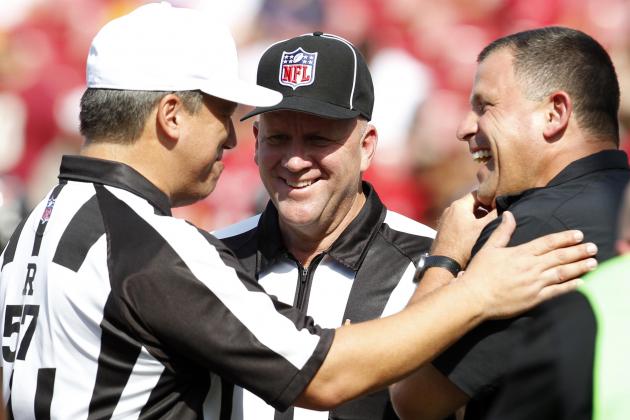 Matt Stamey-US PRESSWIRE

Overall Grade: B+
Q4 Grade: A+
Schiano continues the superior coaching with an impressive fourth quarter effort. He builds off of the third quarter formula to close the game up 28 points, despite leading by just four at the beginning of the second half.
Q3 Grade: A
Ladies and gentleman, it appears as though Schiano has finally learned the ancient art of the half time adjustment. His offense came out with a vengeance, and his defense has dominated at the line of scrimmage.
Q2 Grade: C
As much I like to see the Bucs passing deep more enough, today is not the day to do so. The wind is just too strong for those deep balls to be accurate.
But its the thought that counts, right?
I never thought I'd say this about Greg Schiano, but he has not been running the ball enough. As of the two minute warning, the Bucs had only run the ball five times.
Q1 Grade: C
It was odd that the Bucs did not challenge the 3rd and 1 run by the Chiefs that was ruled a first down, but looked short.
Even one of Bleacher Report's Featured Columnists for Kansas City questions the lack of a challenge.
I'd want a challenge if I was a Bucs fan.

— Farzin Vousoughian (@Farzin21) October 14, 2012