Week 7 NFL Report-Card Grades for Every Team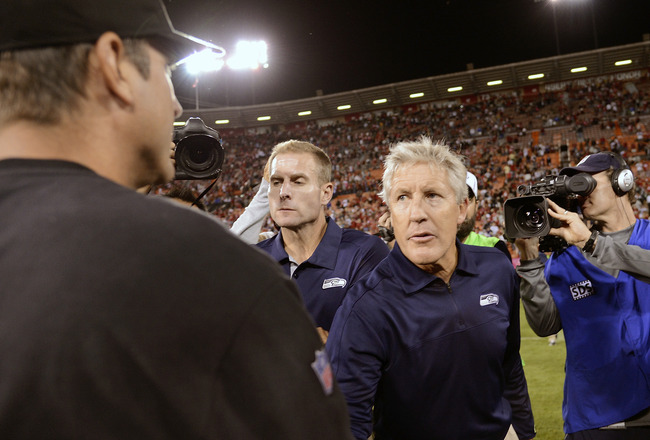 Thursday night's showdown between Jim Harbaugh's 49ers and Pete Carroll's Seahawks went San Francisco's way
Thearon W. Henderson/Getty Images
Holding serve.
It's what every team wants to do at home when it comes to beating your divisional rivals. And if you return the favor in those rivalries on the road, you put yourself in prime position for a division title.
This past week, the 49ers, Giants, Patriots and Bears survived very tough tests to beat the Seahawks, Redskins, Jets and Lions, in their own respective backyards.
But it wasn't such a good Sunday for the Buccaneers or Bengals, who lost at home to New Orleans and Pittsburgh, respectively, both teams blowing double-digit leads in the process.
Notice that all six of those contests had something in common, besides a divisional rivalry. The half-dozen showdowns were all decided by seven points or less.
It's starting to get interesting as we close in on the halfway point of the NFL's latest season.
Arizona Cardinals: C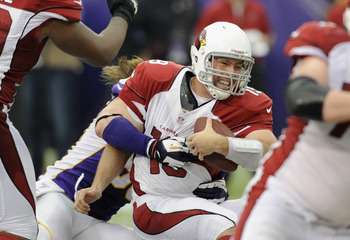 Hannah Foslien/Getty Images
The Cardinals have called Chicago, St. Louis and Arizona home. But if the franchise ever decides to move again, it probably won't be to Minneapolis.
All kidding aside, the team slipped to 0-8 lifetime at the Metrodome (including a playoff loss in 1998) thanks to Sunday's 21-14 loss to the Minnesota Vikings, this despite outgaining their hosts, 356-209, in total yardage.
There were actually some positives to take from the seven-point setback as running back LaRod Stephens-Howling ran for 104 yards and a score. And the Arizona defense limited quarterback Christian Ponder to 58 yards passing, totaled three sacks and intercepted him twice.
However, there were too many negatives to offset those numbers. Vikings running back Adrian Peterson rushed for 153 yards and a touchdown. And it was once again John Skelton's turn to take a licking, as he was sacked seven times while committing a pair of costly turnovers.
Unfortunately for Ken Whisenhunt and Co., a promising 4-0 start has suddenly turned into three straight losses.
Baltimore Ravens: C-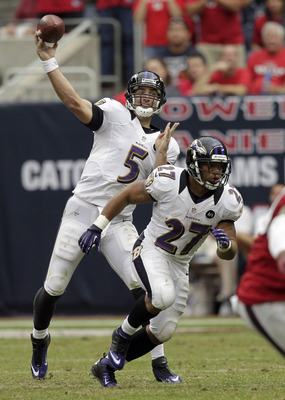 Bob Levey/Getty Images
Houston, we have this problem. But we weren't expecting any sympathy.
Make that more than one problem for John Harbaugh's undermanned squad, who welcomed back 2011 NFL Defensive Player of the Year Terrell Suggs to the lineup, one of the few bright spots in an ugly 43-13 loss to the Houston Texans.
In this showdown between 5-1 teams, the Baltimore Ravens were virtually a no-show.
After taking a 3-0 lead early in the first quarter, Harbaugh's team gave up 29 consecutive points and trailed by 26 points at intermission. The Ravens were out-gained 420-176 by game's end and quarterback Joe Flacco had a long afternoon.
He hit on just 21-of-43 passes for 147 yards and a score while serving up a pair of interceptions (one returned 52 yards for a score) and being sacked four times, including once for a safety.
Meanwhile, the Baltimore defense was rocked again on the ground to the tune of 181 yards. And two sacks of Matt Schaub weren't nearly enough as the Texans quarterback threw for 256 yards and a pair of touchdowns.
The upcoming off-week for Harbaugh's battered club couldn't come at a better time.
Buffalo Bills: C-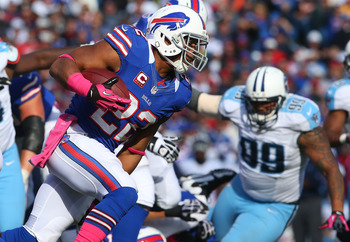 Tom Szczerbowski/Getty Images
Having any offensive issues this season? Book the Buffalo Bills for a visit. Or even make the trip to Orchard Park.
Dave Wannstedt's unit was a no-show once again as the Tennessee Titans rolled up 197 yards rushing and quarterback Matt Hasselbeck threw for 205 yards and a score.
Of more concern, the Bills allowed Hasselbeck and Co. to move down the field in the last two minutes and score the winning touchdown, giving Tennessee a 35-34 victory.
Chan Gailey's team overcame some early issues, most the inability to stop running back Chris Johnson, who ran for a pair of touchdowns (16 and 83 yards) in the first quarter along. The scrappy Bills owned a 34-28 lead in the final quarter before Hasselbeck's heroics.
The potent 1-2 running back combination of Fred Jackson and C.J. Spiller continued to thrive, teaming for 141 yards rushing and another 81 yards and a score (by Jackson) on 14 receptions.
However, quarterback Ryan Fitzpatrick didn't help his cause with a pair of turnovers.
And this loss by the Bills certainly didn't help any of their chances in that long-awaited playoff quest.
Carolina Panthers: C+
Streeter Lecka/Getty Images
Where to begin?
Another week and another struggle for Ron Rivera's team, which once again couldn't seem to find that explosive offensive rhythm from a season ago. And it added up to a 19-14 home loss to the Dallas Cowboys, the Carolina Panthers' fourth consecutive setback and the third straight at home.
For the fourth time in six games this season, Rivera's club was limited to 14 points or less. And the Panthers' two touchdowns, the second that gave the team a 14-13 lead early in the fourth quarter, were matched by a pair of turnovers by quarterback Cam Newton.
The second-year signal-caller threw for 233 yards and a score with one interception but unfortunately, led Carolina in rushing for the third straight game.
Although the Panthers defense held the Cowboys attack to a single touchdown and four field goals, it also failed to come up with the big play as defensive end Charles Johnson and Co. were held without a sack while the Dallas offense managed to convert nearly half the time (6-of-14) on third down.
Perhaps the bigger question is: when will it end?
Chicago Bears: B+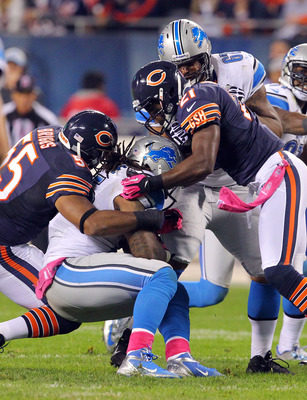 US PRESSWIRE
The Chicago Bears put the D to the Detroit Lions on Monday night.
Lovie Smith's team blanked the Men from Motown for the first 59 minutes and 30 seconds of their primetime showdown before a Matthew Stafford to Ryan Broyles touchdown connection spoiled the shut out.
Before that, Smith's club turned away the Lions all evening, forcing four turnovers, and frustrated All-Pro wideout Calvin Johnson, who totaled just three receptions for 34 yards despite being targeted by Stafford 11 times. The Detroit signal-caller appeared frustrated all evening and was sacked three times by the Chicago defense.
Meanwhile, the Bears offense did just enough against an aggressive Lions defensive unit that punished Jay Cutler, knocking him from the game for a brief time in the second quarter and sacking him five times by game's end. And the gutsy quarterback held his ground in the second half despite not looking 100 percent.
Still, coordinator Mike Tice emphasized the running game and Matt Forte (96) and Michael Bush (36) combined for 132 of the team's 171 rushing yards.
More importantly, the win put Cutler and company in first place in the NFC North all by themselves. And if teams can't solve that improved Chicago defense, they might be atop that perch for more than a few weeks.
Cincinnati Bengals: C
Frank Victores-US PRESSWIRE
The slide continues for the Cincinnati Bengals. And unfortunately for Marvin Lewis, he has seen this particular loss more times than he would like to count.
Speaking of counting, make it five straight losses to the Pittsburgh Steelers, who at 2-3 and down 14-3 in the second quarter at Cincinnati appeared to be ripe for the picking off. But Lewis' defense wound up having no answers for a Steelers offense that rolled up 431 total yards in a 24-17 win over Cincinnati.
But it was also the play of the Bengals offense that warranted some concern. Early on, the team's no-huddle approach had Mike Tomlin's club off-balanced. And running back BenJarvus Green-Ellis was having his way with a Pittsburgh defense that appeared unable to cope.
Not only did quarterback Andy Dalton and Co. amass only 185 total yards, they were limited to only 70 in the second half. And while star receiver A.J. Green scored a touchdown for the sixth consecutive week, it was his lone reception of the game.
Hence, a third straight loss following a 3-1 start has to be a bit of a head scratcher for a club that continues to struggle within the division.
Cleveland Browns: C
Thomas J. Russo-US PRESSWIRE
You can see the improvement being made weekly by Cleveland Browns quarterback Brandon Weeden.
Unfortunately, it still isn't translating into a lot of wins.
Pat Shurmur's team slipped to 1-6 after a frustrating 17-13 loss at Indianapolis in which the rookie signal-caller threw for 264 yards and two touchdowns without being sacked.
But Weeden got little support from a ground attack that for numerous reasons totaled only 55 yards against a Colts defensive unit that allowed 252 yards rushing a week earlier against the Jets.
While rookie wideout Josh Gordon caught one of Weeden's scores, he had one crucial drop and wound up with only two receptions despite being targeted a team-high 10 times.
On the other hand, the Browns' defense gave up 148 yards rushing to a Colts' team that held the ball for over 35 minutes, making the task for Shurmur's team that much more difficult.
And the chances for a second straight win obviously far too hard.
Dallas Cowboys: B+
Grant Halverson/Getty Images
It wasn't a thing of beauty, but at least things didn't get ugly.
After a forgettable ending in Baltimore, things were a little finer in Carolina for the Dallas Cowboys. And one touchdown and four field goals later, Jason Garrett's team was headed home with a 19-14 victory.
The Cowboys ran for only 85 yards, 142 fewer yards than they managed against the Ravens. But that rushing total came on 31 attempts.
And when you consider that Tony Romo dropped back 34 times (completing 24 passes for 227 yards and a touchdown to wide receiver Miles Austin), there was plenty of balance in terms of play-calling, and Romo was not sacked.
On the other side of the ball, the Dallas defense bent and broke a few times but also sacked Panthers quarterback Cam Newton twice and forced him into a pair of turnovers.
Finally, placekicker Dan Bailey connected on all four field-goal attempts and from all ranges, hitting from 19, 28, 38 and 49 yards.
It was a much-needed win for Garrett's club, one that must now prepare for a visit from the Giants.
Detroit Lions: C-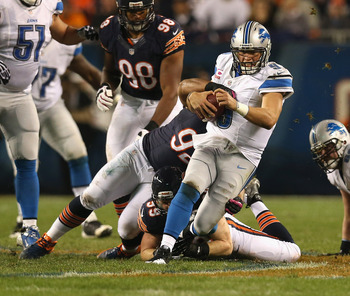 Jonathan Daniel/Getty Images
While the final margin of defeat proved to be just six points for the Detroit Lions, it seemed much greater for the majority of what proved to be a long night in the Windy City.
For the fifth straight season, the Lions visit to Chicago to face the Bears had an unhappy ending. And this 13-7 loss was particularly frustrating considering Jim Schwartz's team wasn't never really out of the game on the scoreboard, but was unable to solve the one of the league's hotter defensive units.
The Lions did roll up 340 total yards, with 147 of those yards coming in the fourth quarter and 58 of those on the team's lone touchdown drive of the night, that score coming with only 30 seconds of the game.
Until then, Schwartz's team spent the contest shooting itself in the foot courtesy of four turnovers, three of those coming in the red zone. Stafford was also sacked three times and took his share of hard shots.
At 2-4, the Lions already find themselves three games behind the Bears in the NFC North and with a pair of divisional losses on their 2012 resume. And while this always seems to save its best for last in games, that may not be wise when it comes to wrapping up a second straight trip to the playoffs.
Green Bay Packers: A-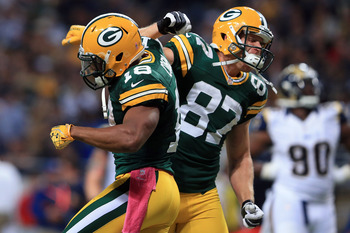 Doug Pensinger/Getty Images
Last season, the Green Bay Packers didn't lose until the 14th game of the season.
Six weeks into 2012, Mike McCarthy's team had yet to win back-to-back contests.
That is, until now.
Once again, quarterback Aaron Rodgers was very accurate and on his game, completing 30-of-37 passes for 342 yards and three scores in his team's 30-20 win over the St. Louis Rams.
More than half of his completions and all three of his touchdowns went to Jordy Nelson and Randall Cobb, the latter with two scores.
Rodgers was sacked three times and the Green Bay running game managed only 70 yards on 26 carries. But McCarthy's club played turnover-free football.
While Dom Capers' defensive unit did surrender 354 total yards, including 108 rushing, it also sacked quarterback Sam Bradford three times and stole one of his passes.
More importantly, the win put the Packers above .500 for the first time this season.
It still sounds strange, even as it is being typed.
Houston Texans: A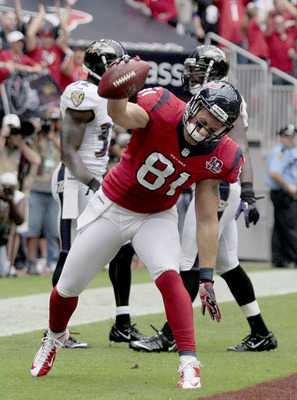 Thomas B. Shea/Getty Images
It was a long time coming for the Houston Texans. And they managed to do it in resounding fashion.
Houston's 43-13 demolition of the half-demolished Baltimore Ravens was the first over the team in seven overall tries, which included both regular- and postseason losses in 2011.
Not only did the Texans score more points in the first half (29) than they did in any of their previous six losses in this series, they rolled up 420 yards on the once-proud Baltimore defense.
And speaking of that side of the football, Wade Phillips' unit also got into the act on the scoreboard, sacking Joe Flacco in the end zone for a safety and returning one of his two interceptions 52 yards for a touchdown by cornerback Johnathan Joseph.
The balanced Texans rolled up 181 yards rushing on 37 carries, 19 of those attempts for 98 yards and two touchdowns by running back Arian Foster. And don't forget quarterback Matt Schaub, who would throw for 256 yards and a pair of scores.
Perhaps the most important element here is the way the Texans responded after their first loss of the season, a 42-24 prime-time setback to the Green Bay Packers in which Phillips' defense was riddled for six touchdown passes at home.
It's going to be a relaxing two-week vacation for the team with the AFC's best record.
Indianapolis Colts: B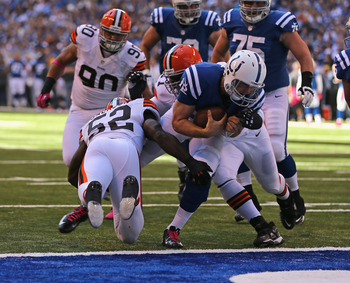 Jonathan Daniel/Getty Images
Move over, RGIII.
Here comes AL1.
The Indianapolis Colts are not only back at .500 but have already won one more game than in 2011.
The team's 17-13 win over the Cleveland Browns featured only 186 yards and no touchdown passes from quarterback Andrew Luck. But April's first overall pick ran for the team's only two touchdowns on the afternoon as Indianapolis rolled up 148 yards on the ground.
Now, not all was good Luck. In fact, the bad included a lost fumble while the Browns defense sacked him three times. But that aforementioned running game and controlled passing attack enabled the Colts to hold the ball for 35:21.
On defense, Greg Manusky's unit failed to record a sack or come up with a takeaway. But what it did do was hold the Cleveland ground attack to 55 yards, nearly a 200-yard improvement (252) from last week's loss to the Jets.
This may be a very intriguing team after all.
Jacksonville Jaguars: B-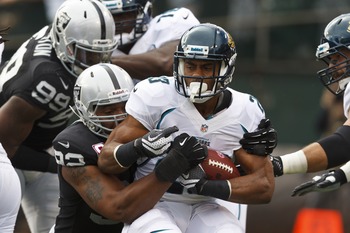 Jason O. Watson/Getty Images
The Jacksonville Jaguars have enough problems scoring points, even with running back Maurice Jones-Drew and quarterback Blaine Gabbert in the lineup.
But both were banged in the first half at Oakland. Still, Mike Mularkey's team, behind quarterback Chad Henne and running back Rashad Jennings, managed to forge a 20-6 third-quarter lead over the Silver and Black.
Carson Palmer and the Raiders had other ideas and when it was all said and done, the teams wound up in overtime and the Jaguars wound up on the short end of the scoreboard, 26-23.
Henne was sacked three times and completed only 9-of-20 passes for 71 yards. And the Jones-Drew-less ground attack finished with just 54 yards on 26 carries.
Give Mularkey and Co. credit for hanging in there despite a pair of key losses.
But credit doesn't get you a lot of wins.
Minnesota Vikings: B-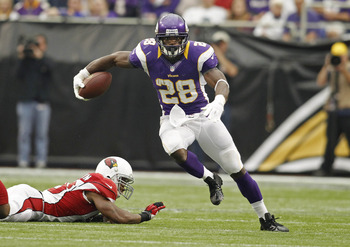 Bruce Kluckhohn-US PRESSWIRE
A win is a win, especially for a team that totaled only three of them in 2011.
Minnesota Vikings fans got a little bit of everything in the team's 21-14 win over the visiting Arizona Cardinals, and not all of it was necessarily good.
Leslie Frazier's offense rolled up only 209 total yards and it was a struggle for second-year quarterback Christian Ponder, who completed less than 50 percent of his passes (8-of-17) for 58 yards and a score but threw a pair of interceptions and was sacked three times.
There were no such issues for veteran running back Adrian Peterson, responsible for 153 of the team's 166 yards on the ground. He and Percy Harvin scored touchdowns, as did rookie safety Harrison Smith, who returned a John Skelton interception 31 yards for a score.
And the Vikings were the latest team to exploit the Cardinal pass protection woes, sacking Skelton seven times, twice by Jared Allen, who now has a sack in five consecutive games.
More significantly, Frazier's team now has five wins after that 3-13 finish a year ago.
New England Patriots: B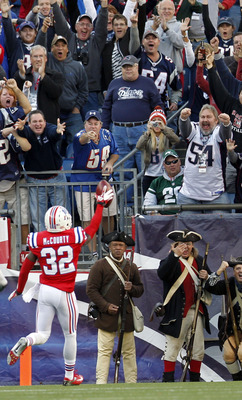 Greg M. Cooper-US PRESSWIRE
Timing is everything, and while the New England Patriots defense was severely tested again, it made the game's biggest play in a very crucial win.
The Patriots defense continues to have issues, allowing 403 total yards and allowing the New York Jets to rally from a 10-point deficit in the fourth quarter.
But after New England took a 29-26 lead in overtime, Rob Ninkovich and Jermaine Cunningham combined for the fourth sack of the game of Jets quarterback Mark Sanchez, who fumbled and lost the ball to Ninkovich and Bill Belichick's team was back alone in first place in the AFC East.
Back also was the New England running game, which didn't roll up huge numbers but did gash the Jets for 131 yards on 31 carries.
The win was a big relief in some ways for Devin McCourty, who returned a kickoff 104 yards for a touchdown but who was also belted on a fourth-quarter return, his fumble leading to the Jets go-ahead field goal before Tom Brady's late heroics that sent the game into overtime.
And who says Brady has lost his touch late in games?
New Orleans Saints: A-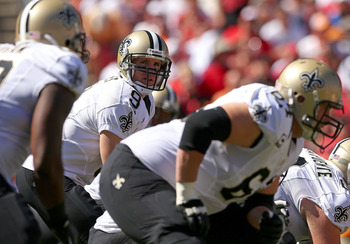 Mike Ehrmann/Getty Images
The New Orleans Saints may have rediscovered that magical winning touch.
We say "may" because it is only two games. But it is two straight wins after a forgettable 0-4 start.
And the 35-28 victory over the Tampa Bay Buccaneers certainly didn't start out on a positive note. In his final game as interim head coach, Aaron Kromer watched his team fall into a 21-7 second-quarter hole.
But quarterback Drew Brees, who finished with 377 yards passing and four scores (one interception) came back firing and led his team to the next 28 points of the contest, thanks to three touchdown passes and a 5-yard touchdown run by Pierre Thomas.
The Saints defense also got the hint and after giving up touchdowns on the Buccaneers first three possessions of the game, made the necessary stops for most of the rest of the game.
Giving up 513 total yards, totaling one sack and not forcing any turnovers isn't exactly something to build on if you're defensive coordinator Steve Spagnuolo.
But a road win over a divisional foe certainly is.
New York Giants: B+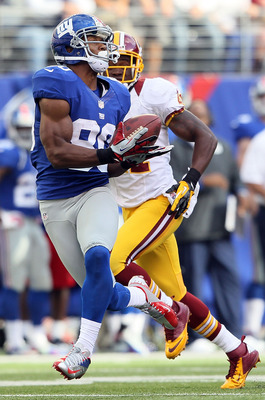 Alex Trautwig/Getty Images
Talk about finally getting the money off your back?
Okay, so we're exaggerating a little bit. Despite losing to the Washington Redskins twice in 2011, the New York Giants did manage to win a little something called the Super Bowl.
And on Sunday against the 'Skins, they managed to come from behind late to steal a victory from their NFC East rivals.
Once again, it was a not a stellar overall effort from the team, only a standout performance when they needed it most. Eli Manning threw for 337 yards and a touchdown but was intercepted twice. And the New York ground game was a no-show, totaling only 64 yards on 19 carries.
However, Manning found Victor Cruz for a 77-yard score with only 1:13 to play that proved to be the difference.
And Jason Pierre-Paul and mates did sack Griffin three times and came up with four takeaways by game's end, the most crucial a Santana Moss fumble in the closing minute that secured the win for Big Blue.
Tom Coughlin's team's ability to push the right buttons at the correct time continues to impress. And mystify.
New York Jets: B
The Star-Ledger-US PRESSWIRE
It was theirs for the taking.
But apparently, the New York Jets were more in the giving mood.
Just when it looked like Rex Ryan's team was about to steal a win at New England, the Patriots handed the Green and White another frustrating loss.
It was an up-and-down day, but mostly up for quarterback Mark Sanchez, who threw for 328 yards and one touchdown. But he was also picked off on a deep pass attempt and sacked four times, the last in overtime which resulted in a lost fumble and the Patriots' ability to secure the 29-26 win.
Sanchez's heroics included rallying the Jets from a 10-point fourth quarter deficit to take a 26-23 lead very late in the fourth quarter. But he was out-heroed by New England Patriots quarterback Tom Brady.
With Shonn Greene banged up for much of the game, it was up to the Jets passing attack to carry the load. And for the most part, it did just fine.
Just not fine enough.
Oakland Raiders: B-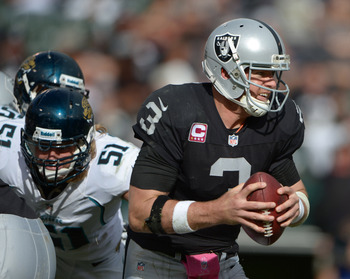 Kirby Lee-US PRESSWIRE
At the very least, the 2012 Oakland Raiders are entertaining.
And every once in a while, the team actually manages to win a game.
Take the 26-23 triumph over the visiting Jacksonville Jaguars. Oakland rolled up 351 total yards but also committed three turnovers, two of those by quarterback Carson Palmer, who offset those mistakes by throwing a touchdown pass and running for another score.
Although Sebastian Janikowski did come up short on what would have been an NFL-record 64-yard field goals, his four other successful kicks, including a 40-yarder in overtime that proved to be the game winner, were huge.
Oakland's defense did hold the Jaguars, who played most of the game without running back Maurice Jones-Drew and quarterback Blaine Gabbert, to 209 total yards. But impressive was the fact that the Jaguars were a mere 1-of-15 on third down.
Even more important was the fact that Dennis Allen's team rallied from a 20-6 third-quarter deficit to pull off a win.
A much-needed win at that.
Pittsburgh Steelers: A-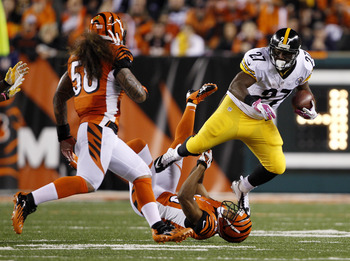 Frank Victores-US PRESSWIRE
More than ever in the NFL, it's not how you start but how you finish.
And fortunately for the Pittsburgh Steelers, they showed that they still know how to get the job done when it counts most.
Mike Tomlin's team appeared on its way to potentially a fourth road loss this season, falling behind the Cincinnati Bengals, 14-3, in the second quarter. But the team gathered itself on both sides of the ball and came up with its most complete effort of the season in an important 24-17 victory.
Led by Jonathan Dwyer's 122 yards rushing, the Steelers rolled up 167 yards on the ground and a total of 431 yards by night's end. Ben Roethlisberger threw for 278 yards and a score, overcoming three sacks, an end-zone interception and a costly lost fumble.
And the team also survived a night of the dropsies by wideout Mike Wallace, who caught a team-high eight passes but was also targeted 15 times in the game.
But it was the Pittsburgh defense that really rose up, especially in the second as the Bengals managed only 70 total yards after intermission and 185 by game's end.
So as they say, all's well that ends well. And for Tomlin's club, they wound up performing very well.
St. Louis Rams: C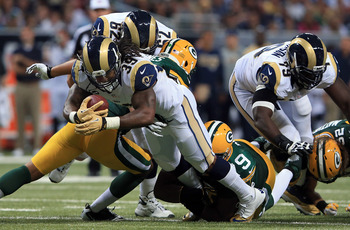 Doug Pensinger/Getty Images
As football teams go, the St. Louis Rams have been pretty predictable to date.
That's predictable as in winning at home and losing on the road this season.
Unfortunately for Jeff Fisher, his young team broke that trend on Sunday against the Green Bay Packers, who handed the Rams a 30-20 loss that in some ways wasn't as close as a 10-point gap may indicate.
While quarterback Sam Bradford and Co. managed to roll up 354 yards against the Packers defense, they struggled to score, their second touchdown of the game coming with 15 seconds to play and the team trailing 30-13.
In some ways, it was reminiscent of last week's loss at Miami, when Fisher's team totaled 462 yards but just one touchdown in the 17-14 loss to the Dolphins.
Quarterback Sam Bradford put up respectable numbers, throwing for 255 yards and a score. But the third-year signal-caller also threw an interception and was sacked three times.
Despite the numbers and the fact that the Rams actually scored the first points of the game, you seemed to sense that Bradford and Co. just didn't have enough to keep up.
San Francisco 49ers: B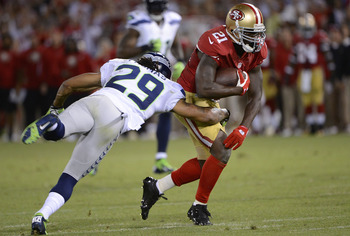 Thearon W. Henderson/Getty Images
Talk about a head knocker.
Four days after the 49ers were humbled at home by the defending Super Bowl champion New York Giants, 26-3, the visiting Seattle Seahawks owned a 6-3 halftime lead over Jim Harbaugh's talented squad.
Then the San Francisco 49ers defense really took over.
While running back Frank Gore and the team's ground attack was busy rolling up 117 yards in the second half alone, Vic Fangio's unit was busy stifling the Seattle offense to the tune of 74 total yards after intermission.
Meanwhile, quarterback Alex Smith wasn't overly sharp and did throw an end-zone interception very early in the fourth quarter to kill a scoring drive.
Still, he completed 14-of-23 passes, was sacked only twice and did throw the only touchdown pass of the game, capping a 10-play, 86-yard drive on San Francisco's first possession of the second half.
More importantly, Harbaugh's club raised its level of play after a shaky first half and the 13-6 victory was an important bounce-back win. Especially in the tightly-contested NFC West, where holding serve at home will be crucial all season.
Seattle Seahawks: B-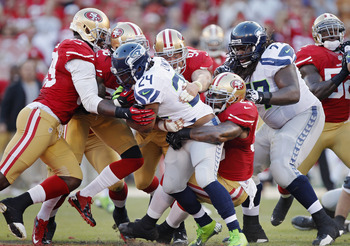 Brian Bahr/Getty Images
Oh, what could have been?
Here were Pete Carroll's Seattle Seahawks at 4-2 and coming off one of the team's biggest wins in recent seasons, a thrilling fourth-quarter rally which beat the New England Patriots, 24-23.
The late momentum from the victory over Tom Brady and Co. seemed to propel Carroll's club in the first half at Candlestick Park as the 'Hawks took a 6-3 lead into the locker room after 30 minutes to play.
But that San Francisco 49ers' defense and ground attack upped their game in the final two quarters, and quarterback Russell Wilson and friends were shut out en route to a 13-6 setback.
In three losses this season, all vs. divisional foes and all on the road, the Seahawks have allowed 20, 19 and 13 points to the Cardinals, Rams and 49ers, respectively, and come up short in each contest.
While running back Marshawn Lynch ran for 103 yards and dragged his share of Niners' defenders down the field, he was out-skittled by Frank Gore and the San Francisco running attack, which rolled up 175 yards against a Seattle defense that had allowed only 70.0 yards per game rushing in its first five games in 2012.
Wilson finished the evening with 9-of-23 for 122 yards and an interception.
Tough team the Seahawks have put together. But it was a tough night and a tougher loss for Carroll's club.
Tampa Bay Buccaneers: C-
Mike Ehrmann/Getty Images
There aren't too many Jolly Rogers in Tampa today.
That's because Greg Schiano's team moved the ball on the New Orleans Saints to the tune of 513 total yards and 28 points, but still found a way to squander a 14-point lead on the way to a 35-28 loss.
The win would have evened the Tampa Bay Buccaneers record, which is now 2-4. Instead, it will take two straight wins to get the team back to .500, bad news if you reside in the same division with the 6-0 Falcons.
It was a big afternoon for quarterback Josh Freeman, who threw for 420 and three touchdowns without an interception. And wide receiver Vincent Jackson snared seven passes for 216 yards and a score.
However, that Buccaneers' pass rush remains one of the team's major liabilities as Schiano's team failed to record a sack for the second straight week and the third time in six games. Hence, Drew Brees riddled Tampa's defense for 377 yards through the air and four touchdown passes.
And just when it looked like the Bucs might send this game into overtime, a touchdown reception by Mike Williams on the game's final play was nullified by a penalty after the Bucs receiver caught the ball after being forced out of bounds and coming back in.
It's safe to say this one might sting for a bit.
Tennessee Titans: B+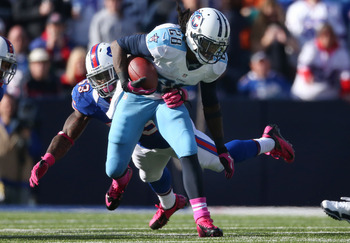 Tom Szczerbowski/Getty Images
For the sixth time in seven games this season, the Tennessee Titans gave up at least 30 points.
More importantly, Mike Munchak's team won a football game for the second time in 11 days.
In one of the wilder contests of this of any other day (and this team knows a little something about that), the Titans got a touchdown pass from quarterback Matt Hasselbeck to wideout Nate Washington with 1:03 to play, and the subsequent PAT was the difference in a 35-34 victory.
The key to the offensive explosion was a memorable first quarter by running back Chris Johnson, who ran for 104 yards and two touchdowns in the game's first 15 minutes and wound up with 195 yards by afternoon's end.
That kept the Buffalo defense at bay and enabled quarterback Matt Hasselbeck to throw for 205 yards and a score.
Don't look now, but Munchak's club has climbed with in a game of the .500 mark. And as you know in this league, anything can happen.
For the 2012 Titans, it seems like it already has.
Washington Redskins: C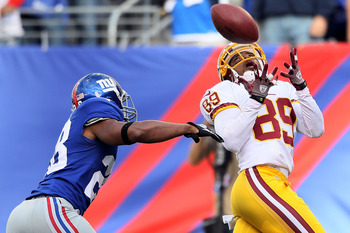 Alex Trautwig/Getty Images
The quarterback usually gets too much credit when their team wins and too much blame when it loses.
Rest assured, the big problems for the Washington Redskins on Sunday was not RGIII.
It was TO4.
That is, as in four turnovers, quite a departure for a team that coughed up the ball only five times in their first six outings of the season.
While Mike Shanahan's team did come up short, there were some big positives. The Washington offense rolled up an impressive 480 total yards, including 248 yards on the ground and almost half of that by rookie running back Alfred Morris (120).
And as for Robert Griffin III, he added 89 yards on the ground along with 258 through the air and a pair of touchdowns. But he was also sacked three times, threw an interception and lost one of his two fumbles.
Griffin and Santana Moss gave Washington a 23-20 lead with just 28 seconds to play before Eli Manning and Victor Cruz combined to break the Redskins' hearts.
Moral victories don't show up in the standings. But this did look like a team that may be in the NFC East race until the end.
Keep Reading