Packers vs. Texans: Final Report Card, Player Grades for Green Bay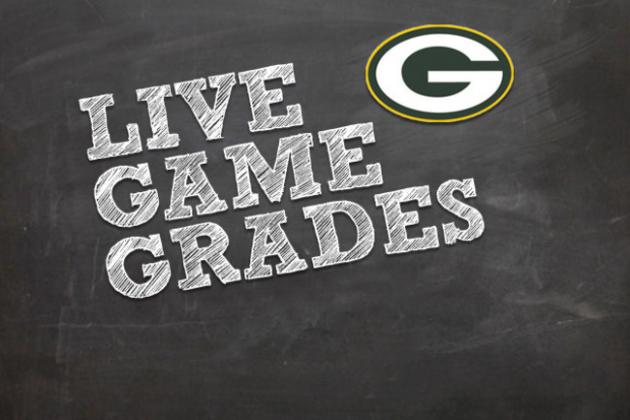 The Green Bay Packers beat the Houston Texans 42-24 to improve to 3-3 on the season. Aaron Rodgers and the Packers' offense found it's stride as Rodgers threw for six touchdowns on the way to a 42-point outburst against one of the leagues best teams.
The Packers got off to a hot start and were able to keep their distance from the Texans throughout the evening.
Let's take a look at the Packers' final game grades and evaluations.
Final Score
Packers- 42
Texans- 24
Begin Slideshow

»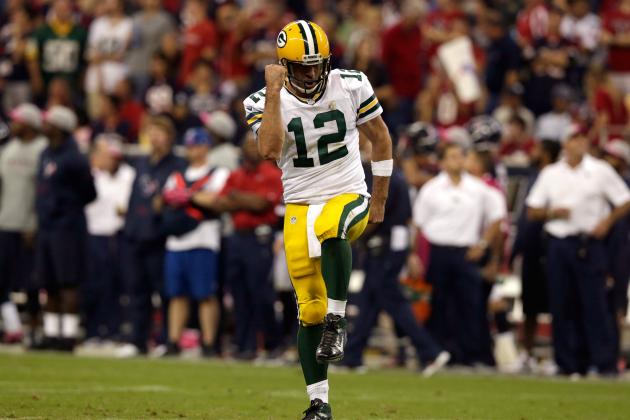 Scott Halleran/Getty Images

Aaron Rodgers–A
Rodgers played his best game of the season and possibly one of the best of his career. The six touchdown passes set a new career-high and tied the Packers' franchise record. Rodgers was definitely in MVP form and didn't show any signs of his slow start to the season. As a player who thrives on confidence and rhythm, this performance should spark Rodgers going forward.
Rodgers finished the game completing 24 of 37 passes for 338 yards and six touchdowns.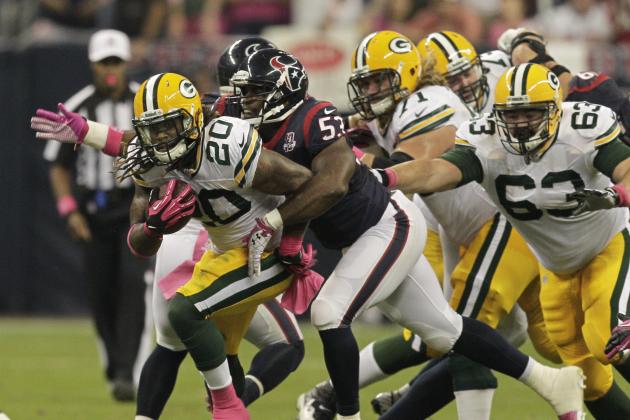 Bob Levey/Getty Images

Alex Green–B+
Green did a fine job filling in for Cedric Benson and made the most of his new role as the starting back. He finished the game with 65 yards on 22 carries for a solid three yards per carry average. Green wasn't spectacular, but did everything the Packers needed him to do.
John Kuhn–B
Kuhn did get many opportunities to carry the football (two carries, six yards), but Kuhn did a good job blocking and on special teams. He continues to be reliable in whatever the Packers ask him to do during the game.
James Starks–C-
After being a healthy scratch the last few weeks, Starks finally got some action with Benson's absence. Starks held onto the ball well and ran hard down the stretch, but he still did a lot of dancing as soon as he got the handoff.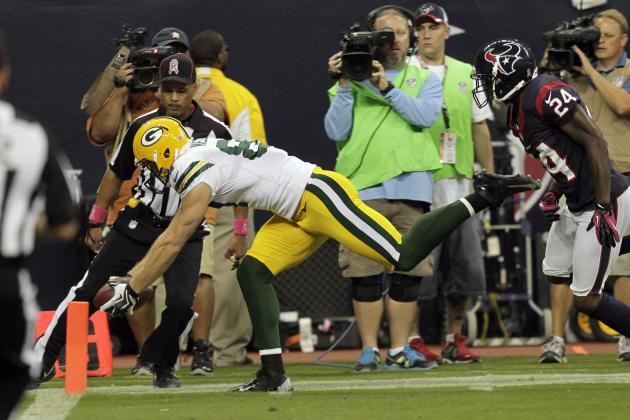 Bob Levey/Getty Images

Jordy Nelson–A+
Nelson had one of the best games of his career as Aaron Rodgers looked his way early and often. Nelson was up to the task with 121 yards on nine catches and three touchdowns. There was a dropped pass, but Nelson surely made up for it with a dominant performance.
James Jones–A
Another week, another two touchdown performance by James Jones. That makes the last three weeks that Jones has caught two scores. Jones now has seven on the season is quietly becoming the Packers' most lethal red zone option.
Randall Cobb–A-
Cobb had a great game with his first 100-yard game of his young career catching seven passes for 102 yards. Cobb looks dangerous on every catch and is a constant threat to take any pass to the house for a touchdown.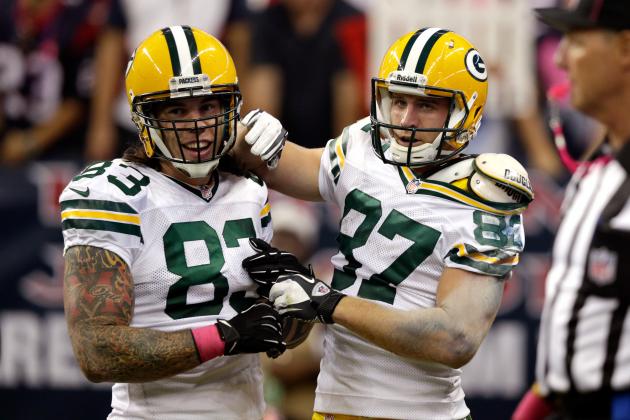 Scott Halleran/Getty Images

Jermichael Finley–D
Finley deserves some credit for fighting through a shoulder injury to play, but Finley failed to have a big impact on the football game. He caught two passes for 12 yards, but dropped another pass. The drops are adding up and patience is running out for Finley.
Tom Crabtree–A
Crabtree delivered a huge bounce back performance after a less-than-stellar game last week. Crabtree caught the beautiful 48-yard touchdown as part of his career-high 62 receiving yards. He also did a great job blocking on the line.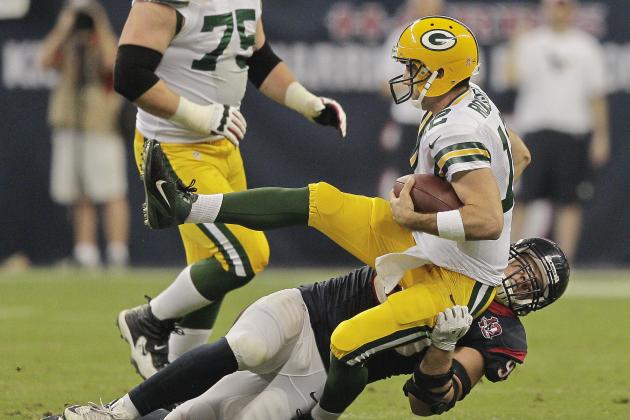 Bob Levey/Getty Images

Marshall Newhouse–B+
Newhouse Newhouse did a nice job on the offensive line and battled against the Texans. He did his job against a very talented Texans' defensive line, but was called for a holding penalty. It nullified a touchdown, but the Packers got it back later on the drive.
Lang–A-
Lang had a solid performance as part of a Packers' offensive line grouping that put together a great performance after being embarrassed appearance on national television. Rodgers had plenty of time in the pocket in part because of Lang's strong play.
Jeff Saturday–A-
Saturday did a great job against the Texans and had his offensive line in great position to block J.J. Watt and the rest of the Texans' defensive line. There was little pressure from the interior part of the line in large part because of Saturday.
Josh Sitton–B+
Sitton did a great job and played through some pain down the stretch. He struggled against Watt at times, but that's to be expected against the NFL's top defensive player.
Bryan Bulaga–A-
Bulaga did a great job against Watt and gave Rodgers plenty of time to make plays down the field. The pocket stayed in tact for much of the night for Rodgers and the Packers took advantage.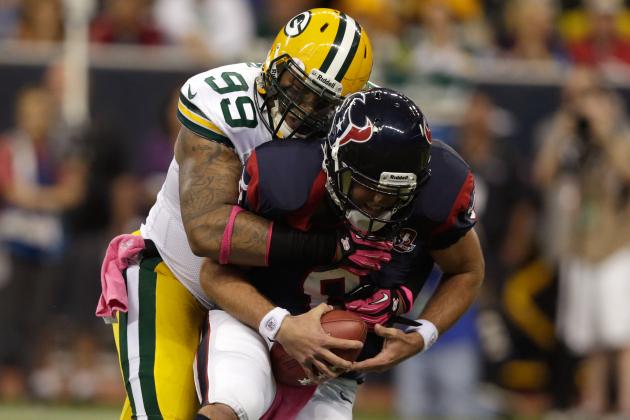 Scott Halleran/Getty Images

Ryan Pickett–B+
Pickett did a nice job filling in for B.J. Raji at the nose tackle position. He was huge in preventing the Texans from getting their high-powered rushing attack from getting any momentum. Pickett got good push on both running and passing plays.
Jerel Worthy–B
Worthy had a nice game starting for Pickett along the defensive line with Raji out of the lineup. He got off to a nice start with a sack and some other pressures. It was great to see Worthy take advantage of his extended opportunity and put together a strong game.
C.J. Wilson–B+
Wilson also had a nice game along the line with a strong start. He played very well in the running game and got a coverage sack early in the game. The Packers need Wilson to keep up the strong play and limit opponent's running games.
Mike Neal–C
Mike Neal's biggest contribution of the ball game will likely be his kick to Sam Shields' shin, but Neal also delivered some quality minutes without much of a drop off. Neal didn't get much going in terms of pressure, but he did a fine job.
Mike Daniels–C
Daniels didn't see much action, but showed some great effort down the stretch chasing down a screen pass and limiting the yardage gained.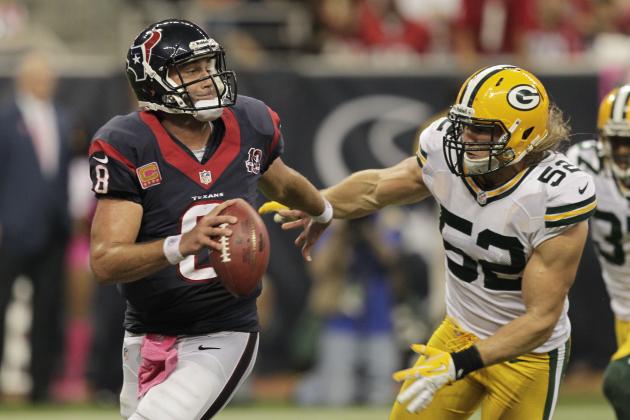 Bob Levey/Getty Images

Clay Matthews–A-
Matthews didn't get to show off his predator celebration as he was held without a sack, but still found ways to impact the game. Matthews got three hits on the quarterback and looked great in run defense. While his stats weren't great, Matthews completely dictated the start of the game.
Nick Perry–INC
Perry got hurt early in the second quarter and didn't return to the game. The injury didn't look good, but official word should come tomorrow or later in the week. Before the injury, Perry was doing a fine job.
A.J. Hawk–A-
Hawk continued to build on his great year with another solid performance. Hawk led the team with 10 total tackles and came up with a big sack. He got beat in the passing game for a big completion, but overall, Hawk played a very good game.
D.J. Smith–B-
Smith also got hurt in the second quarter, but a few minutes later. Smith was playing well and came up with some big tackles early on the game.
Brad Jones–B
Jones was called on to fill-in at inside linebacker after Smith went out with his knee injury. Jones did a serviceable job, limiting the Texans' productivity in the middle of the field. Jones will be called on to have a bigger role if Smith's injury is serious.
Robert Francois–B
Among the backup linebackers, Francois had the biggest impact with his play on special teams. He absolutely lit up the ball carrier on the game's opening kickoff and got done on coverage units every time.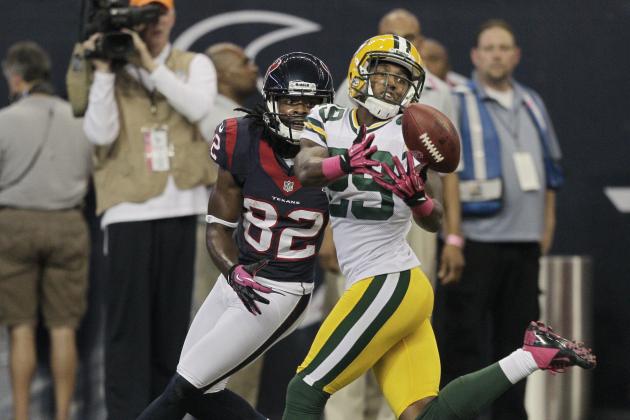 Bob Levey/Getty Images

Tramon Williams–B-
Williams had the tough task of covering Andre Johnson for the majority of the game. He did a great job holding Johnson to 75 yards on the night. While Johnson had eight catches, his longest catch of the night was 15 yards.
Casey Hayward–A
Hayward had a huge fourth quarter with two interceptions and a tipped pass. He eased the panic from seeing Shields go down with a knee injury. The Packers should be okay if they need to rely on Hayward to play a bigger role. He looked very much up to the task.
Sam Shields–B
Shields continued to play much more physical this season and put together a solid outing before hurting his knee in the fourth quarter. He registered a strong interception as he read the quarterback and fought the receiver off for the pick.
Charles Woodson–C-
Woodson isn't a liability, but his play has definitely fallen over this year. His biggest impact of late has been his leadership both on and off the field.
Morgan Burnett–B
Burnett had a relatively quite game in coverage, mostly preventing the Texans get anything down the field. He did a solid job as the Texans' longest completion was good for just 27 yards with the next longer of 18 yards.
M.D. Jennings–B+
Jennings saw plenty of game action getting the nod over Jerron McMillian for much of the game. Jennings played well with eight total tackles on the game. His strong play was huge in the Packers' secondary that did well against the Texans.
Jerron McMillian–C+
McMillian did a good job when he saw the field and helped create a turnover as he tipped the pass that Casey Hayward intercepted. McMillian played physical and wrapped up on his tackles. The solid play of McMillian allows the Packers to be more flexible and matchup friendly in the secondary.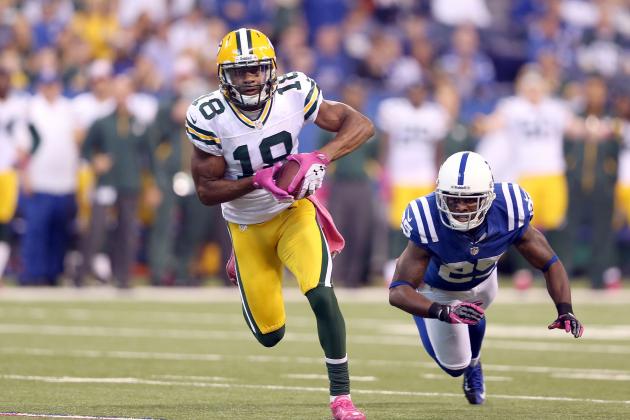 Andy Lyons/Getty Images

Mason Crosby–B
Crosby didn't get a chance to bounce back from missing two field goals last week, but did connect on a field goal that was gladly wiped out by a Texans' penalty. Crosby did a nice job placing his kickoffs and creating good situations for his coverage unit.
Tim Masthay–A
Masthay is dominating right now with three of his four punts inside the 20-yard line. He placed another down at the 1-yard line, but the Packers got a first down on a Texans' penalty. His blocked punt was hardly his fault with little he could have done.
Randall Cobb–B+
Cobb continues to be a game-changer on special teams. He returned three kicks for 86 yards with a long of 46 yards. He also added 23 yards on three punt returns. Cobb is a threat to take a return for a touchdown on any play. When he's not, he's quietly shifting field position in the Packers' favor.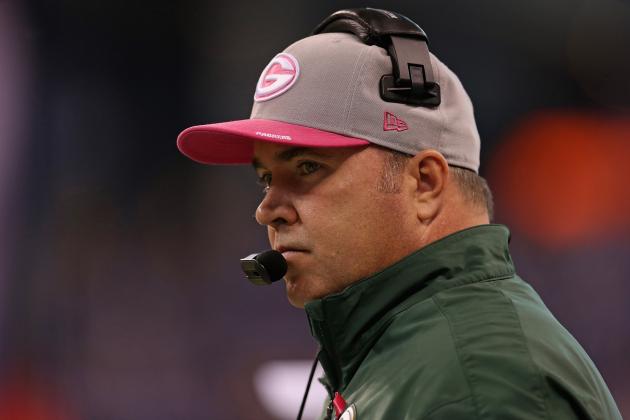 Jonathan Daniel/Getty Images

Mike McCarthy–A
McCarthy coached a great game. He definitely had his team ready to play in a tough environment against a Super Bowl contender. Offensively, McCarthy called a great game and his offense looked extremely fluid despite missing some key contributors. McCarthy also deserves credit for keeping his foot on the pedal in the fourth quarter.
Dom Capers–B-
Capers put together a great game plan to start the game, but the defense went into a softer-mode started to give up more yardage and points. The quick, aggressive start was enough to dictate the rest of the game, but it would have been nice to see Capers put the pressure on and leave it there.