A Baker's Dozen Bold Predictions for NFL Week 9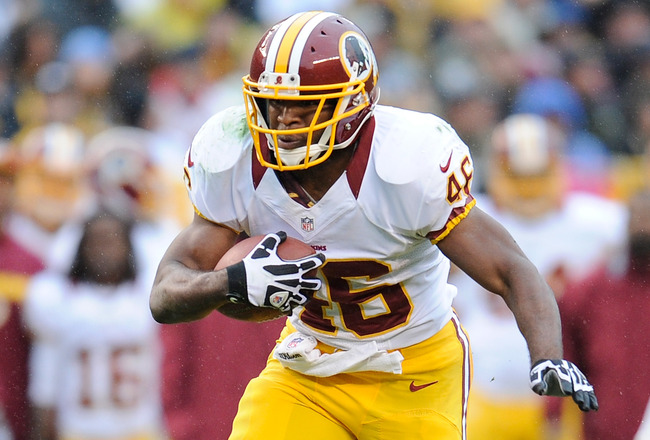 Redskins rookie running back Alfred Morris ranks third in the NFL in rushing yardage
Joe Sargent/Getty Images
So far, so good?
We're happy to report that nearly halfway through the 2012 season, we've been perfect during this weekly column in which we go out on a limb to forecast exactly what will happen every week in the National Football League.
Of course, you can interpret "perfect" any way you'd like. But that's our story and we're sticking to it.
In any case, there are some very intriguing matchups this weekend, and the results could be vital down the line when we're talking playoff scenarios and tiebreakers.
We're once again going to make our best guesses and have a little fun in the process, so don't fret too much if what you read doesn't make you happy. Barring a tie, we're either going to be right or wrong.
Hey, nobody's perfect.
Mr. Smith Goes (Back) to Washington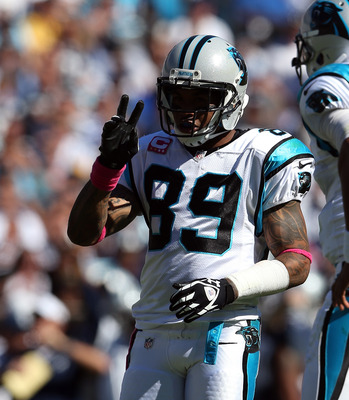 Streeter Lecka/Getty Images
Ron Rivera's Carolina Panthers are in the midst of a five-game losing streak and now must face a team they've never beaten on the road.
While the Panthers are 0-5 lifetime against the Redskins in Washington, they did manage to beat Mike Shanahan's team last season at Carolina, 33-20. But this is a much different 'Skins squad, led by rookie quarterback Robert Griffin III.
But all the differences haven't been a good thing for Shanahan and Co. Jim Haslett's defensive unit, missing some key personnel, has not resembled the group that looked like an up-and-comer in 2011.
Washington defenders have already surrendered a league-high 19 touchdown passes in eight games; this, after giving up only 22 scores through the air during all of last season.
Speaking of scores, Panthers wide receiver Steve Smith has yet to get one this season, despite 35 receptions for 589 yards. But that changes twice this Sunday as Cam Newton finds his veteran wideout for two touchdowns in the team's 24-21 win over Griffin and Co.
(John) Skelton vs. (Randall) Cobb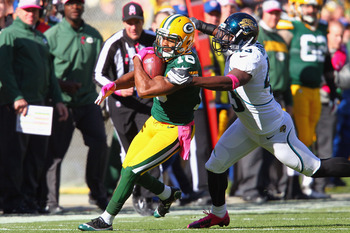 Dilip Vishwanat/Getty Images
Although the Arizona Cardinals have played only eight games in 2012, it's already been a long season—especially if you're one of the team's quarterbacks.
These days, that job belongs to John Skelton, the Week 1 starter who was injured in the opener vs. the Seattle Seahawks but recently returned to the starting lineup when Kevin Kolb was injured.
Amazingly, the Cardinals and Green Bay Packers are tied for the league lead with 26 sacks. Perhaps even a bit more surprising is the fact that Arizona (39) and Green Bay (28) are one-two in the NFL in sacks allowed.
But a little closer look at those numbers show that the Cards have given up 33 of those sacks in the last five games, while the Pack's total saw eight of those sacks come in the first half of their loss at Seattle.
There's another number that's hard to ignore. The Cardinals have lost four straight after a 4-0 start, while the Packers are riding a three-game winning streak.
And while it proves to be another long day for Skelton, who will be sacked six times by day's end, Aaron Rodgers takes a bit of a back seat to second-year pro Randall Cobb, who will catch a couple of touchdown passes but also run for a score in Green Bay's 30-10 victory.
Cats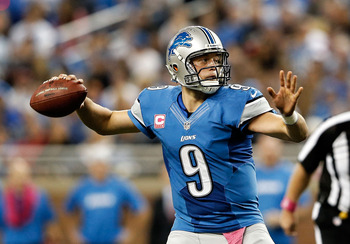 Leon Halip/Getty Images
Jim Schwartz's Detroit Lions were hoping to build off last season's 10-6 finish and the franchise's first playoff appearance since 1999.
It certainly hasn't started out well this season. Despite two wins in their last three games, the Lions are still 3-4 and already three games behind the Bears in the NFC North.
But they're having a banner year compared to the Jacksonville Jaguars, who are 1-6 and in the midst of a four-game losing streak. Mike Mularkey's club has scored only 103 points in seven games and nearly half of those (47) have come via placekicker Josh Scobee, who's yet to miss in 14 field-goal attempts in 2012.
Both of these clubs are hurting on offense, as the Lions are now without wide receiver Nate Burleson. In addition, despite 41 receptions by a hobbled Calvin Johnson, he's yet to catch a touchdown pass from quarterback Matthew Stafford this season.
Meanwhile, the Jaguars are minus 2011 NFL rushing leader Maurice Jones-Drew. Enough said.
So it comes down to Scobee and the ageless Jason Hanson, with the latter sitting at 16-of-17 on field-goal attempts this season. In this game of placekicker H-O-R-S-E, the Lions veteran outdoes his rival from Jacksonville and Detroit escapes with a 15-12 win.
Major Hassel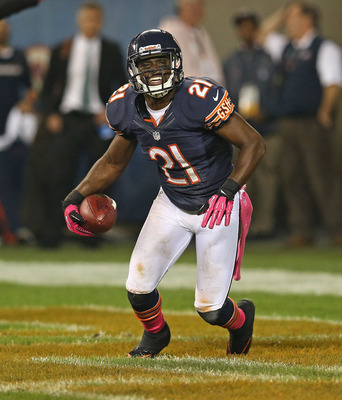 Jonathan Daniel/Getty Images
There's a pretty simple reason the Chicago Bears (6-1) have won twice as many games this season as the Tennessee Titans (3-5).
Lovie Smith's club has allowed only 100 points in their seven outings in 2012 and no team is better at stopping the run.
In stark contrast, Mike Munchak's squad has given up a league-high 257 points in eight contests, including 30 or more in six games.
What makes the Bears defense even more formidable these days is opportunism, as this unit has already returned six interceptions for touchdowns. The NFL record by a team in a single season is nine, held by the 1961 San Diego Chargers.
Back to the present. The Titans and Bears will be tied at 17 headed into overtime. And during the coin flip, which Tennessee wins, someone mutters something about taking the ball and scoring.
Enter Titans quarterback Matt Hasselbeck, who knows the Chicago defense all too well after losing playoff games at Soldier Field in both 2006 and 2010 while with the Seahawks.
And this day, he makes a wrong decision by telegraphing a pass to rookie receiver Kendall Wright. The ball will wind up in the hands of Bears safety Major Wright, who will return the theft 43 yards for a score and wrap up a 23-17 win for Chicago.
On the Rebound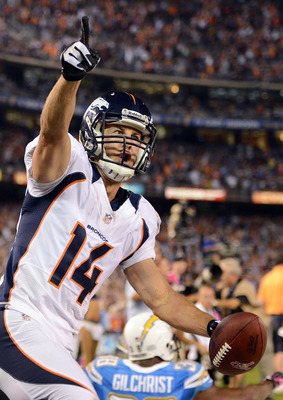 Harry How/Getty Images
It's safe to say that Denver Broncos quarterback Peyton Manning is as hot as any passer in the league.
The legendary signal-caller has totaled 300 or more yards through the air in each of his last five outings and thrown exactly three touchdown passes in four consecutive games. And with four more scores through the air, Manning (416) will tie Dolphins Hall of Fame quarterback Dan Marino for second place in NFL history with 420 touchdown passes.
That won't be easy against a determined Cincinnati Bengals team out to snap a three-game losing streak. And Marvin Lewis' club will own a 24-21 lead late in the fourth quarter when quarterback Andy Dalton finds wideout A.J. Green in the end zone for the latter's seventh straight game with a touchdown reception.
But Manning finds a way to win that's not unfamiliar to Cincinnati fans.
With only 28 seconds to play, the Broncos quarterback lofts a pass to Demaryius Thomas down the left sideline. Bengals cornerback Leon Hall gets a hand on the ball, but the deflection winds up in the hands of veteran receiver Brandon Stokley.
The veteran receiver takes his time getting into the end zone, but completes an 87-yard score that will not only proved to be the game-winner but indeed enables Manning to equal Marino's career total of 420 touchdown tosses.
Raven Mad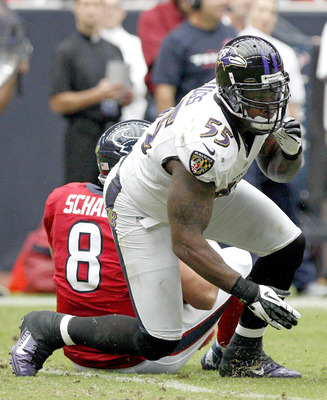 Thomas B. Shea/Getty Images
The numbers are stunning for the Baltimore Ravens.
Defense has been the hallmark for this franchise for more than a decade and the main catalyst for the team's Super Bowl XXXV win over the New York Giants in 2000. During that season, linebacker Ray Lewis led a defensive unit that allowed a paltry 970 yards on the ground during the regular season.
Fast forward to 2012, where John Harbaugh's defense appears headed backward. Baltimore has already allowed 1,000 yards rushing in seven games (142.9 yards per game) after giving up 1,482 yards rushing in 16 games (92.6 yards per game) in 2011.
And that current shortcoming will prove somewhat fatal at Cleveland on Sunday as rookie running back Trent Richardson will roll up 145 yards rushing and three touchdowns, and the Browns will snap a nine-game losing streak to the Ravens via a 21-17 triumph.
Wrong Decision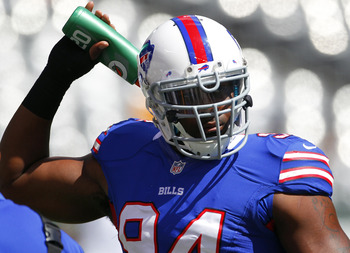 Rich Schultz/Getty Images
With the first overall pick in the 2006 NFL draft, the Houston Texans select Mario Williams, defensive end, North Carolina State.
That draft, the first of the Gary Kubiak Era, proved to be a bonanza for the franchise as they later added linebacker DeMeco Ryans, tackle Eric Winston and tight end Owen Daniels.
But that was then, and of the four, only Daniels remains. He's enjoying a solid season, leading the team in touchdown receptions.
Back to Williams, who left Houston this offseason and signed for big bucks in Buffalo. Talk about hit or miss. The former Pro Bowler has just 3.5 sacks for a team that has given up an unimaginable 180 points in their four losses this season.
Now Williams makes his return to Houston and is determined to show Texans fans what he is truly capable of. With Buffalo ahead in the third quarter, 20-19, the veteran defender scoops up a Matt Schaub fumble and heads towards the end zone.
The wrong end zone. Williams thinks he's scored a touchdown but it's actually a safety. The miscue will give the Texans a 21-20 lead and then the floodgates open as Houston will tack on 17 more points for a 38-20 victory.
Reggie! Reggie!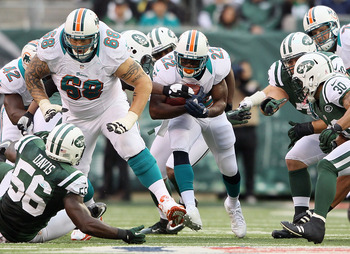 Alex Trautwig/Getty Images
As Gomer Pyle uttered numerous times…surprise, surprise!
We had to say the word twice, because how many people had the Miami Dolphins at 4-3 after seven games with rookie quarterback Ryan Tannehill at the helm?
We had to say the word twice, because how many people had the Indianapolis Colts at 4-3 after seven games with rookie quarterback Andrew Luck at the helm?
Enough word play.
Barring a tie, one of these non-playoff teams will be 5-3 and certainly in the playoff mix. And with Luck teaming with veteran wideout Reggie Wayne, the Dolphins secondary will have its hands full.
However, it's Indianapolis that winds up with the longer day as Reggie Bush will run for 123 yards and a score in Miami's 24-20 victory.
Frazier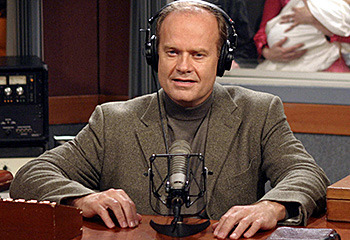 Photo credit: gfmsports.com
You don't have to be a psychiatrist to figure out the mindset of both of these emerging clubs.
Minnesota Vikings head coach Leslie Frazier, played by Frazier himself, has done a solid job with a team that won only three games last season. But the 3-5 Norsemen are coming off a 36-17 home loss to the Buccaneers in which their defense was unable to corral rookie running back Doug Martin.
Now they head to Seattle, where the Seahawks have yet to lose in three games in 2012. But Pete Carroll's club is coming off two straight losses, the latest a 28-24 setback in Detroit in which they gave up a season-high amount of points.
But just as the Minnesota defense had its issues with Martin, this same unit has its hands full with Marshawn Lynch.
In this duel between the NFL's two leading rushers, Seahawks running back Marshawn Lynch runs for 145 yards and a pair of scores while the Seattle defense limits Adrian Peterson to literally half that total (73), and Carroll's club will remain perfect at home, 27-14.
So sit back and enjoy some tossed salad and scrambled eggs. This will be a head-knocker.
Just Joshin'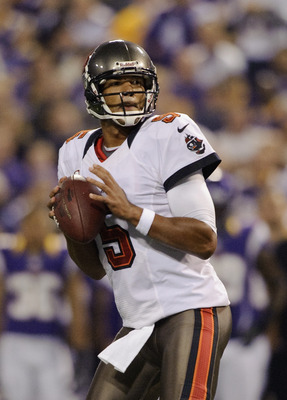 Hannah Foslien/Getty Images
The NFL is loaded with irony, and this matchup of pirates is no different.
Four years ago, the Oakland Raiders edged the Buccaneers in Tampa, 31-24, on the final weekend of the 2008 regular season. It also proved to be the last game for Bucs head coach Jon Gruden, who six years earlier had led his team to a Super Bowl win over his former employers from Oakland, 48-21.
Now these franchises clash for the first time since that meeting. Both are teams sitting at 3-4 with a chance to reach the .500 mark. In the case of the Buccaneers, a fourth victory would equal the team's win total from 2011.
And Greg Schiano's club gets it here.
Thanks to a fourth straight three-touchdown pass performance by quarterback Josh Freeman, as well as three interception returns for scores by the Tampa defense at the expense of Carson Palmer, the Bucs don't stop until they secure a 42-24 win on Sunday afternoon.
Class Acts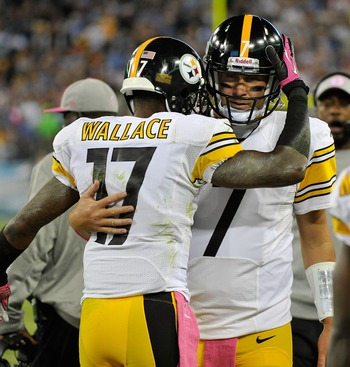 Frederick Breedon/Getty Images
We've seen them at their best and occasionally, at their worst.
But we've been lucky to see Pittsburgh Steelers quarterback Ben Roethlisberger and New York Giants signal-caller Eli Manning for what is now nine seasons. Each were drafted in the first round in 2004 and both have helped their teams to a pair of Super Bowl wins, the latter the game's MVP on two occasions.
This marks the third occasion in which the quarterbacks have faced off, and on both previous occasions, each prevailed on the road. As it turns out, this will be no different.
Since both Roethlisberger and Manning excel in late heroics, let's move to the fourth quarter due to time restraints.
With Pittsburgh leading 20-16, Manning caps off an eight-play, 78-yard drive with a touchdown pass to Victor Cruz in the right corner of the end zone with 57 seconds left to play, the speedy wideout getting his toes down to ensure the score.
Down 23-20 from his own 23-yard line, Big Ben has some heroics left in him as well, lofting a perfect pass to Mike Wallace (who manages to get behind three Giants defenders) for a 77-yard score with 35 ticks left on the clock—the game-winning play in what will prove to be a 27-23 Steelers victory.
Miles Away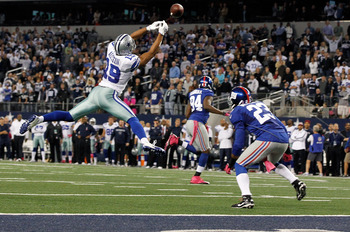 Tom Pennington/Getty Images
Hey, remember Miles Austin?
Lost in last week's amazing performance by Dallas Cowboys tight end Jason Witten and the season-long ups and downs of Dez Bryant is the fact that the Pokes' other wideout leads the team in receiving yards (561) and touchdown receptions (four).
But Atlanta won't forget his performance on Sunday night at the Georgia Dome. He and Tony Romo combine for three touchdowns in the first half as the Cowboys take a 21-3 lead into the locker room.
Falcons quarterback Matt Ryan does his best to secure the club's perfect record and by night's end, teammates Roddy White, Julio Jones and Tony Gonzalez all have 100-plus yards receiving. And Atlanta grabs a 24-21 lead with 2:23 to go.
But Romo and Austin have one more big play in them, the duo teaming for a 15-yard score with seven seconds to play. Atlanta's perfect season will come to an end.
Roman Holiday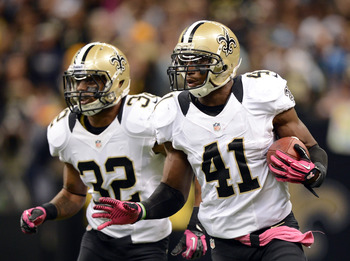 Harry How/Getty Images
Be it on or off the field, it's been a rough week for Philadelphia Eagles quarterback Michael Vick.
Following a 30-17 home loss to the Atlanta Falcons in which the Philly defense gave up points on each of Atlanta's first six possessions, the struggling signal-caller seemingly benched himself for this week's contest with the New Orleans Saints.
But the man who is calling the shots made up his mind, and Andy Reid opted for Vick to start this Monday night at the Superdome.
The Birds hope to fix their offensive woes against a defensive unit that has been abysmal, allowing more than 400 total yards in each of its seven games this season.
Unfortunately, that struggling Philadelphia defense will understandably have its hands full with Drew Brees.
And unfortunately as well, Vick won't be able to avoid a fourth-quarter blitz by Roman Harper, the Saints leader with 7.5 sacks last season (but who is still without one in 2012). The talented safety also strips Vick, recovers the fumble and returns it 31 yards for a score as Joe Vitt's team goes on to a 34-21 win.
Keep Reading