NFL Week 7 Biggest Individual Matchups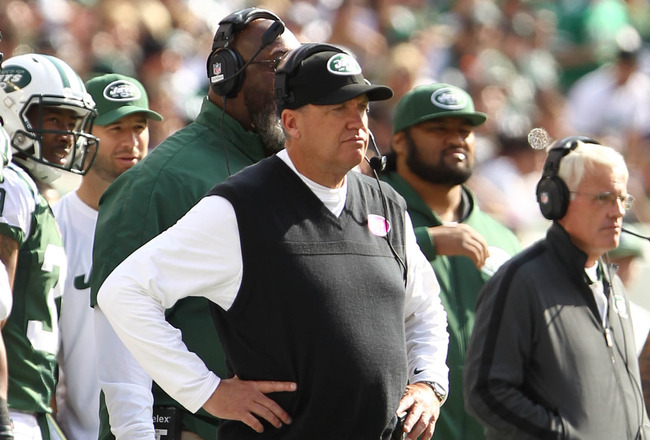 Rex Ryan renews acquaintances with Bill Belichick on Sunday
Debby Wong-US PRESSWIRE
It's already been a good start to what promises to be an important week in the NFL.
Despite the fact that six teams—including the NFC South-leading Atlanta Falcons and AFC West co-leaders Denver Broncos and San Diego Chargers—have the week off, nearly half the slate includes very important divisional matchups.
In fact, it's also a week in which six of the 13 games feature head-to-head battles between opponents with identical win-loss records.
That aforementioned good start occurred Thursday night in San Francisco, where Jim Harbaugh's 49ers outslugged the visiting Seattle Seahawks, 13-6, as both teams got big efforts from their ground attacks. As it turned out, the Niners got a slightly bigger performance from their defensive unit.
As we approach the halfway point of the season, and this is hardly breaking news, holding serve at home against division rivals is very important. Unfortunately for Seattle, it has seen the Arizona Cardinals, St. Louis Rams and 49ers achieve that feat in all three meetings this season.
Fortunately for Pete Carroll's club, it still gets to play all three of those teams at home.
And fortunately for us, there are still five more divisional head-knockers to come in Week 7.
Green Bay Packers WR Jordy Nelson vs. St. Louis Rams CB Cortland Finnegan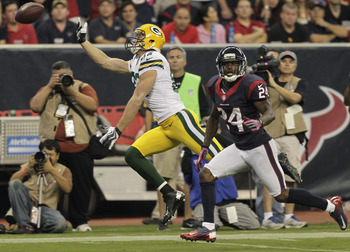 Bob Levey/Getty Images
It's been an up-and-down season for the Green Bay Packers to date. And it has been somewhat of a slow start for Jordy Nelson.
Make that had.
Last week at Houston, the Packers wideout caught nine passes for 121 yards and three touchdowns in the team's 42-24 victory over the previously unbeaten Texans. It was quite the evening for Nelson, who ranked third in the NFL in 2011 in touchdown receptions (15) but had scored just once in Green Bay's first five games this season.
Of course, what could be the beginning of a hot streak could get cooled off in a hurry by one of the league's better corners in Cortland Finnegan. And the one-time Tennessee Titans defender gets plenty of support from a St. Louis Rams pass rush that is starting to come into its own.
Mike McCarthy's team will likely need another productive effort from Nelson and company if it is to win two games in a row for the first time this season.
Of course, that may be a lot easier said than done against the always formidable Finnegan.
Washington Redskins QB Robert Griffin III vs. New York Giants FS Antrel Rolle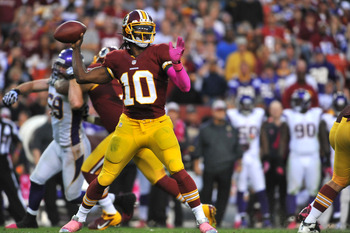 Larry French/Getty Images
By now, you've heard a lot about the success the Washington Redskins had against the eventual Super Bowl-champion New York Giants last season.
Mike Shanahan's team won just five games in 2011, but two were against Eli Manning and company. That includes a 23-10 victory in Week 15 at MetLife Stadium, when the Washington defense picked off Manning three times.
Enter rookie quarterback Robert Griffin III, who is coming off a big afternoon against a tough Minnesota Vikings defense. Griffin threw for 182 yards and a score (one interception) and ran for 138 yards and two touchdowns, the highlight a 76-yard jaunt into the Vikings' end zone.
Patrolling the back of the Giants secondary on Sunday will be Antrel Rolle. He had two interceptions off Alex Smith last Sunday in New York's 26-3 demolition of the 49ers in San Francisco.
Be it through the air or on the ground, the former Pro Bowler could be Tom Coughlin's last line of defense if Griffin should get loose once again.
Arizona Cardinals LOLB O'Brien Schofield vs. Minnesota Vikings RT Phil Loadholt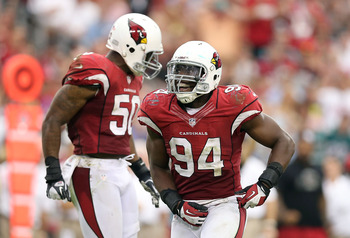 Christian Petersen/Getty Images
When discussing the Arizona Cardinals these days, it's usually the offensive line that gets the attention—and it hasn't been kind, to say the least.
Ken Whisenhunt's club has allowed a league-high 28 sacks, including 22 in the last three games.
But Ray Horton's defensive unit hasn't been too shabby when it comes to getting to opposing quarterbacks, totaling a healthy 19 sacks during the team's 4-2 start.
Almost half of those sacks have come from the left side of the Cardinals linebacking corps, with Mr. Inside Daryl Washington and Mr. Outside O'Brien Schofield tied for the team lead with four apiece.
Meanwhile, Phil Loadholt and the Vikings offensive front appear to be improved in terms of pass protection, and a maturing Christian Ponder, sacked 30 times in 11 games in 2011, has helped the cause.
The second-year quarterback has been dumped just 13 times in six games this season.
It will be interesting to see whether the Arizona defense can come up with enough big plays for the Cardinals to get their first ever win at the Metrodome.
Dallas Cowboys LT Tyron Smith vs. Carolina Panthers RDE Charles Johnson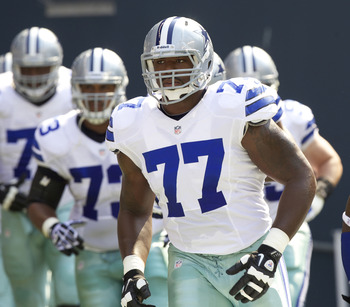 Stephen Brashear/Getty Images
The Carolina Panthers defense isn't exactly wowing anyone these days, but it still features one of the better pass-rushers in the league.
With defensive end Julius Peppers' free-agent departure a few seasons ago, Charles Johnson has done his best to fill the gap. The emerging defender totaled a team-high 11.5 sacks in 2010, led the club with 9.0 sacks a year ago and is currently tied for the top spot in Carolina with 3.5 sacks.
Keeping Dallas Cowboys quarterback Tony Romo out of harm's way is tackle Tyron Smith's main job, but getting that ground game on track may be a bigger priority, especially against the Panthers' 23rd-ranked run defense.
Last week, the Cowboys rolled up 227 yards rushing at the Baltimore Ravens, a transformation considering they had totaled only 271 yards on the ground in their first four games this season.
Be it pass protection or road grading, Smith will be counted on to keep Johnson out of the Dallas backfield.
Baltimore Ravens LILB Dannell Ellerbe vs. Houston Texans C Chris Myers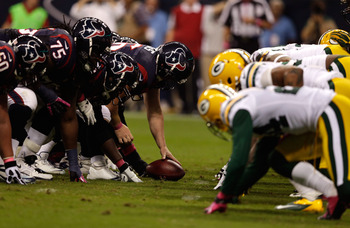 Scott Halleran/Getty Images
Whether it's on the field or just the mention of the word, you can't say "Ravens" without Ray.
But John Harbaugh's club will have to deal with it for perhaps the rest of the season, as perennial Pro Bowler Ray Lewis suffered a torn triceps in last Sunday's win over the Dallas Cowboys.
Enter Dannell Ellerbe, who may not be a household name, but this is certainly familiar territory for the former undrafted free agent.
When Lewis went down last season for four games, Ellerbe filled in. Now, the fourth-year pro will be asked to replace the Ravens' leader for likely the rest of the season.
He's seen his share of action this season despite not starting a game. Ellerbe ranks third on the team with 31 tackles and second on the club with 2.5 sacks.
If the Houston Texans hope to get their ground attack back on track after a rough night against the Green Bay Packers, standout center Chris Myers and company need to dominate inside, early and often.
New Orleans RDT Sedrick Ellis vs. Tampa Bay Buccaneers LG Carl Nicks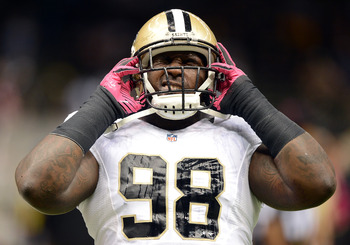 Harry How/Getty Images
To say it's been an uneven year for the New Orleans Saints would be an understatement.
But in a season in which losses have stood as much for who's not on the field and the sidelines as the end results of games, there's one offseason departure that has been somewhat overlooked.
When the Tampa Bay Buccaneers inked free-agent Pro Bowl guard Carl Nicks this offseason, it not only proved to be a big addition, but a huge loss for the defending NFC South champions.
And anytime you can weaken an opponent and bolster your own roster in the process, that's not a bad thing.
So the struggling New Orleans defense, last in the NFL in total yards allowed and 31st against the run, heads to Tampa knowing it's about to get a big dose of Greg Schiano's ground attack.
It will be intriguing to watch five-year veteran Sedrick Ellis clash with his former teammate, as Steve Spagnuolo's unit attempts to slow down rookie runner Doug Martin and that Buccaneers running game.
Cleveland Browns QB Brandon Weeden vs. Indianapolis Colts QB Andrew Luck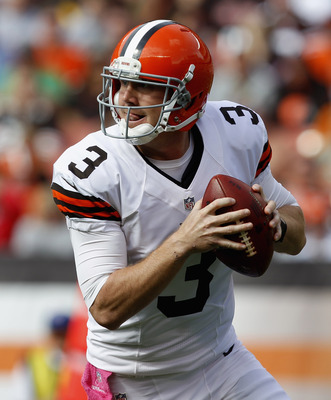 Matt Sullivan/Getty Images
Seven weeks into the season, and we finally get our first head-to-head meeting between members of this much-talked-about quarterback class of 2012.
While both the Cleveland Browns and Indianapolis Colts are currently below the .500 mark, their rookie signal-callers have been garnering plenty of attention.
A week ago, Brandon Weeden and company got their first win of 2012, as the first-round pick threw a pair of touchdown passes (one interception) in beating the Cincinnati Bengals.
Seven days after a stirring comeback victory over the Green Bay Packers, Andrew Luck was sacked four times and committed three turnovers in a 35-9 loss to the New York Jets.
Obviously, neither Weeden nor Luck was around for last season's meeting between the teams, a 27-19 win by Pat Shurmur's squad at Indianapolis that also happens to be the last road victory for the Browns, a skid that has reached 10 straight losses.
Regardless of who wins, the postgame discussion will focus on the battle of the rookies.
And should Weeden's Browns come out on top, well...
Tennessee Titans RB Chris Johnson vs. Buffalo Bills RDT Kyle Williams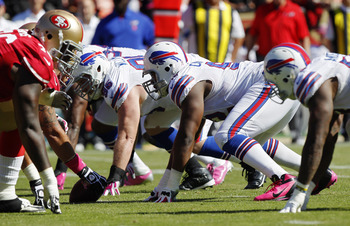 Brian Bahr/Getty Images
Will the real Chris Johnson forget about standing up? Just run...
All kidding aside, it's been quite a chore trying to figure out what the story is for the one-time NFL rushing champion.
When last we saw the Tennessee Titans running back, he was rushing for 91 tough yards on 19 carries in a Thursday night win over the always-tough Pittsburgh Steelers. And two weeks before that, he gashed the Houston Texans defense for 141 yards on the ground, albeit in a losing effort.
But Johnson's other four outings in 2012 have been an incredibly different story, rushing for less than 25 yards in each of those games.
Now, common sense suggests the Titans back should go off against a Bills defense ranked dead last in the league against the run. And in last season's visit to Orchard Park, Johnson rushed for 153 yards and two touchdowns in a road win.
Speaking of mysteries, we keep waiting for Kyle Williams, tied for the team lead with 3.5 sacks, Mario Williams and company to look like one of the better front fours in the NFL.
Now would be a good time.
New York Jets Coach Rex Ryan vs. New England Patriots Coach Bill Belichick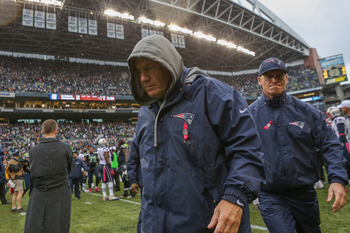 Otto Greule Jr/Getty Images
It's pretty simple math.
Bill Belichick has won three Super Bowls with the New England Patriots.
Rex Ryan has discussed/promised/guaranteed three Super Bowl wins for the New York Jets.
It's been an interesting rivalry of sorts between the head coaches. The only problem is that when it comes to the big picture, it hasn't been much of a rivalry.
Yes, the Jets have somewhat held their own in this series since Rex came aboard in 2009, winning three times, including a victory in the 2010 AFC divisional round of the playoffs at New England, which spoiled the Pats' 14-2 campaign.
Still, it's Belichick's club that has captured the AFC East the last three seasons, while the Jets (who have actually won more playoff games than the Patriots since '09) have been relegated to second-place status each time, reaching the AFC title game as a Wild Card in 2009 and 2010.
But here's a number to keep in mind this Sunday. Including six playoff contests, Ryan's Jets have played 60 games and allowed 30 or more points in just 12 of them. But four of those dozen outings belong to Belichick and company.
Game on.
Jacksonville Jaguars RB Maurice Jones-Drew vs. Oakland Raiders LB Philip Wheeler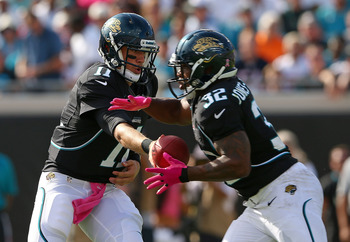 Mike Ehrmann/Getty Images
A trip from sunny Florida to perhaps sunnier California may be the perfect tonic for the struggling Jacksonville Jaguars.
At the very least, playing a game on the road has to be better than what has happened to Mike Mularkey's team in three games at home this season. Jacksonville is 0-3 and has been outscored 95-20 combined by the visitors.
Apparently, the one thing that hasn't changed for the Jaguars is their reliance on running back Maurice-Jones Drew, who not only leads the team in rushing yards (naturally) but is tied for the club lead with 14 receptions.
Mularkey's offense has managed only six touchdown, and they've come from three players: Jones-Drew, tight end Marcedes Lewis and wideout Cecil Shorts.
Dating back to last season, Jacksonville's offense has scored only 27 touchdowns, and just under half (13) belong to the team's All-Pro back.
And now, in part, it will be up to Philip Wheeler, who leads the Oakland Raiders in tackles and certainly knows Jones-Drew from his own days with the Indianapolis Colts, whether the Silver and Black are to get back in the win column.
Pittsburgh Steelers CB Ike Taylor vs. Cincinnati Bengals WR A.J. Green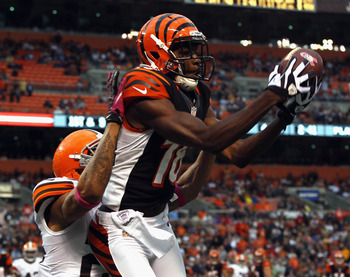 Matt Sullivan/Getty Images
Although the Cincinnati Bengals find themselves in the midst of a brief two-game losing streak, there's been a very big bright spot during the team's 3-3 start in 2012.
Second-year wideout A.J. Green continues to impress and is quickly becoming one of the best wideouts in the league. As impressive as the former Georgia standout was in his debut season, when he became just the 16th rookie in NFL history to total 1,000 yards receiving, he's been even better in 2012.
Green has already totaled 43 receptions for 628 yards and six touchdowns in six games, one less score than he managed in 2011. And the Bengals wideout has reached the end zone in five consecutive games.
Now, he takes aim at a Pittsburgh Steelers secondary that has had its issues this season on occasion. And veteran cornerback Ike Taylor has been a popular target for opposing quarterbacks.
It will be interesting to see if Green can remain hot against what is still one of the better defensive units in the league.
Detroit Lions QB Matthew Stafford vs. Chicago Bears CB Charles Tillman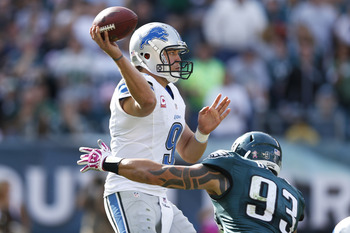 Joe Robbins/Getty Images
Encore, anyone?
Coming off a season in which he threw for 5,038 yards and 41 scores, both among the top totals in league annals, some were expecting even bigger and better things from Detroit Lions quarterback Matthew Stafford.
It's not only been a bit of a struggle for the Lions in 2012, but for the former No. 1 overall pick as well.
During the team's 2-3 start, Stafford has managed only four touchdown passes compared to five interceptions. To put that in perspective, the Detroit signal-caller threw for five scores in last season's finale at Lambeau Field.
This week in the Windy City, Stafford is hoping recent history doesn't repeat itself. The Chicago Bears have picked off a league-high 13 passes in only five games, and in their last three outings, Lovie Smith's team has returned five of those thefts for scores.
Two of those touchdowns belong to Charles Tillman, who, along with linebacker Lance Briggs, has turned the trick in two straight games. Of course, Stafford certainly remembers last season's visit to Soldier Field, when two of his four interceptions were returned for scores by Major Wright and (you guessed it) Tillman.
It should be quite a reunion on Monday night in Chicago.
Keep Reading