Washington Nationals: 4 Reasons to Believe 2012 Was Just the Beginning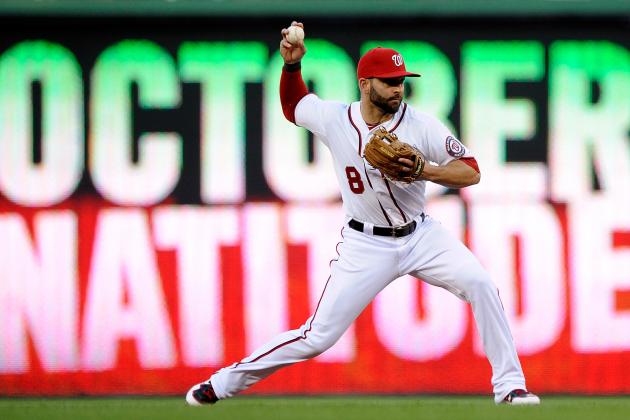 Patrick McDermott/Getty Images

Don't let the Nationals' heartbreaking ALDS defeat hold you down for long; baseball is alive and well in the nation's capital and will be for some time.
Easier said than done, of course, but an in-depth look at the future spells long-term success for this organization, and damn right you should be excited about it.
It's the first time since 1933 that the city has owned a division-winning baseball team, and the roster is stockpiled with electric young superstars. Washington finished 2012 with the best record in all of baseball (98-64) despite suffering key injuries throughout the year. They survived the grueling, 162-game season without a significant veteran presence to guide them through it.
The upcoming slides will show you four reasons that the Nationals' amazing run in 2012 was only the tip of the iceberg in terms of what this team can accomplish.
Begin Slideshow

»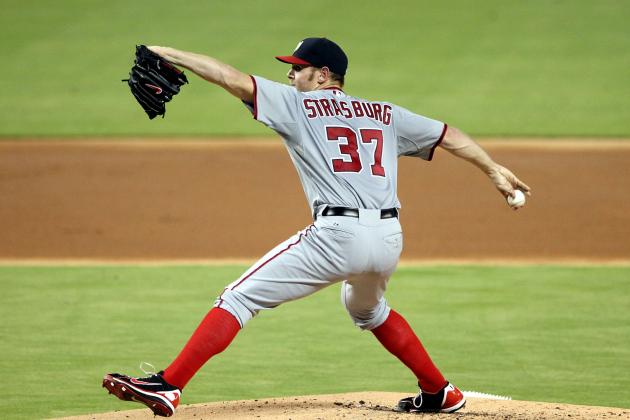 Marc Serota/Getty Images

The Nationals were the only team in the NL to boast more than two starters with 20 or more quality starts in 2012, and the crazy thing is all three are aged 27 or younger.
You could actually make a convincing case that the Nats currently own three aces in their pitching staff.
The youngest, Stephen Strasburg, recovered from Tommy John surgery in time to pile up a 15-6 record with 197 strikeouts in just 159.1 innings.
The 24-year-old was shut down in early September thanks to an innings limit, but he's by far the most dangerous starter in the rotation and will be a key factor in the Nats punching their playoff tickets for years to come.
Gio Gonzalez wasted little time making a splash in his new city after the A's traded him to Washington this past winter. The four-pitch lefty features a nasty curveball that helped him pile up an astonishing 21-8 record with an ERA under three (2.89) and the strikeouts (207) to go with it all.
Jordan Zimmerman, who is only 26, also finished 2012 with an ERA under three (2.94). 24 of his 32 starts on the year were quality starts, which is a rate of 75 percent. Don't forget Ross Detwiler, either, who had a breakout year as a starter with a 10-8 record and 3.40 ERA.
Washington's only starter over the age of 27, Edwin Jackson (29), is an unrestricted free agent in 2013. Although he was a solid contributor in the Nats' run to an NL East crown, he's not an irreplaceable component.
With or without Jackson, this team is stacked in the starting pitching department. Perhaps more so than any other team in the National League.
That alone gives this squad a distinct advantage for as long as they can keep this talented bunch united.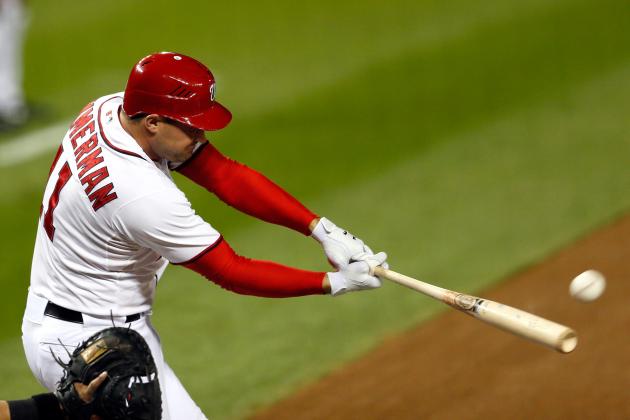 Rob Carr/Getty Images

The Nats finished 2012 No. 2 in the NL in home runs behind the bats of four players with 20 or more home runs.
They would've had a fifth if outfielder Michael Morse (31 HR in 2011) hadn't spent the first two months of the season on the disabled list. Jayson Werth (20+ HR for four straight years from 2008-2011), who missed half the season with injury, could've been a sixth.
Shortstop Ian Desmond fulfilled his amazing potential in 2012 with a monstrous season (.292 Avg, 25 HR and 73 RBI) at the plate as well as in the field. Finding noteworthy power from a shortstop is rare, but Desmond has it.
Elsewhere, rookie phenom outfielder Bryce Harper found the seats 22 times on the year despite not being called up to the big leagues until April 27. Harper, 19, had his ups and downs, but he's an obvious fixture in the Nats' lineup of the future. His 98 runs scored in 138 total games wasn't quite Mike Trout-like, but he's got just as much potential at the dish.
If second baseman Danny Espinosa can boost his batting average by a hair, Washington will have one of the deepest lineups in all of baseball to accompany its top-notch starting rotation.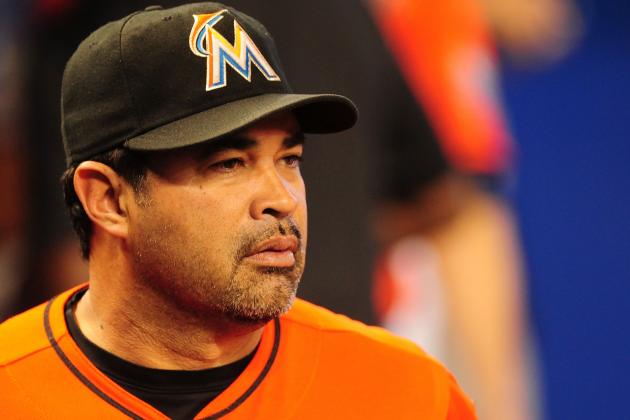 Jason Arnold/Getty Images

Outside of the Nats (and arguably the Braves), the NL East doesn't offer much to fear in a long-term picture.
The Marlins (69-93) were a huge letdown in Miami this season. The new stadium and arrival of manager Ozzie Guillen were supposed to complement a playoff-caliber roster, but it didn't take long for the optimism to subside and overpaid players to begin getting shipped out via trades.
The New York Mets haven't qualified for October baseball since 2006, so they'll have to prove they can hang before they go around scaring anyone.
The Phillies could rebound from a horrific year (by their standards), but the Braves are really the only team that looks to threaten the Nats in their division title defense.
Atlanta has some spectacular young pitching, especially with starter Kris Medlen and closer Craig Kimbrel, but neither they nor anyone else in the division can hang with the amount of talent the Nationals have across the board.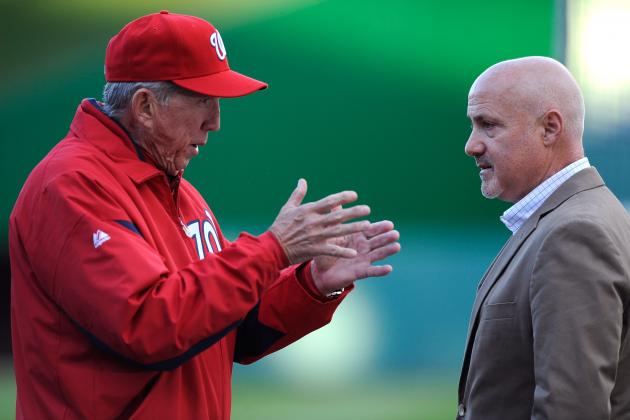 Patrick McDermott/Getty Images

Let's face it, this youth-laden squad simply wasn't prepared for October baseball in 2012.
Sure, it took a late collapse in a do-or-die moment to keep the Nationals from competing for the ALCS, so, not by any stretch of the imagination am I saying they had no business being there. But there were several youngsters deprived of any previous postseason experience that just didn't quite seem prepared for the big stage.
Harper had just three hits and struck out eight times in 23 playoff at-bats. Espinosa was even worse, with one hit and seven strikeouts in 15 at-bats throughout the five-game series.
On the mound, Gonzalez walked a stunning 11 batters in his first 10 innings of postseason pitching. Zimmerman struggled, too, and Storen's historic collapse in the ninth inning of Game 5 against the Cardinals ultimately cost the Nats the series.
Let the past be the past, though. A sour ending to such a promising season is often a blessing in disguise. The Nationals know they have the talent to not only hang with, but defeat the big boys in Major League Baseball. They just lacked the big-game experience to get the job done when it mattered most.
2012 was an invaluable experience for this young squad on several accounts. You don't come two games shy of a 100-win season without learning a few things along the way.
Heading into 2013 and beyond, manager Davey Johnson will have a much better feel for his players, and his players will have a much better feel for themselves as well as their teammates.
Leaders are emerging, chemistry is building and winning habits are developing in the Nats' clubhouse. The heartache of 2012 will last through the winter, but once the snow melts and spring training gets underway, endless amounts of baseball optimism will flow through the nation's capital once again.