Indianapolis Colts vs. New York Jets: Live Score, Highlights and Analysis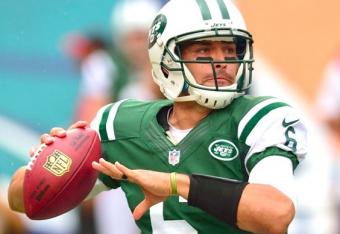 This was a pretty thorough beat down by the Jets. Shonn Greene had well over 100 yards and three scores. The defense forced turnovers and got into Andrew Luck's head early and often.
This was Andrew Luck's worst game as a pro so far, as most of the Colts offense was engineered by Jets penalties. When the Colts finally did get into the red zone, Luck threw an interception. Clearly, this team had a tough time getting back to work after such an emotional win over the Packers last week.
The Jets move back to 3-3 and the Colts fall back to 2-3.
Final Score: Jets 35, Colts 9
"Party" may be a bit too strong:
Jets are partying like it's 2009. Dominant run game (253 yards). Dominant run D (41 yards). Forced 3 TOs. Sanchez threw for 82 yards (2 TDs)

— Manish Mehta(@MMehtaNYDN) October 14, 2012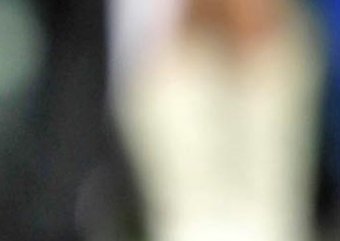 Joe Camporeale-US PRESSWIRE
That'll do it! Final score: Jets 35, Colts 9
:30 4th Quarter
Andrew Luck finally gets a big play to Reggie Wayne, who promptly fumbles. Nothing quite going right for the Colts today, even in garbage time.
1:05 4th Quarter
TOUCHDOWN JETS!
Shonn Greene takes it up the middle for an easy six.
Jets 35, Colts 9
Jets smart to take out their center, who has been fighting through a bad ankle.
Good eyes by @thejrob who spotted that Slauson is now at C. Mangold on the sidelines, not getting looked at by Drs though. #jets #nyj

— Conor Orr (@ConorTOrr) October 14, 2012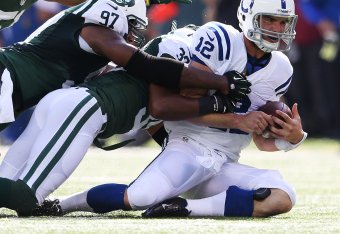 Nick Laham/Getty Images
3:52 4th Quarter
FUMBLE!
Muhammad Wilkerson strips Andrew Luck to force a fumble, which is then piked up by David Harris. That should all but wrap this one up.
6:00 4th Quarter
Looks like the Jets are going to roll with Tebow from here on out. Makes sense, especially if the Jets are just going to run out the clock.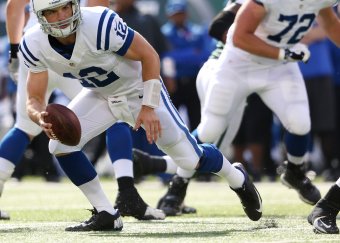 Nick Laham/Getty Images
7:00 4th Quarter
INTERCEPTION!
Andrew Luck, after getting two big gains to Reggie Wayne to set the Colts up in scoring position, throws right to Ellis Lankster in the back of the end zone. Jets take over at the 20.
In general, Luck has looked more like a rookie today than ever before.
8:00 4th Quarter
Very challenge-able play here. Looks like Donnie Avery's elbow may have landed out of bounds before he got the second foot down. This one may get overturned.
The Jets are getting a ton of penalties against them, but the Colts are simply unable to capitalize. For a team down by 19 points, they are not playing with much urgency either.
Just the kid of numbers the Jets want:
Shonn Greene's 25 rushing attempts are a new career high.

— Brian Costello (@BrianCoz) October 14, 2012
10:00 4th Quarter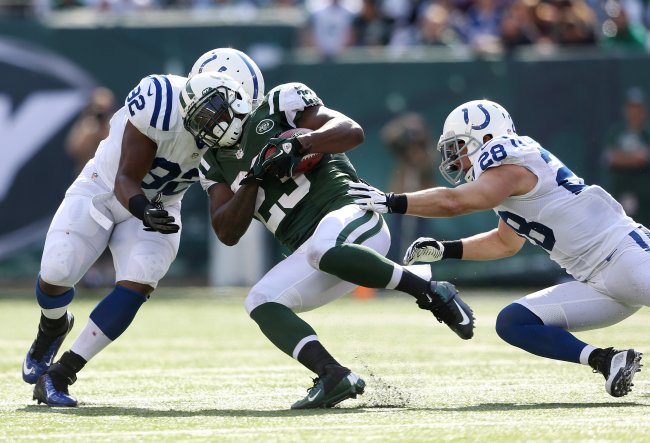 Nick Laham/Getty Images
One bright spot for the Colts in this game has been Jerry Hughes, who just stalled the Jets drive with a sack. He has really flourished since becoming an outside linebacker this year.
Meanwhile, Robert Malone's punt goes into the end zone for a touchback.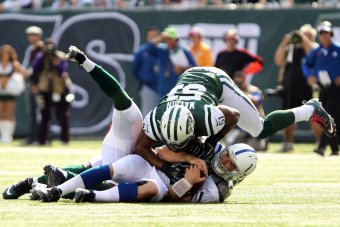 Debby Wong-US PRESSWIRE
14:00 4th Quarter
Aaron Maybin having a nice day, getting pressure to force an incompletion who got a step on Antonio Cromartie.
At the same time, very impressive by Luck to keep his eyes downfield in a muddy pocket. Very rare for a rookie quarterback to be able to do that right out of the box.
Meanwhile, Adam Vinateri hits another field goal to get the Colts to 9.
Jets 28, Colts 9
Real nice block by Reggie Wayne on that bubble screen. Wayne does not get nearly enough credit for what he does outside of catching the ball.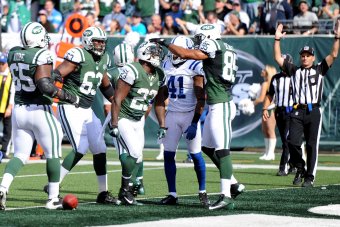 Joe Camporeale-US PRESSWIRE
1:36 3rd Quarter
TOUCHDOWN JETS!
Shonn Greene makes perhaps the most athletic play of his career on a spin move to shake Antoine Bethea. It is clear that no one in the Colts secondary wants any part of Shonn Greene.
The Jets are now in control and are going to want to run as much clock in every possession as possible.
3:00 3rd Quarter
Joe McKnight makes the most of his carry, taking the Jets to the six yard line. He had a gaping hole to run through.
However, he landed hard on his shoulder and is getting looked at on the side line with the trainers.
Jets RB Bilal Powell getting checked out.
Bilal Powell being taken to the locker room. #Jets

— Rich Cimini (@RichCimini) October 14, 2012
Rather be lucky than good:
By my count, that's the third time in three weeks a bad throw by a QB saved Kyle Wilson from getting burned on a long TD pass.

— Dan Hanzus (@danhanzus) October 14, 2012
5:37 3rd Quarter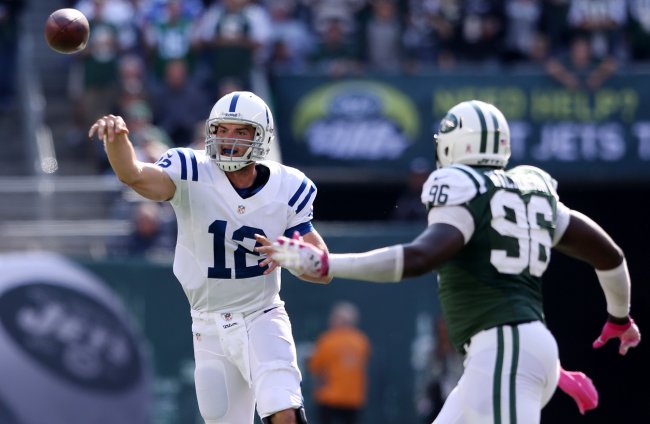 Nick Laham/Getty Images
The Jets overload blitz fails to get through, but Donnie Avery is unable to haul in a slightly overthrown ball by Luck. If that ball is placed better, it would have been an easy touchdown.
So far, Luck is looking very much like a rookie. He has missed a few easy throws in this game.
7:00 3rd Quarter
Quinton Coples gets himself a nice sack, but negates it with a bonehead facemask penalty right in front of the ref. Jets getting a lot of flags today, as it has already cost them two touchdowns.
Your pathetic Jets stat of the day:
Shonn Greene's 100-yard rushing game is his first since Week 14 last year (129 yards vs Chiefs). #nyj

— Manish Mehta(@MMehtaNYDN) October 14, 2012
9:00 3rd Quarter
Jets' drive stall after a miscommunication between Kerley and Sanchez. The ball was well-thrown, but Kerley never looked for it. Neither offense doing very much this half.
9:00 3rd Quarter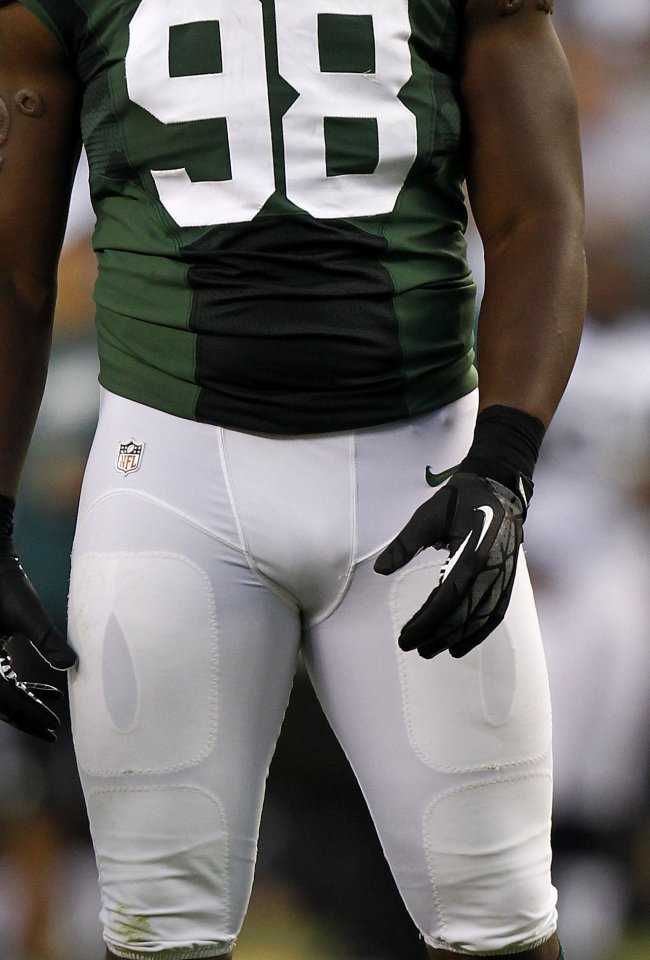 Jeff Zelevansky/Getty Images
Nice pressure by Coples to force an intentional grounding. When given the chance, Coples has shined, but the Jets coaches have been hesitant to give him much playing time.
Colts injury update:
#Colts' Redding has a knee injury, and his return is questionable.

— Dennis Waszak Jr. (@DWAZ73) October 14, 2012
14:12 3rd Quarter
Iffy no-call there. The corner never turned back to play the ball. The refs made a similar call on Antonio Allen early on.
The Jets are dominating now, but the Colts had a big comeback last week. Don't count them out just yet.
Reminder: #Colts trailed 21-3 at half last week. This game looks one-sided, so did that. We'll see... #Jets

— Mike Greenberg (@Espngreeny) October 14, 2012
This article is
What is the duplicate article?
Why is this article offensive?
Where is this article plagiarized from?
Why is this article poorly edited?