South Carolina vs LSU: Live Scores, Analysis and Results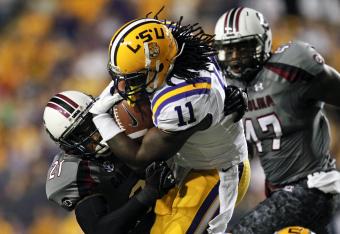 SCAR - 21 LSU - 23 Late 4rd Quarter
This game is currently underway between the the No. 3-ranked South Carolina Gamecocks head into Baton Rouge against "The Mad Hatter" Les Miles and his LSU Tigers.
Here, we shall provide you with live scores and analysis throughout the entire game, and we will be with you all night long to report on this prime-time SEC matchup.
Wow. That was actually the best game of the day right there. LSU has been the first team to take Connor Shaw out of the running game, held SCAR to just 34 rushing yards compared to their own 258, and Mettenberger did enough to not lose the game for the Tigers.
With that, it's time to sign off, and wait another whole week to see what else college football will bring.
And with that INT, SCAR gets their first loss, the Mad Hatter Les Miles remains all powerful at night, and Spurrier remains as frustrated as ever.
And the ball is in Connor Shaw's hands....
We'll see how deep the LSU punter can pin SCAR, and if they can pull off a miracle win
This is a big series. How much clock can be melted?
SCAR - 21 LSU - 23
And touchdown SC. Now LSU is back up by two points. Onside kick coming.
And I am correct, first down SC on the one. Ball security.
Touchdown?..... Looks pretty close. They're gonna have to review this. And by the looks of it, his knee looks down, but it's hard to see.
Long 3rd and 17 coming. And at this point, you might need to consider going on fourth. The way LSU is running the ball, it might be hard to get the ball back.
Give the whining coach another headset and visor!
The late flag, personal foul hurts. Gives SCAR a fresh set of downs.
SCAR - 14 LSU - 23
Touchdown Tigers! Long run by Jeremy Hill. And just like that, LSU opens its lead. And with over 250 rushing yards to 43 rushing for SC, shoot.
Where was the flag? He clearly missed that tackle when the guy fair caught it.
And just like that, it's third down. The crowd, the pressure. All has Shaw rattled.
Let's see what SCAR does of of their previous turnover...
Looks as though they're playing for the field goal. They're kicking for the lead right now, which they now get, but only by two points.
LSU's gonna have to throw this ball, which seems to disappear the closer they get to the endzoe. This is a valuable opportunity.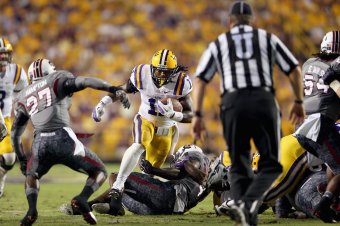 Ronald Martinez/Getty Images
And LSU continues to thrive by the running game. Their rotation of backs is amazing. Continuos fresh legs.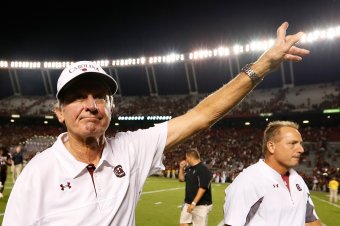 Kevin C. Cox/Getty Images
INT LSU! Where did Shaw think he was throwing to? Completely overthrew his receiver. Spurrier might need a new headset and visor.
SCAR- 14 LSU - 13
And the FG is good. LSU down by 1.
Aww... wasted possession. Here comes the field goal unit. Watch for fakes. The Mad Hatter may strike here.
3rd and goal upcoming.... This is a pretty good game, at least the offenses can move the ball well enough.
LSU in the redzone. Might even be four down territory should it come to that.
Great pass by Mettenberger there.
Aw yea! Showed Dabo Swinney and Spurrier's spat on TV. Clemson fans should be excited to have their coach influenced there.
This article is
What is the duplicate article?
Why is this article offensive?
Where is this article plagiarized from?
Why is this article poorly edited?