They had it. They had it, and then they let it slip through their hands.
The Nationals lost the deciding game of the NLDS Friday night in heart-breaking fashion.
It was in the bag. They led the Cardinals by six runs after three innings. Six runs.
And then little by little, the Cardinals started to chip away. A walk here, another walk there, a single, and boom— a home run.
The team's closer, Drew Storen, took the mound in the ninth inning praying he cold preserve the team's 7-5 lead. Obviously rattled by the pressure and the stakes, Storen fell apart under the bright lights. In front of a Nationals Park-record crowd, Storen struggled to bring it home.
He yielded a lead-off double to Carlos Beltran, and though he proceeded to get two pretty quick outs, he never looked confident.
Matt Holliday tapped a chopper to third—an easy out for Ryan Zimmerman—then Allen Craig struck out. Beltran was standing on third base by then, but the Nationals were just one out away from victory.
With Beltran on third, Storen got two strikes on the next hitter, Yadier Molina. But he just couldn't close the deal. He walked Molina, missing the strike zone by millimeters with each of his pitches.
Then, with the tying run on base, he did his best to focus on the next hitter, 2011 World Series MVP David Freese. Once again, after two quick strikes put Freese in a 1-2 count, Storen had the Cardinals on the ropes.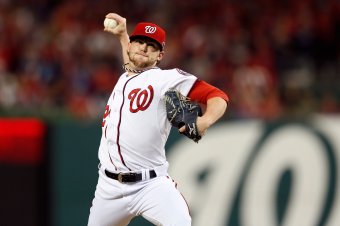 Rob Carr/Getty Images
And then, Strike three! The Nationals win!..Oh no...Freese checked his swing!?
On a perfectly-placed put-'em-away pitch, Freese started his swing, then stopped at the halfway point. The bat appeared to cross the plate, and if he made contact, the ball would've been hit in fair territory. But the pitch was called a ball, instead of game-over.
From there, Storen completely lost it. It got ugly. He walked Freese. Then slap-hitting Daniel Descalso came up to bat, in hero mode, and dropped a single into right field to tie the game. By then, the entire crowd could feel that the Nationals' luck had run completely out. The fans knew it was only a matter of time before it was all over.
Then it was. The next hitter, Pete Kozma, buried the Nats. Storen served-up the victory on a platter and Kozma didn't go home hungry. Completely demoralized, the Nats' had a chance to re-tie the game in the bottom half of the ninth inning, but they went out one-two-three instead.
Drew Storen got owned, and the Nats got their hearts ripped out in front of the biggest home crowd in franchise history.
To remind those that didn't read my article on the Nationals' keys to victory, published last week, I named Drew Storen the most important player to his team this postseason.
Anyway, a day after one of the most painful losses baseball fans have witnessed since Bucky Dent, three-and-a-half decades ago, it sounds absurd to write what I'm about to:
Nationals fans have a lot to be optimistic about.
That's right, this hideous loss isn't going to kill anybody. They're not the '07 Mets or the 2011 Red Sox—or the '86 Red Sox. They won't fire their superb manager. They won't bitterly cut ties with their star players, and the front office won't hit the ejection button.
A team of rookies and young guns, the Nats' lack of experience showed Friday night. But their promising future is the flip-side of their youth. The Nationals have the brightest future of any team in baseball, maybe even in all of pro sports.
They have all of the ingredients for sustained success, young, cheap, star-level talent, payroll flexibility, booming popularity and franchise players just entering their prime.
Before their breakout 2012, years of losing led to a farm system stocked with top draft picks. Nats front- office men Jim Bowden (former team president and GM), and general manager Mike Rizzo accumulated top picks at the perfect time. As a result, they were able to get their hands on Bryce Harper, Stephen Strasburg, Lucas Giolito and Anthony Rendon, four of the most gifted young players to have ever played the game.
They took advantage of a liberal draft system, spending over their slot to get the draft's most promising athletes. Just in the nick of time, too. Not only did the Nationals collect high picks when the best amateur talent in the game's history was available, they also spent big before the MLB implemented a new hard-slotting system, designed to restrict over-slot spending.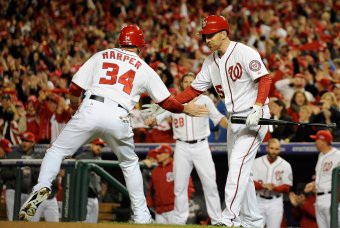 Patrick McDermott/Getty Images
The Nationals already have Harper and Strasburg in the majors, the National League's two top young talents at their respective positions.
Harper just finished an extraordinary rookie season and will only celebrate his 20th birthday this week. He posted an unbelievable 5 rWAR this season, belted 22 home runs and had 57 extra-base hits in 139 games. He's already a top-shelf center fielder, and he's years away from his athletic prime (generally ages 26-29).
Next year, as the club's starting center fielder, he could easily post a .280/.360/.500 line, and combined with his superb power and plate discipline, his premium defensive skills could lead to a seven or eight WAR (MVP-level production).
Stephen Strasburg is probably the most physically gifted pitcher professional baseball has ever seen. He commands a 98 MPH riding fastball, a Newtonian physics-defying slider and a neck-breaking changeup with precision. In his first full season in the rotation, he tossed 159.1 innings of 3.16 ERA baseball and struck out 197 batters. His 4.40 K/BB ratio was superb, suggesting he's already one of the most effective pitchers in the league, and he led his peers in strikeouts per nine innings.
Strasburg accomplished all of this after he returned from Tommy John surgery. Though there's generally a 12- to 18-month recovery time, it often takes pitchers two or three years to regain their command and feel for pitching. Strasburg only passed the two-year point at the end of August.
So, besides having youth on his side, his recovery timetable from elbow surgery means he'll be even more effective in the future. And, because the Nationals sat him early this year to save his elbow from overuse, he has a better chance of avoiding injury than he would've otherwise.
Will the Nationals Return to the Playoffs in 2013?
Though they've promoted so many of their former prospects to the big club in recent years—guys like Harper, Strasburg, Drew Storen, Jordan Zimmermann and Danny Espinosa—their smart player development and focus on accumulating talent via the draft means the Nationals have plenty more impact-level players on the way.
Third base prospect Anthony Rendon, the team's sixth-overall pick from 2011, is a future superstar. The 22-year-old former winner of the Dick Howser Trophy, college baseball equivalent to the Heisman, has blue-chip tools.
His sweet swing and advanced plate discipline make him a future .300 hitter, and he has the power to hit 20 home runs annually. Combined with his hitting prowess, his acrobatic defense at third base and big-game experience make him a safe bet for a long and successful big league career.
He was slowed by injuries in his pro debut. But if he can stay healthy, he could help the big club as early as next summer.
Outside of Rendon, the Nationals have a bevy of other star-level prospects. Five-tool centerfielder Brian Goodwin (scouting report) has already earned a promotion to Double-A after hitting .280/.384/.489 in his pro debut, and he's close to carrying his lethal power/speed combination into the big leagues.
Alex Meyer (scouting report), selected right in front of Goodwin in the 2011 draft, is one of the most exciting pitchers in the minor leagues. Tall and lanky, he draws comparisons to a young A.J. Burnett, and he has the stuff to match. The 22-year-old's fastball already sits at 92-94 mph with movement, and he can touch 97. His curveball is a wipe-out pitch. If he hones his command and develops more confidence in his pitches, he could be an MLB ace.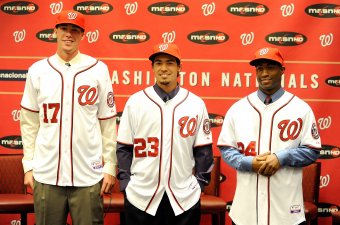 Greg Fiume/Getty Images
Lucas Giolito (scouting report), the Nationals' top pick last June, just went under the knife to have Tommy John surgery. Make no mistake, though, Giolito was still a great pick. The Nats knew he would probably need surgery when they selected him at the 16th overall slot. That's how gifted he is. In fact, if he were completely healthy on draft day, there's a good chance he would've been selected first overall.
On the mound, the teenage fireballer's heater already sits at 93-96 mph and has touched triple digits. His slider shows unhittable potential, but unlike most young hard throwers, Giolito also boasts solid command and polished pitching mechanics. He's further away from the big leagues than the other Nats top prosects, but, man, his future is bright.
Already in the majors, Christian Garcia is poised to play an important role for the Nationals in 2012.
One of the areas that killed that Nats this season was the back end of their bullpen. Their relievers are great, don't get me wrong, as Craig Stammen, Storen and Tyler Clippard are all first-rate arms. But outside of Storen, the team lacked a true, throw-it-by you closer.
Though Clippard has a 10.2 K/9 rate in his career, he allows way too many fly balls and home uns for a late-inning guy. His 0.60 ground-ball/fly-ball ratio is one of the lowest in the MLB, and he's allowed 18 home runs the last two seasons. As an eight-inning guy playing for a contender, his job description demands shutdown pitching with men on base. Clippard allows too many hard-hit balls to be completely trustworthy.
Stammen is gifted as well. Like Clippard, he has the mixture of command plus off-speed stuff to put together nice numbers out of the pen annually. However, he too isn't suited for the final frames. His ground-ball rate is higher (1.9 G/F career) than Clippard's, but he lacks the premium heat to silence bats day in and day out.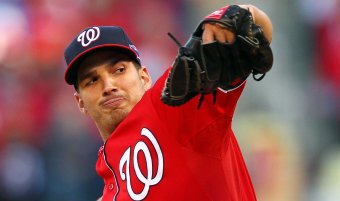 Dilip Vishwanat/Getty Images
Storen does have the fastball and the curve to overpower star hitters, but outside of him, the Nats' pen didn't have another one of those pitchers this season. Henry Rodriguez gets pretty close, as his fastball often lights up at 101 mph on radar guns, but his command problems (5.8 BB/9) make him unreliable.
Christian Garcia, who made his MLB debut this September, does have the stuff to shut down opposing hitters. His 96 mph sinker induced nearly six groundouts for every flyout this season at Syracuse (the MLB average is about 1.2/1 G/F), so he does an unbelievable job of keeping the ball in the park. His premium velocity and swing-and-miss changeup has also produced a career 10.1 strikeouts per nine innings, and he has the command (2.7 K/BB) to get the job done with men on base.
Garcia got his feet wet this September and performed well enough to earn a postseason roster spot. At 27 years old, his time is now, and the Nationals could really use him next season. His incredible ground-ball rates, swing-and-miss stuff and solid control make him an ideal late-inning reliever, and he'll add a shutdown element to their bullpen that they lacked this year.
Beyond young talent, the Nats have their key veterans—Gio Gonzalez and Ryan Zimmerman—locked-up long term, and outside of Adam LaRoche and a few peripheral contributors, they don't stand to loose much via free agency.
Zimmerman, who signed a seven-year contract extension last February, is the Nationals' franchise player. He's a formidable power hitter, and his acrobatic defense makes him one of the top fielding third baseman in the majors. Originally drafted by the Nationals out of Virginia in 2004, Zimmerman has been battle-hardened by years of losing, and there are few players who want a ring more than he does.
Washington's future success relies heavily on Zimmerman's performance. He's its clean-up hitter, field general and clubhouse leader, and his team is at its best when he's playing his best. Luckily, he's poised for a career year in 2013.
This season, after a shoulder injury slowed him out of the gate, Zimmerman rebounded after he received a cortisone injection in his shoulder on June 24th. Actually, he did more than rebound, he turned into a monster. He hit .321/.383/.584 in the season's final 90 games, mashing 22 home runs and 49 extra-base hits in that span.
His phenomenal performance led the Nats to a 56-34 record (.622 winning percentage), and his production was a key reason they were able to post a winning record in every month of the season.
Zimmerman celebrated his 28th birthday in September and he's firmly in his prime years. After an abdominal hernia shortened his 2011 campaign by 60 games, Zimmerman bounced back in 2012 with a very solid performance.
His season totals don't tell the whole story, however. He finished the year on a scorching hot streak, belting 22 of his 25 homers and 49 of his 62 extra-base hits in his final 90 games.
Despite fighting throw a nagging shoulder pain, Zimmerman hit .282/.346/.478 with 25 home runs, 62 extra-base hits and his slick fielding led to a 3.8 rWAR this year. After seven great seasons playing at the Nationals' hot corner, he's now a career .287/.353/.479 batter, and he's averaged a 4 rWAR (All-Star production) annually.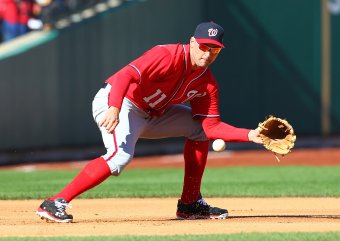 Dilip Vishwanat/Getty Images
With his hot hitting down the stretch, his age and his consistency there's plenty of reason to believe he'll be even better next year.
Ryan will have surgery on his shoulder this winter, and that should allow him to hit and field even better next season.
The Nats are blessed with a never-before-seen endowment of young, superstar talent. And the best part is, all of their stars are under team control for at least the next four seasons:
The Nats have virtually all of their important pieces locked up long term. Four of their top-five batters from 2012 and all five of their best pitchers are under team control through 2016. Even if Bryce Harper and Stephen Strasburg play full time from here on out, they won't earn free agent status until a year after that. And, franchise player Ryan Zimmerman is locked up through 2020.
With Jordan Zimmermann and Ian Desmond arbitration eligible, and both Harper and Strasburg only a few years away, the Nats are going to have to spend money to retain their young talent. But that's okay, because smart spending and their focus on player development has blessed them with outstanding payroll flexibility.
The Nationals' opening day payroll for 2012 was just over $80 million, ranking them 10th in the NL and 19th in MLB. But payroll flexibility isn't just about frugality. The other side of the equation is revenue. The Nationals sit in a large market, one of the largest in the majors, and their revenue potential is arguably one of the greatest in the National League.
Since their inaugural season in DC ('05), their revenue has climbed annually. And now that they have a new stadium and they've started winning, they've already started building their fanbase at an exhausting pace. Their home park attendance figures have increased a whopping 32 percent over the past two years.
The Nats are also working on re-writing their TV contract with the Mid-Atlantic Sports Network (MASN). Sharing the network with the Orioles, they own a measly 14 percent of MASN revenue. Right now, their unfair deal has constricted the Nats' annual earnings to about $24-30 million, a paltry amount considering they reside in the league's eighth-largest television market. So, they're locked in a battle with their Beltway bethren, and as it appears right now, they'll see at least a 30% increase in television income from here on out. If they successfully reset the contract's terms altogether, however, they could rake in as much as $100 million a season. That's a hefty raise (understatement), and in that case, they'll have a lot more cash to work with.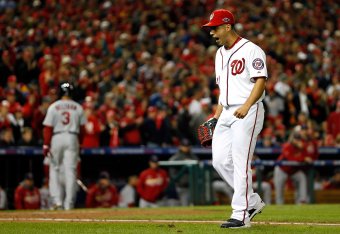 Rob Carr/Getty Images
The Nationals benefit from unbelievable payroll flexibility. In the short term, all of their stars are under team control. Even when they want to re-sign guys like Strasburg and Harper to long-term deals down the road, they'll have plenty of money to work with.
Plus, newly opened revenue streams from a revised TV contract and vastly increased ticket sales will allow them to spend big money on star free agents like Josh Hamilton or Robinson Cano (if he's available).
The Nationals got wrecked Friday night, but fans still have a lot of excitement and winning seasons ahead.
For their fans, Friday night's excruciatingly painful loss is going to sting for a long time. Youth has its downsides, and a lack of poise and experience in the clutch is one of them. But in professional sports, it has far more upsides.
Looking ahead, the Nats are built to win for a long time, and they're blessed with a perfect storm of team-controlled superstar talent, blue-chip prospects, payroll flexibility and booming revenue.