NHL Free Agency: Best Bargains Still Available on the Market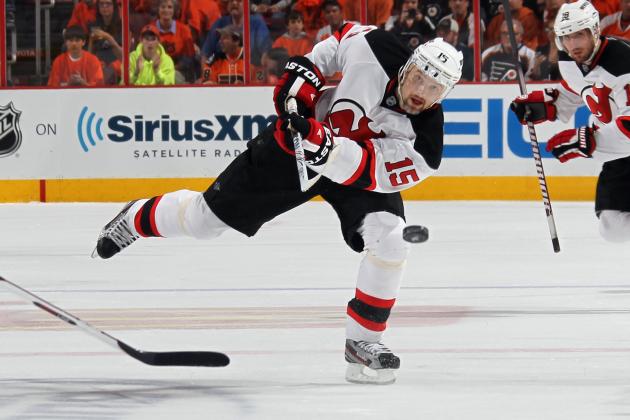 Bruce Bennett/Getty Images

The NHL lockout will end at some point. I mean, there's no way that the NHL and the NHLPA, despite what many fans will tell you, can be so stubborn as to drag this thing out forever. Can they?
That's a question for another time and frankly one I don't event want to ponder as we lose game after game and I'm forced to watch nth-generation copies of old Beat videotapes to get my hockey fix.
Moving on, today's topic is one of free agency. Yes, there are still a number of veteran players out there who are jobless (and in this economy, imagine!). When the lockout does come to an end (there's that optimism again) some of these players could most likely be had for the proverbial song.
Take a look at some NHL free agents that may be worth taking a chance on if a team can get them for the right price, and by right price I mean cheap.
Begin Slideshow

»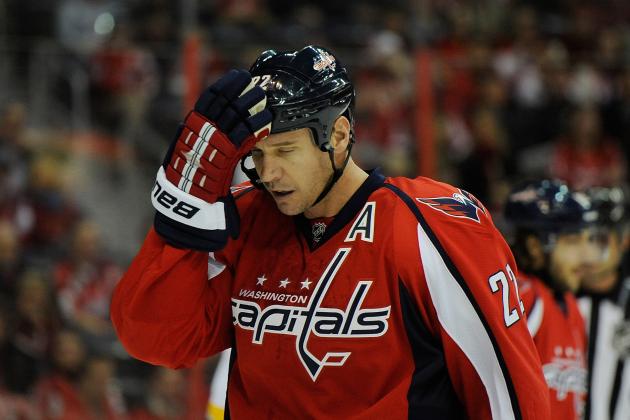 Patrick McDermott/Getty Images

At 40 years of age, Mike Knuble is no spring chicken, but he is currently unemployed and an interesting prospect to consider for a team looking for a big body that can park himself in front of the net and score goals.
Last year Knuble had a terrible year for the Washington Capitals, putting up six goals and adding 12 assists, but in the previous eight NHL seasons he never dropped below 40 points.

Knuble made $2 million last season in Washington, if a team could pick him up for half that it would be a risk worth taking, even on a player with a lot of mileage on him.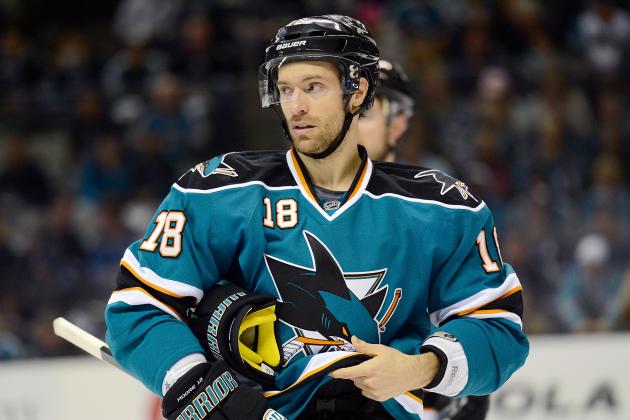 Thearon W. Henderson/Getty Images

In February, 2012 the San Jose Sharks gave up a second-round pick to obtain center Dominic Moore from the Tampa Bay Lightning. Moore, after putting up 19 points in 56 games with the Lightning delivered only six for the Sharks in 23 games.

When his $1.12 million deal expired with the Sharks they let him walk, and since that time he has been available to any team as an unrestricted free agent.

When the season ended it was revealed that Moore's wife was battling cancer, a fact that had to weigh heavy on the mind of the player.

When he is on, Moore is a capable third-liner, putting up 32 points during the 2010-11 season. He may be worth taking a flier on for less than $1 million on a one-year deal; he may come back strong, looking to show that the reason for his decline in San Jose was not age or lack of skill, but mental and emotional.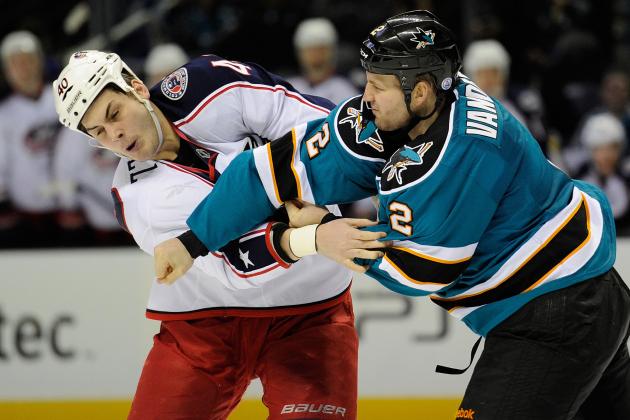 Thearon W. Henderson/Getty Images

Jim Vandermeer has played 436 NHL games for six different teams, most recently suiting up for the San Jose Sharks for 25 games during the 2011-12 season, earning $1 million.

Prior to the 2011-12 season Vandermeer was earning $2.3 million per year on a three-year contract.

Vandermeer can probably be had for less than $1 million for next season, adding depth to a team that has an established top six or coming in as a veteran presence for a team that needs a player to round out its third defensive duo.

Vandermeer would add grit to any team, and with his career seeming to be winding down at the age of 32, may be playing with a chip on his shoulder to show every team that he still has what it takes to make it in the NHL.

As a bonus he can also pull spot duty in a fourth-line offensive role—and he's never afraid to drop the gloves.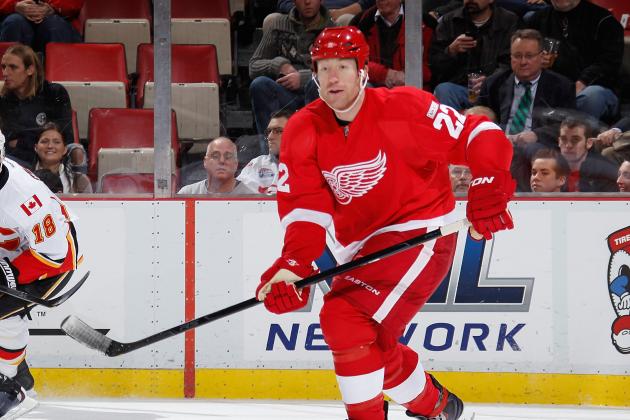 Gregory Shamus/Getty Images

Mike Commodore has had an up-and-down NHL career, playing 484 games for seven different teams since breaking into the league in 2001, winning the Stanley Cup in 2006 while playing for the Carolina Hurricanes, but also spending a significant amount of time in the AHL during his time as a pro.

In 2008-09 Commodore signed a five-year deal with the Columbus Blue Jackets worth $18.75 million. That contract was bought out and he then signed a one-year deal with the Detroit Red Wings for the 2011-12 season.
That pairing did not work out and Commodore was sent to the Tampa Bay Lightning. All told Commodore played 30 NHL games in 2011-12, totaling two points, both assists.

Commodore would be a decent stay-at-home defenseman for a team to pick up, and at 32 years old, he still has some miles left on him. Commodore could most likely be had for less than $1 million on a one-year deal. A deal like that would allow Commodore to prove his doubters wrong and allow him to be remembered as something more than the guy with the goofy hair.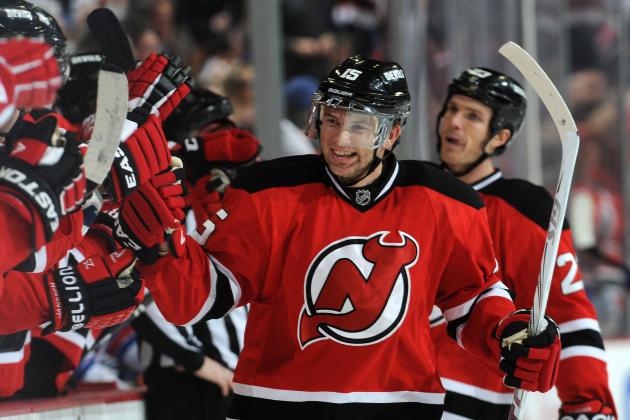 Christopher Pasatieri/Getty Images

For some reason the New Jersey Devils did not ink Petr Sykora to a contract at the end of the 2011-12 season. The 35-year-old veteran of 1,017 NHL games played all 82 games for the Devils last year, putting up 44 points while making a paltry (by NHL standards) $650,000.

Prior to the 2011-12 season Sykora last played a full NHL season in 2008-09 when he suited up for the Pittsburgh Penguins.

Sykora showed that he can still be a productive player, and if a team can get him on a one- or two-year deal for around a million dollars, why shouldn't they take a chance on a player of Sykora's pedigree? Face it, almost every team has at least one player making a lot more than Sykora would make while being a lot less productive.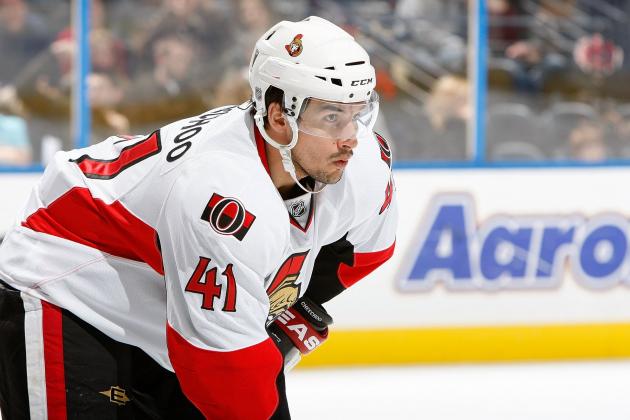 Kevin C. Cox/Getty Images

Jonathan Cheechoo has not played an NHL game since 2009-10 when he suited up for 61 games for the Ottawa Senators, scoring 14 points. Since then he has toiled in the AHL, putting up point totals of 14, 47 and most recently 56 for the Peoria Rivermen in 2011-12.

HIs two-way contract with the Rivermen's parent club, the St. Louis Blues, expired at the end of the 2011-12 season. That deal paid Cheechoo $105,000 for AHL play and $600,000 for NHL play.

So, why should a team take a chance on the 32-year-old winger?
That's an easy answer, because he would be a cheap signing and willing to work on a two-way deal. It's really a no-lose situation and if Cheechoo can show more progress while in the AHL, you can always bring him up to the big club—don't forget that he did put up 93 points for the Sharks in 2005-06.

It would be worth it to the roll the dice on Cheechoo soon and get him playing for an AHL team.