USC vs. Washington: Live Scores, Analysis and Results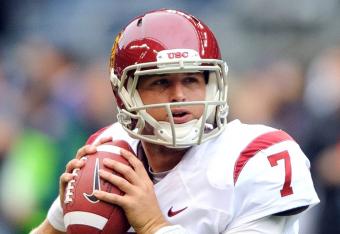 Well Trojans, that's a a wrap. USC WINS. See you back here for the Arizona game! IF you're on campus next week, stop by Psychogate and say hi!
USC will be 5-1 and 5 of their last 6 games are in Los Angeles.
Whoops! The fourth down interception was Josh Shaw, not Morgan Breslin. MY BAD.
Yes, and we all thought this was Woods' strength
Somehow I completely agree. RT @joeyrkaufman: Marqise Lee might be better catching the ball in traffic than on the run in space.

— Brian Wagner (@BrianRWagner) October 14, 2012
Alright USC, RUN THE CLOCK OUT, that is ALL you have to freaking do.
USC takes over at their own 39 after a critical fumble recovery. I keep saying critical. Because it IS.
3 min to go. USC D looks tired.
USC with critical interception!
My point about Sark vs Kiffin is being illustrated perfectly right now.
USC - University of Penalties up the WAZOO
See? I am not the only one who tires of the run game (from time to time, I'm coming around people. Hang in there!)
USC, with two first round picks at WR and a first rounder at QB, has to rely on run game most of the time to get things going offensively.

— Chris Huston (@HeismanPundit) October 14, 2012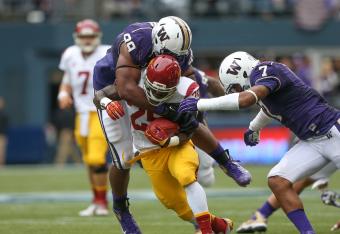 I am reversing my stance on the run game. Let Silas run it ALL NIGHT LONG. Use up the clock.
From the crowd "One play, 96 yards." Sadly, that didn't happen.
USC with the CRITICAL fumble recovery inside the five yard line.
Torin Harris is out. Clearly that's the difference.
In case you can't tell, that is EXTREME sarcasm.
WAKE UP USC! WHAT THE...?!
Speaking of the Song Girls, let's have a moment of silence for their greatest fan, the late, great Beano Cook. RIP. College football lost a legend this week.
This is true. USC tends to take the 3rd quarter off, just like the Song Girls.
#USC offense not a fan of the 3rd quarter. Shutout for 2nd straight game.

— Ryan Abraham (@insidetroy) October 14, 2012
My friend Sandi says: "Defensive turnover, right here, right now." I could not agree more! COME ON D!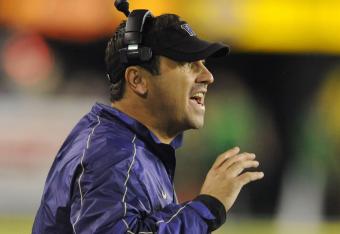 WHAT THE WHAT USC?
It is the same exact team you were dominating in the first half?!
Lane Kiffin is not even half the coach Steve Sarkisian is.
Truth. USC can't handle hurry up offenses.
Oregon salivating RT @ryandivish: The quicker tempo and hurry-up offense is starting to bother USC.

— Scott Enyeart (@ScottEnyeart) October 14, 2012
DBs Torin Harrisd and Demetrius Wright out for the rest of the game
Is it just me or is USC falling apart a bit?
A couple of downs ago, Morgan Breslin was down after trying to sack Price, got up and ran to him for a second chance at the sack. THAT is a work ethic.
That's my buddy USCsyco!
That might have been Barkley's career long run.

— usc psycho uscsyco (@uscpsycho) October 14, 2012
This article is
What is the duplicate article?
Why is this article offensive?
Where is this article plagiarized from?
Why is this article poorly edited?

USC Football: Like this team?