Tennessee vs. Mississippi State: Live Scores, Analysis and Results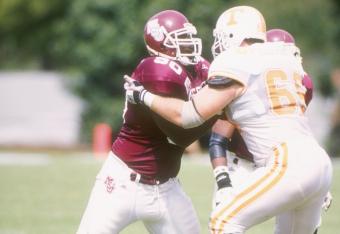 Jonathan Daniel/Getty Images
Mississippi State 41, Tennessee 31—FINAL SCORE.
Read the "10 Things We Learned from the Vols" article via this link.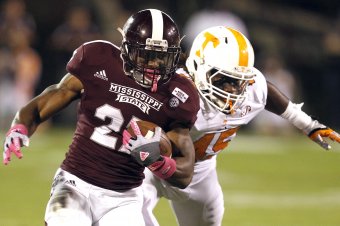 Butch Dill/Getty Images
Don't forget to find out what we learned about the Vols in Week 7.
FINAL SCORE: Mississippi State 41, Tennessee 31
Mississippi State advances to 6-0 (3-0), and the Volunteers fall to 3-3 (0-3) on the season. Stay tuned for what we learned about Tennessee in this game. The link will be posted in the main slide and in the blog section.

Mississippi State 41, Tennessee 31 with :09 left in the game.
Ridiculous skill catch for the Bulldogs to ice the game!
Tennessee will have 14 seconds left to score a touchdown for the win.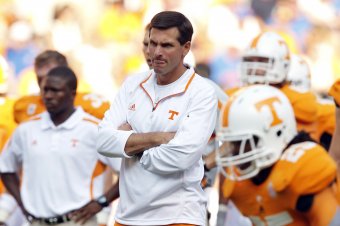 John Sommers II/Getty Images
Tennessee can still win this if the Vols hold the 'Dogs to a field goal, but they have to do it three plays from now. Otherwise, there won't be enough time. Tennessee has no timeouts left now.
Tennessee has all the tools to be a great team. I've been calling it for the 2013 season since Dooley got to UT. However, I don't know if he's going to get that much time with fans feeling like this:
Tennessee Athletics will be the death of me.. So nervous right now

— Rebecca. (@rebecca55_) October 14, 2012
Come on, Tennessee! Fundamentals! That's on the position coaches, all day. Tackles are basic SEC football.
Mississippi State 34, Tennessee 31 with 5:22 left in the game
Tennessee goes to its passing attack to find the end zone. If not for the rankings of LSU and South Carolina, this would have been the SEC game of the week.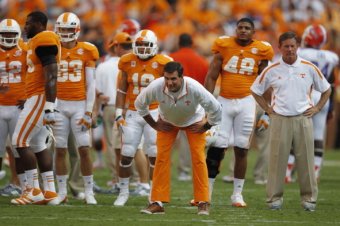 John Sommers II/Getty Images
As a Tennessee fan, would a win over a ranked team buy Dooley another year in your eyes?
Thank you! Tennessee finally lets Bray go off on the Bulldog defense. I hate watching a team throw a game away. "A-game" vs. "A-game," and may the better team win. That's what I always say, anyway.
Mississippi State 34, Tennessee 24 with 7:58 left in the game
Johnthan Banks ups his draft stock with that forced fumble and recovery for the Bulldogs.

Okay, you have Tyler Bray and the 10th-ranked passing offense in the nation. Why are you running the ball?
And there go the consequences.
Huge punt by Tennessee. Mississippi State was expecting to start about 13 yards closer to the good end of the field. Tennessee's defense can't give up any more than a field goal here.
That should be the game-winning stop for the Tennessee defense. That's three Bulldog punts on three possessions. All it takes now is a Tennessee touchdown.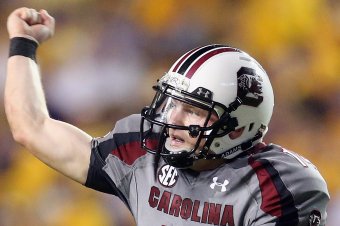 Ronald Martinez/Getty Images
Meanwhile in the SEC: South Carolina makes Florida's win over LSU look really, really good. Who here thinks that Florida will be favored over South Carolina after that showing?
Nice quick kick from Tyler Bray. Take your reads, if they aren't there, kick it away. Good call by the Tennessee coaching staff.
Tennessee fans are thinking this, simply add "don't" to the end of it to get the Mississippi State version:
please tennessee, please.

— Oldschool (@molds1) October 14, 2012
I see Tennessee's defense woke up and came out to play in the second half. Good news for Vols fans, not so much for Mississippi State fans.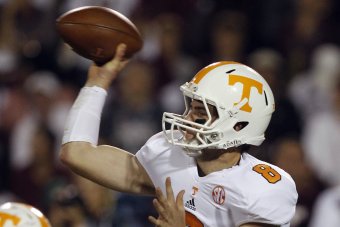 Butch Dill/Getty Images
Mississippi State 27, Tennessee 24 with 4:07 left in the third
Gargantuan statement by the Volunteers with that drive!

This is a huge breath of life for Tennessee. There's basically nothing between the Vols and the end zone. Well, nothing except Johnthan Banks.
Not sure how I feel about that flag. There was animosity going both ways after the whistle blew. Anyone else see that?
TENNESSEE, WE ARE STILL IN THIS! stepppp ittttt uppppp..

— CaitlinJohnson ♥ (@its_Caitlin143) October 14, 2012
There's that stop that Tennessee needed so badly! Volunteer fans, it isn't even close to over.
Mississippi State 27, Tennessee 17 with 10:35 left in the third
Tennessee gets crucial points and turns this into a football game.

Unbelievable play on the part of Tennessee's offense. That was heart and soul all over the field. That's exactly how the Vols needed to start this drive. All they need now is to end it with an extra point.
This article is
What is the duplicate article?
Why is this article offensive?
Where is this article plagiarized from?
Why is this article poorly edited?

Tennessee Volunteers Football: Like this team?