Auburn Football: 10 Things We Learned from the Tigers' Loss vs. Ole Miss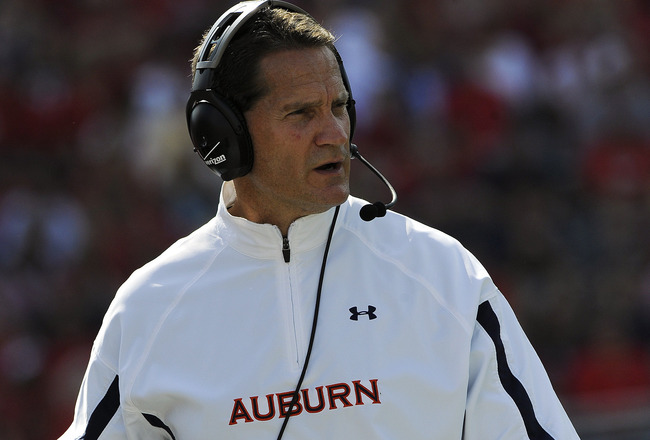 Photo credit: Todd Van Emst/Auburn Athletics

After being on top of the college football mountain just two years ago, Auburn now holds the longest SEC losing streak.
The Tigers replaced Ole Miss, the team they were beaten by on Saturday, for that title. The Tigers have now lost six straight conference games.
The Rebels had lost 16 straight SEC games prior to Saturday. The cure for that was to face the Auburn Tigers and its struggling offense.
Ole Miss 41, Auburn 20 will be remembered as the day all hope for the revival of Gene Chizik's career at Auburn came to an end.
Let's look at 10 things we learned from Saturday's loss at Ole Miss.
Auburn Did Not Stay with What Was Working on Offense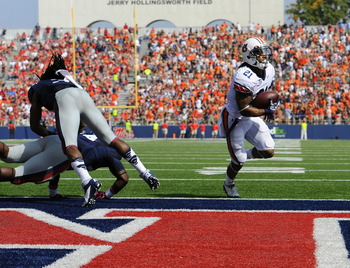 Auburn's Tre Mason scores in the second quarter. Photo credit: Todd Van Emst/Auburn Athletics
The Auburn offense looked functional for one of the few times all year toward the end of the first quarter and most of the second quarter. It scored 17 points in the second quarter alone.
It had success running between the tackles and getting in 3rd-and-short situations.
Strangely, but not surprisingly, Scot Loeffler got away from what was working in the first half.
Three of Auburn's first four drives in the second half were three-and-outs.
Tre Mason was only given the ball three times in the third quarter after getting 13 carries in the first half.
Auburn gained only 60 yards in the second half after having 153 yards in the first half.
Clint Moseley Was the Right Call to Start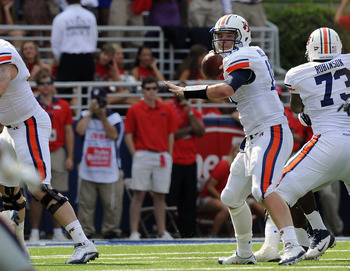 Auburn QB Clint Moseley winds up to pass against Mississippi. Photo credit: Todd Van Emst/Auburn Athletics
There were different arguments about whether or not Clint Moseley or Kiehl Frazier should start before news broke (via Charles Goldberg of AL.com) that Frazier was dealing with shoulder issues.
After the game Saturday, it's obvious that giving Moseley the starting nod was the right call.
There were a couple of instances that Moseley made decisions to leave the pocket when, based on previous weeks, Frazier may have taken a sack and a big loss.
In the first half, Moseley was perfect through the air. He went 8-of-8 and 90 yards. He finished his day with 11 completions in 18 attempts and 112 yards.
Moseley only had one turnover through the air, and that came when the game was already out of reach. He could have caught the bad snap from Tunde Fariyike that resulted in an Ole Miss turnover. The fault can be placed on both Fariyike and Moseley.
Based on his play Saturday, Moseley should be the starter going forward.
Conditioning Is a Concern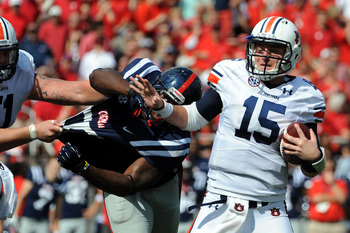 Chuck Cook-US PRESSWIRE
Auburn has now been outscored 62-3 in the fourth quarter of games in 2012. This is an obvious concern. It's a lack of execution and mental mistakes that cost Auburn the game.
In 2010, which seems so long ago, if Auburn was close in the fourth quarter, it was going to win.
Lack of execution and mental mistakes are characteristics of what happens when players get tired. They get lazy both mentally and physically.
Former Auburn offensive tackle Lee Ziemba did not have good things to say about the team's conditioning himself.
I will love auburn to the grave but this is the most mentally and physically weak team I have watched Auburn field..no heart...it's sad

— Lee Ziemba (@Ziemba73) October 13, 2012
Strength coach Kevin Yoxall has been as solid as a rock for over a decade at Auburn. This team looks like one of his weakest.
This team is noticeably weaker and in worse condition both mentally and physically than the top teams in the SEC.
This Auburn Team Is Historically Bad
Chuck Cook-US PRESSWIRE
We are living in historic times in terms of the Auburn football program. That is not a good thing. Auburn has not been beaten this badly by Ole Miss since Pat Dye's last season in 1992.
Jon Solomon also pointed this out for us.
Auburn is assured of no winning SEC record for 4th time in 5 years. Last time that happened was in 1940s & '50s.

— Jon Solomon (@jonsol) October 13, 2012
Auburn is 0-4 in SEC play for the first time since 1980. Doug Barfield was fired at the end of that season.
The frustrating thing about this is that Auburn has recruited at the top of the SEC, and it should not be this bad with the talent that it has.
Tre Mason Can Be a Special Back When Utilized Properly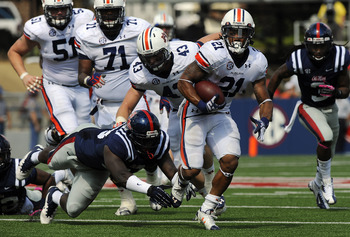 Tre Mason runs against Mississippi. Photo credit: Todd Van Emst/Auburn Athletics
Tre Mason is fun to watch. He runs hard. He has great balance and runs low to the ground. Mason rarely goes down after initial contact.
If he was utilized properly on Saturday, he would have had his second 100-yard rushing game of 2012.
Instead, he finished with 82 yards rushing on 18 carries. He averaged 4.6 yards per carry and had two touchdowns.
Auburn fans should enjoy watching Mason run whether Auburn wins or loses. He can be something special.
Offensive Line Play Continues to Be an Issue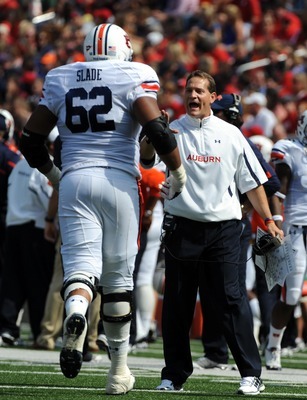 Chuck Cook-US PRESSWIRE
The struggles of Auburn's offensive line continued Saturday against Ole Miss.
Clint Moseley was only sacked two times (big improvement after allowing eight against Arkansas), but Moseley felt pressure constantly against a Mississippi defensive line that is no where near the size or caliber of the top defensive lines in the conference.
Patrick Miller and Greg Robinson both had games they want to forget. Costly penalties and pressure were the common themes for the offensive line all afternoon.
Without success on the offensive front, there isn't a team in America that can have success.
Fundamental Problems Arise Again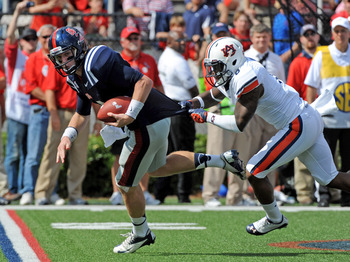 Chuck Cook-US PRESSWIRE
Are we beating a dead horse? There are fundamental issues all over the field on both sides of the ball.
Shouldn't these players have played football long enough to know about doing the small things it takes to win games?
On at least three occasions on third down, Auburn receivers ran routes that were about two yards short of the chains. Sure, a route has a required depth, and there are timing issues, but what good does catching a ball two yards short of the chains on third down going to do for you? It's things like this that players learn in ninth grade.
We don't have to talk about the finishing tackles problem again, do we? Yes. Poor tackling took whatever air was left in Auburn's lungs and squeezed it out of them.
It was 3rd-and-16, and Auburn was about to get the ball back. Ashton Richardson made the tackle before the running back reached the first-down markers but did not finish the tackle.
It looked just like Jake Holland's attempted tackle against Clemson, and yes, it looked like Michael Dyer's run in the national championship game in 2010.
Play until the whistle. Ole Miss knew that. For some reason, these things are lost upon Auburn players during games.
Sammie Coates Walks the Walk After Talking the Talk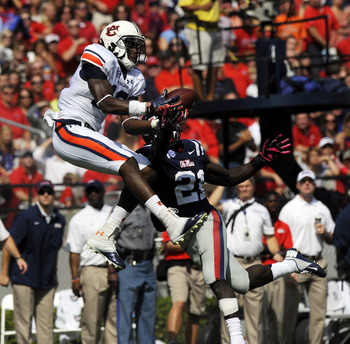 Auburn's Sammie Coates catches a 42-yard pass behind Ole Miss defender Senquez Golson in the second quarter. Photo credit: Todd Van Emst/Auburn Athletics
Sammie Coates took some criticism when he publicly criticized the leadership on the Auburn football team—and rightfully so. It's probably better to take those things behind closed doors and say them.
However, after saying something like that, it should be backed up by stepping up productivity on the field.
Coates did that. He only had one catch, but that one catch was good enough to lead Auburn in receiving on Saturday with 42 yards.
The Wildcat Does Nothing for the Auburn Offense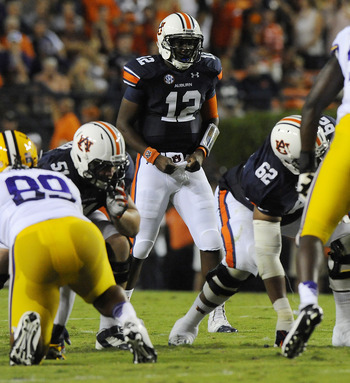 Photo credit: Todd Van Emst/Auburn Athletics
Jonathan Wallace is going to be a great quarterback. Having said that, he was robbed of an extra year to get ready and become more of a groomed QB.
Auburn should not have burnt his redshirt year to simply run the ball in the Wildcat formation.
Just like in 2011 with Kiehl Frazier, the Wildcat formation does nothing for the 2012 version of the Auburn offense.
Not only does it disrupt the starting QB of getting into a rhythm (hasn't happened much this year, I know), but it's too predicable.
If Wallace was allowed to throw and prove that he is a threat with his arm and his legs, it may be more effective. Auburn has shown no sign of letting Wallace attempt a throw.
There Is Something Missing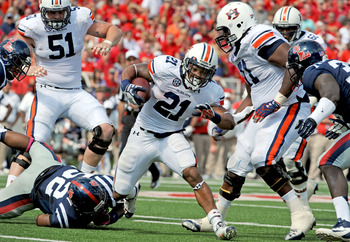 Chuck Cook-US PRESSWIRE
This Auburn team just doesn't feel right, does it? There is something missing beyond better coaches and players.
This is a worse team than the one that played in the Georgia Dome against Clemson on Sept. 1.
There was that one moment of promise after narrowly losing to LSU, but after we've seen LSU's offense since then, was it that big of a deal that Auburn held them to only 12 points?
It is safe to say that this team gave up in the fourth quarter. It almost feels like it has given up on the season.
I don't think we can say that Gene Chizik has lost the team yet, but Auburn does not portray a team that has one common goal.
Auburn needs to find out what it's missing and needs to do it in a hurry. If they do not, jobs may (and probably will) be lost.
The problems of this Auburn team are not a result of being young or inexperienced. It's coaching—plain and simple.
Chizik needs to find a quick remedy to the problems Auburn faces. If he doesn't, the disaster that we told you was needed for him to be fired at the end of this season is more likely to happen than not.
Keep Reading

Auburn Football: Like this team?