Tigers vs. Yankees: New York Pitching Will Down Detroit on Path to World Series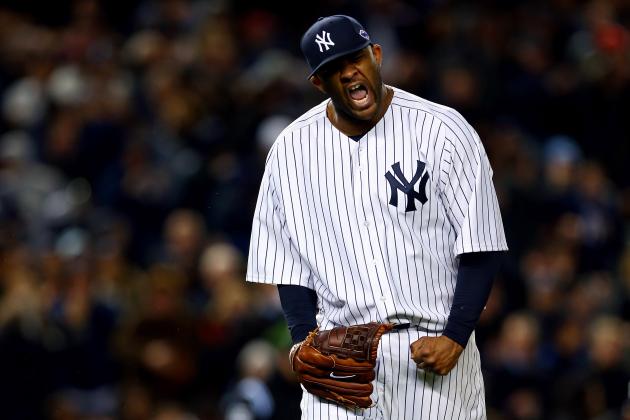 Elsa/Getty Images
CC is ready for another ring.
Both the New York Yankees and the Detroit Tigers needed five games to advance to the ALCS. This series will also likely go the distance, but New York's pitching will eventually overwhelm Detroit and help the Yankees advance to the World Series.
It is no surprise to see these two teams here. While Baltimore and Oakland were nice surprises, they lacked the rosters and the experience to move on.
New York won the season series 6-4, but Detroit still has the bragging rights after eliminating the Yankees in last year's playoffs.
The Bronx Bombers will not settle for losing two years in a row, and their pitching will ensure their success.
This will be a great series, but there are a few reasons why New York's pitching will be the deciding factor.
Begin Slideshow

»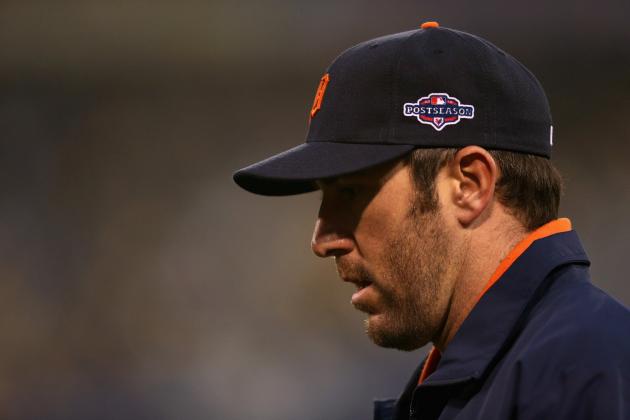 Ezra Shaw/Getty Images
Verlander has not had success against the Yankees this season.
The Yankees cannot win unless they defeat Justin Verlander. And what better way to defeat an ace than with an ace of their own.
CC Sabathia will be the guy to look for in defeating Verlander. Assuming New York will want to match CC with the Detroit star, their first duel would come in Game 3 at Detroit. Then, if the series goes the distance, it would likely be Sabathia against Verlander in New York to determine the AL's representative in the World Series.
Verlander was inhuman during his starts in the first round of the 2012 MLB playoffs.
In Game 1, He went seven innings, allowed one run and recorded 11 strikeouts in a 3-1 win over Oakland. His Game 5 start was even more impressive as he went nine innings in a 6-0 shutout of the Athletics: He allowed four hits, and he once again made 11 batters question why they even bothered going to the plate.
Verlander will need to keep up his dominance as he will face a Yankees team that he struggled against during the season. During the regular season, he went 1-2 against New York.
In his first start, he went six innings, allowing five runs while striking out only four batters. His second start had similar numbers with a similar result, as he went 6.1 innings and allowed five runs.
Verlander's one win over the Yankees was a dominant performance. He went eight innings, allowed no earned runs and sent 14 batters back to the dugout shaking their heads.
Since his last start against New York, Verlander has been the master of all things baseball, and that is why Sabathia is needed. Only CC can counteract the effect of Verlander.
Sabathia is coming off two impressive starts against Baltimore in the ALDS. He went 2-0, and he allowed just three runs over 17.2 innings of work.
He was especially impressive in his Game 5 victory over Baltimore. Sabathia went the distance allowing just one run and striking out nine.
After the game, Erik Boland of Newsday.com reported that Orioles coach Buck Showalter compared CC's performance to Verlander's latest performance:
"All you have to do is look at Oakland last night and what happened there with Verlander,'' Showalter said. "There is really only about six or seven true number one starters in baseball . . . and [Sabathia] certainly is one of those guys that can dominate and make a difference in just a pure 'W' or 'L.' That's why guys like him are in such demand."
What Sabathia has that Verlander does not is a winning record against his ALCS opponent. CC had three starts against Detroit this season, and New York won all three games.
This will be the key matchup to watch, and expect CC's past success against the Tigers to continue.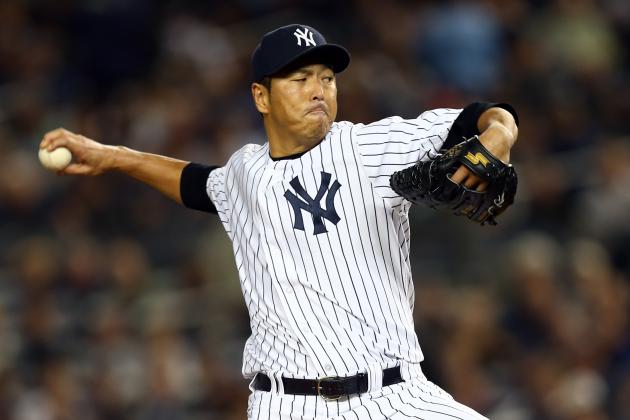 Elsa/Getty Images
Kuroda could be the key to the Yankees winning.
The Sabathia-Verlander duel carries even more significance because the remaining starters for each rotation are almost equal in strength.
Detroit will rely on Max Scherzer, Doug Fister and Anibal Sanchez, with Fister starting Game 1 for the Tigers.
Scherzer was great in his one start during the ALDS. He went 5.1 innings, allowed just three hits, one unearned run and struck out eight in a 4-3 loss.
Scherzer faced the Yankees during the regular season and he was less than stellar. He only allowed three runs, but he lasted just 4.2 innings and threw 119 pitches as he was bested by Sabathia.
The Tigers's Game 1 starter will be Fister, and he had a great game against Oakland. He went seven innings, allowed two runs and recorded eight strikeouts.
His one regular season appearance against New York was a solid performance, as he went 6.1 innings allowing just two runs. He failed to earn the win, though, as Joaquin Benoit allowed two home runs late in the game.
Sanchez rounds out the Tigers playoff rotation. Like the other three Detroit pitchers, he did very well against the A's. Allowing two runs over 6.1 innings, Sanchez was good enough to win, but Oakland's Brian Anderson was masterful as he shutdown Detroit, not allowing a run.
Sanchez had a game to forget in his sole start against New York during the regular season. He went just three innings and allowed seven runs.
This staff matches up well with the other Yankees starters.
New York has not announced who will be included in their ALCS rotation, but Andy Pettitte has been announced as the Game 1 starter. The other likely starters are Phil Hughes and Hiroki Kuroda.
Pettitte allowed three runs over seven innings in a 3-2 loss against Baltimore, but his value may come elsewhere. Detroit did not face Pettitte during the regular season, and Andy has a career 19-11 playoff record. He is the most experienced pitcher in the playoffs, and he is the perfect man to start the Yankees off right.
New York may have lost Game 4, 2-1, but Hughes could do no better. He makes a great playoff rotation guy as he allowed just one run over six innings in his start, and he outperformed Verlander during the season.
He helped the Yankees win as he went nine innings, allowing one run and sitting down eight batters. Add the fact that he held his own against Verlander, and that is another plus in favor of New York.
The Bronx Bombers' secret weapon, though, may be Kuroda. He was great in his Game 3 performance as he went 8.1 innings and allowed two runs.
Kuroda has some experience against Detroit as he faced them twice during the regular season. He went 1-1 in his two starts, and he only allowed two runs over seven innings in his first start. He will likely be the Game 2 starter, which would pair him with Sanchez.
If Kuroda can get the win, he will likely put the Yankees up 2-0 with CC starting Game 3. This would be a huge advantage, and it would put immense pressure on Verlander to perform, which could lead to his demise against Sabathia.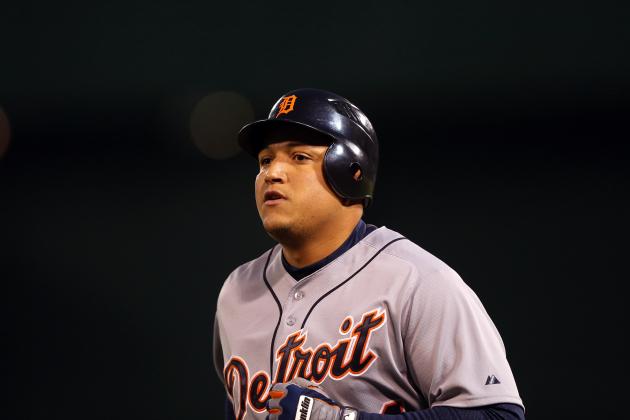 Ezra Shaw/Getty Images
Cabrera is a Triple Crown winner, but that doesn't matter in the postseason.
The Yankees staff has a great opportunity to shutdown Detroit because the heart of the Tigers order is struggling.
The 3-4-5 guys are Miguel Cabrera, Prince Fielder and Delmon Young. Cabrera is a Triple Crown winner, Fielder hit 30 homers for the sixth straight year and Young is a Yankee killer as he has at least one hit in each of his games against New York this season.
But these three have struggled during the playoffs. The trio had more than two hits combined in just two games in the Oakland series.
In Game 1, the three went hitless, but somehow they won. In Game 3, they went a combined 2-for-11, and in Game 5, they went 2-for-14. Luckily, Verlander was pitching Game 5.
According to Roger Rubin, Anthony McCarron and Mark Feinsand of NYDailyNews.com, Mark Teixeira considers Cabrera and Fielder "probably the best 3-4 combo in all of baseball."
Maybe during the regular season, but not in the playoffs. To make matters worse for Detroit, Yankees pitchers were dominant against the 3-4-5 hitters in the Baltimore series.
The Orioles do not have a Miguel Cabrera, but they have a powerful group in the middle of their lineup. Chris Davis, Adam Jones and Matt Wieters combined for 88 home runs during the season.
All that power counted for little against New York. Outside of Game 2, the Orioles 3-4-5 hitters combined for four hits in four games.
When a pitching staff can do that to the heart of a team's batting order in the playoffs, it puts the opposing team on notice. If Detroit's entire team does not come to hit, they will not win.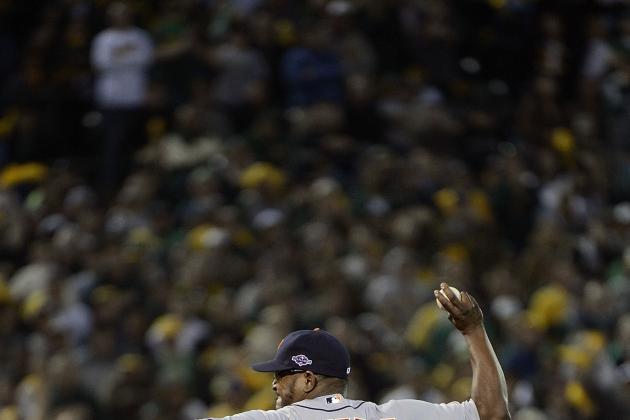 Thearon W. Henderson/Getty Images
Valverde's inconsistency could cost Detroit the series.
In the end, the Bronx Bombers will down the Tigers because the Yankees pitchers will not blow the game like the Detroit pitchers.
The starters are arguably dead even, but there is no comparison when it comes to the bullpen. Joaquin Benoit and Jose Valverde are good pitchers, but they are liabilities.
These two pitchers can be as dominant as any reliever in baseball. Benoit has a smoking-fast fastball, and Valverde has the energy and experience to close out any game. Unfortunately, these two also have a tendency to give up a lot of runs.
Benoit allowed two runs and almost blew Game 2 against Oakland. Valverde actually did blow the game as he allowed three runs on four hits in the Tigers' 4-3 Game 4 loss.
The New York bullpen allowed one run in Game 4 that resulted in a 2-1 loss. The game also went 13 innings, and the bullpen had just closed out a 12-inning Game 3.
These two relievers have already had struggles against the Yankees when they played during the regular season.
Benoit allowed the game-winning run in the first meeting of the year. He also allowed two home runs in the final meeting with New York, the Yankees winning 4-3.
What is scary is that Valverde was worse than Benoit. In Detroit's second meeting with N.Y., he allowed three runs. He allowed runs in their fifth meeting as well. The eighth meeting was no different as he allowed two runs.
The only difference between Valverde and Benoit is that none of the runs Valverde allowed resulted in a loss for Detroit, against the Yankees anyways.
But after watching Raul Ibanez hit two pinch-hit home runs against Baltimore, the Tigers should be worried. If the game comes down to the wire, the favor has to be leaning toward New York. And with the two sets of starters who will be battling each other, it would not be surprising if every game was decided late.
With this in mind, the Yankees have to be the favorites to win and go on to the World Series.