College Football All-Week 7 Team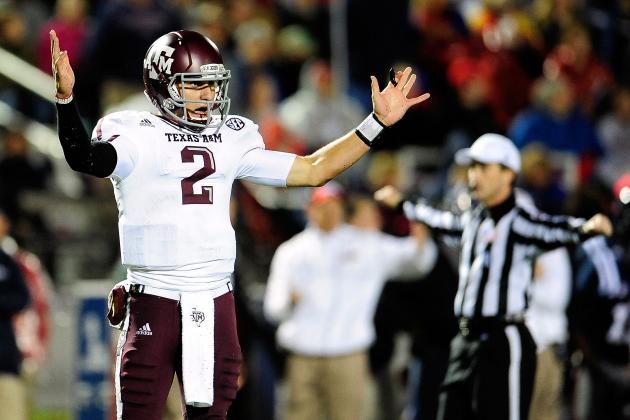 Stacy Revere/Getty Images

Here is your list of top performers in Week 7 of the college football season.
But before you dive in, let's take a moment to recognize a performance worthy of individual recognition, that of Texas A&M quarterback, Johnny "Football" Manziel.
In the best game of the weekend, Johnny Football broke his own SEC record for total yardage against Louisiana Tech. Manziel scampered, danced and passed his way to 576 yards of total offense and six touchdowns, three apiece through the air and on the ground.
For that, Manziel earns a place atop this list, after having the transcendent performance of the week in A&M's 59-57 win over previously undefeated Louisiana Tech.
Read on for more of your All-Week 7 team.
Begin Slideshow

»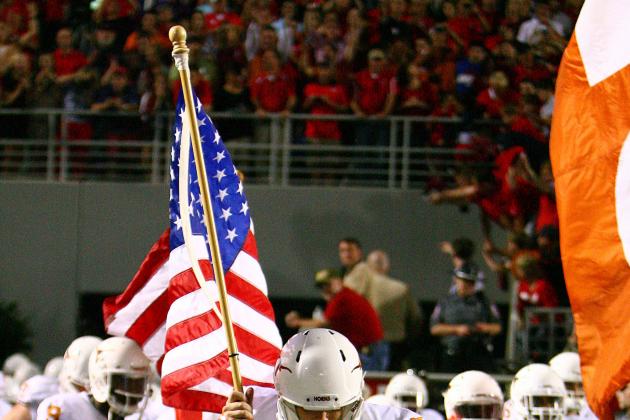 Spruce Derden-US PRESSWIRE

Stats: Eight punts, 49.6 yards per punt, two inside the 20-yard line
Yes, the Longhorns were absolutely destroyed, 63-21, but with a worse punter, things could have been uglier.
King punted eight times against the Sooners after only previously punting 10 times all season.
Even so, he averaged nearly 50 yards per boot.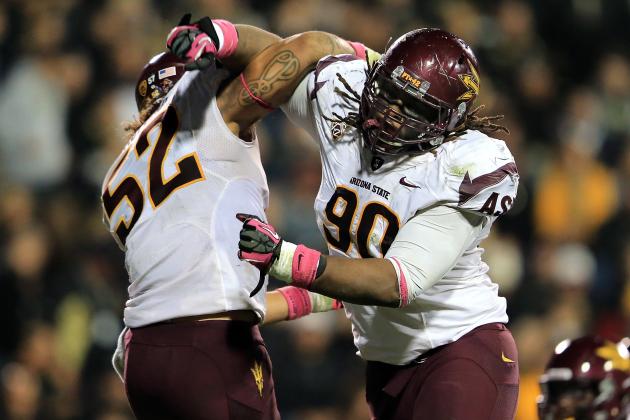 Doug Pensinger/Getty Images

Stats: Five tackles, two sacks, pass defended
Sutton has been a monster all season long, racking up 8.5 sacks to date.
Against Colorado this past Thursday, he continued to assert his dominance from the defensive tackle position, clogging the middle of the field all day long and ringing up two more sacks.
ASU has been better than expected, and that's due largely to excellent play on the defensive side of the ball.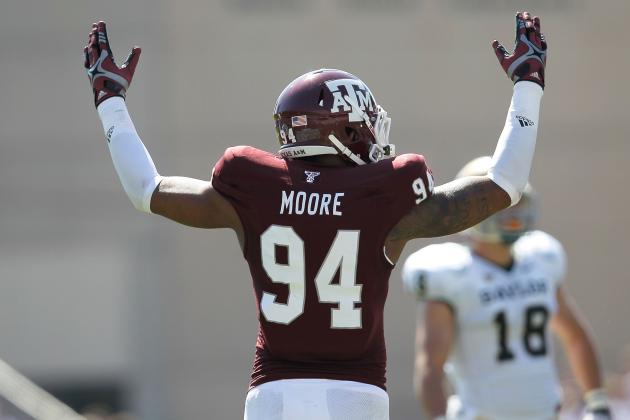 Sarah Glenn/Getty Images

Stats: 17 tackles, 1.5 sacks, 2.5 tackles for loss, blocked extra point
Moore was a monster all night long for A&M as the Aggies eked out the 59-57 win over Louisiana Tech.
Besides the impact he had on the defensive side of the ball, Moore also blocked an extra point with two minutes and 55 seconds left before halftime. That was returned for two points.
Those two points wound up being the difference.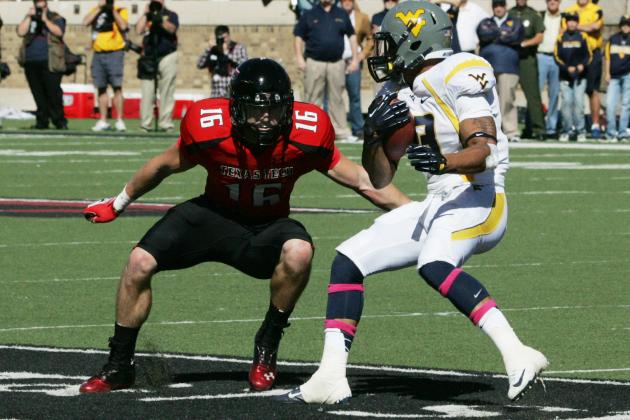 Michael C. Johnson-US PRESSWIRE

Stats: 14 tackles, two passes defended
More about the TTU defense to come, but Davis was obviously a huge spark for the defense that gave West Virginia all kinds of trouble.
When called upon in coverage, he did a great job of not getting beat and making plays on the ball.
On top of that, he was all over the field, leading the Red Raider defense in tackles as the they pulled off the upset, 49-14.
Stats: Six tackles, field-goal block returned for touchdown
Harmon does double duty as one of our defensive backs and our specialist of the week.
The Scarlet Knights knocked off Syracuse, 23-15, in a Big East matchup.
Harmon was part of a solid defensive effort from Rutgers yet again, and he chipped into the scoring with a 75-yard return of a blocked field goal for a touchdown.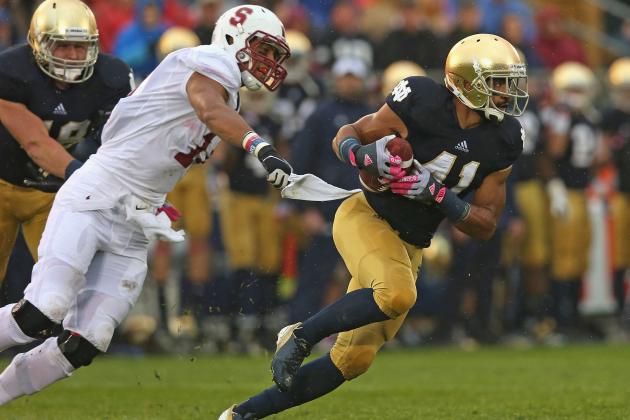 Jonathan Daniel/Getty Images

Stats: Eight tackles, interception
Farley is a converted wide receiver taking his place in a defense that has been the toughest in the nation on which to score through the past four games.
Farley had a pick of Josh Nunes that he returned 49 yards. The resulting three points contributed to the slim margin of victory.
One of his eight tackles was a tackle for loss on third down in the fourth quarter: He dropped Stepfan Taylor for a seven-yard loss and forced a field-goal attempt.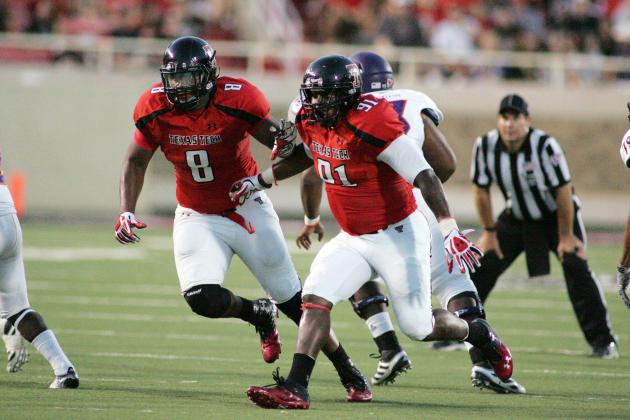 Michael C. Johnson-US PRESSWIRE

This group as a unit had to be included on this list.
The Red Raiders defense, while allowing 407 yards of offense, limited West Virginia to only 14 points.
TTU held the Mountaineers to only two conversions on seven fourth-down attempts, and the team held Geno Smith, the most efficient quarterback in the game, to only a 52.7 percent completion rate.
Sure, the defense gave some ground, but they consistently held when it mattered and slowed down one of the best offenses in the nation.
Defensive coordinator Art Kaufman deserves tons of credit for the effectiveness of TTU's game plan.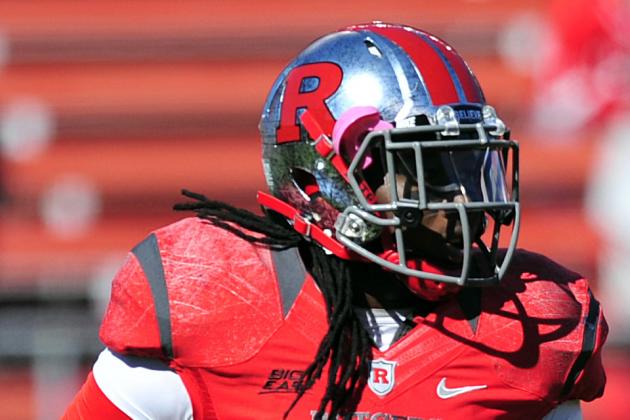 Joe Camporeale-US PRESSWIRE

Stats: 14 tackles, three forced fumbles, interception, 1.5 sacks.
Rutgers is undefeated and sitting pretty, with a defense ranked 15th in the nation in total yardage allowed.
It's guys like Greene that are the reason.
He dominated the Scarlet Knights' game against Syracuse, having the best game of any linebacker this week. He was a key part of a 23-15 victory.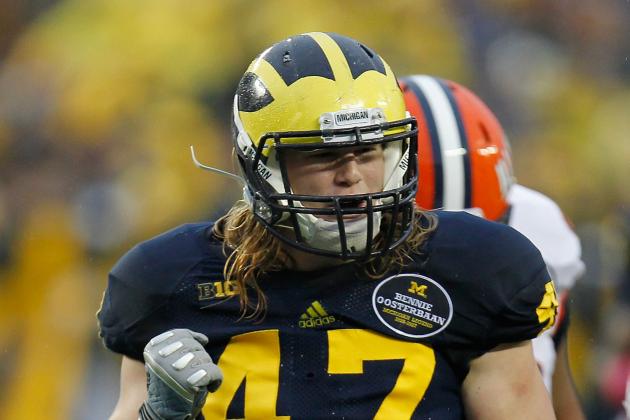 Gregory Shamus/Getty Images

Stats: 11 tackle, 3.5 tackles for loss, 1.5 sacks, forced fumble
It seemed as if everything was going right in Michigan's game against Illinois, as they dominated the Illini, 45-0.
Ryan had a monster game, haranguing the Illinois quarterback on a regular basis and coming up with 1.5 sacks.
He has really started to pick up his level of play, and if this continues, he will find himself all over Big Ten award lists.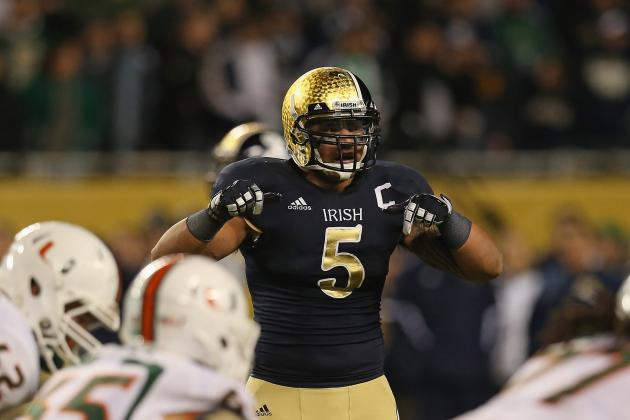 Jonathan Daniel/Getty Images

Stats: 11 tackles
Te'o continues to be the catalyst for a defense that has yet to allow a rushing touchdown this season and hasn't allowed a touchdown at all in four consecutive games.
He continued to play at an elite level against Stanford. He was in on the game-winning goal-line stand, meeting Stepfan Taylor at the top of the pile and helping to turn him back.
With the Heisman race wide open this season, Te'o is doing a great job of forcing himself into the conversation.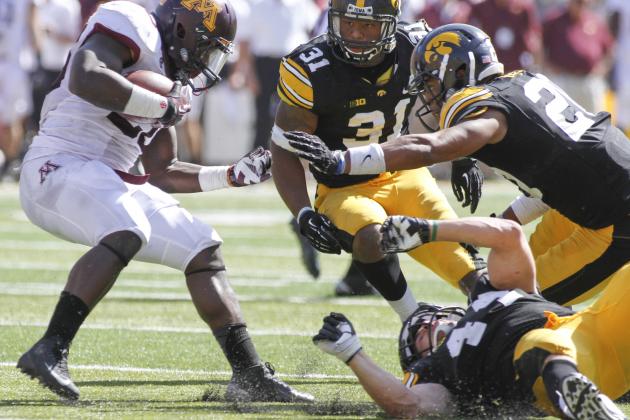 Matthew Holst/Getty Images

Hitchens Stats: 15 tackles
Kirksey Stats: Seven tackles, sack, forced fumble, pass defended
The entire Iowa defense was huge in their win over Michigan State, which put them in a tie for first place in the Big Ten's Legends Division.
These linebackers were all over the field, registering 22 tackles between them and helping limit Michigan State's attack to only 16 points in a double-overtime contest.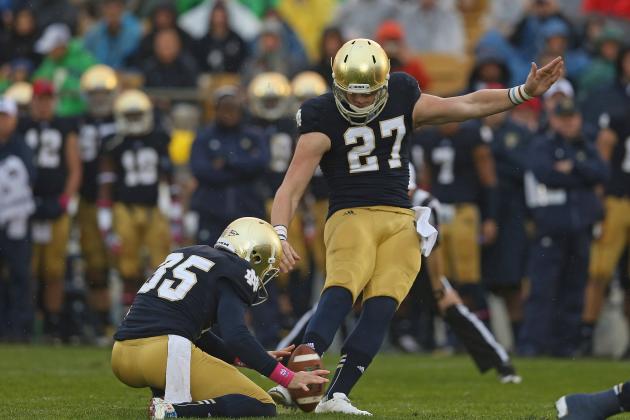 Jonathan Daniel/Getty Images

Stats: 2-for-2 field goals
Call it crazy, but Brindza kept the Irish in the hunt for a BCS appearance with his two field goals.
The game was low scoring, with a 20-13 after overtime score favoring the Irish.
Brindza's second field goal of the game came with 20 seconds left in regulation, and it tied the game to send it to overtime.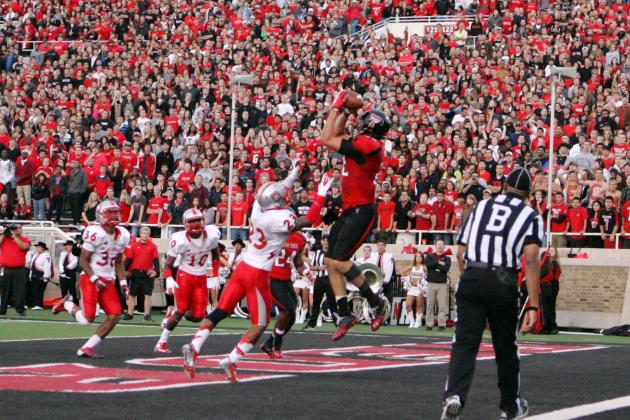 Michael C. Johnson-US PRESSWIRE

Stats: Five receptions, 156 yards, touchdown
Yes, Amaro pretty much dominated the West Virginia defense, creating matchup nightmares.
His 39-yard touchdown reception opened the scoring, and he contributed on four other big-play receptions to get the huge yardage total he accumulated by the end of the afternoon.
After no tight ends made the cut last week on this list, Amaro forced his way in with a huge game.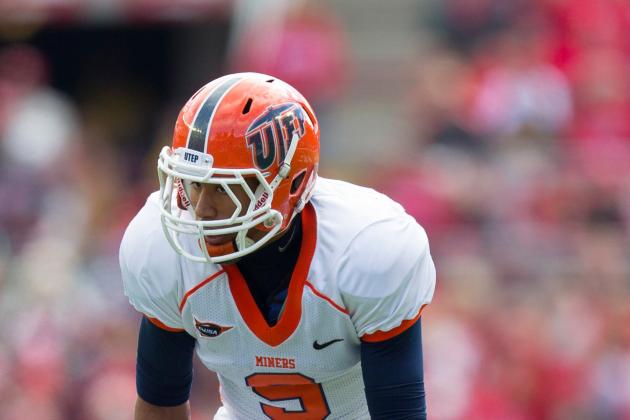 Jeff Hanisch-US PRESSWIRE

Stats: 10 receptions, 218 yards, touchdown
This was a big day for Jordan Leslie.
The sophomore from Houston put up his biggest numbers of the season, averaging 21.8 yards per catch.
It wasn't enough for the Miners, as they fell short against Tulsa, 33-11.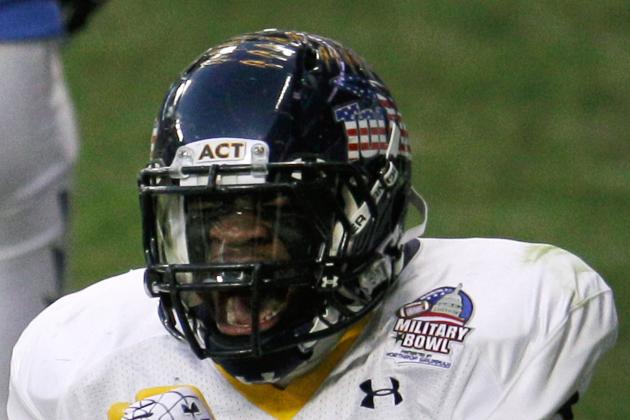 Rob Carr/Getty Images

Stats: 11 receptions, 237 yards receiving, two receiving touchdowns, one kickoff return touchdown
Toledo squeaked out the win, 52-47, over the winless Eastern Michigan Eagles. Without Reedy's performance, that doesn't happen.
While he's had two 10-reception games already this season, his 21.5 yards per reception set him apart in this week's game. Additionally, he had an 89-yard touchdown on a kick return.
Reedy's performance puts him near the top of this week's receiving leaders, somewhere he hasn't been as yet this season.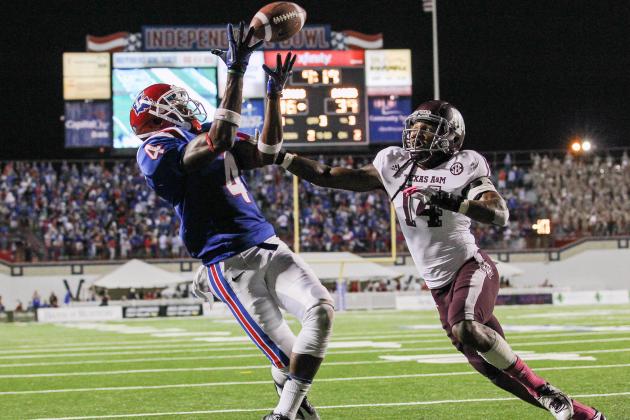 Kevin Jairaj-US PRESSWIRE

Stats: 21 receptions, 233 yards receiving, four touchdowns
The Bulldogs mounted a terrific comeback against Texas A&M, only to fall short on the two-point conversion with time running out.
Even so, Patton had a game that will be remembered for a very long time.
He and quarterback Colby Cameron torched TAMU's secondary for a ridiculous 21 receptions, including touchdowns of 11, two, five and 62 yards.
Patton has been a solid receiver for a few years at La. Tech, but his receptions total on this night more than doubled any other game he has played this season.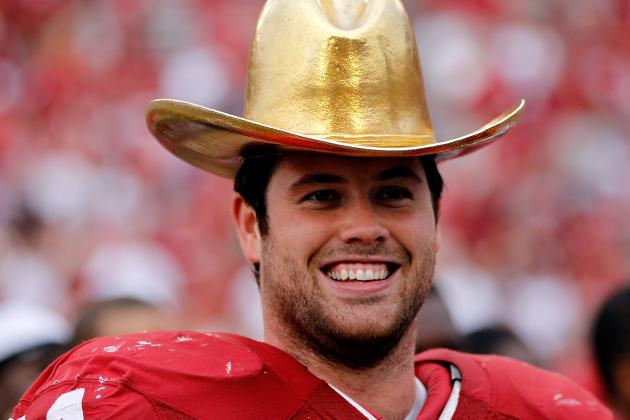 Tom Pennington/Getty Images

The 2012 edition of the Red River Rivalry was quite a rout.
Oklahoma's offensive line paved the way for 63 points, including six rushing touchdowns.
Center Gabe Ikard led the strong effort, which paved the way for 343 yards on the ground against a Texas defense that was exposed all day long.
Landry Jones was able to stand up in the pocket and make plays, and the front line of the Sooners pushed around the 'Horns all game.
Stats: 45 yards rushing, 15 yards per attempt; five receptions, 119 yards receiving, touchdown
Trey Millard is a matchup nightmare, and he proved it against Texas.
He is extremely athletic, as evidenced by his "hurdle tackler while breaking tackle" routine, and he is deceptively quick for a fullback.
Against the Longhorns, he led the Sooners in both receptions and yards, and he proved to be more than just a large guy on the field to take up space.
Geoff Burke/Getty Images

Stats: 183 yards rushing, two touchdowns, 14.1 yards per carry
Duke gave Virginia Tech a scare, jumping out to a 20-0 lead in the first quarter before the Hokies tallied 41 straight points to pull away.
Coleman scored from 45 yards out to put the Hokie ahead for the first time, 24-20, and then he put the exclamation point on the victory with an 86-yard scamper in the fourth quarter.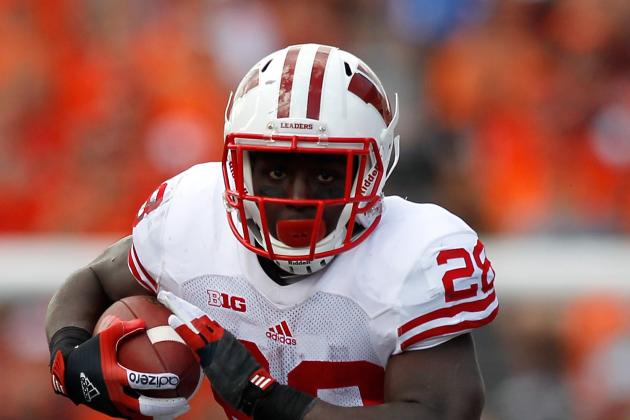 Jonathan Ferrey/Getty Images

Stats: 247 yards rushing, 8.5 yards per carry, three touchdowns
That's the Montee we used to know.
Ball ran over, through and around Purdue en route to 247 rushing yards—the largest total of his career.
He also broke the Big Ten touchdown record, with three on the day, putting him at 72 for his career.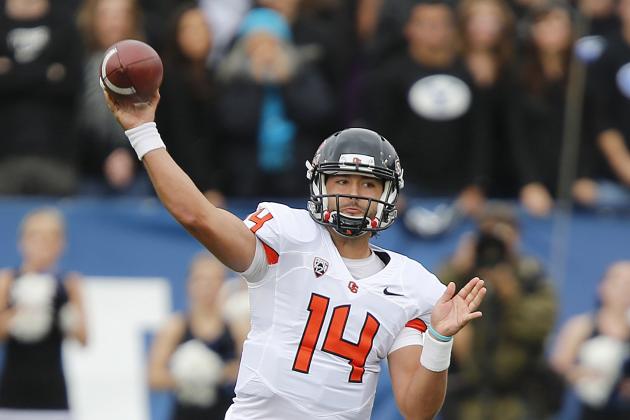 George Frey/Getty Images

Stats: 20-of-32, 332 yards passing, three touchdowns, no interceptions
Cody Vaz stepped up in a big way against a BYU defense that was allowing only 229 yards of offense per contest going into this one.
This was the first time Vaz, a junior, has started since high school. He took advantage of it, hanging 332 yards passing on the Cougars while also tossing three touchdowns.
Bronco Mendenhall's squad was fifth in the nation in total defense going into this one, but they were knocked all over the field by OSU's offense.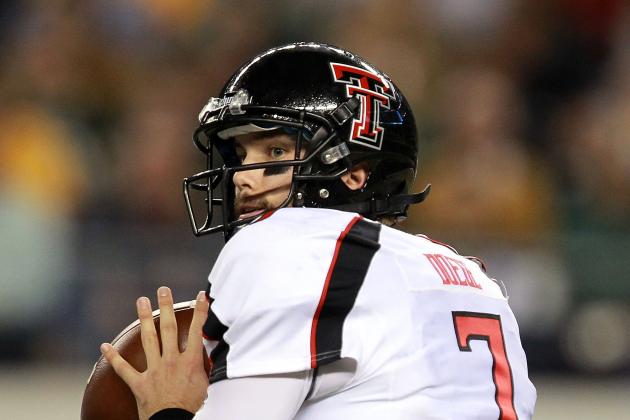 Ronald Martinez/Getty Images

Stats: 32-of-42, 499 yards, six touchdowns, one interception
One quarterback put up Heisman-like numbers in the West Virginia vs. Texas Tech matchup, and it wasn't Geno Smith.
Seth Doege torched West Virginia's defense for 499 yards, as the Red Raiders effectively shattered the Mountaineers' chances of finishing the season undefeated.
While Tech struggles with consistency, Doege has proved he can perform at a very high level on a regular basis.