The Golden State Warriors' Top Training Camp Storylines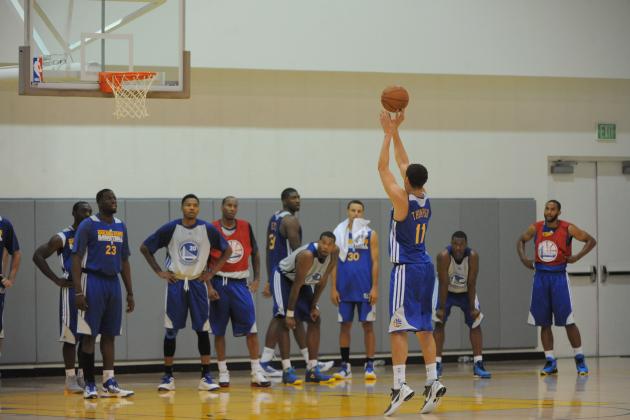 Kyle Terada-US PRESSWIRE

It's funny, training camp is supposed to be a time of controversy and uncertainty. Usually, coaches are dealing with lineup constructions, scrambling to address unforeseen injuries and placating fragile egos amid heated position battles. Things are often frantic as management rushes to strategize and compensate for areas of weakness.
For the Golden State Warriors, though, this training camp has been wholly unique in its placidity.
Sure, there are injuries to deal with, but they're hardly surprising. And Mark Jackson has definitely been doing a lot of mixing and matching with lineups during practice and in the Warriors' three preseason games, but that's more of an experiment to see which groups work best together. It's not an exercise in hiding flaws.
There's also a very exciting position battle, but the two players involved have been diplomatic about the process. And it doesn't even really matter who wins the job; both guys are guaranteed big minutes either way.
So, for the Warriors, training camp has been notable for the best of all possible reasons: there's been virtually no discord or panic. That sense of calm is a testament to a front office that has assembled a collection of players that fits together so nicely. The fact that said players are all in camp with the same M.O.—to shut up and work—is an added bonus.
Everyone's on the same page. With the possible exception of Andris Biedrins, who might be reading a different book entirely.
Just because camp has been uneventful doesn't mean it's been boring. So let's check in on the Dubs' top training camp storylines so far.
Begin Slideshow

»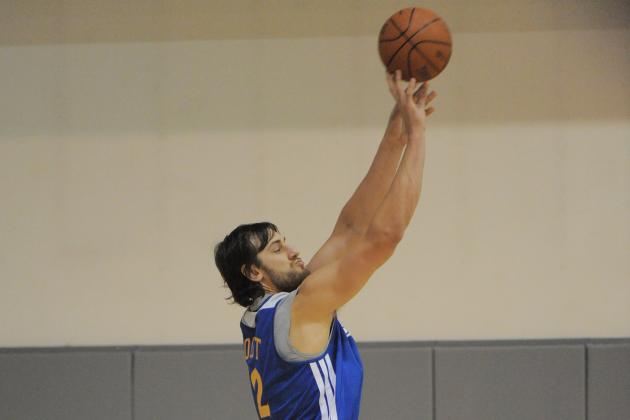 Kyle Terada-US PRESSWIRE

The Warriors' hopes and dreams remain fastened to Andrew Bogut's left ankle. The big Aussie has yet to log a preseason minute, and he still hasn't even been cleared to play five-on-five scrimmages.
The latest reports reveal Bogut can only perform running, cutting and drills that involve dunking for short spans of time (30-40 minutes) before his ankle tightens up. For his part, the center is definitely itching to increase his involvement, if only to remember what it feels like to get out there and compete:
I would love to play in a preseason game or two because I haven't played a game of basketball since January. For my mental capacity I want to get out there and play a game or two before the first [regular-season] game. I don't want to be rehabbing and then go straight into an NBA game. It's a tricky situation, but you just have to stay positive. (via csnbayarea.com)
Nobody's panicking yet, but the longer Bogut goes without full contact in camp, the longer it'll be before he hits the floor in a game where the score actually counts. Bogut's rehab has definitely increased in intensity as training camp has progressed, but he's been very clear that he won't play until he's 100 percent.
It's anybody's guess as to when that will be.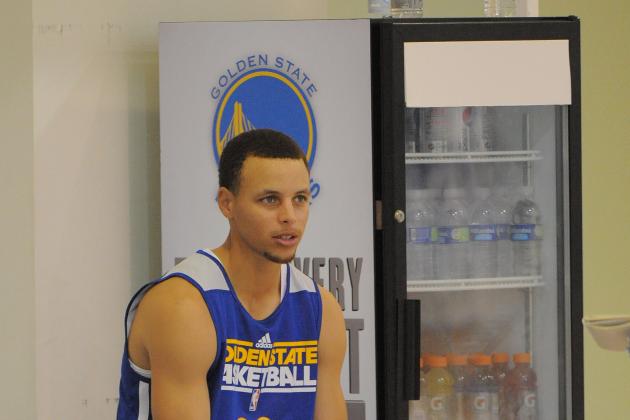 Kyle Terada-US PRESSWIRE

Let's hope this is the last time Stephen Curry's ankle is a topic of discussion.
After increasing his minutes from 12 against the Utah Jazz to 22 against Maccabi Haifa, Curry seems to be out of the woods. He obviously struggled with conditioning in his return to action, but that's to be expected. According to the San Francisco Chronicle, Curry's ankle has been a little sore after workouts, but the "pain isn't from the places in which it was surgically repaired."
Aside from knocking the rust off, it's "all systems go" for Curry, who has been a full-practice participant for weeks now. That's great news for the Warriors offense, which has really struggled when Curry's been on the bench during the preseason.
During his abbreviated appearance against Utah, Curry orchestrated the offense brilliantly, tallying six assists and creating a string of easy, open shots for teammates. The story was much the same against Maccabi Haifa; Curry racked up 10 assists in just 22 minutes. In each contest, the offense noticeably lost efficiency and flow without Curry.
Eventually, Jarrett Jack will round into form and provide better floor leadership when Curry hits the pine, but right now, it's crystal clear that Curry is the man to lead this Warriors offense.
Good thing he's looking so healthy.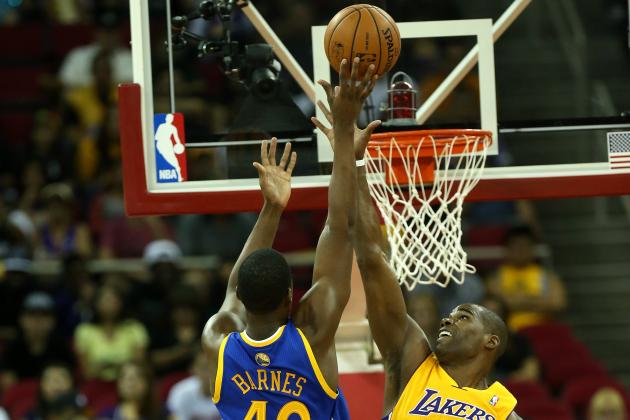 Stephen Dunn/Getty Images

The ongoing battle for the starting small forward position took an interesting turn when coach Mark Jackson replaced Brandon Rush with Harrison Barnes in the first unit against Maccabi Haifa on October 11.
Jackson said of his decision to start Barnes, "I don't want to guess how he'd be in the starting unit. I want to see it."
Well, if he wants to know firsthand how Barnes will fit with the starters, it must be because he's legitimately entertaining the idea of giving Barnes the job. Why fuel a potential controversy unless there's a real chance the rookie could win the position?
The consistent story out of camp has been that Barnes has been immensely impressive, but that even if he outperforms Rush, the veteran might still earn the starting job on the strength of his solid defense and good chemistry with the other starters. The first part of that hypothetical has definitely come true: Barnes has clearly outperformed Rush in practice, and now in games as well—he put up 20 points on just 11 shots in his cameo as a starter.
Jackson's initial logic is sound. Rush fits as a starter because he doesn't need the ball and has proved he can contribute on the boards and on defense. Barnes might be better suited to come off the bench as a primary scoring option—for now. That's definitely a strategy that good NBA teams employ.
However it shakes out, both Barnes and Rush will get plenty of minutes this season. But it'll still be intriguing to see whom Jackson starts in the Warriors' future preseason contests. This story is far from over, so stay tuned.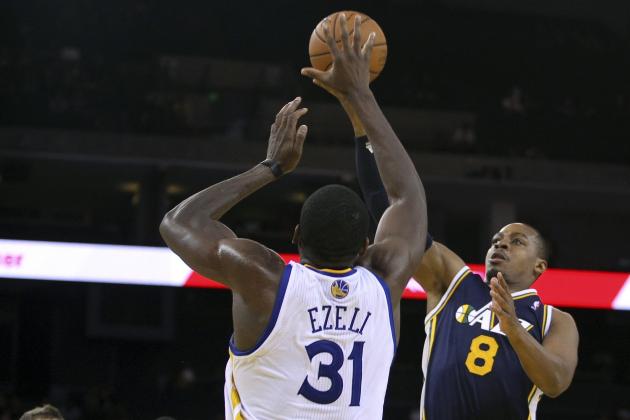 Kelley L Cox-US PRESSWIRE

In the most pleasantly surprising story of camp, Festus Ezeli has emerged as much more than a third-string center. The rookie out of Vanderbilt has seen increased minutes in every preseason contest, and he's been making the most of his expanding role.
So far, Ezeli is averaging 9.0 points, 6.3 rebounds, 2.3 blocks and 1.0 assist in just 26.7 minutes during the preseason. He's shot a blistering 85 percent from the field, often benefiting from Curry's knack for setting him up.
Statistics aside, Ezeli has also shown a solid understanding of the nuances of big-man defense. He positions himself well in the lane and is an eager help-defender. Given that he's only been playing organized basketball for six years, Ezeli still has plenty of room to grow, which is very encouraging in its own right.
Ezeli doesn't remove the anxiety of Bogut's uncertain return date, but he definitely eases the tension.
The rookie has absolutely played well enough to deserve the starting role in Bogut's absence. In theory, the Warriors won't need more than a few minutes per game when Bogut comes back, but it's comforting to know that Ezeli is more than capable of playing a bigger role if he has to.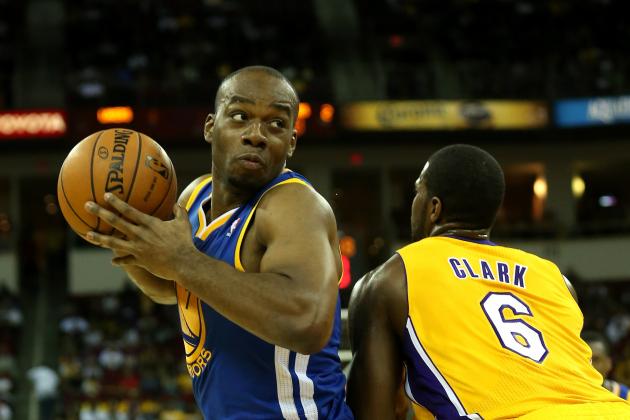 Stephen Dunn/Getty Images

We knew Carl Landry was a steal when the Warriors snagged him for just $4 million per year, but now that we've seen how he fits into the Dubs' offensive scheme, that deal looks like highway robbery.
Landry is an excellent one-on-one scorer in the post. Last year, there were only six NBA players who scored more efficiently than he did in post-up situations, according to Synergy Sports. On its own, Landry's knack for dominating one-on-one matchups down low is a huge boon to the Warriors' offense.
But given the way the Warriors shooters space the floor, making it a death sentence to double the post, Landry's skills down low make him a complete nightmare for opposing defenses. Basically, he's way too good to defend with just one player, but no coach with half a brain would send an extra man at Landry if it meant leaving Klay Thompson, Stephen Curry or Brandon Rush open on the perimeter.
That, friends, is a textbook pick-your-poison situation.
With defenses reluctant to double down on Landry, he's primed to put up huge scoring numbers, even if he only logs somewhere around 20 minutes per game. So far, Landry has torched preseason defenses for 15.3 points per game while averaging just 24 minutes.
Landry may not see enough minutes to eclipse his career high of 16.8 points per game in 2009-10, but he's a lock to shoot better than 50 percent from the field with a ton of free-throw attempts. If defenses collapse on him, the Warriors' guards will be happy to bury open threes.
In Landry, it's becoming clear that the Warriors have the perfect compliment to a team full of shooters. He's primed for a terrific season.