UFC 153 Results: Questions Heading into UFC Macao's Franklin vs. Le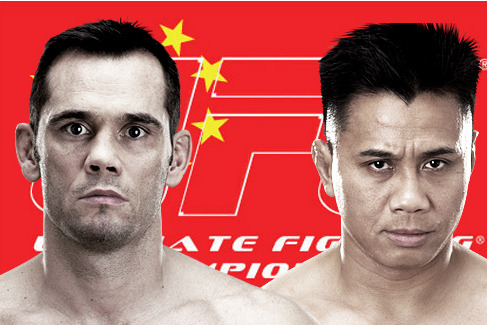 UFC 153 is in the books and we saw Phil Davis and Jon Fitch deliver strong performances, Glover Teixeira put a ton of punishment on Fabio Maldonado and Antonio Rodrigo Nogueira show Dave Herman that jiu-jitsu does work. As for the main event, Anderson Silva toyed with Stephan Bonnar before stopping him with a perfect knee to the body.
Full results for the fight card:
Anderson Silva defeats Stephan Bonnar via TKO (knee to body) at 4:40 of Round 1
Antonio Rodrigo Nogueira defeats Dave Herman via submission (armbar) at 4:31 of Round 2
Glover Teixeira defeats Fabio Maldonado via TKO (doctor stoppage) at 5:00 of Round 2
Jon Fitch defeats Erick Silva via unanimous decision (30-27, 29-28, 29-28)
Phil Davis defeats Wagner Prado via submission (anaconda choke) at 4:29 of Round 2
Demian Maia defeats Rick Story via submission (rear-naked choke) at 2:30 of Round 1
Rony Jason defeats Sam Sicilia via TKO (punches) at 4:16 of Round 2
Gleison Tibau defeats Francisco Trinaldo via unanimous decision (29-28 x 3)
Diego Brandao defeats Joey Gambino via unanimous decision (30-27 x 3)
Sergio Moraes defeats Renee Forte via submission (rear-naked choke) at 3:10 of Round 3
Chris Camozzi defeats Luiz Cane via unanimous decision (29-28 x 3)
Cristiano Marcello defeats Reza Madadi via split decision (28-29, 29-28, 30-27)
The UFC will now have a brief break in action. Their promotion's next event will take place Nov. 10 when it travels to Macao to present a card headlined by Rich Franklin vs. Cung Le. What follows are some questions we have heading into that fight card—a fight card that will be broadcast on Fuel TV.
Begin Slideshow

»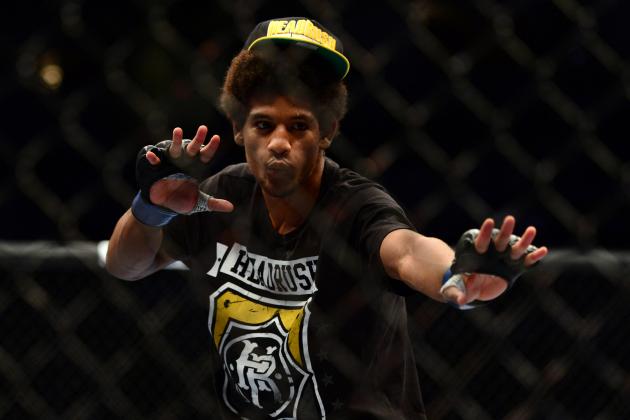 Kyle Terada-US PRESSWIRE

Alex Caceres, or if you wish, "Bruce Leeroy," made his official UFC debut in March 2011 when he faced Mackens Semerzier. Caceres, a competitor on Season 12 of The Ultimate Fighter, was stopped in the first round of that fight by rear-naked choke.

Caceres fared a little better in his next UFC outing, lasting until the second round before Jimy Hettes forced a tap via rear-naked choke once again.

A conversation with the UFC brass prompted Caceres to drop to the 135-pound bantamweight division for his next fight, a unanimous decision victory over Cole Escovedo.
Unfortunately, the joy of victory would be short-lived, as Caceres dropped his next fight, a split-decision defeat to Edwin Figueroa. Caceres would have won had it not been for the fact that he was deducted two points for inadvertent kicks to the groin.
In his most recent bout, Caceres looked good, attempting multiple submissions before capitalizing on a small opening left by his opponent Damacio Page and slapping on a triangle choke that earned him Submission of the Night honors.

Caceres is a likable figure; he always looks like he's enjoying himself before, during and after his fights. In addition, he's only 24 years old, so he has a lot of time to grow, and he has a fan in UFC president Dana White.

Caceres is progressing as a fighter, and his next test will come against UFC newcomer Kyung-Ho Kang in Macao. While Caceres doesn't "need" a win in this bout, he does need to show more progress in his fight game; it's important that he build off his performances in his last three fights at bantamweight.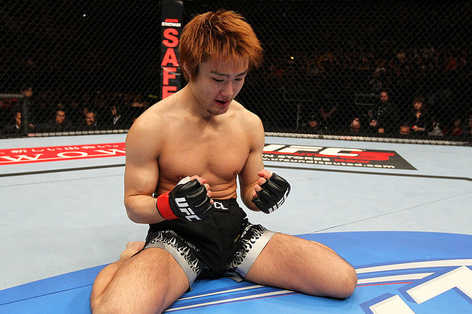 Al Bello/Zuffa LLC/Zuffa LLC via Getty Images
Takanori Gomi has long been recognized as one of the best fighters to ever compete in the Shooto and Pride organizations, holding titles with both promotions. Unfortunately for him, many fans know him more for his recent defeats more than his triumphs.

Today fans recall an exhausted Gomi being dominated on his feet by Nick Diaz before falling to a gogoplata (later overturned to no-contest for a failed Diaz drug test). They view him as an aging fighter who has lost a step to today's UFC lightweights.

Since moving to the UFC in 2010, "The Fireball Kid" has gone 2-3, dropping fights to Kenny Florian, Clay Guida and Nate Diaz, all by submission, while defeating Tyson Griffin and Eiji Mitsuoka by knockout and technical knockout, respectively.

Gomi is 34 years old with a professional record of 33-8-0-1 and hasn't put together two consecutive victories since 2009. In Macao, he will try to do just that when he faces the winner of Season 6 of The Ultimate Fighter, Mac Danzig.

Win or lose, Gomi is getting close to the point in his career where he seriously needs to contemplate exactly what he has left to give to the sport of mixed martial arts.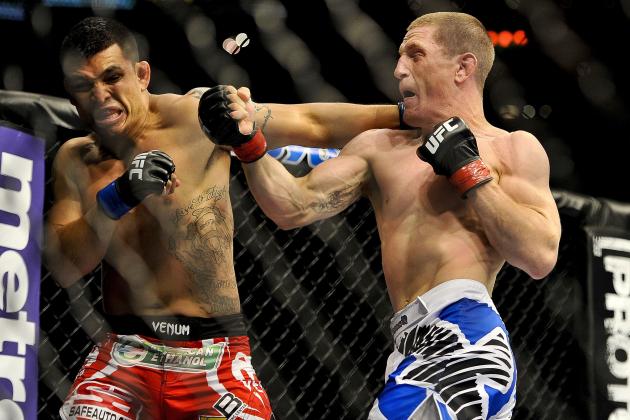 Paul Abell-US PRESSWIRE

When Mac Danzig won Season 6 of The Ultimate Fighter, he wasn't hailed as a potential UFC champion; however, it's safe to say that most expected his record after winning the TUF crown would be better than 4-5.
Danzig has dropped fights to Clay Guida, Josh Neer, Jim Miller and Matt Wiman (with one of his two losses to Wiman being a very controversial stoppage), while defeating Mark Bocek, Justin Bucholz, Joe Stevenson and Efrain Escudero. In short, he's proven to be a middle-of-the-pack UFC fighter.

A win over Takanori Gomi won't launch him up the rankings into the top 10 of the lightweight division, but it won't hurt his stock, either. A loss to Gomi, a fighter who many would say has seen better days, would leave him struggling to claim a spot in the top 50 of the division.
Now is the time for Danzig to string two wins together, something he hasn't done since 2007-08.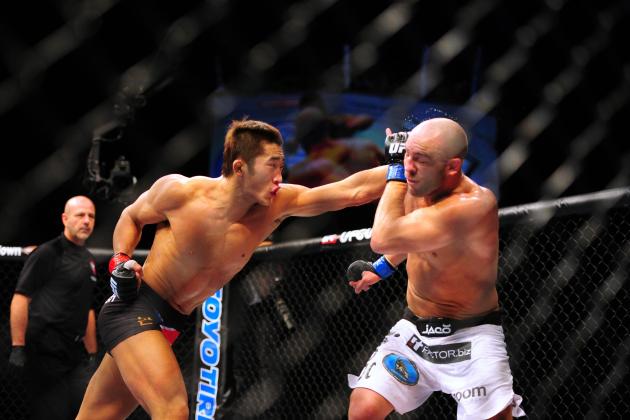 Mark J. Rebilas-US PRESSWIRE

Dong Hyun Kim defeated Nate Diaz by unanimous decision at UFC 125, running his record to 14-0-1-1. Following that fight, he called out UFC welterweight champion Georges St-Pierre, "My name is 'Stun Gun," he told Joe Rogan in the cage, "and I want GSP." It was a bit of a surprise to hear that from Kim, but hey, it's always best to aim high, no?

We all know that a GSP vs. Kim fight did not come to fruition, instead Kim was given a shot at Carlos Condit. That fight came to an abrupt end when Condit landed a brutal flying knee and followed it up with strikes on the ground to bring about the first-round stoppage.

Kim rebounded with a unanimous decision win over Sean Pierson at UFC 141. In his next bout, Kim fell victim to a muscle spasm that led to a very early stoppage.
That fight against Demian Maia, who was making his welterweight debut, was a huge opportunity for Kim to show that he deserved to be considered a top welterweight; instead it just left question marks.

Kim's opponent in Macau will be Paulo Thiago, who, like Kim, is ranked near the middle of the welterweight pack. A win over Thiago should be enough to score Kim a fight against a top 20 170-pounder in his next bout.
A loss and, well, the closest "Stun Gun" will probably ever get to GSP may be passing him in the hallway of an upcoming card.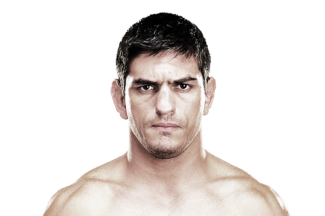 The last time we saw Paulo Thiago in the Octagon was in April of this year, and what most will remember of that fight was the fact that Thiago finished that fight flat on his face, victim of a brutal Siyar Bahadurzada knockout blow.

In his last four fights, Thiago has gone 1-3, dropping decisions to Martin Kampmann and Diego Sanchez in addition to the loss to Bahadurzada. His lone victory was a unanimous decision win over David Mitchell at UFC 134.

Time may be catching up with the 31-year-old Thiago, or maybe it's the fact that he fights and trains around his schedule as a member of Batalhao de Operacoes Policiais Especiais, a special forces unit of Rio de Janeiro's military police.
Splitting time between the two professions may have been feasible in the past, but if Thiago expects to be considered an elite UFC fighter, he needs to do what most of the other top-notch competitors do: chose the fight game as his sole focus.

With that being said, a loss to Dong Hyun Kim on Nov. 10 and he may not have to worry about making that decision—the UFC could make it for him.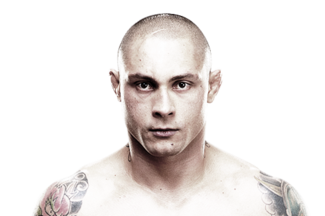 Since 2009, Thiago Silva has put together a UFC record of 1-3-0-1 and served a one-year suspension for providing a fake urine sample to the Nevada State Athletic Commission.
While that's not a record to be proud of, it should be noted that the losses came to Lyoto Machida, Rashad Evans and most recently Alexander Gustafsson.

One could argue that Silva's biggest win came at UFC 78 when he stopped Houston Alexander via first-round TKO. In short, Silva's heyday may be in the past.
There's no doubt that Silva's a tough dude, but the UFC is filled with tough dudes. He's going to need to come in and make a real statement against the undefeated Stanislav Nedkov in Macao if he wants to be remembered for more than that knockout of Alexander and his dead-eye stare.

If Silva loses to Nedkov, he may want to avoid answering the phone if the caller ID reads "UFC."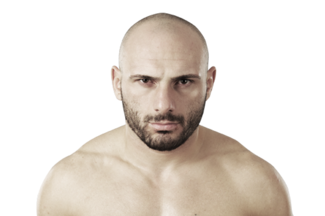 Stanislav Nedkov made his UFC debut at UFC 134. He entered that fight against Luiz Cane with a record of 11-0. After 4:13, his record had moved to 12-0, earning a TKO victory over Cane.

Nedkov, a Brazilian jiu-jitsu black belt with a strong background in wrestling, looked a bit stiff in his UFC debut, possibly the result of Octagon jitters. However, he overcame that trepidation along with a bloodied nose to show that he had some power in his hands and the ability to finish a fight as well.

The win over Cane has earned Nedkov a shot at Thiago Silva in Macao, a step up in competition for the 30-year-old Bulgarian. The fight against Silva is a good test for Nedkov. If he can get past Silva, he'll most likely find himself in the top 20 of the light heavyweight division.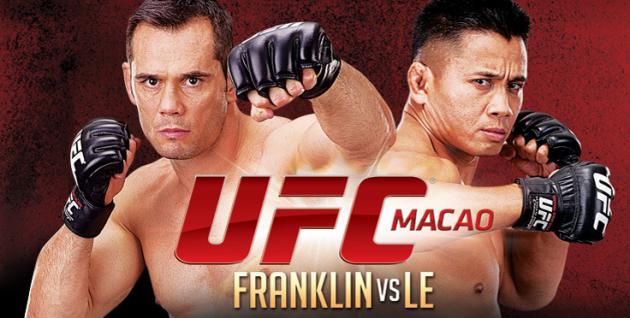 If you asked MMA fans to pay for a card headlined by a bout between Rich Franklin and Cung Le, odds are you would, at best, receive a blank stare. So one has to wonder exactly what kind of appeal the fight will have to fans as the main event to a free card on Fuel TV.

Yes, the hardcore fans will tune in—they'll tune in for every card the UFC produces— but for the casual fan, will the appeal be there?
Working for the UFC in this department is the fact that from Oct. 14 through Nov. 9, there will be no Zuffa-produced events. Working against the promotion is the fact that on Nov. 17 Georges St-Pierre and Carlos Condit will compete to decide who will rule the UFC's welterweight division.

With that fight coming so close to the Franklin vs. Le bout, I could see some fans shunning the Fuel event, knowing that they will be watching UFC 154 the following weekend.

Overall, I don't see the promotion losing viewers for the Fuel card, but by the same token I don't foresee an increase in the numbers. Odds are the card will draw somewhere between the 173,000 viewers UFC on Fuel 3 brought in and the 217,000 viewers that watched UFC on Fuel TV 1.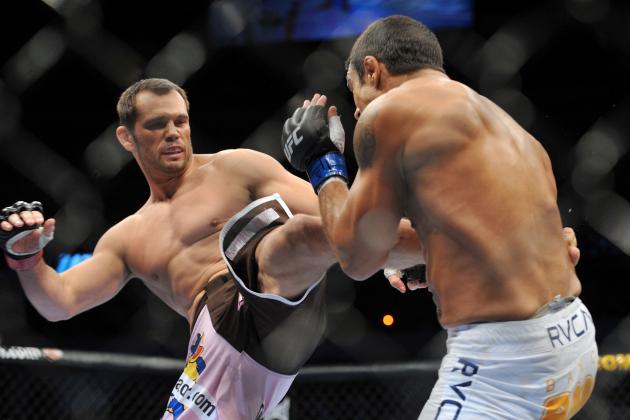 Jon Kopaloff/Getty Images

Always the company man, Rich Franklin answered the UFC's call when they needed a fighter to replace Vitor Belfort in the main event of UFC 147. With less than four weeks' notice, Franklin accepted the fight and took a unanimous decision victory home with him.
He also said he hoped that the little favor he did for his employers would not go unnoticed, telling John Morgan of MMAJunkie.com, "I'm glad that you and probably everybody else notices that I've bailed the UFC out a lot. I hope that's going to pay off in the future at some point in time."

Franklin's hope was that he would somehow parlay those favors into one last run at the UFC middleweight title, a title he once held but lost to current champion Anderson Silva back in 2006.

Franklin's hope went unrealized in the immediate aftermath of UFC 147, as he is fighting Cung Le in Macau, but a dominant win over Le may very well earn him a shot at a top 10 opponent.
Does the UFC owe Franklin that much? Technically I would say no, the promotion doesn't owe any fighter anything. With that being said, it would be nice to see if Franklin has it in him at age 38 to make another run at UFC gold.
This is the wild card. Whenever the UFC breaks into a new market, the promotion is taking a risk. It's a calculated risk, but a risk, nonetheless.
China is pretty much an unknown commodity; sure, the UFC has high hopes with this card and the future, but will those hopes be realized?
I don't know nearly enough about the culture to even begin to speculate how they will receive mixed martial arts. However, MMAPayout.com did take a look at the challenges the UFC may face in their newest market.
Difficulties or no, one thing we have seen from the UFC is that once they make up their mind to do something and succeed at it, they focus on making that success happen.
It will be interesting to see how the initial UFC Macao card goes over and what the future holds for the promotion in China.