Oregon State Beavers vs. BYU Cougars: Live Blog, Analysis and Results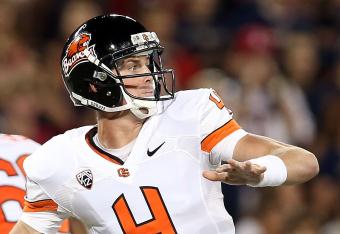 Christian Petersen/Getty Images
What did we learn in Oregon State's win over BYU? Check it out here: http://bleacherreport.com/articles/1370048-what-we-learned-in-the-oregon-state-vs-byu-game
BEAVERS WIN IT: 42 - 24 OVER BYU
The wildest factoid in this game is that both BYU and OSU will play today without their season-starting quarterbacks. The Beavers' Sean Mannion, whose solid play has led his team to an unexpected 4-0 record, has a meniscus injury in his knee and is out for an indefinite time. Two days after Mannion's injury was announced, BYU starting QB Taysom Hill went down with a knee injury also and is out for the year.
Another interesting tidbit is that BYU coach Bronco Mendenhall played and coached at Oregon State. One other thing I can't wait to see: The Cougars will be wearing a new black uniform for the first time in their history, created especially for them by—who else?—Nike.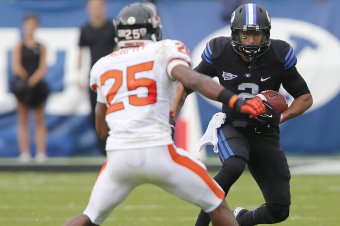 George Frey/Getty Images
Cody Vaz looks tired. Happy, but tired. You've done your job, Cody, and the party's over for BYU.
Poyer gets the pick-six! Ball deflects off BYU receiver into Poyer's arms.
Sometimes it's better to be lucky than good. But good helps, too. The Beavers' season is beginning to take on a touch of magic.
Oregon State 42, BYU 24.
George Frey/Getty Images
Huge pass interference play on Wheaton. Beavers have 1st and 10 on the 26 yard line. Followed on the very next play by another pass interference - different DB. Beavers are threatening.
Razzle dazzle by the Beavs scores the TD! Cougars aren't sure what hit them.
Beavers 34 - BYU 24. A little breathing room for the No. 10 ranked team.
Even worse time for a holding penalty. Shape up, Beavs.
Not a good time for a false start, Beavs. Too many penalties.
Great effort by Riley Nelson to move the Cougars down the field, but the Beavers stop them when it counts.
BYU elects to kick the field goal on 4th and goal; not sure I agree with that call. But there is 8:55 left, and Bronco knows what he's doing.
Oh dear. BYU rips off a long one, and the Beavs' defenders appeared to be sucking air. So, this might be the reason BYU has a powerful home advantage.
Three and out. Ugh. Can the Cougars tie it up yet again? It's their homecoming, you know.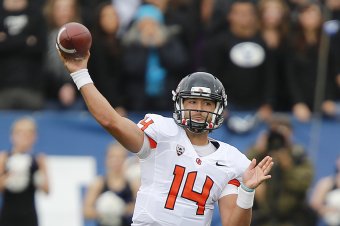 George Frey/Getty Images
Provo looks beautiful, but I suspect the Beavers just want to get the heck out with a W. Fourth quarter underway and the Beavers start on their 30 yard line.
Remind me never to arm wrestle with Coby Prince. The big tight end just pulled down a rebound in the end zone.
Beavers 28 - BYU 21
This just tweeted by The Oregonian's Oregon State beat reporter, Lindsay Schnell:

Looks like a left knee injury to Storm Woods. Not good.

— Lindsay Schnell (@LindsayRae19) October 13, 2012
George Frey/Getty Images
4600 feet elevation. I need oxygen just thinking about it. Hope it doesn't catch up with the Beavs in the 4th quarter.
First and goal from the 4 yard line, and Williams waltzes into the end zone.
Touchdown, BYU. All tied up again at 21-21.
Who, exactly, has the mo in this game? Haven't a clue.
Poyer, Poyer, Poyer, that was terrible pass interference. But I guess you were beat and had no other option. That gave it to the Cougars deep in Beavs' territory. Ugly.
OREGON STATE 21 - BYU 14
Touchdown Beavers! Storm Woods runs it in. Finally, a good run by Woods.
Redshirt freshman QB has to come in for the Beavers, as Vaz lost his helmet on the last play.
Yeah, this rule sucks.
Bad spot on that third down pass, don't you think? Beavers got ripped on that one.
Another timeout, Beavers? What the hey??
Ty Detmer, 1990 Heisman Trophy winner from BYU chats with the sideline reporter. He's now a coach at a high school in Austin, Texas. Detmer was a great QB and will be inducted into the College Hall of Fame later this year.
Cougars have to punt. Beavs take over at their 18 yard line and, after this brief commercial break, Cody Vaz goes to work again.
OK, I take it back about the shovel pass. BYU just executes a beauty. Cougars moving the ball and are approaching midfield.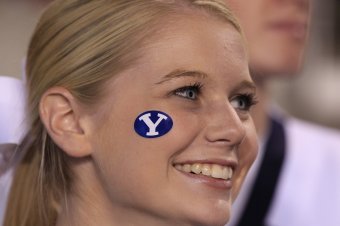 George Frey/Getty Images
Is it just me, or do the BYU cheerleaders look 14 years old. Max.
BYU defensive timeout barely into the 2nd half. Huh?
Wonder if BYU fans climb that mountain that overlooks the stadium and watch the game for free. Might need binocs, but it looks possible.
News flash: Cody Vaz just elected governor of the state of Oregon.
Vaz was 12 of 18 for 184 yards and two touchdowns in the first half. Here with go with the second half.
This article is
What is the duplicate article?
Why is this article offensive?
Where is this article plagiarized from?
Why is this article poorly edited?