Alabama vs. Missouri: Live Scores, Analysis and Results
Alabama 42 Missouri 10, Final
Top-ranked Alabama survived a 40-minute rain delay and sloppy weather conditions to defeat Missouri 42-10.
The Crimson Tide used another strong start—this time they went up 27-0 before a lightening delay midway through the second quarter—to seize control of the game early.
Nick Saban used his two-headed running back tandem of Eddie Lacy and T.J. Yeldon—both of whom topped 100 yards on the ground—to grind out a win in an ugly second half.
The Tide move to 6-0 while the Tigers drop to 3-4 this season.
Here is a link to my postgame piece on the Tide's win over Missouri.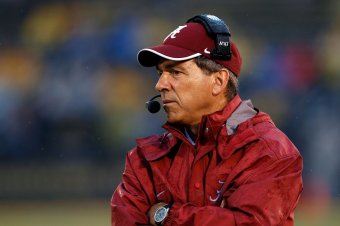 Jamie Squire/Getty Images
As always, thanks to everyone for keeping up with this blog.
Stay tuned to B/R for more postgame coverage of Alabama's 42-10 win.
Alabama takes a knee, and that will do it from Columbia. Alabama wins 42-10.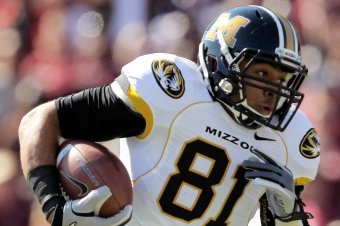 Sarah Glenn/Getty Images
Scary situation for Missouri's Eric Waters, who appeared to hit his hard hard on the sidelines during a tackle.
He is still down while the trainers are looking at him.
With just 51 seconds on the clock, you have to hope that he is ok.
The stretcher is out and he will need help to leave the field of play.
In a bit of news that falls on the hilarious side of things, B/R's Barrett Sallee caught an interesting spot of the ball before Lacy's final touchdown.
Alabama already scored a TD before the ball was snapped (photo). yfrog.com/esydiwvvj

— Barrett Sallee (@BarrettSallee) October 13, 2012
At least the Tide earned it, but regardless, the refs were caught sleeping in a snooze-fest.
Oh my, LaMichael Fanning just body-slammed a poor Missouri running back.
Lundquist and Danielson calling for a suspension, but I guess they are not wrestling fans.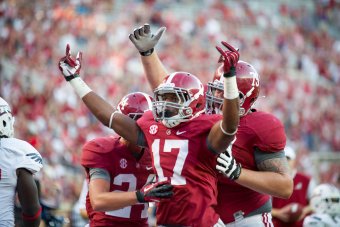 Michael Chang/Getty Images
Blake Sims comes into the game, and quickly shows the dimension he can add to this offense as he darts 36 yards on a zone-read keeper.
Kenyan Drake continues to impress when he gets into games, as he shows his ability to shed tacklers and get upfield in a hurry.
Drake takes it into the endzone two plays later for Alabama's sixth rushing touchdown of the day. Alabama leads 42-10.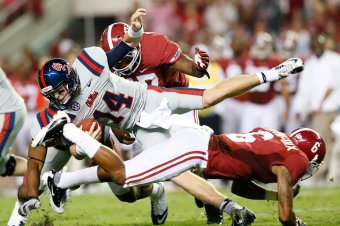 Kevin C. Cox/Getty Images
The Tide force another interception off a tipped ball, with Milliner tipping it and Ha'Ha Clinton-Dix getting the pick.
That turnover is the third forced by Alabama on the day, and essentially salts this one away.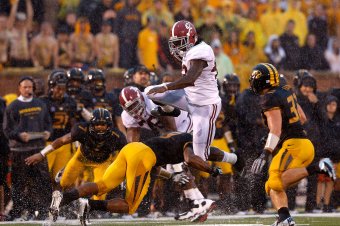 Jamie Squire/Getty Images
Eddie Lacy has 176 yards on 17 carries with two touchdowns.
Scratch that, add another yard and another touchdown as he reaches over the goal line for the score. Alabama leads 35-10 with a little over eight minutes left to play.
Ed Zurga/Getty Images
Sheldon Richardson has played with a high motor all game long, and he deserves the high praises he is getting from this television crew.
Lacy has a new career-high in rushing yards with another pair of long runs, and the Crimson Tide is in the red zone once again.
Missouri has been unable to sustain any kind of offensive drives, even though their defense has given them ample opportunities.
Alabama's defense has been up to the task every time, and specifically, their defensive line has controlled things up front all day long.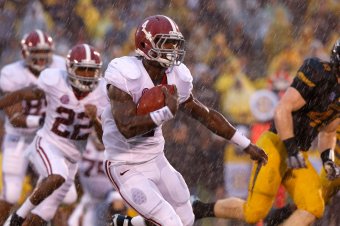 Jamie Squire/Getty Images
Yeldon busts a big run on Alabama's ensuing possession, giving the Tide two backs over 100 yards on the ground this afternoon.
Tide in control heading into the fourth quarter.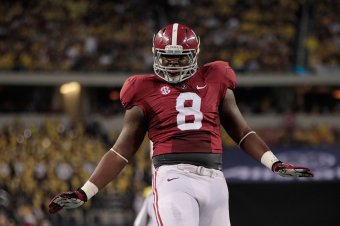 Leon Halip/Getty Images
Missouri is hanging around but they have squandered many chances to get on the scoreboard.
Credit for that must go to Alabama's defense, that has been stifling all game long.
Jeoffrey Pagan is just a freak of a defensive lineman, and he blew up an option play that destroyed this drive for Mizzou.
There's almost a feeling that Missouri just simply will not be able to score another touchdown on this defense.
Alabama appears to be content to keep things on the ground with a potentially gimpy McCarron leading the way.
Of course, as soon as I say that, McCarron scoots away from a potential sack and scrambles for five yards.
The good news for Alabama fans is that he looks fine.
The bad news is that Missouri's defense holds them once again.
The Tigers are running out of time to try and make this a game.
Spoke too soon, and McCarron comes back into the game with a brace on his knee.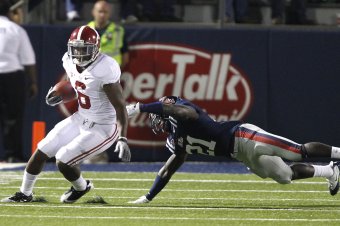 Butch Dill/Getty Images
CBS reports back from the break that McCarron's right knee is the issue.
Sims appears to be the man that will enter the game when Alabama gets the ball back.
But the main concern for Alabama fans will be the health of McCarron going forward.
Berkstresser has failed to pickup the blitz the entire afternoon, and Sunseri clobbers him on another one.
Missouri botches another trip inside the Tide's territory and will be forced to punt.
Alabama will trot Sims out with the ball at its own 10-yard line.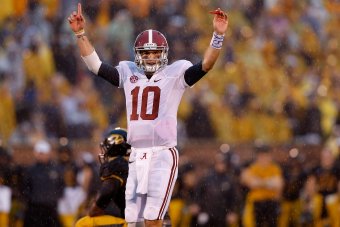 Jamie Squire/Getty Images
Missouri dials up the pressure and sacks McCarron on third-and-long, and in a sight that has all fans clad in Crimson cringing, Alabama's quarterback remains on the ground.
He is able to get up, but he is unable to put any pressure on what appears to be an ankle injury.
Sophomore Blake Sims and freshman Phillip Ely have split the backup duties, so it will be interesting to see which one Saban turns to if McCarron cannot continue.
Meanwhile, Missouri will get the ball back with another opportunity to make Alabama sweat a bit.
Jamie Squire/Getty Images
Shortest. Halftime. Ever.
I chose to put up an update instead of making a sandwich.
Dedication, folks.
Berkstresser hits Washington on a pair of deep throws to get the Tigers into Tide territory.
I like him in the pocket throwing as opposed to running zone read plays.
Oh, and a memo to Gary Pinkel and his staff: the Wildcat never worked on Alabama, and its not going to start today.
Missouri is forced to settle for a 41-yard field goal, which is good and now its 28-10 Alabama.
Alabama still holds a commanding edge in total yards in this game at halftime, outgaining Missouri 354-55 in the first half.
Missouri has to feel like they squandered two chances to make this game after the delay when Lacy fumbled and Mandell couldn't get his punt away.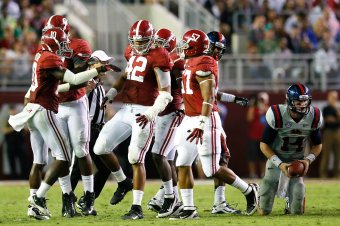 Kevin C. Cox/Getty Images
On third-and-goal, Adrian Hubbard destroys Berkstresser and turnover magnet C.J. Mosley finds his way to the football and helps Alabama dodge a bullet.
That brings us to halftime, with Alabama leading 28-7.
After the timeout, Berkstresser is stuffed on keeper running the zone-read, which is an odd playcall to say the least.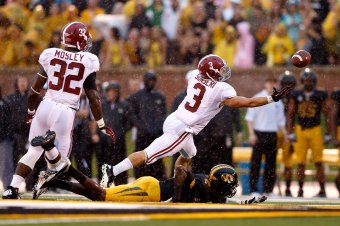 Jamie Squire/Getty Images
Berkstresser hits L'Damian Washington on a post route and the Tigers are setup inside the 10-yard line threatening to find the endzone just before halftime.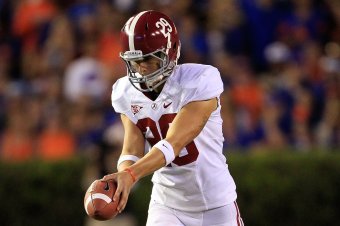 Sam Greenwood/Getty Images
Alabama can't connect on third and short, and then hurts itself with another uncharacteristic miscue as punter Cody Mandell mishandles the snap and is taken down at his own 35-yard line.
Another golden opportunity for the Tigers to get back in this game.
Missouri's defense has appeared to settle down and regroup nicely after the delay.
However, that appears to be temporary as McCarron throws a beautiful flag corner route to Amari Cooper to get a big gainer on a third and long.
True freshman Cyrus Jones, who also stepped in for Christion Jones on the last punt return, is in at receiver for Alabama this drive.
Facing a third-and-three at midfield, Alabama takes a timeout.
Missouri cannot capitalize off the turnover, and they are forced to punt after a three-and-out.
However, Alabama has to pick it up and get back in the game considering how lethargic they have come out after the delay.
This article is
What is the duplicate article?
Why is this article offensive?
Where is this article plagiarized from?
Why is this article poorly edited?

Alabama Crimson Tide Football: Like this team?