San Francisco Giants vs. St. Louis Cardinals Game 1: Live Score, NLCS Analysis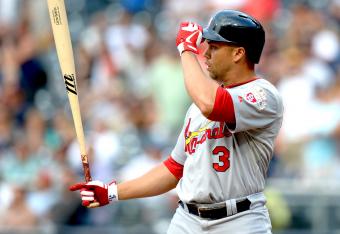 The St. Louis Cardinals beat the San Francisco Giants 6-4 in Game 1 of the NLCS on Sunday night in San Francisco.
The Cards scored the first six runs of the game and were able to make the lead stand up.
Scroll down for updates from throughout the game.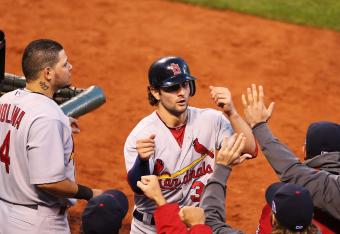 FINAL SCORE; SF 4, STL 6
Scutaro grounds out to first base to end the game.
The Cardinals take Game 1, basically in the first four innings of this game. Game two looks to be rather intriguing with Chris Carpenter facing off against Ryan Vogelsong. Check back tomorrow on the Bleacher Report for more great live blogs during the NLCS and ALCS games!
For more of my random baseball thoughts:
And the Giants have a heartbeat...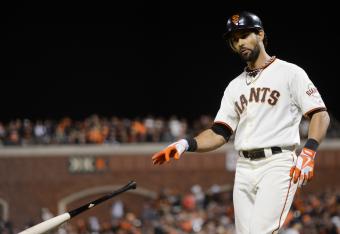 Angel Pagan has struck out looking and popped out thus far in this game. His facial expressions have been pretty priceless. This is his chance to keep this game alive for the Giants.
Sanchez quickly down 0-2; Pagan on deck...
Motte hitting 98mph on the radar gun against Crawford.
Jason Motte is in to try and close the door on Game 1.
BOT OF THE 9TH; SF 4, STL 6
Well, here we go Giant fans. One last chance to steal Game 1 of this NLCS!
The Cardinals still hold the edge over the Giants in hits, eight to six.
Neither team has scored since the fourth inning.
Wow - I didn't realize that - Joe Buck just pointed out that the Cardinals do not have a hit since the fourth inning.
TOP OF THE 9TH; SF 4, STL 6
One-two-three inning for Boggs. Last at-bat for St. Louis.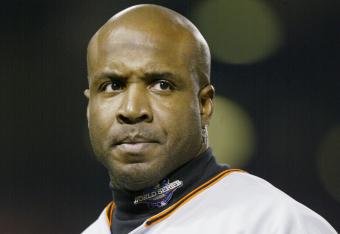 It only took unitl the bottom of the 8TH inning for Buck and McCarver to reference Barry Bonds.
Mitchell Boggs is in the game for the Cardinals. No relation to Wade Boggs... or Kevin Mitchell.
Boggs has been impressive this season for the Cards. He owns just a 2.21 ERA with a 1.050 WHIP in 78 games played.
BOT 8TH; SF 4, STL 6
If the top of the Giants order could have been more productive offensively, this bullpen would likely have secured a victory for them.
Watching Bruce Bochy manage this pitching staff has been a lot of fun.
Bad Panda: Sandoval with a poor throw to first; could have had Molina at first. Instead he finds himself with an error.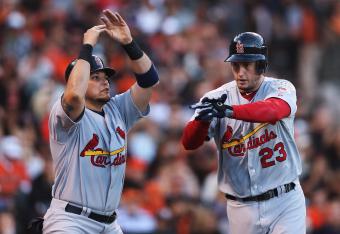 Molina only struck out 55 times this season, the lowest of any other starter for the Cards today.
The Giants bullpen have now retired nine in a row.
Is Allen Craig battling, or is this just a really long at-bat?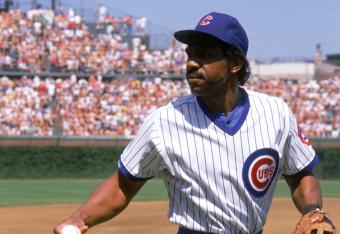 With all of these Andre Dawson commercials, it is worth mentioning that he only made it to the postseason three times in his career and was a pretty terrible player in October.
His batting line was just .186/.238/.237/.475 lifetime with 11 hits in 59 at-bats over the course of 15 games.
TOP OF THE 8TH; SF 4, STL 6
I stand corrected, Posey didn't go deep to end the 7th inning. Instead, he was Mujica's third strikeout victim of the inning.
Don't you just get the feeling that Posey is going to go deep?
Two quick outs for Mujica, both by way of the K.
Nice seeing Tony Bennett out there.
BOT OF THE 7TH; SF 4, STL 6
Cardinals went down in short order that inning. It seems as though both offenses have gone into hibernation.
Beltran batted .323 last season for the Giants; can't blame the man for moving on. He played hard for San Fran.
This article is
What is the duplicate article?
Why is this article offensive?
Where is this article plagiarized from?
Why is this article poorly edited?