Stanford vs. Notre Dame: Post Game Grades and Player Analysis for the Irish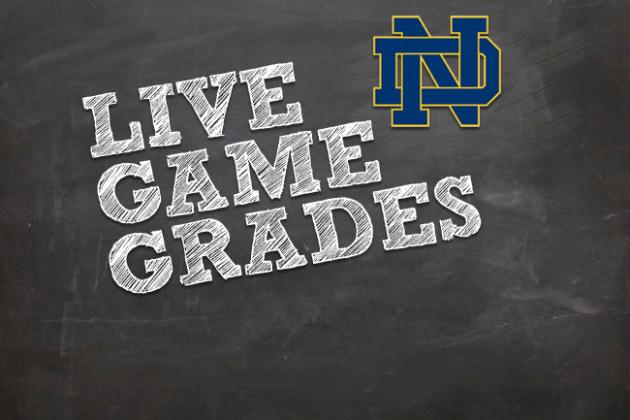 Stanford and Notre Dame had one unbelievable overtime game at the Golden Dome in South Bend, IN.
Down 10-3 as the final quarter began, Notre Dame quickly scored and then got another field goal to force overtime at 13 apiece.
Once again playing the relief pitcher role for Everett Golson, Tommy Rees took over for the Irish on their game-tying drive in the final quarter. He then remained cool as usual and threw a touchdown pass in overtime.
Brian Kelly's team won, 20-13, and Notre Dame remains perfect through six contests. With that, here is the full postgame analysis from one heart-wrenching game.
Begin Slideshow

»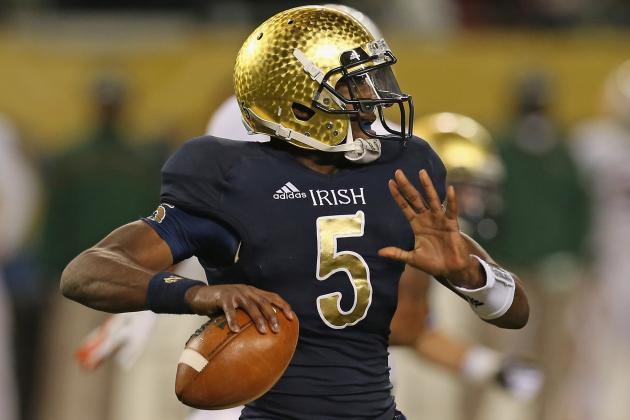 Jonathan Daniel/Getty Images

Everett Golson started the game but he didn't finish it.
That apparently seems to be a theme for Notre Dame's offense in 2012.
So, Tommy Rees came in during the Irish's final fourth quarter drive and kept the rhythm moving. Prior to Rees, however, Golson performed ugly through 3.5 quarters.
He fumbled thrice times and was consistently failing to read well pre-snap and release the ball sooner. Stanford wasn't constantly blitzing, but Golson's refusal to remain inside the pocket early on cost Irish some playmaking chances against favorable coverages.
Fortunately, Golson remained calm and gradually eased his way into staying in the pocket. That obviously paid off, because of his two key third down conversions in the final quarter: One of which was a touchdown pass to Kyle Eifert.
As for Rees, he performed miraculously despite the limited time. Orchestrating like a conductor during his relief, Rees allowed the Irish skill players to make plays and it paid off.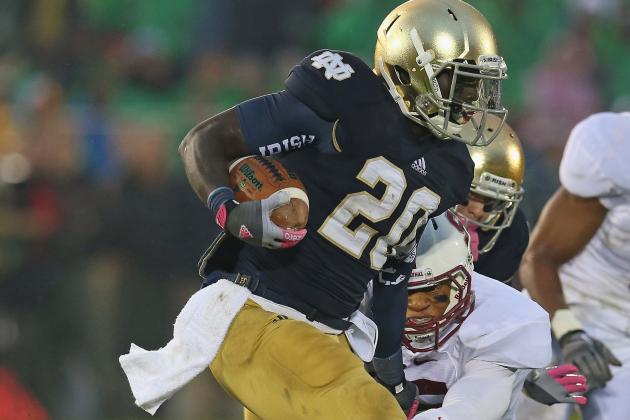 Jonathan Daniel/Getty Images

The trio of running backs was crucial to Notre Dame's balanced attack.
Cierre Wood, George Atkinson and Theo Riddick all combined for 128 rushing yards on 30 carries and were just relevant enough to keep Stanford off balance.
There were definitely struggles during the first half, because the Cardinal were applying solid quarterback pressure and the Irish weren't running as often or as effectively. But in a game where the ground attack is so important, lanes will open up sooner than later and Notre Dame's improved consistency in the second half is evidence.
In turn, the passing game became stronger and the Irish ultimately won.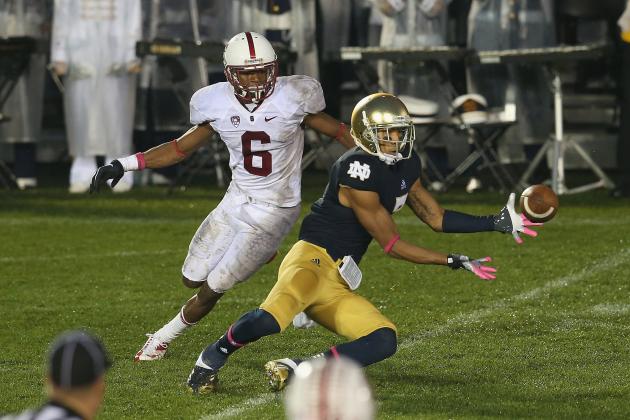 Jonathan Daniel/Getty Images

Only 16 total passes were completed for Notre Dame against Stanford.
And only eight of those were completed to Irish receivers.
That said, being a run-oriented offense with an inexperienced quarterback such as Golson it's no surprise that Notre Dame doesn't see explosive success through the air. Nevertheless, the Irish receiving corps is well-versed as run-blockers downfield and quite reliable when getting targeted.
The most impressive came from T.J. Jones who caught four passes for 52 yards and a touchdown. He came back to the ball on a key third down in the four quarter and then his athletic catch gave Notre Dame the overtime lead.
Here, it's about impact plays as opposed to big numbers.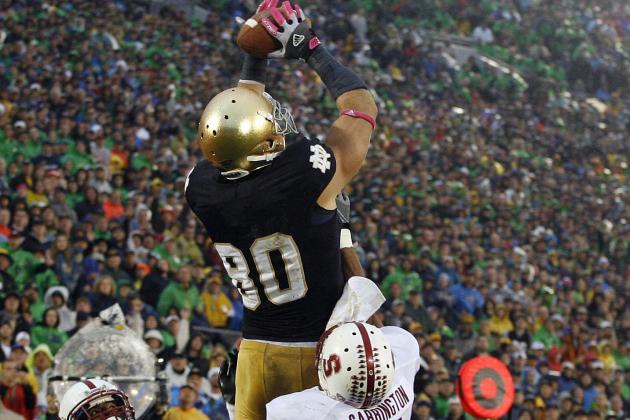 Brian Spurlock-US PRESSWIRE

Tyler Eifert is the main man to watch for when discussing Notre Dame's tight ends.
He led all Irish receivers with four catches for 57 yards and one score, which averages to 14.3 per reception.
In addition, Eifert drew a key defensive pass interference call in the fourth quarter. His size prevented the defender from playing the ball and it kept the Irish's drive alive that forced overtime.
The downside was Troy Niklas who was unreliable when blocking for the run or pass protection.
A pass-blocking tight end is supposed to be an extension of the offensive line. Unfortunately, Niklas failed to wall off the outside in one-on-one situations and his lack of blocking was damaging to Notre Dame's overall offensive production.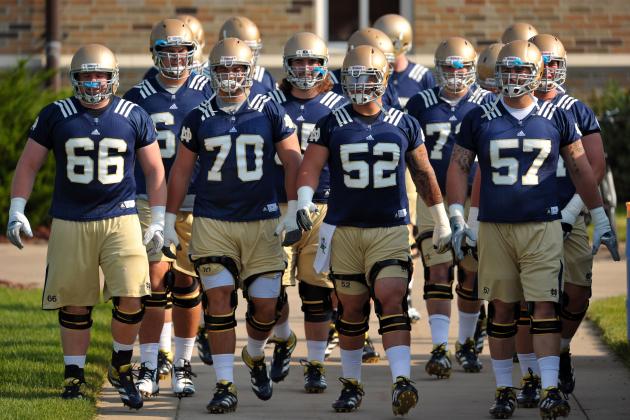 Matt Cashore-US PRESSWIRE

Aside from the early pass-blocking woes and a few penalties the Notre Dame offensive line was solid.
Stanford's front line of defense was mainly benefitting from Golson's inability to read pre-snap and make quick decisions once dropping back.
We have to remember that an offensive line can only block for so long, and at some point a sack or turnover falls on the quarterback's ill-advised decision-making. On the ground, though, the line created some nice lanes and Notre Dame totaled 173 rushing yards (excluding Rees' sack and Ben Turk's recovery on the botched field goal snap).
Now include the blitz pickups when Rees was at the helm, and the hogs up front provided enough time for the playmakers to develop their routes.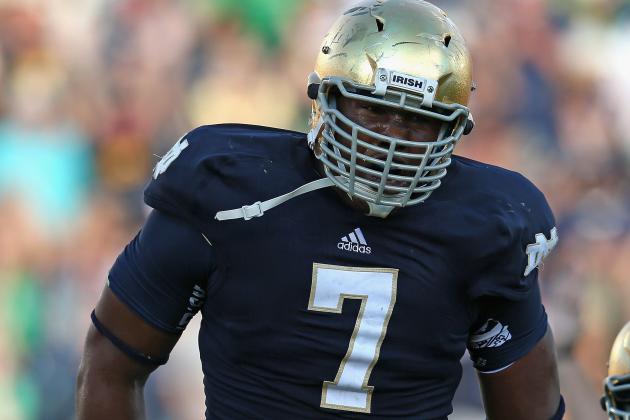 Jonathan Daniel/Getty Images

The lone area of concern regarding Notre Dame's defensive line is the pass rush.
Because of how well Notre Dame's linebackers and defensive backs can blanket in coverage, Stephon Tuitt and this line gets additional time to apply quarterback pressure.
For as great as that is, the next step for this defense is the line getting immediate quarterback pressure. That results from beating one-on-one blocks more consistently, as the Irish got only one sack on Saturday. Optimistically speaking, this defensive line is superb against the run.
Stepfan Taylor may have amassed 102 rushing yards, but he was limited to 3.2 per carry and stuffed twice in that overtime period. Provided the Irish continue to improve at quicker pressure and watch out as the season progresses.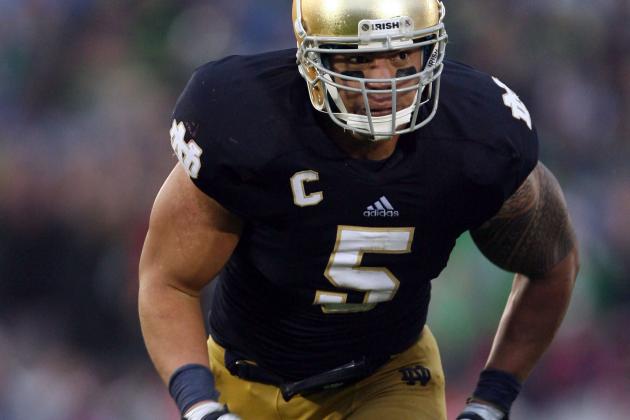 Brian Spurlock-US PRESSWIRE

Everything here comes down to Manti Te'O.
His instincts for the game are unparalleled and that resonates through the rest of the linebackers.
Against the run, Notre Dame's 'backers were disciplined and gave up no run longer than 13 yards. Considering that Taylor was fed 28 times that's some impressive consistency at reading the run.
Versus the pass the Irish are still a little susceptible at the intermediate level. The improvements, though, have come from not allowing many yards after the catch. Tight end Zach Ertz of Stanford caught four passes for 55 yards, but he didn't see much open field.
Despite him being the Cardinal's top receiver, preventing Ertz from breaking the game open on a big completion is a key reason why the Irish prevailed. In short, field awareness has become enhanced.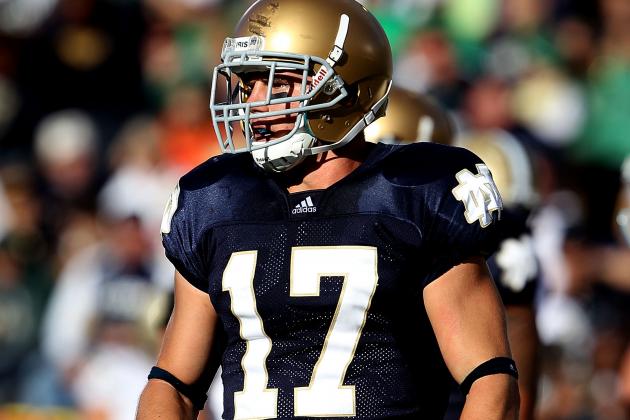 Jonathan Daniel/Getty Images

The defensive backs really were the key to Notre Dame's defense against Stanford.
We knew the Irish's front seven was going to perform well against the run, because they have all season.
The concern from last week entering this week was becoming vulnerable to big plays. Well, Zeke Motta and the rest shielded the third level by allowing only three Stanford completions to a receiver (Drew Terrell).
Five of Josh Nunes completions were to running backs and as previously mentioned, four went to the tight end Ertz. Also, the secondary recorded two interceptions for Brian Kelly to limit Stanford's overall production.
Notre Dame was simply near flawless against the pass and it showed.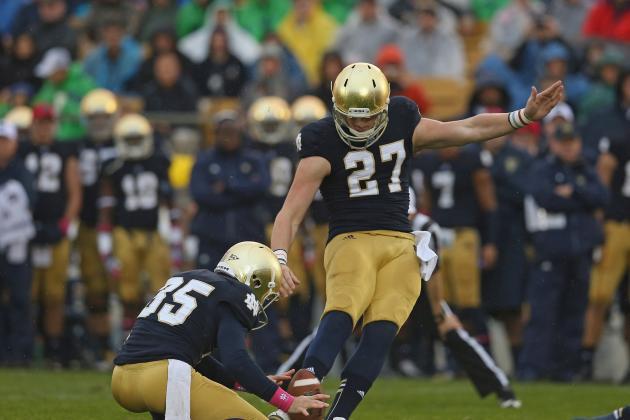 Jonathan Daniel/Getty Images

The return game, whether it was punts or kickoffs, didn't have much of an impact.
The kicking and punting game, however, was the exact opposite.
For one, Kyle Brindza made both field goal attempts and he's straight up clutch. The field goal to tie the game didn't have the best snap or hold, and yet Brindza slice it through anyway. Had it not been for the botched snap earlier, that final kick would have been the game-winner.
Ben Turk and the punting game was just as effective. Turk averaged 41.2 yards on five attempts and his consistency kept the field position battle at bay. Although the Cardinal had the advantage early on, it was Turk's booms that prevented Stanford from completely taking over the game tempo.
One other area of note was Stephon Tuitt in deflecting Stanford's first field goal attempt. Had he not done so, the Irish may have not been able to attempt a game-tying kick in the final quarter. That is proof why a single play should never be taken off.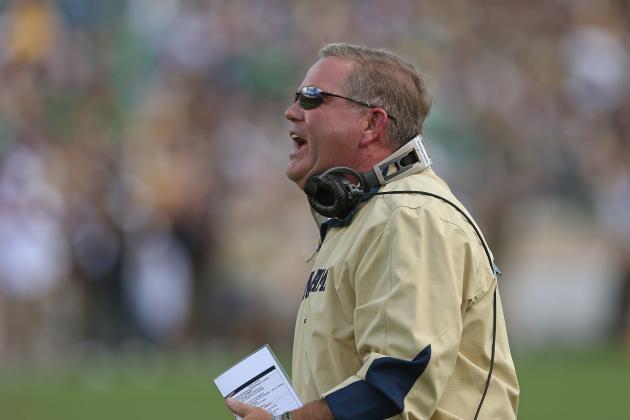 Jonathan Daniel/Getty Images

Not running the ball enough during the first 2.5 quarters was hurting the Irish.
Everett Golson had fumbled three times and too many passes were being attempted.
So it wasn't surprising to see Stanford's front seven control with quarterback pressure and blanketed coverage. As Brian Kelly began to slam more on the ground, though, that's when Notre Dame's confidence began to climb.
Golson then began to feel a bit more comfortable in the pocket and made some throws to help keep the Irish alive. When turning to Rees, Kelly's confidence in his closer is evidence as to why backup quarterbacks are so important.
Just imagine if Kelly did not believe Rees could get the job done. Notre Dame wouldn't be 6-0.
Follow John Rozum on Twitter.