Michigan vs. Illinois: Live Scores, Analysis & Results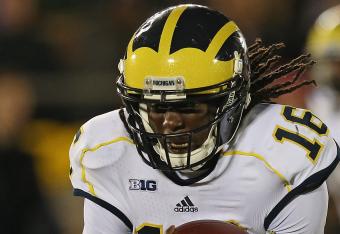 Jonathan Daniel/Getty Images
Michigan 45, Illinois 0 -- final

Michigan's ground attack was impossible for Illinois to stop.
Solid efforts from Fitz Toussaint, Thomas Rawls and Justice Hayes -- not to mention Denard Robinson -- should encourage Michigan fans when it comes to analyzing the rushing attack.
Follow Bleacher Report's Michigan Wolverines football writer Adam Biggers on Twitter @AdamBiggers81
Thanks for checking out the live blog. Michigan's 45-0 win over Illinois was a statement victory, no doubt about that.
Be sure to read my follow-up piece on Bleacher Report.
Michigan 45, Illinois 0
Michigan's offense, particularly its rushing attack, just couldn't be stopped by Illinois. The Wolverines rushed for a combined 349 yards and dominated the line of scrimmage on the both sides of the ball.
Be sure to check back for my follow-up piece, which will be posted on B/R as soon as possible.
Thanks for reading and commenting. See you next week.
Flint-area backs are doing their thing today: Flint's Thomas Rawls, Grand Blanc's Justice Hayes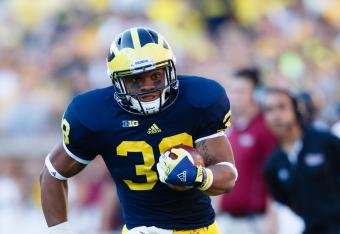 Michigan 45, Illinois 0
Thomas. Rawls. Touchdown. Michigan.
The former Flint Northern star just fueled the Rawls-or-Fitz debate with a 63-yard touchdown run down the right sideline.
Michigan State quarterback Andrew Maxwell might want to fake an injury next week so that he won't have to face this ferocious Wolverines defense.
In a game like this, you almost want a team like Illinois to score, just to say it scored. But also, you'd like to see Michigan get the shut out, too. The defense was excellent today.
Craig Roh was wreaking havoc, but Jake Ryan's day kind of overshadowed that. Kenny Demens wasn't afraid to bang around, either. Great all-around effort from the defensive guys.
Thomas Rawls used to truck guys like that in high school -- even kids on his same team, according to his former coach Fred Jackson, Jr.
I've said it once, and I'll say it again: Dennis Norfleet will take one back this season. Nice tackle by Illinois' kicker. Saved a touchdown.
Is it me, or does Russell Bellomy seem nervous every time he's called upon to play?
Jake Ryan is at 11 tackles (tied career-high) and has had his best game of 2012. He's a menace, a real force to contend with. Earlier this season, I wrote that Ryan was one of the Big Ten's elite pass-rushers, but some didn't agree.
Sure, it's Illinois, but you can't deny Ryan's dominance of a Big Ten O-Line. He did the same to Purdue, too. Good is good.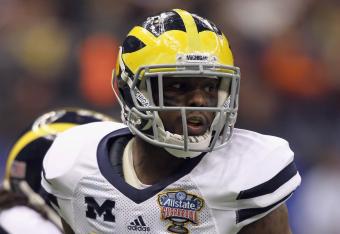 Michigan 38, Illinois 0
Fitz Toussaint now has four touchdowns on the season after scoring a three-yarder to give Michigan a commanding lead over Illinois.
Toussaint has looked good today, but not consistent. As stated in earlier posts, he's a much better runner when he puts his head down and runs forward.
I don't think I've seen Jake Ryan get in the backfield as much as he has today. What hustle. Huge hit on O'Toole to cause that fumble.
You have to respect the fact that he had to get back up to go at O'Toole; he could have just let another guy finish, but that's not his style.
Michigan is experimenting at running back right now. You have to like seeing Justice Hayes get carries, but he's not a bulldozer like Thomas Rawls. Fitz Toussaint actually ran the ball well today, but he has to stop being so indecisive and just ran straight ahead -- he's better when he does that.
Michigan's defensive line looks a lot quicker than it did last week against Purdue. Michigan was a disappointment through the first four games, but these back-to-back Big Ten wins -- and in commanding fashion, mind you -- should change minds.
Denard Robinson: 270 total yards, four scores.
Illinois: 191 total yards.
Michigan 31, Illinois 0
Devin Funchess leaps at the back of the endzone and comes down with an athletic, eight-yard touchdown grab.
Kenny Demens must be jumping for joy knowing that his key interception fueled his team's latest score.
I was going to question Toussaint's ability to follow a block, but then he just ripped a 17-yard run -- followed his blocks well on that run.
If Denard Robinson's touchdown run didn't ice this game, Kenny Demens' interception just did.
Michigan is rolling.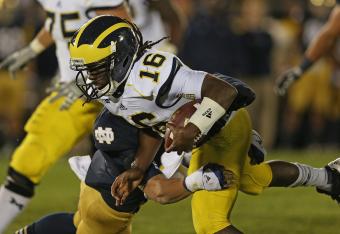 Michigan 24, Illinois 0
This guy is just showing off now. Denard Robinson should have been tackled twice on that 50-yard touchdown run.
That last run by Fitz Toussaint sums up his approach to running the ball this year. Why not run straight ahead? It was just a yard.
Dennis, you have to catch the ball first, and then run.
According to an ABC sideline reporter, Illinois will not have the services of Nathan Scheelhaase in the second half.
Let me rethink that.. Michigan needs 11 points to get to 28. Let's say 31.
I'm adjusting my game prediction from 28-14 Michigan to 28-0 Michigan. Illinois has about a 0.00004593 percent chance of scoring without quarterback Nathan Scheelhaase.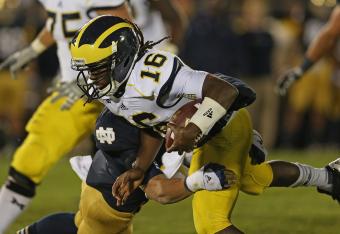 Denard Robinson has 191 yards of total offense, compared to 171 combined by EVERY OTHER play in the game -- not just Michigan players.
Wow. Can't say I'm shocked. That's what Robinson does.
This article is
What is the duplicate article?
Why is this article offensive?
Where is this article plagiarized from?
Why is this article poorly edited?

Michigan Wolverines Football: Like this team?